Jon Swaine, Oliver Laughland and Jamiles Lartey / The Guardian – 2015-06-02 02:10:40
http://www.theguardian.com/us-news/2015/jun/01/black-americans-killed-by-police-analysis
The Counted: People Killed by Police in the United States in 2015 — Interactive
Breaking News:
Unarmed 18-year-old Shot Dead
By Officer Who Killed Before
Jon Swaine / The Guardian
PORTSMOUTH, Virginia (June 1, 2015) — An unarmed black 18-year-old accused of shoplifting was killed by a police officer in Virginia who had been barred from patrolling city streets for almost three years after fatally shooting another unarmed man.
William Chapman was shot dead by Stephen Rankin, a white Portsmouth police officer, during a struggle in a Walmart parking lot. Rankin, 35, a US navy veteran trained in martial arts, was once disciplined for posting violent remarks and Nazi images online.
---
Black Americans Killed by Police Twice as
Likely To Be Unarmed as White People
Jon Swaine, Oliver Laughland and Jamiles Lartey / The Guardian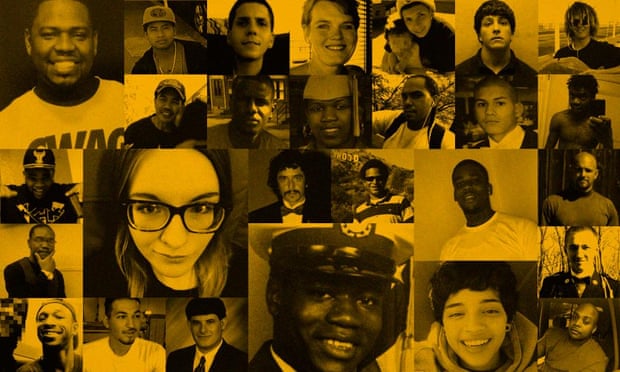 NEW YORK (June 1, 2015) — Black Americans are more than twice as likely to be unarmed when killed during encounters with police as white people, according to a Guardian investigation which found 102 of 464 people killed so far this year in incidents with law enforcement officers were not carrying weapons.
An analysis of public records, local news reports and Guardian reporting found that 32% of black people killed by police in 2015 were unarmed, as were 25% of Hispanic and Latino people, compared with 15% of white people killed.
The findings emerged from a database filled by a five-month study of police fatalities in the US, which calculated that local and state police and federal law enforcement agencies are killing people at twice the rate calculated by the US government's official public record of police homicides. The database names five people whose names have not been publicly released.
The Guardian's statistics include deaths after the police use of a Taser, deaths caused by police vehicles and deaths following altercations in police custody, as well as those killed when officers open fire. They reveal that 29% of those killed by police, or 135 people, were black. Sixty-seven, or 14%, were Hispanic/Latino, and 234, or 50%, were white. In total, 102 people who died during encounters with law enforcement in 2015 were unarmed.
The figures illustrate how disproportionately black Americans, who make up just 13% of the country's total population according to census data, are killed by police. Of the 464 people counted by the Guardian, an overwhelming majority – 95% – were male, with just 5% female.
Steven Hawkins, the executive director Amnesty International USA, described the racial imbalance as "startling". Hawkins said: "The disparity speaks to something that needs to be examined, to get to the bottom of why you're twice as likely to be shot if you're an unarmed black male."
Relatives of unarmed people killed by police in high-profile incidents during the past year – including Michael Brown, Eric Garner, Tony Robinson and Walter Scott – described the Guardian project as a breakthrough in the national debate over the use of deadly force by law enforcement.
"Giving this kind of data to the public is a big thing," said Erica Garner, whose father's killing by police in New York City last year led to international protests. "Other incidents like murders and robberies are counted, so why not police-involved killings? With better records, we can look at what is happening and what might need to change."
The initiative was also praised by a range of policing experts and by campaigners who are urging government authorities to make the official recording of fatalities mandatory for all 18,000 police departments and law enforcement agencies operating in the US.
"It's troubling that we have no official data from the federal government," said Laurie Robinson, the co-chair of Barack Obama's task force on 21st-century policing. "I think it's very helpful, in light of that fact, to have this kind of research undertaken."
Beginning on Monday, the Guardian is publishing The Counted, a comprehensive interactive database monitoring all police killings in the US through 16 data points including age, location, gender, ethnicity, whether the person killed was armed and which policing agency was responsible.
The Counted logs the precise location of each fatal incident, providing what is the most detailed map of police killings ever published. California, America's most populous state, has the highest total with 74 fatalities so far this year.
However, an analysis of location data shows that Oklahoma, where 22 people have died through encounters with law enforcement, is the state with the highest rate of fatal incidents per person in 2015, at one fatality per 175,000 people over five months.
Over the weekend, Nehemiah Fischer, a 35-year-old pastor, was shot dead by an Oklahoma state trooper after getting into a fight when told to evacuate his truck in rising flood waters south of Tulsa. Police have said Fischer had a firearm but have not explained whether he was armed during the confrontation.
The database, which will combine Guardian reporting with verified crowdsourced information, has logged 464 police killings for the first five months of 2015. The US government's record, which is run by the FBI, counted 461 "justifiable homicides" by law enforcement in all of 2013, the latest year for which official data is available.
The vast majority of deaths recorded – 408 – were caused by gunshot. Of the 27 deaths that occurred after a Taser was deployed by law enforcement, all but one involved an unarmed person.
On Sunday, Richard Davis, an unarmed black 50-year-old, died after being shocked with a Taser by police in Rochester, New York. Davis was said by authorities to have run from his truck towards officers with clenched fists after being told to put his hands up following a crash. Relatives said he was a veteran of the US marines.
The Guardian has also identified 14 officer-involved deaths following altercations in custody. The total includes Freddie Gray, the 25-year-old resident of Baltimore whose death from a broken neck sustained in a police van led to protests, rioting and the indictment of six city police officers.
Another 12 people died following collisions with law enforcement vehicles. The family of Bernard Moore, who was 62, are calling for the criminal prosecution of an officer who fatally struck Moore with his squad car in Atlanta, allegedly while speeding without emergency lights or sirens on.
By logging each law enforcement agency involved in the 464 deaths, the Guardian can also now report that the Los Angeles police department, the country's third largest local police department, has been involved in the highest number of deaths of any local department. This year, 10 people have died in encounters with LAPD officers, of whom five were unarmed.
The Oklahoma City police department and the Los Angeles sheriff's office were both involved in five deaths, two individuals in both of these jurisdictions being unarmed.
High-profile cases in Los Angeles, like the death of unarmed Charly "Africa" Keunang, shot dead by LAPD officers on 1 March in the city's homeless district of Skid Row, garnered national attention.
But cases like those of Sergio Navas, an unarmed Hispanic man shot dead by LAPD officers in the same month as Keunang, after police said he stole a vehicle and was chased down, have had less media scrutiny. Navas's family have launched an excessive force lawsuit against the LAPD and accused them of a covering up the circumstances of the 35-year-old's death.
The Guardian has also monitored whether mental health issues were identified, either by family members, friends or police following each fatal encounter. In total 26% of people killed by police exhibited some sort of mental illness, with at least 29 cases identified where the person killed was suicidal.
For example, Monique Deckard, a black woman with a long history of mental illness, was shot and killed by police officers in Anaheim, California, after she was accused of stabbing a woman at a laundromat and allegedly charging at officers. Her family had called police just hours before the attack, warning that they could not get in contact with her and that she might be trying to find a gun.
The average age of a person killed by police in 2015 was 37, but The Counted identifies a huge diversity in the ages of those killed.
The oldest, 87-year-old Louis Becker, was killed during a collision with a New York state trooper patrol car in upstate New York. Eighty-two-year-old Richard "Buddy" Weaver was killed by Oklahoma City police after he allegedly raised a machete at an officer who opened fire; neighbors later described Weaver as having schizophrenia.
The three youngest people identified were all 16 years old. A'donte Washington, a black American, was shot dead by Millbrook police officers in Arizona on 23 February during an alleged burglary after the teenager was described as pointing a weapon at arriving officers. His family have questioned the police narrative, while the city mayor described the shooting as "110% justified".
A week earlier, on 14 February, Jason Hendrix, a white 16-year-old was shot dead in a gunfight by Baltimore County police after the teenager murdered his mother, father and sister in Corbin, Kentucky, and drove to Maryland, where he is reported to have opened fire on an officer after a car chase. Six returned fire and killed him.
A month later, on 19 March, black 16-year-old Kendre Alston was shot dead by a deputy of the Jacksonville sheriff's office in Florida. Police claimed Alston fled from a stolen car and brandished a weapon at the pursuing official who then opened fire. Deneane Campbell, Alston's mother, claimed in an interview two weeks later she had not been given any further details by police.
Some relatives of people killed by police said they had been unaware of the dearth of publicly available information on police-involved fatalities until their family became affected. Anthony Scott, whose brother Walter was shot dead in April by police officer Michael Slager in North Charleston, South Carolina, said the lack of public information "came as a surprise".
"I was not informed, I was not aware, I just had an idea these situations were happening in the United States," Scott told the Guardian. "The public need to know what is happening and be made more informed. With them being more informed they would be able to react differently, in a positive way, to make changes, to make sure some of these things don't happen again."
Join The Counted Community on Facebook, follow @thecounted on Twitter and explore the interactive database
http://www.theGuardian.com/us-news/ng-interactive/2015/jun/01/us-police-killings-tips
Help us document every police killing in America
The US government has no comprehensive record of the number of people killed by law enforcement.
So the Guardian has embarked on a special project – to work from an inaccurate standard toward a more perfect accounting, and tell the stories of people killed by police. But we need your help.
Do you have information about an officer-involved death that the public deserves to know? This is the place to share the truth about police killings. Send us your tips, images, video and more – and we'll use it in our reporting.
Have you heard of a police killing in your area? Please share as many details as you know:
Posted in accordance with Title 17, Section 107, US Code, for noncommercial, educational purposes.