James Jordan / The Alliance for Global Justice – 2016-09-06 00:54:23
Special to Environmentalist Against War
An Update on the Struggles for Peace and Justice in Central America and Mexico
James Jordan / The Alliance for Global Justice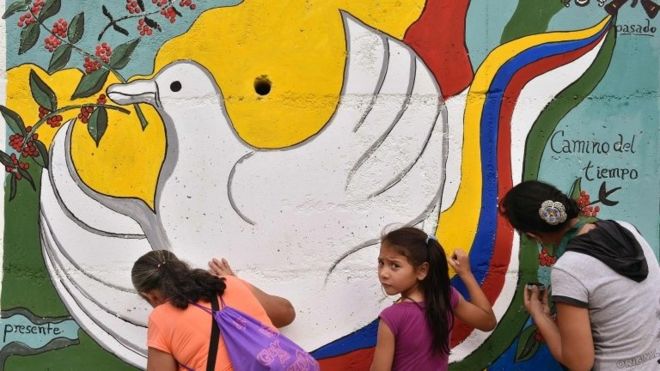 Colombian children celebrate the signing of the ceasefire agreement
(September 2016) — Sometimes things become so sharp that I am convinced that just a little push could completely change the world we know. But which way would it go? There is a daily struggle between those who would take us down a path toward fascism versus those whose ultimate destination is our liberation. But the forces of liberation don't have billionaires funding the movement in the streets. That all depends on people like you and me.
We can make that better, more beautiful world we hope for. It's not too late, but it is absolutely urgent. We cannot appeal to the status quo to get where we need to go. The epicenter of this struggle isn't about Trump and Clinton, Republicans and Democrats. It's about you and me and our communities and ecosystems.
The grassroots struggle for peace, justice, sustainability and solidarity has to remain strong and active regardless of the election's outcome. Revolutions aren't built on grand ideas and brilliant strategies. They're built on the support of the people.
As I write this, we at the Alliance for Global Justice have just celebrated another anniversary of Nicaragua's Sandinista Revolution, which took power away from the corrupt and bloody Somoza regime back in July of 1979.
Nicaragua Network was the first US national organization in solidarity with the Sandinistas. AfGJ was founded by the Nicaragua Network, in 1998, so we owe our existence to the internationalism of the Sandinista vision.
As we celebrate this historic victory, let us also celebrate the present. Just last month a ceasefire was enacted that brought to an end more than 52 years of war in Colombia. AfGJ'a role was recognized when we became the first organization in the United States invited to meet with the actual peace negotiators in Havana last April.
AfGJ has a reputation for our model of solidarity. We don't go in with agendas of what we want to do, but we listen to what the demands of the people are and what is being asked of us.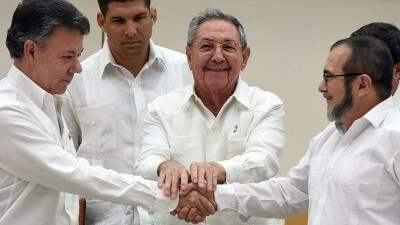 Colombian President Juan Manuel Santos (L) shakes hands with Timoleon Jimenez (R) as Cuban President Raul Castro looks on.
Colombia's National Unitary Federation of Agricultural Workers Unions (Fensuargo) passed a resolution recognizing our work back in 2009. We were the first US organization with an ongoing solidarity relationship with Fensuargo, one of the world's most embattled unions. In large part because of our agitation, today several US labor bodies have developed relationships or passed solidarity resolutions with Fensuagro.
Just last April, we brought Nidia Quintero, Fensuagro's General Secretary, on a speaking tour that included presentations at the Labor Notes Conference in Chicago — the largest yearly gathering of labor activists in the US.
Unfortunately, there are enemies of the peace in Colombia who wanted nothing more than for the peace talks to collapse. Assaults against popular movements, human rights defenders and rural, indigenous and Afrodescendent communities are on the rise. They hope to destroy this peace in the same way they did in the 80s and 90s — by literally murdering thousands of activists until peace is no longer possible.
This is why our articles and alerts are so important: they help mobilize international solidarity and our delegations of accompaniment help unionists and others go about their work with some measure of safety. On our last trip to Colombia in June 2016, Raquel Mogollon and I traveled with union leaders who had been specifically named as "military targets" in threats published by the Black Eagles paramilitary death squad.
We accompanied the union leaders to isolated villages in the coffee growing area where they held meetings to discuss rural concerns in the post-conflict period. This is just one of several examples of the work we are doing and will continue to do to support the peace process.
AfGJ is the only US organization with a regular and comprehensive program of solidarity with Colombian political prisoners. In June, we visited La Picota prison in Bogotá, and met for two and a half hours with imprisoned labor leader Hubert Ballesteros.
At the time of his arrest, Hubert was Vice President of Fensuagro, and was a leader of the agricultural strike then underway. Hubert was very optimistic that, with the signing of the peace accords, not only he, but thousands of political prisoners and prisoners of war, would be freed. The government has agreed to also free thousands of civilians charged with "rebellion."
However, there has been a trail of broken promises by the state. Furthermore, with the possibility for freedom looming, we have heard numerous reports of threats and assaults against prisoners of war and political prisoners while they remain in jail. In the coming months, we will monitor the situation closely. And should the political prisoners indeed be released, we must monitor their safety from death squads or the state.
Why Is the US Still Promoting Violence?
Can you believe that, in this time of peace, President Obama's "Plan Peace Colombia" would increase military aid to Colombia? History has shown us that 70-80% of political violence in Colombia has been at the hands of the Colombian Armed Forces and paramilitaries.
Colombia is still the country with the world's third-highest rate of impunity for political violence — after the Philippines and Mexico. It is still the country with more murders of unionists than anywhere else on the planet. Pres. Obama: This is a time for investment in peace, not war!
As you know, we always keep the role of the US Empire in mind. Did you know that the US uses the Colombian military to train police and prison personnel in Mexico? AfGJ's research revealed this and the fact that the US is exporting its prison model to Mexico and 24 other countries around the world. Colombia trained more than 12,500 Mexican security personnel over the past several years.
This is one reason we recently [met with] Colombia's political prisoner legal support group Lazos de Dignidad to Mexico. Lazos is one of our most important partner organizations and a founding member of the Patriotic March political formation. We are proud that we could be a conduit of introduction for important movements in both countries. (AfGJ is nothing if not internationalist!)
We also visited Mexico at the invitation of the Mexican League for the Defense of Human Rights, the Committee for the Defense of the People (CODEP) and the Mexican Movement for Peace and Development (MOMPADE).
One of the main reasons we went to Mexico was to learn more about the human rights situation and the role of the US. We also went to do specific research on "prison imperialism". By that, we are referring not only to the spread of the US model of mass incarceration to other countries, but to the fact that these prison programs are part of the infrastructure of Empire. Because they are really inseparable, we are also studying the US role in police militarization and changes to laws and court reform.
In Oaxaca, our host organization was CODEP, the successor group of teachers and supporters to the organizations that were brutally repressed during popular uprising in 2006. We arrived in Oaxaca just two days before the teachers strike began.
Criminalization of dissent is being used to try and break both union and indigenous resistance. I returned a month later for the founding of the People's Human Rights Observatory. AfGJ is the only US member of this network.
While in Mexico City, we had several meetings involving the National Coordination of Education Workers (CNTE). CNTE is the radical teacher's organization leading the resistance against the neoliberal education reform — especially in the epicenters of Oaxaca, Guerrero, Chiapas, and Michoacan.
We also met with oil workers, families of political prisoners, and members of the organization Torture No More. We heard stories of threats, kidnappings, assassinations and political imprisonment of unionists and popular movement supporters. We were shocked to hear about some 200,000 persons extrajudicially executed in the past ten years.
Prisoners-for-Profit and Police Violence in Mexico
We also met with the Comite Cerezo and received an excellent presentation regarding the history of the federal prison system in Mexico. The American Correctional Association accredits prisons throughout the country. The US is funding the construction of 16 federal prisons in Mexico, including the first privately run, for-profit prisons.
During our time accompanying the teachers strike in May and June, we witnessed several demonstrations and marches, sometimes on purpose, sometimes just because we came up on the latest road block. The events were all spirited, but there was never even the least hint of violence or provocation on the part of the teachers, students and their supporters.
I certainly can't say that about the police. All around town there were squadrons of heavily armed and armored police. On June 19, federal, local and state police moved against unionists and their supporters, killing 13 protesters, leaving 100 persons wounded and 23 missing. Their weapons were "made in the USA".
In fact, the US has spent billions of dollars militarizing the police and arming the military in Mexico, Colombia, Honduras and other countries for an undeclared war that is plainly directed not against the big narcotraffickers as against the Mexican, Colombian, and Honduran people.
And Mexico has been spending billions to buy weaponry, including purchases of the helicopters that were used to fire upon the teachers, students and popular movements of Oaxaca.
Alliance for Global Justice immediately sprang into action when we heard about the violence. We flooded the Mexican government offices with messages demanding an end to the repression and the liberation of jailed teachers. We called for demonstrations at Mexican consulates, and even on short notice, organizers informed us of at least 10 such events.
Pending Missions to Mexico and Honduras
I will lead a delegation to Mexico November 11-21 that will serve as a tremendous learning opportunity and a chance to concretely show solidarity with the people of Mexico. We will learn about the struggles of the teachers and other unions. And we will investigate US involvement in police and prisons.
We'll divide our time between visits to Sonora, Oaxaca and Mexico City, where we will attend a giant mobilization in defense of Mother Earth against neoliberal policies. (If you are interested in this delegation, send an email to delegations@afgj.org.)
This report has been focusing on Mexico and Colombia because of the recent developments there. But AfGJ is involved in so much more. In July, AfGJ's Elane Spivak Rodriguez returned from a delegation she led to Honduras. Honduras has become home to some of Latin America's and the world's most sustained assaults against people's movements and environmental defenders.
Many of us were shocked in March when we learned of the assassination of indigenous and environmental leader Berta Cáceres. We are now saddened to tell you of yet another murder of one of Berta's associates, the environmentalist leader Lesbia Yaneth Urquía. AfGJ's work is crucial to building solidarity with Honduras' liberation movement and to demand justice for Berta and the other victims of the post-coup governments.
AfGJ has been a leader in building US solidarity with Venezuela, Cuba and other ALBA countries that continue to be an obstacle in the path of Empire. We provide a home for organizations and activists in the US to regularly meet and plan solidarity with Venezuela, a country under a concerted US effort to overthrow the progressive Bolivarian movement.
Former Colombian Senator Piedad Cordoba emphasized several times during our last visit that she believes there is no more important struggle in Latin America and the world than to stop the hand of US imperialism against Venezuela.
In closing, I'd like to ask you to join me for a "virtual" potluck harvest meal. We have our own variety of the fruit of Colombia peace and solidarity. It may have taken 52 years to ripen and the taste is bittersweet, but delicious after all these years of waiting. And here, have a piece of this good, homemade bread, leavened with the uprising of the people's movement in Oaxaca.
Take a bit of that bread and use it to soak up some of soup of international solidarity. Season it all with the salt of the Earth of the Honduran people's struggle for real democracy, and the Nicaraguan people's achievement of economic and social justice. Spice it up with the joy of liberation we see when political prisoners are set free.
I said this was a "potluck" because this isn't a meal that the Alliance for Global Justice prepared alone. Most of the work has been that of our partners throughout Latin America. We simply did what we could to nourish the crops and prepare the harvest. And you did your part.
Your support helped bring all these ingredients together into one grand meal. The time and ideas you share with us are the ingredients that make each new meal. So, let's come to the shared table and enjoy together the fruits of real peace.
James Jordan is the National Co-Coordinator for the Alliance for Global Justice.
Alliance for Global Justice Headquarters, 225 E. 26th St., Suite 1, Tucson, AZ 85713. (202) 540-8336. http://afgj.org/
---
Delegation: Why is the US Building
Prisons and Militarizing Police in Mexico?
Alliance for Global Justice
The bullets, tear gas, and pepper spray cannisters used by Mexican local, state and federal police to attack striking teachers and their supporters in Oaxaca on June 19, 2016 were MADE IN THE USA. The attacks left 13 dead, around 100 wounded, and 23 persons disappeared.
The Alliance for Global Justice will host a delegation to Mexico November 11-21, 2016 that will provide an exceptional opportunity to learn more about popular, labor and indigenous movements there. A special focus will be investigations into the involvement of the United States and Colombia in Mexico's police and penal systems.
The delegation will be hosted by CODEP (Committee in Defense of the People) and LIMEDDH (Mexican League for the Defense of Human Rights).
The United States has spent billions of dollars to support police militarization in the country, and has been involved since 2005 in the construction of 16 new federal prisons. Extrajudicial executions and arrests of unionists and indigenous leaders are tactics of repression that are in many ways "made in the USA". We will learn about how the US is helping build the infrastructure of repression in Mexico and what that means for that country, the US, the hemisphere and the world.
The delegation begins in Tucson, Arizona where we will have a forum on "The Drug War: Today's Big Lie". We will hear about the relation between the "War on Drugs" and the police and prison industrial complex on both sides of the border. The next day we'll see examples of border militarization before crossing into Sonora. We will then go to Cananea and visit striking miners and community members affected by Grupo Mexico's 10.5 million dollar sulfuric acid spill, the largest environmental disaster in the Mexico's history.
We'll travel to Hermosillo and meet Yaqui activists struggling for their water rights. And we'll get together with members of the teachers union. We also hope to visit the US funded federal prison in Hermosillo, the first privately managed, for-profit prison in Mexico. Throughout the delegation, wherever we go, we will meet with family members and defenders of current political prisoners, as well as ex-political prisoners.
From Hermosillo, we will travel to Oaxaca, where we will again meet with members of the teachers union, popular and student movement organizers and indigenous activists. We will travel to a Mixtec village and learn how their community is being affected by free trade and corporate encroachment. We will also take some tourist time to visit the Monte Alban ruins.
We'll finish the delegation in Mexico City. There we will visit with labor and popular movement leaders and we'll have in depth discussions with experts on police militarization, prison issues and human rights. Our last full day, we will attend and observe the mass gathering on November 20 in Mexico City for the We Defend Mother Earth Campaign.
That campaign is made up of more than 180 Indigenous, community, environmental and human rights organizations resisting neoliberal policies that destroy the land, water and air and displace and dispossess people and other beings from their homes.
Cost of the delegation is $1400. This includes all meals, housing (double occupancy), all transportation except your initial flight to Tucson and home from Mexico City, airport pick-up and delivery, translation and program expenses. Deposit of $300 is due with application. It will be refunded if AfGJ cancels the delegation before Oct. 1, 2016 or you cancel before AfGJ purchases group airline tickets for travel within Mexico.
Some discounts may be available. For more information, send an email to Delegations@AFGJ.org .