BBC World News & Josh Lederman and Kathleen Hennessey / Associated Press – 2016-09-07 00:06:39
http://www.bbc.com/news/world-asia-37286520
Laos US: Obama Regrets 'Biggest Bombing in History'
BBC World News
(September 6, 2016) — The bombs, as one Laotian described it, "fell like rain", US President Barack Obama said Tuesday on a visit to Laos, a first for any sitting US president.
"Given our history here, I believe that the United States has a moral obligation to help Laos heal," he said. He referred to America's secret and devastating bombing of Laos during the Vietnam War in the 1960s and 70s.
Some $90 million (£68 million) will be spent over three years for the removal of cluster bombs and other unexploded ordnance. That compares to $100 million spent in the last 20 years.
How Many Bombs Were Dropped?
President Obama described Laos as the most heavily bombed nation in history. Eight bombs a minute were dropped on average during the Vietnam war between 1964 and 1973 — more than the amount used during the whole of World War II.
The US flew 580,344 bombing missions over Laos, dropping 260 million bombs — equating to 2 million tons of ordnance, with many targets in the south and north struck time and again.
Most devices dropped were anti-personnel cluster bombs. An estimated 30% of these munitions did not detonate.
Ten of the 18 Laotian provinces have been described as "severely contaminated" by unexploded ordnance (UXO). Mine-clearing agencies estimate that about 288 million cluster munitions and about 75 million unexploded bombs were left across Laos after the war ended.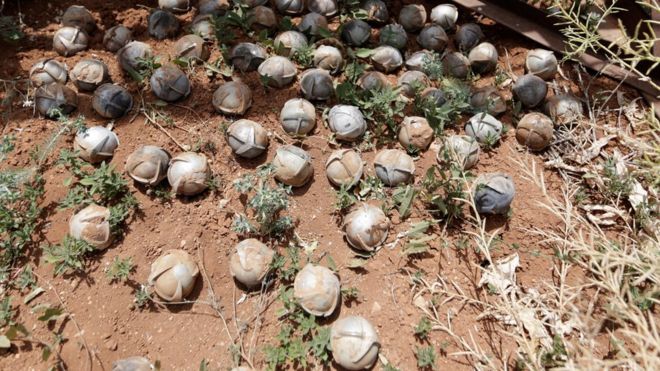 Children are especially vulnerable to cluster bombs, attracted by their toy-like appearance. Cluster bomblets collected in a field in a town in southern Idlib, Syria. (Image copyright Reuters)
Why are cluster bombs so reviled?
Cluster bombs scatter explosives across a wide area and often fail to detonate on impact. They pose a significant threat to civilians because of both their impact at the time of use and their deadly legacy.
Launched from the ground or dropped from the air, cluster munitions consist of containers that open and disperse sub-munitions indiscriminately over a wide area.
Many explosive sub-munitions, also known as bomblets, fail to detonate as designed, becoming landmines that kill and maim indiscriminately. They are difficult to locate and remove, posing a danger to civilians long after conflicts end. Children are particularly at risk, as they can be attracted to the bombs' toy-like appearance.
The Convention on Cluster Munitions bans the stockpiling, use and transfer of virtually all existing cluster bombs, and also provides for the clearing up of unexploded munitions.
It has been adopted by 108 states, but not the US which, according to some estimates, spent as much on clean-up efforts in Laos between 1995 and 2013 as it spent in three days of bombing during the war.
Laos is likely to ask for an extension to its commitment to get rid of UXO when Convention member states next meet in August 2020.
How Many People Have Been Killed by UXO?
The number of casualties from air-dropped explosive devices — mostly cluster munitions — in Laos since 1964 is estimated by the Landmine and Clustering Munition Monitor to be around 50,000 people. Of these about 29,000 people were killed and 21,000 injured. The overwhelming majority were civilians.
Today only a handful of people are killed and injured, the figures show. But the threat posed by UXO stops villagers from getting to their farms and renders vast tracts of agricultural land useless until they have been cleared of munitions.
Will More US Money Address the Problem?
The problems caused by UXO especially affect people living in remote rural areas, NGOs say.
The president's announcement has been widely welcomed by aid agencies working to address the UXO problem in Laos, which include the Halo Trust, the Mines Advisory Group, Norwegian People's Aid, UXO Laos and Handicap International.
"Before the president's announcement I feared that the UXO operation in Laos would take hundreds of years," Mines Advisory Group country director Simon Rea told the BBC from Vientiane. "Now I am optimistic this can be reduced to decades. The president's announcement is extremely good news for us and for poor families in rural areas whose lives are still blighted by UXO."
Likewise Halo Trust CEO James Cowan said the president's announcement will have a profound effect on the people of Laos. "It will help them live and farm in safety on their land, as well as creating opportunities for development and infrastructure," he said. "Explosive remnants of war have blighted their lives for far too long. It is a momentous step in Laos's journey towards freedom from the deadly debris of war."
What Role Can Surveying Play?
"Today more than ever we are getting a much better grasp of the scale of the contamination," Norwegian People's Aid (NPA) Senior Advocacy and Research Advisor Lucy Pinches told the BBC.
"We are using survey triangulation data to place contaminated land into blocks or boxes which can then be systematically cleared of mines."
Aid agencies have also gained access to Pentagon bombing records so that they can identify which areas of land — mostly the Ho Chi Minh Trail in the south and the Lao communist party headquarters in the north — were bombed and likely to contain unexploded bombs.
"More partnerships in the last couple of years among international clearance NGOs has greatly helped in pushing this process forward," NPA Laos Country Director Jonas Zachrisson told the BBC.
But at the same time he cautions that "much of the country remains unsurveyed with limited data regarding the extent, scope and nature of the problem".
How Are Laos-US Relations Today?
President Obama is the first US president to visit Laos and has adopted a noticeably conciliatory approach towards his hosts. He said that the US bombings had destroyed "villages and entire valleys, killing countless civilians".
His approach has been welcomed by Laotian President Bounnhang Vorachit as a way of enhancing mutual trust between the two countries after the devastating war.
The president in return has promised the government will step up its efforts to locate and return US servicemen missing in the war.
---
80 Million Unexploded Bombs:
Obama Pledges US Help for Laos
Josh Lederman and Kathleen Hennessey / Associated Press
VIENTIANE, Laos (September 6, 2016) — Declaring a "moral obligation" to heal the wounds of a secret war, President Barack Obama on Tuesday pledged help to clear away the 80 million unexploded bombs the US dropped on Laos a generation ago — more than 10 for every one of the country's 7 million people.
Half a century ago, the United States turned Laos into history's most heavily bombed country, raining down some two million tons of ordnance in a covert, nine-year chapter of the Vietnam War. The first US president to set foot in Laos while in office, Obama lamented that many Americans remain unaware of the "painful legacy" left behind by a bombardment that claims lives and limbs to this day.
"The remnants of war continue to shatter lives here in Laos," Obama said before an audience of students, businessmen and orange-robed Buddhist monks who held up cellphones to snap photos of the American president. "Even as we continue to deal with the past, our new partnership is focused on the future," he said.
To that end, Obama announced the US would double its spending on bomb-clearing efforts to $90 million over three years — a relatively small sum for the US but a significant investment for a small country in one of the poorer corners of the world. Obama plans to put a human face on the issue when he meets Wednesday in Vientiane with survivors of bombs that America dropped.
The president did not come to apologize. Instead, he called the conflict a reminder that "whatever the cause, whatever our intentions, war inflicts a terrible toll — especially on innocent men, women and children."
Thanks to global cleanup efforts, casualties from tennis ball-sized "bombies" that still litter the Laotian countryside have plummeted from hundreds to dozens per year. But aid groups say far more help is needed. Of all the provinces in landlocked Laos, only one has a comprehensive system to care for bomb survivors.
"We're incredibly proud of the progress the sector has made over the last five years in terms of the decline in casualties and new victims," said Channapha Khamvongsa of the nonprofit Legacies of War. "But we are concerned about the upwards of 15,000 survivors around the country that are still in need of support."
The $90 million to clean up bombs joins another $100 million the US has committed in the past 20 years. The Lao government, meanwhile, says it will boost efforts to recover remains and account for Americans missing since the war.
The punishing air campaign on Laos was an effort to cut off communist forces in neighboring Vietnam. American warplanes dropped more explosives on this Southeast Asian nation than on Germany and Japan combined in World War II, a stunning statistic that Obama noted during his first day in Vientiane.
Obama was one of several world leaders visiting Laos to attend the Association of Southeast Asian Nations. Taking its turn as chair of the regional forum, Laos' communist government is seizing a rare moment in the spotlight.
For Obama, the visit serves as a capstone to his yearslong effort to bolster relations with Southeast Asian countries long overlooked by the United States. The outreach is a core element of his attempt to shift US diplomatic and military resources away from the Middle East and into Asia in order to counter China in the region and ensure a US foothold in growing markets.
Yet Obama's outreach took an uncomfortable turn just as he headed to Laos from another summit in China. The White House called off a scheduled meeting Tuesday with President Rodrigo Duterte of the Philippine — a US treaty ally — after the brash new leader referred to Obama as a "son of a bitch."
Duterte, who had been expecting Obama to criticize his deadly, extrajudicial crackdown on drug dealers, later said he regretted the personal attack on the president.
Obama filled the hole in his schedule by meeting with South Korean President Park Geun-hye in a display of unity a day after North Korea fired three ballistic missiles. Obama vowed to work with the United Nations to tighten sanctions against Pyongyang, but said the door wasn't closed to a more functional relationship.
Obama's Asia project — dubbed his pivot or rebalance — has yielded uneven results, as conflict in the Middle East has continued to demand attention and China has bristled at what it views as meddling in its backyard.
So with just four months left in office, Obama used his historic trip to Laos to reassert his aims. He touted new military aid and US support for regional cooperation in addressing maritime disputes and made a plug for the massive Trans-Pacific Partnership free trade agreement, the policy's central economic component that is now stuck in Congress.
Daniel Malloy in Luang Prabang, Laos, contributed to this report.
Copyright 2016 The Associated Press. All rights reserved.
Posted in accordance with Title 17, Section 107, US Code, for noncommercial, educational purposes.