WASHINGTON (March 27, 2019) — The Pentagon has sent to Congress a letter containing a list of bases most at risk from climate change threats within the next 20 years.
The bases include Hill Air Force Base, Utah; Naval Air Station Key West, Fla.; and the Army's Fort Hood in Texas.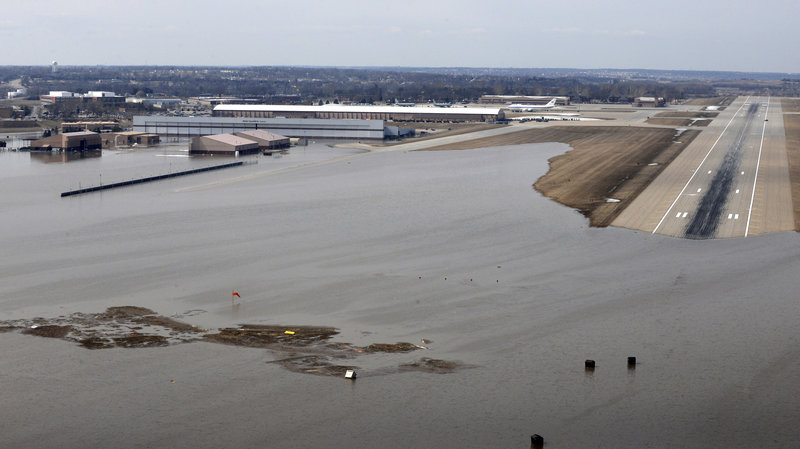 The locations top a list of Air Force, Navy and Army installations most at risk from climate change, sent to Congress on March 22 after a group of lawmakers demanded more information from a Pentagon report in January.
The list "includes scoring and weighting of the five climate-related hazards (recurrent flooding, wildfire, drought, desertification, and permafrost thaw) based on the immediacy of the threat," writes undersecretary of Defense for acquisition and sustainment Ellen Lord.
"The Department has been and will continue to be proactive in developing comprehensive policy, guidance, and tools to mitigate potential climate impacts, with a focus on robust infrastructure, sound land management policies, and increased energy resilience," she wrote.
Around Washington, D.C., several sites make the Army, Air Force and Navy lists, including Fort Belvoir, Va., and Fort Meade, Md., both at risk for recurrent flooding; Joint Base Andrews, Md., at risk for flooding, drought and wildfires; and Washington Navy Yard and Joint Base Anacostia Bolling, at risk for flooding and drought.
The lists are add-ons to a Defense Department study from January — "Effects of a Changing Climate to the Department of Defense" — that found that of 79 operationally critical military installations, 74 are threatened by the effects of climate change over the next 20 years.
Democratic lawmakers, however, were not pleased with the congressionally mandated report when it was released.
House Armed Services Committee Chairman Adam Smith (D-Wash.), along with fellow committee members Jim Langevin (D-R.I.), and John Garamendi (D-Calif.), sent a letter to the Pentagon demanding the information that Congress had ordered it to include, such as the lists, specific mitigation measures to alleviate climate risks at installations, and cost estimates for such efforts.
Lawmakers now appear equally unhappy with the Pentagon's latest version of the report, which Langevin likened to "a student rushing to finish a term paper."
"The Department's methodology remains opaque. The revised report continues to leave off overseas bases, and it fails to include massive military installations like Camp Lejeune. Most importantly, it continues to lack any assessment of the funds Congress will need to appropriate to mitigate the ever increasing risks to our service members," Langevin said in a statement sent to The Hill on Wednesday.
"I have repeatedly made myself available to the Department to clarify the intent behind the specific language of the statute providing for the climate report. No one from the Department has ever taken me up on my offer. Given this record, the assurances from the Secretary that he cares about resiliency ring hollow," he said.
The list is released as Air Force Secretary Heather Wilson on Wednesday urged Congress to provide $4.9 billion in supplemental funding over the next several years to repair Tyndall Air Force Base, Fla., damaged last year by Hurricane Michael, and Offutt Air Force Base, Neb., which was flooded last week.
Tyndall and Offutt did not make it on the Pentagon's top risk list for the Air Force. Posted in accordance with Title 17, Section 107, US Code, for noncommercial, educational purposes
Air Force Needs Almost $5 Billion To Recover From Hurricane, Flood Damage
James Doubeck / National Public Radio
(March 28, 2019) — The U.S. Air Force says it needs $4.9 billion in new funding over the next two and a half years to cover the costs of rebuilding two air bases hit by natural disasters.
About one-third of Offutt Air Force Base, in eastern Nebraska, was underwater earlier this month as flooding hit large swaths of the Midwest. And Tyndall Air Force Base in the Florida Panhandle was hit hard by Hurricane Michael in October.
The Air Force is asking for $1.2 billion in supplemental funding for fiscal year 2019 and $3.7 billion for fiscal years 2020 and 2021. Congress would need to approve the funding.
"This storm, if we don't get a supplemental, is going to affect the rest of the Air Force and our ability to operate," Air Force Secretary Heather Wilson said Wednesday at the Heritage Foundation. "We desperately need the supplemental to recover from the natural disaster that hammered Tyndall and Offutt."
She added that 61 projects — consisting largely of operations and maintenance — at air bases in 18 states would not happen if the supplemental disaster funding does not come through.
She estimated the cost of the hurricane at Tyndall was about $750 million in this year's operation and maintenance funds, with 95 percent of buildings damaged, while "we haven't even begun to estimate fully what the impact at Offutt is going to be."
She said recovery efforts so far at Tyndall have relied on "robbing" funding from other accounts, "just to try to cope and get through."
The request for additional money comes as President Trump has called for repurposing $3.6 billion in military construction funding to help build a wall on the U.S.-Mexico border.
Wilson denied the supplemental funding request was related to the wall. "No no, it's a completely different issue. This is about recovering from the natural disaster, the Hurricane Michael that hit Tyndall and now the flooding in Nebraska," she said.
The Air Force fiscal year 2020 budget proposal is for $165 billion, Wilson said.
Posted in accordance with Title 17, Section 107, US Code, for noncommercial, educational purposes