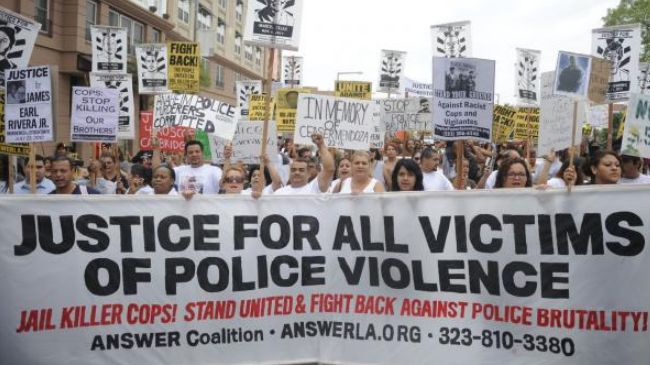 California police kill more people than anywhere else in America.1 But with AB 392, an historic bill being considered this legislative session, lawmakers in the state can do something to stop the killings by changing CA's use of force law. The bill would make it possible to actually hold police accountable when they shoot first and ask questions later–and is being supported by the families who have lost loved ones at the hands of CA police.2 With district attorneys like Anne Marie Schubert in Sacramento and Jackie Lacey in LA, who have never charged killer cops for their entire tenures, AB 392 is one of the only remaining avenues to prevent more death at the hands of CA law enforcement. Changing use of force laws and ensuring accountability in places like Seattle has led to a significant reduction in police brutality incidents.
We know accountability works and we know it can save lives–but police are trying anything to stop AB 392 and momentum for real justice.
The police lobby introduced SB 230, a competing bill, that will expand police department budgets for "de-escalation trainings" but keep CA's outdated use of force law the same. Under the police bill, nothing would change to stop police from getting away with killing us–but it gives them the political cover to claim "progress."2 The CA police lobby has more power than any other in the country–so much that it defeated this bill last year. This year, we have a Democratic supermajority on our side. But we really need all hands on deck to make sure lawmakers don't get confused about which bill brings us closer to justice. Will you join us in our fight to put CA on the right side of history?
Hundreds of Black and brown people are dying because California's antiquated use of force law. Enacted in 1872, it's a relic of frontier-era white supremacy and gives police a license to kill. Penal Code Section 196, is basically unlimited in the protection it gives to police and allows that a police officer may lawfully kill anyone while attempting to make an arrest even if deadly force was not needed. It has been called "the single oldest unamended law enforcement use of force statute in the country."In 2019, district attorneys are still relying on this fossil of a policy to justify letting killer cops off the hook–and the consequences are deadly.
According to 2017 California Department of Justice data, police killed 172 Californians–the most anywhere in the country.3 And, according to a legislative bill analysis, "Of the 15 police departments with the highest per capita rates of police killings in the nation, five are in California: Bakersfield, Stockton, Long Beach, Santa Ana and San Bernardino. Police in Kern County have killed more people per capita than in any other US county." Of the unarmed people CA police killed in 2017, three out of four were people of color.4 
In the aftermath of Stephon Clark's murder, his killers have seen no consequences for blindly firing 20 shots in the dark and shooting him in the back while he was on his family's property. They are still employed and have been able to move on with their lives while the Clark family is still mourning and fighting for justice. That's why impacted families have come together in California with a coalition of organizations to support AB 392.
AB 392 would establish a common-sense legal standard for use of deadly force, emphasizes de-escalation as the primary tactic for police, and allows for prosecution when an officer shoots first and asks questions later.5 
After nearly a year of sustained and innovative public pressure and community building by our friends at Black Lives Matter Sacramento, the California Department of Justice recently released a report recommending that the Sacramento Police Department "require that officers exhaust all reasonably available alternatives before using deadly force." That recommendation is consistent with the new legal standard drafted in AB 392.6`
Accountability isn't about revenge. Police at agencies with stricter use of force policies ACTUALLY kill fewer people.7 Seattle, for example, saw a reduction in the number of use of force incidents after adopting a use of force standard similar to the one in AB 392.8 But the law enforcement lobby is so threatened by AB 392 that it has introduced a bill that merely requires each police department to institute a deadly use-of-force policy. The police lobby's bill doesn't change the state's antiquated use of force law that should have been amended decades ago—and is a farce of accountability.9 
Most police departments in California already have a substandard policy in place that police don't follow. If SB 230 passes instead of AB 392, we can expect more of the same status-quo inaction when our communities are torn apart by police murder. SB 230 allows officers to continue to use deadly force even when they don't have to and even when there are less deadly alternatives, and it would continue to allow police officers to kill just to achieve an arrest.
We demand substantive policy change and an immediate end to frontier-era policing with a clear pathway to accountability for deadly state violence against our people.
With a Democratic supermajority in the state legislature and after incorporating last year's feedback from legislators, AB 392 is strong and we know that we can win this important rule change for Black and brown people in California.10 
If we ensure that AB 392 passes, Black and brown people in California will at least have a chance at legal recourse when the police kill us. Families can be assured that killers won't be given free reign to terrorize our communities rather than getting pulled into a painful, never-ending cycle of injustice. Our people deserve this peace.
Last year, nearly 28,000 Color Of Change members spoke out, wrote over 1,000 letters, and made almost 600 calls to their representatives for this type of change. But, police lobbyists mounted a significant effort to destroy the bill in committee and it didn't make it to a full vote. Legislatures are notoriously cozy with the police union and if we don't mobilize, SB 230 will be passed. We need to stand with impacted families and tell the legislators that AB 392 has the support of the people and that we will not settle for anything less than real accountability for police.
ACTION: By this time next year, police accountability could be the law of the land in California. But only if we urge lawmakers to make the right choice now: pass AB 392, reject SB 230. Make sure legislators hear your voice. Add your name to the petition in support of AB 392.
Until justice is real,
Clarise, Rashad, Scott, Erika, Marybeth, Kristen M., Marena, Leonard, Madison, Tamar, Daniel, Kristen P., and the rest of the Color Of Change team
References:
Color Of Change is building a movement to elevate the voices of Black folks and our allies, and win real social and political change. Help keep our movement strong.
1872 Law Gives Police a License to Kill
Dan Walters / The Sacramento Bee
(March 8, 2019) — Penal Code Section 196, enacted in 1872 when California was the nation's sparsely populated westernmost frontier, declares that a police officer may lawfully kill someone while "arresting persons charged with felony, and who are fleeing from justice or resisting such arrest."
Similar laws in other states have been overturned by the courts, but California's remains intact, described in a legislative report as "the single oldest unamended law enforcement use of force statute in the country."
In practice, it is the basic reason why California's police officers are almost never prosecuted when they kill someone, even when the circumstances indicate that deadly force was not needed.
Last Saturday, Sacramento County District Attorney Anne Marie Schubert declared that two police officers who, a year earlier, had fired a barrage of bullets at the shadowy figure of Stephon Clark, will not be prosecuted. The two "acted lawfully under the circumstances," Schubert said.
Three days later, Attorney General Xavier Becerra agreed, saying, "Based on our review of the facts and evidence, in relation to the law, I'm here to announce today that our investigation has concluded that no criminal charges against the officers involved in the shooting can be sustained."
It turned out that Clark, a much-troubled young man who had been vandalizing cars in a South Sacramento neighborhood, was wielding a cell phone, not a gun. Moreover, just eight of the 20 rounds fired at Clark hit their target, which meant those other bullets could have easily killed someone in a neighboring home.
Had a civilian done what those two officers did – fired multiple rounds blindly at an indistinct figure in a backyard – he or she would almost certainly be prosecuted, at least for manslaughter if not for murder.
Knowing your target, firing only to protect oneself or another from death or great bodily harm and using minimum force to end the threat are drummed into civilian gun owners during firearms training.
California's police shoot and kill more people than those of any other state – 162 in 2017 – and, according to a legislative bill analysis, "Of the 15 police departments with the highest per capita rates of police killings in the nation, five are in California: Bakersfield, Stockton, Long Beach, Santa Ana and San Bernardino. Police in Kern County have killed more people per capita than in any other US county."
The legislative analysis was for Assembly Bill 931, which Assemblywoman Shirley Weber, a San Diego Democrat, carried last year to change the legal standard for police use of deadly force.
Instead of the virtually unlimited legal protection that Penal Code Section 196 and other laws give police, Weber's bill would allow justified shootings "to defend against a threat of imminent death or serious bodily injury to the officer or to another person," with few exceptions.
That's similar to the justified homicide laws governing civilians. Law enforcement organizations bitterly opposed the measure, saying it would put the lives of cops in jeopardy, and Weber's bill died in the Senate.
She's back this year with an almost identical measure, Assembly Bill 392, and the Stephon Clark episode, occurring as it did just a few miles from the Capitol, seems to give it a much better chance of passage. Gov. Gavin Newsom and Sacramento Mayor Darrell Steinberg are among those calling for revising California's use-of-force law.
Police work can be very dangerous, to be certain, and most officers are very reluctant to shoot people. However, we are seeing far too many cases of shoot-first-and-ask-questions-later.
That might have been acceptable in 1872 California. It can't be in the 21st century.
CALmatters is a public interest journalism venture committed to explaining how California's state Capitol works and why it matters. For more stories by Dan Walters, go to calmatters.org/commentary.