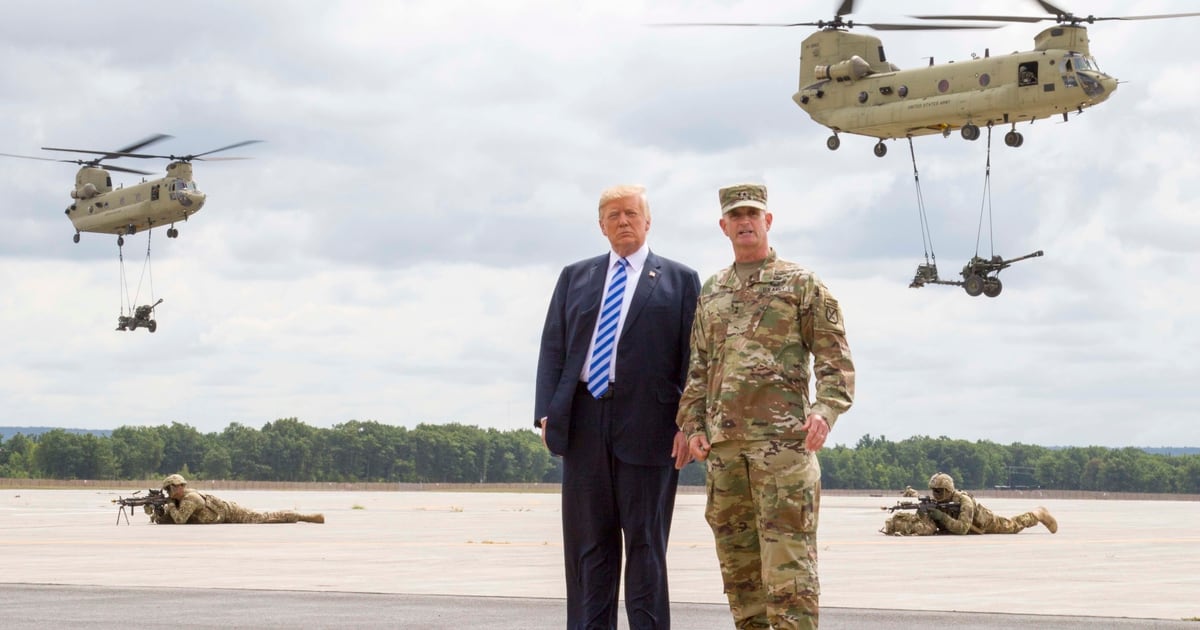 Liberal Groups Want 2020 Dems to Back Pentagon Spending Cuts
Elana Schor / The Associated Press
WASHINGTON (May 24, 2019) — Nearly two dozen progressive groups are launching a new push to persuade Democratic presidential candidates to support dramatic spending cuts at the Pentagon.
The liberal groups are writing Thursday to all candidates in the crowded 2020 Democratic primary, urging the White House hopefuls to support slashing $200 billion or more from an annual defense budget that topped $700 billion for the current fiscal year.
Dubbed "Put People Over the Pentagon" and shared with The Associated Press before its release, the groups' effort aims to elevate defense spending in a presidential race where energized progressive activists are nudging candidates to embrace their agenda on a variety of high-profile issues.
"Hundreds of billions of dollars annually should be shifted away from the Pentagon and to pressing needs from education to averting catastrophic climate change," said Robert Weissman, president of the watchdog nonprofit Public Citizen. "America needs leaders who will speak plain truths about Pentagon excesses and waste."
Four senators vying for the Democratic nomination to take on President Donald Trump last year voted against the measure that authorizes the current Pentagon budget: Bernie Sanders of Vermont, Elizabeth Warren of Massachusetts, Kamala Harris of California and Kirsten Gillibrand of New York.
Sanders and Warren have criticized defense spending levels as excessive, with the Vermont senator vowing to challenge spending on the "military-industrial complex" during a March rally that launched his 2020 campaign.
Besides Public Citizen, the other progressive groups behind Thursday's push for defense spending cuts include MoveOn.org, Indivisible and Democracy for America.
Trump Administration Effort to Increase Military Spending Is Likely to Spur Controversy
Leo Shane III / Military Times
WASHINGTON (February 25, 2019) — White House officials are planning to increase military spending for fiscal 2020 by using temporary war funding accounts to get around federal budget caps, a controversial move that could undermine negotiations with lawmakers.
In an essay for Real Clear Politics on Monday, acting Office of Management and Budget Director Russ Vought wrote that the move is needed because "Democrats insist on demanding more social spending in exchange for continuing to fund defense spending," while President Donald Trump has called for cuts.
"Expanding the use of (overseas contingency) funds remains the administration's only fiscally responsible option in meeting national security needs while avoiding yet another increase to the spending caps," he wrote.
He acknowledged that the move is likely to make fiscal conservatives "uncomfortable" but called it necessary given political opposition to Trump's past fiscal plans.
The move comes as several lawmakers and budget analysts have pushed for reductions in the temporary war funding accounts, designed to cover only the ongoing operations overseas.
Critics say that because the accounts aren't affected by congressionally mandated spending caps, they have become a hiding place for a host of desired program resets and expansions by the Pentagon.
The size of the war accounts has shrunk in recent years, from more than $100 billion in fiscal 2017 to less than $69 billion this fiscal year. Vought did not specify how large the president's request for fiscal 2020 will be, but Politico reported the fund could top $174 billion.
In the last few months, Trump has discussed a 5 percent cut for all federal agencies next fiscal year, as well as a $750 billion defense budget, an increase of more than 4 percent. The president and conservative defense lawmakers have argued the money is needed to rebuild military might after more than 17 years of war.
But congressional Democrats have already panned the military proposal as too high and said that adequate appropriations for the Departments of State and Homeland Security are as critical to national security as Pentagon spending. They have promised to make funding parity a key point of upcoming budget negotiations.
House Armed Services Committee Chairman Adam Smith, D-Wash., and House Budget Committee Chairman John Yarmuth, D-Ky., blasted the war funding reports as "a gimmick to prop up defense spending" by the Trump administration.
"This is nothing more than a blatant attempt to make a mockery of the federal budget process, obscure the true cost of military operations, and severely shortchange other investments vital to our national and economic security," they said in a statement.
In the last two fiscal years, lawmakers reached a compromise on defense and non-defense spending levels to avoid spending caps put in place in 2011. But those caps return again next fiscal year and limit defense spending to $576 billion and nondefense spending to $542 billion.
Vought said raising the cap for defense spending is necessary but lifting it for the other programs "would be a bad deal for taxpayers." He called the national debt a looming crisis for the country.
"It is time for Congress to join the president in his commitment to cutting spending, reducing bloated deficits, and getting our national debt under control," he said. "America's future generations are depending on them."
Leo Shane III covers Congress, Veterans Affairs and the White House for Military Times. He has covered Washington, D.C. since 2004.
Former US Nuclear Safety Chief: 'New Nuclear Is off the Table'
(May 23, 2019) — "Nuclear power was supposed to save the planet," Gregory Jaczko wrote in a recent op-ed for The Washington Post. As an atomic physicist, he once endorsed that view. But his years on the NRC changed his mind:
This tech is no longer a viable strategy for dealing with climate change, nor is it a competitive source of power. It is hazardous, expensive and unreliable, and abandoning it wouldn't bring on climate doom. The real choice now is between saving the planet and saving the dying nuclear industry. I vote for the planet.
Jaczko describes how his experience revealed the pervasive political influence of the nuclear power industry in Congress and among his fellow commissioners. Their opposition derailed much of the safety measures he proposed in the wake of the Fukushima nuclear disaster in Japan. In 2011 an investigative series by the Associated Press detailed the collusion between regulators and the industry to weaken safety standards to keep existing plants economically viable.
Jaczko's efforts to protect the American public likely cost him his career at the NRC. He now leads an offshore wind power startup and is speaking out at an important juncture for the nation's energy future.
Electric utilities that operate nuclear plants are boasting of being "carbon free" by mid-century. They insist that their aging nuclear plants must be part of the equation to keep costs down. But even though Japan closed most of its reactors after Fukushima, carbon emissions went down, because the Japanese ramped up energy efficiency and solar investments.
"It turns out that relying on nuclear energy is actually a bad strategy for combating climate change," Jaczko wrote. "One accident wiped out Japan's carbon gains. Only a turn to renewables and conservation brought the country back on target."
Jaczko's heightened concern for a nuclear accident in the US is also well founded. The former director of the nuclear safety project at Union of Concerned Scientists, David Lochbaum, determined that the industry's efforts to continue to run aging nuclear plants 20 to 30 years or even longer than their initial licenses allowed for is akin to playing Russian roulette.
Since Fukushima, Germany has ordered the shutdown of all nuclear plants by 2022. Japan has reopened only a few reactors. Even France, long a champion of nuclear power, is ramping down its nuclear fleet because of safety concerns.
But in the US, the Trump administration and lawmakers in some states continue to support taxpayer-financed subsidies to bail out money-losing nuclear plants. On grounds of both economics and safety, that's a fool's bet. Listen to Progressive Radio for the whole in depth news story @ KPFK.org in LA.
Posted in accordance with Title 17, Section 107, US Code, for noncommercial, educational purposes.