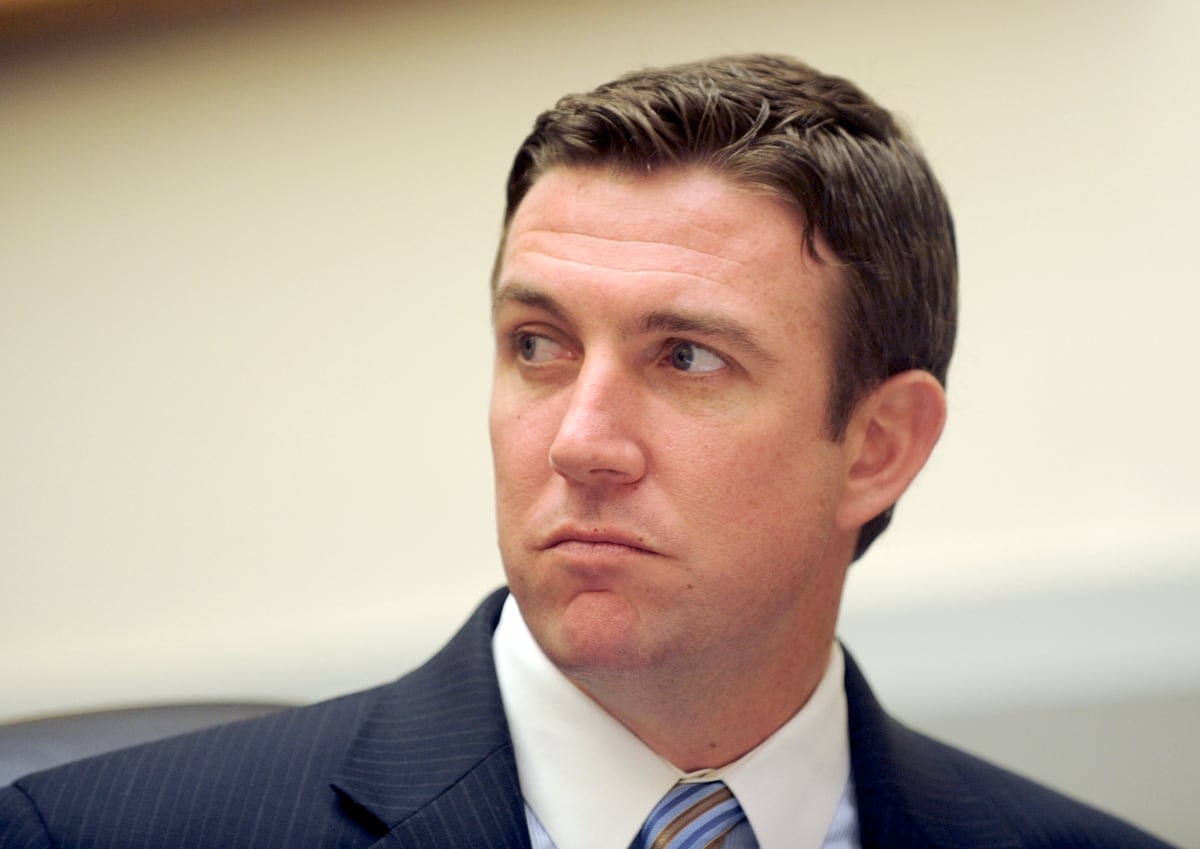 Congressman Duncan Hunter Says He Probably Killed 'Hundreds' Of Civilians While In Combat
(May 30, 2019) — Rep. Duncan Hunter, R-Alpine, said he probably killed "hundreds of civilians" while serving as an artillery officer in Fallujah.
His comments were made public Monday on the latest episode of the podcast "Zero Blog Thirty."
"I was an artillery officer, and we fired hundreds of rounds into Fallujah, killed probably hundreds of civilians," he said. "Probably killed women and children if there were any left in the city when we invaded. So, do I get judged too?"
Hunter recalled this story in response to a question about the actions of Navy SEAL Edward R. Gallagher who is on trial in San Diego accused of war crimes including shooting at civilians. Gallagher has pleaded not guilty.
During the podcast, Hunter was asked specifically about one of the individuals Gallagher is accused of killing, a teenage ISIS fighter. According to prosecutors, the SEAL stabbed the teen who was brought in for medical treatment.
"I frankly don't care if he was killed," Hunter said. "I just don't care."
The Congressman added that he has seen photos and videos from the Gallagher case and has talked to other SEALS who served with him who say they don't believe the charges. Hunter also said Gallagher should be given a break and that the ISIS fighter he is accused of killing was going to die anyway.
In a statement, Capt. Joseph Butterfield with the Marine Corps said the Marines are aware of Hunter's comments, but it is too early to speculate on any future actions.
According to the statement, "Marines are required to comply with the law of war during all military operations, however characterized. If mistreatment of the dead were committed intentionally, it could be considered a violation of the law of war. US service members have been charged and punished under the Uniform Code of Military Justice for posing for pictures with human casualties. Generally, the statute of limitations under the UCMJ is five years."
This is not the first time Hunter has defended Gallagher's actions publicly. At a town hall meeting in Ramona on Saturday, he said he and a lot of his military peers have posed in photos with people they've killed.
"He did one bad thing, that I am guilty of too, taking a picture with a body and saying something stupid and then texting that," Hunter said.
KPBS requested an interview with Hunter but he has not made himself available.
Instead, his office sent a statement that read, "Congressman Hunter was simply trying to make a point in the Gallagher case is that almost everyone has a camera now on the battlefield. A lot of pictures are taken, some have pictures with the enemy involved, some do not. The larger context here is that the case against Gallagher is weak and the Navy prosecution has conducted itself shamefully throughout the process."
Hunter is the first combat veteran from Iraq and Afghanistan to serve in Congress. During the podcast, he said his experience in the military is part of the reason why he decided to run for elected office.
He and his wife, Margaret, were indicted in 2017 on federal charges of illegally converting more than $250,000 in campaign contributions for personal living expenses. Both have pleaded not guilty and have their next court hearing scheduled for July 29. The trial is set for later this year.
Navy SEAL Charged with War Crimes Released Pending Trial
SAN DIEGO (May 31, 2019) — Attorneys for a decorated Navy SEAL facing a murder trial in the death of an Islamic State of Iraq and Syria (ISIS) prisoner will try again Friday to have the case dismissed, after their client was unexpectedly freed from custody.
A military judge released Special Operations Chief Edward Gallagher from custody Thursday, drawing gasps in a San Diego courtroom.
The judge, Capt. Aaron Rugh, said releasing the platoon leader was a remedy for prosecutors interfering with his Sixth Amendment right to counsel.
Gallagher's lawyers have condemned the prosecution for launching an unusual effort to find the source of news leaks in the politically charged case by embedding tracking code in emails sent to defense attorneys and a Navy Times journalist.
Defense attorney Tim Parlatore had accused prosecutors of a "rogue, relentless, and unlawful cyber campaign" that may have violated attorney-client privilege and hurt his client's ability to get a fair trial.
Gallagher's wife, Andrea, who has led a campaign to free her husband, put her hands to her face and burst into tears.
"I feel like it's a small victory on the way to the larger victory," Andrea Gallagher said outside court while her husband stood quietly by her side in his Navy whites.
"We have been utterly terrorized by this entire farce of a case," Andrea Gallagher said.
He didn't comment, on the advice of his attorneys.
A spokesman for the Navy prosecutors also wouldn't comment on Gallagher's freedom or developments at the hearing, which continues Friday.
Gallagher has pleaded not guilty to murder in the death of an injured teenage militant in Iraq in 2017 and attempted murder for allegedly picking off civilians from a sniper's perch.
His platoon supervisor, Lt. Jacob Portier, is fighting charges of conduct unbecoming an officer for allegedly conducting Gallagher's re-enlistment ceremony next to the militant's corpse.
Efforts to get the case thrown out come as President Trump considers pardoning several service members accused of war crimes, including Gallagher, who faces trial June 10.
One of Gallagher's civilian defense attorneys, Marc Mukasey, is also a personal lawyer for the president, the Reuters news service notes.
Gallagher could face life in prison if he's convicted of all the charges, including murder, attempted murder and obstructing justice, Reuters points out.
Gallagher says fellow SEALS testifying against him — several after being granted immunity — are disgruntled subordinates who made up allegations in an effort to get him stripped of his command, Reuters adds.
Evidence at the hearing showed prosecutors enlisted a Naval Criminal Investigative Service intelligence specialist to conduct criminal background checks on three civilian lawyers, including Parlatore, and a journalist with the Navy Times who has broken several stories based on leaked documents.
On Thursday, Rugh said investigators told him privately that they planned to embed code in what he believed to be a court document to help them find the source of leaks but the judge said he didn't have the power to authorize it and wasn't told they planned to target emails sent to the defense lawyers or a journalist.
The lead prosecutor downplayed the move at a related hearing earlier in the day. Cmdr. Christopher Czaplak said the code embedded in the email recorded nothing more than where and when messages were opened by recipients.
Czaplak said the tracking ended May 10 after he was confronted by defense lawyers who discovered the code in an unusual logo of an American flag with a bald eagle perched on the scales of justice beneath Czaplak's signature.
On Thursday, Czaplak said the code was similar to what marketers use to see when an email is opened and on what device.
"It's still a web bug and it's still unethical," countered defense lawyer Jeremiah J. Sullivan III, who represents Portier.
The judge in Portier's case, Capt. Jonathan Stephens, said from what he had seen the tracking effort wasn't able to view the contents of any emails.
Several experts testified that the code couldn't generally be used to identify a specific person or capture content.
Copyright 2019 CBS Interactive Inc. All Rights Reserved.
Posted in accordance with Title 17, Section 107, US Code, for noncommercial, educational purposes.