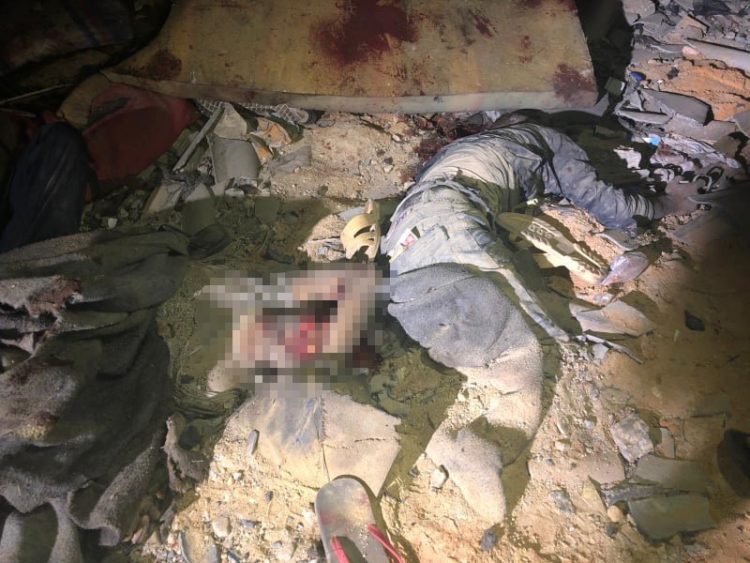 US Blocks UN Security Council From Condemning Libyan Migrant Center Airstrike
UN Reports Migrants Being Fired On as They Fled From Airstrike
Dave DeCamp / AntiWar.com
(July 4, 2019) — The UN security council has failed to condemn an airstrike on Libya's capital city of Tripoli that killed at least 53 civilians on Tuesday when it hit a migrant detention center. The DW reported the US prevented the 15-member Security Council from issuing a statement.
The security council condemnation of the attack would have also called for a ceasefire in Tripoli if passed.
The UN backed government in Tripoli blamed rebel leader former Gen. Khalifa Hafter for the airstrike, who has been carrying out a months-long bombardment on the capital. Hafter denied responsibility for the attack, although he did claim responsibility for an airstrike on a nearby military facility.
On Thursday, the UN said it had information that Libyan guards fired on refugees and migrants trying to flee from the airstrike. It is not clear at this time whether it was Hafter's forces, the UN backed unity government forces or a third party who fired on the migrants.
Hafter is a former CIA asset and US citizen, who President Trump has expressed admiration for in a recent phone call in April. After his conversation with Trump, Hafter hired a lobbying firm in Washington to assist with "international coalition building."
The airstrike comes right after US-made weapons were found in one of Hafter's military bases.
Dave DeCamp is a freelance journalist based in Brooklyn NY, focusing on US Foreign policy and wars. He is on Twitter at @decampdave.
UN Says Libyan Guards Reportedly Shot at Migrants Fleeing Air Strikes
Tom Miles and Ahmed Elumami / Reuters
GENEVA/TRIPOLI (Reuters) — The United Nations said on Thursday it had information that Libyan guards shot at refugees and migrants trying to flee from air strikes that killed at least 53 people, including six children, in a migrant detention center.
A report from the UN Office for Coordination of Humanitarian Affairs (OCHA) said there were two air strikes late on Tuesday, one hitting an unoccupied garage and one hitting a hangar containing around 120 refugees and migrants.
"There are reports that following the first impact, some refugees and migrants were fired upon by guards as they tried to escape," the OCHA report said.
The Tripoli-based interior ministry denied this categorically in a statement.
Bodies were still being recovered from the rubble, the report said, suggesting the death toll could rise.
There are still about 500 people at the detention center at Tajoura, east of Tripoli, with four Nigerians set for release to the Nigerian embassy on Thursday and a plan for 31 women and children to be sent to the UN refugee agency's departures facility in Tripoli.
Interior Minister Fathi Ali Bashagha said the Tripoli government was considering closing all detention centers for migrants and releasing the inmates. Thousands are held alone in centers in Tripoli, the capital.
Libya is one of the main departure points for African migrants fleeing poverty and war to reach Italy by boat, but many are intercepted at sea and brought back by the Libyan coast guard, with the approval of the European Union.
The 53 dead was the highest publicly reported toll from an air strike or shelling since eastern forces under Khalifa Haftar launched a ground and aerial offensive three months ago to take Tripoli, the base of Libya's internationally recognized government in the northwest of the country.
"The number of civilian casualties caused by the conflict has almost doubled as the result of this single attack," the OCHA report said, a day after UN officials said the air strikes may have constituted a war crime.
The United Nations has repeatedly said Libya is not a safe place for rescued migrants to be sent back to and has called for refugees and migrants to be released and given safe shelter.
It has declined to directly criticize Italy for shutting its doors but said European states must help to resolve the conflict in Libya in order to stop people taking perilous sea journeys.
The center is close to a military base and an air strike on nearby Libyan government forces on May 7 injured two people in the center. Despite the risks, Libyan authorities had continued to transfer migrants and refugees into the center, according to the UN report.
On May 12, 108 refugees and migrants picked up at sea by the Libyan Coast Guard were disembarked and transferred to the Tajoura detention center, the report added.
Reporting by Tom Miles, Ahmed Elumami and Ulf Laessing.
Senator Menendez Demands Investigation Into US Weapons Found In Libya
UAE May Have Transferred Weapons to Former CIA Asset Hafter
(July 2, 2019) — Senator Bob Menendez (D-NJ) penned a letter to Secretary of State Mike Pompeo over the reported discovery of US made weapons at a military base used by former CIA asset and rebel leader, General Khalifa Hafter in Libya. Hafter has been leading a months-long offensive against the US backed government in Tripoli.
The weapons, four javelin anti-tank missiles, had markings on them that indicated they were sold to the United Arab Emirates in 2008. The UAE has denied that the weapons were theirs.
"If the United Arab Emirates has indeed transferred these weapons, this would appear to be a serious violation of United States law. Such a transfer would also almost certainly be a violation of the UN arms embargo on Libya," Menendez wrote, "I also note that this is particularly alarming given that you recently tried to bypass Congressional authorization for these specific weapons to the UAE in May through a dubious "emergency" action to counter a supposed Iranian threat."
Last month, the Senate approved 22 separate joint resolutions of disapproval authored by Menendez, to block Trump's "emergency" $8 billion arms sale to Saudi Arabia and the UAE. The 22 resolutions still need to pass the house but President Trump will most likely veto the effort.
Menendez mentioned a CNN expose from last February that showed the UAE, Saudi Arabia and their allies have been arming al-Qaeda linked fighters in Yemen. He ended the letter demanding the state department begin an investigation into the weapons found in Libya.
Although the US is backing the UN recognized Government of National Accord, which is based in Tripoli, back in April, Trump spoke with Hafter on the phone and praised his role in fighting terrorism and securing oil fields. Trump's phone call with Hafter was just after he began his offensive on Tripoli.
The official statement put out by the White House about the conversation said that Trump, "recognized Field Marshal Hafter's significant role in fighting terrorism and securing Libya's oil resources, and the two discussed a shared vision for Libya's transition to a stable, democratic political system."
Encouraged by Trumps's phone call, Haftar has hired a lobbying firm in Washington to arrange a meeting between the two leaders.
Hafter, a US citizen and former CIA asset, was captured in the 1987 while fighting for former Moammar Gadhafi in neighboring Chad. He then gained his freedom by joining anti-Gadhafi efforts in Chad with the CIA-backed National Front for the Salvation of Libya. Hafter's anti-Gadhafi efforts did not last long and after a Libyan-backed coup in Chad, he fled to the US, where he took up residence in Northern Virginia, only a 20-minute drive from CIA headquarters.
The insurgent leader returned to Libya in 2011 during the civil war, but returned to the US shortly after to "enjoy his grandchildren," he told the New Yorker in 2015. In the same interview, he explained what motivated him to return to Libya again in 2014, "Everyone told me the same thing, 'We are looking for a savior. Where are you?' I told them, 'If I have the approval of the people, I will act.' After popular demonstrations took place all over Libya asking me to step in, I knew I was being pushed toward death, but I willingly accepted."
Hafter's ties with the US and his conversation with Trump make the discovery of these weapons all the more suspicious.
Posted in accordance with Title 17, Section 107, US Code, for noncommercial, educational purposes