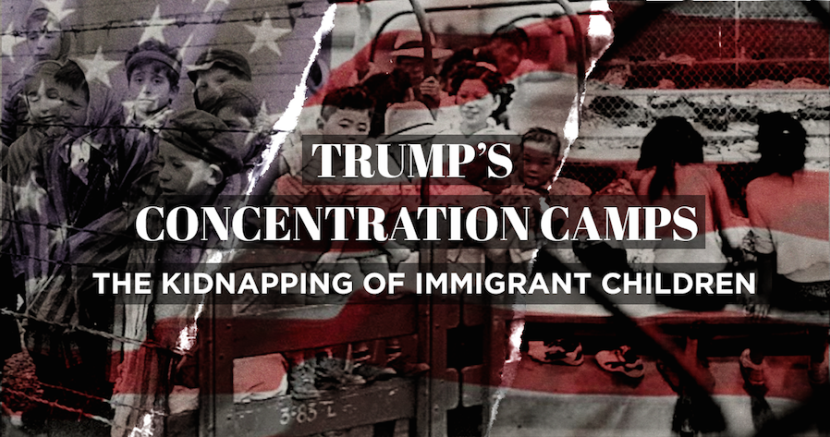 July 12—A National Day of Action to Protest America's Concentration Camps
CODEPINK
(July 12, 2019) — One week ago, Congress voted in favor of a funding package that included $144.85 million to the Department of Defense for jails — most likely tent camps — $209 million to ICE, more than a billion to Customs Border and Protection, and $155 million for US Marshals. Only four Democratic members of the House — Ocasio-Cortez, Omar, Tlaib, and Pressley — voted against it.
The situation at the border and in the concentration camps across the US is a dire crisis, with families separated, children in cages, and people living in inhumane conditions.
On Friday, July 12th, join CODEPINK and our partner orgs for Lights for Liberty: A Vigil to End Human Concentration Camps, bringing thousands of people to protest the inhumane conditions faced by migrants. More than 600 events will take place worldwide to call for the concentration camps to be closed.
Click here to find the closest event to you. If you can't attend this Friday, but want to have an impact in your community sign up here to Divest from the War Machine.
Since 1994, the United States has been implementing a border militarization policy called "Prevention Through Deterrence," which seals migrant crossing routes at US-Mexico border towns and cities, intentionally leaving the dangerous desert as the only crossing area — what led to the deaths of migrants Oscar Alberto Martínez and his 23-month-old daughter, Angie Valeria, in the Rio Grande River while on their journey from El Salvador to the United States.
The companies involved in the US border militarization and the concentration camps include General Dynamics, Israeli weapons company Elbit Systems, and more. [See below for more details on Elbit Systems.] They are profiting off of an immigration policy that is shameful and racist. It's time to divest!
This Friday we will be in El Paso, Texas, where migrants are housed without running water; in LA at the Metropolitan Detention Center; in Washington, DC, to demand action from Congress; in San Diego, near the point of entry site from Tijuana; in Homestead, FL, at a migrant child detention facility perpetrating mass abuse and neglect; in New York City at Foley Square; and many more cities across the world.
Join CODEPINK at the Lights for Liberty vigil in your city and connect with our Divest from the War Machine campaign to remove funding to giants of death who profit from US policies that create refugees and then punish those who seek sanctuary.
We must close the camps! 
ACTION: Protest Elbit Systems
From Palestine to Mexico, stop Elbit Systems from providing the tools for repression and death. We are developing the tools to expose and end their crimes
Elbit Systems Ltd is an Israeli weapons manufacturer. They also provide surveillance technology.
Elbit is the 27th largest arms-producing company in the world. Weapons sales are 95% of its business
Elbit is one of the Israeli army's primary suppliers of weapons, UAV military drones, and surveillance systems.
Elbit provides parts and maintenance for Israel's Lockheed Martin F-35 fighter jet.
Elbit recently bought IMI Systems (formerly Israel Military Industries), producer of most of Israel's munitions.
The US-Mexico border and Israel's apartheid wall both use Elbit high-tech radar surveillance systems.
Former Elbit VP, Major General Thomas Carter, was a part of the Trump Administration's transition landing teams.
For more detailed information on Elbit systems, visit Investigate.
Elbit at the US-Mexico Border
Elbit Systems of America has several contracts with the US Department of Homeland Security for border surveillance technology at the US-Mexico border in Arizona
In 2014, they contracted for $145 million with US Customs and Border Protection for sensors, cameras, radars and "Integrated Fixed Towers" along the Arizona border with Mexico
In 2017, they contracted with US Customs and Border Protection (CBP) for in-fill radar systems and "Integrated Fixed Towers" along the US-Mexico border in Texas
Elbit in Palestine
Elbit's weaponized drones have been involved in all of Israel's major offensives on Gaza
Elbit provides surveillance technology for Israel's apartheid wall in the West Bank
The Israeli military uses MSOV (modular stand-off vehicle) guided missiles on Lockheed Martin F-16 fighter jets to bomb homes in Gaza.
Elbit provides the Israeli military with cluster bombs, which most countries in the world agree are illegal to use
Elbit surveillance drones guide Israeli snipers and bombers
Elbit surveillance technology is used on the apartheid wall in the West Bank.-
Elbit modified Apache helicopters and F-16 fighter jets have been used extensively to bomb civilian targets in Palestine and Lebanon
Elbit weaponized Hermes 900 drones and other Elbit weapons were used during Operation Protective Edge in 2014 when Israel killed over 550 Palestinian children
Elbit modifies and arms the Merkava 4 battle tanks, used to target civilians and to destroy Palestinian agricultural lands
*Research on Elbit systems provided by Investigate — a project of American Friends Service Committee
Printable Elbit Toolkit / Sobre el Boicot de Elbit en Español
ACTION: Click here to tell Congress to stop taking blood money campaign contributions from Elbit Systems
ACTION ALERT: CIA-funded Tech Giant Palantir Is One of the Biggest Cogs in ICE's Deportation Machine
(July 11, 2019) — Government documents recently obtained by our friends at Mijente reveal that ICE used Palantir technology to identify, separate, prosecute and deport countless immigrant families.1
Tech workers, immigrants and immigrant rights activists are demanding that the company break ties with ICE. We must add our voices to their call now before the crisis at the border and in our communities gets worse. Exposing and putting pressure on Palantir to end its ICE contracts is critical to blocking Donald Trump's racist agenda and protecting our communities.
With Congress approving funding to expand border concentration camps and ICE set to launch mass raids as early as next week, Trump's racist deportation and criminalization nightmare is becoming a reality right before our eyes.2,3
The responsibility to fight back falls on our shoulders. We must keep pushing to build a political and social environment where every politician and corporation that enables the systematic abuse of immigrants faces real consequences.
Palantir is an important target. Its technology allows ICE to fine tune its operations by giving its agents the data to rapidly identify, hunt down and imprison immigrants en masse. Through Palantir contracts, ICE has access to:4
A nationwide license plate location database, which it uses to conduct surveillance and reconstruct an individual's private life, threatening the civil liberties and privacy of all drivers.
A database where ICE agents store information and build profiles of undocumented immigrants, including their home address, work address, children's school, finances and social media profiles.
When ICE took unaccompanied minors crossing the border into custody last year, agents used Palantir software to build profiles of these children and their families, arresting undocumented people they came across in their investigations. That included people who came forward to claim their children. Arresting these family members significantly increased the number of children ICE and CBP agents threw into camps. This needs to stop now.
For years, Palantir claimed that its contracts with immigration enforcement did not fuel the deportation machine. We now know that the company lied. It's up to us to bring Palantir's dangerous collaboration with ICE out from the shadows and demand that it stop supercharging mass deportations and mass incarceration.
Tell Palantir: Stop supercharging mass deportations and mass incarceration. . Click here to sign the petition.
Thanks for fighting back,
Nicole Regalado, Campaign Director
CREDO Action from Working Assets
References:
United Nations Slams US for Detention Facilities: 'This Should Never Happen Anywhere'
Jamey Keaten / Associated Press
(July 9, 2019) — The United Nations' human rights chief said Monday she was "appalled" by the conditions migrants and refugees face in US detention facilities, intensifying a challenge to the Trump administration's immigration policies.
United Nations High Commissioner for Human Rights Michelle Bachelet said children stopped by border agents should never be held in immigration detention facilities or separated from their families, and detention should not be the norm for adults, either.
"Any deprivation of liberty of adult migrants and refugees should be a measure of last resort," the UN commissioner said, appealing for "non-custodial alternatives."
A spokeswoman for the UN human rights office, Ravina Shamdasani, said Bachelet decided to speak out more forcefully than before after the US Department of Homeland Security's inspector general issued a report last week warning of dangerous conditions in US immigration detention facilities.
Many migrants and refugees set off on "perilous journeys with their children in search of protection and dignity and away from violence and hunger," Bachelet said in a statement.
"When they finally believe they have arrived in safety, they may find themselves separated from their loved ones and locked in undignified conditions," she continued. "This should never happen anywhere."
President Donald Trump said Sunday that migrants were coming from "unbelievable poverty" and "those are people that are very happy with what's going on because, relatively speaking, they're in much better shape right now" in US custody.
He went on to praise the work of the Border Patrol and other law enforcement officers on the US-Mexico border, saying, "it's incredible what they're doing. They've had to become nurses. They've had to become janitors."
The Homeland Security report was the second by the inspector general's office to blast conditions at temporary detention centers in Texas where migrants are held.
The first, based on visits to Border Patrol facilities in western Texas in May, showed dozens of migrants packed into spaces so tight that some had to stand on toilets. It detailed how 900 migrants were in a 125-person facility at one point, with many held for weeks in violation of the government's policy.
Last week's report, released July 2, said several Border Patrol facilities in south Texas were dangerously overcrowded. Detainees banged on cell windows, shouted and pressed notes to a window for inspectors, according to the report released July 2. A photo showed a man holding a piece of cardboard with one word: "help."
Inspectors also warned that many children had no access to showers and were being detained long past the maximum of 72 hours. Five children have died in Border Patrol custody since December.
"As a pediatrician, but also as a mother and a former head of state, I am deeply shocked that children are forced to sleep on the floor in overcrowded facilities, without access to adequate health care or food, and with poor sanitation conditions," Bachelet, a former president of Chile, said Monday.
"Detaining a child even for short periods under good conditions can have a serious impact on their health and development — consider the damage being done every day by allowing this alarming situation to continue," she said.
Bachelet acknowledged the "sovereign prerogative" of countries to set the conditions under which foreigners are permitted to enter and stay but also highlighted their human rights obligations. Her office said she recognized the "complexity" of challenges faced by migrants' countries of origin, the ones they travel through and destinations like the US.
Posted in accordance with Title 17, Section 107, US Code, for noncommercial, educational purposes.