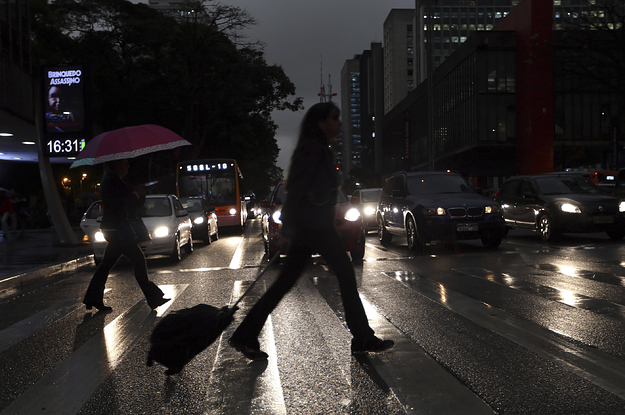 Smoke From the Burning Amazon Rainforest Plunged Brazil's Largest City Into Darkness in the Middle of the Day
(August 21, 2019) — Brazil's largest city was plunged into darkness in the middle of the day Monday as a massive plume of smoke from fires burning in the Amazon descended on the city, alarming residents as a record number of fires raged in the world's largest tropical rainforest.
Day turned to night around 3 p.m., according to the Folha de S.Paulo newspaper, and persisted for more than an hour.
Officials with Brazil's National Institute of Meteorology (Inmet) said the unnerving scene was the result of a combination of factors: cold, humid air, and smoke from unprecedented fires burning in the Amazon rainforest thousands of miles away.
"The particulate matter, coming from the smoke produced by these large wildfires that are happening in Bolivia, coupled with the cold, humid air that is off the coast of São Paulo, caused the darkness," Franco Vilela, a meteorologist at Inmet, told Globo.
Josélia Pegorim, a meteorologist with Climatempo, explained that the cold front changed the direction of the winds and transported smoke billowing from fires in Bolivia in the Brazilian state of Rondônia to the region, resulting in a dense layer of low, heavy clouds and fog.
Atmospheric monitoring data from the World Meteorological Organization showed a massive smoke plume emanating from the rainforest fires had spread across Brazil and over the coastal area Tuesday.
The darkness caused many on social media to express concerns over ongoing fires burning in world's largest tropical forest, which some have dubbed the "lungs of the planet."
A record number of wildfires have torched the Amazon this year as deforestation efforts increase under far-right Brazilian President Jair Bolsonaro.
Brazil's space research center, National Institute for Space Research (INPE), said Tuesday the number of fires detected in the Amazon so far this year had reached 72,843 — an 83% increase over the same period last year and the highest since the agency began recording the data in 2013, according to Reuters.
Because of its natural moisture and humidity, the Amazon has historically been relatively fire-resistant, according to NOAA. Wildfires occurring in the tropical forest today are the result of human activity and droughts, the agency said.
According to preliminary data reported by the INPE, deforestation of the Amazon soared by about 67% through July of this year.
Bolsonaro, who vowed to develop the Amazon region when he took office in January, has criticized the government agency's data and recently fired its head over what he called "lies" that damaged Brazil's reputation.
"News like this that does not match the truth causes great damage to the image of Brazil," Bolsonaro, referring to the deforestation numbers, claimed in a press conference.
Igniting Global Outrage, Brazil's Bolsonaro Baselessly Blames NGOs for Amazon Fires
A record number of wildfires have torched the Amazon rainforest this year as deforestation soars under Brazil's far-right president.
Anthony Boadle and Gabriel Stargardter / Reuters
BRASILIA/RIO DE JANEIRO (August 21, 2019) — Brazil's far-right President Jair Bolsonaro on Wednesday accused non-governmental organizations of burning down the Amazon rainforest to hurt his government, as a growing global outcry against the wildfires raged through social media.
Presented without evidence and disputed by environmental and climate experts, Bolsonaro's comments enraged critics and fanned a growing social media campaign over the dangers to the Amazon, one of the world's key bulwarks against climate change.
#PrayforAmazonas was the world's top trending topic on Twitter on Wednesday, and millions of people took to Instagram and Facebook to share concerns over the future of the Amazon. With global awareness growing, Bolsonaro's comments risk creating a spiraling crisis for his government, imperiling an EU-Mercosur trade pact and upsetting key agribusiness clients.
"Everything indicates" that NGOs were going to the Amazon to "set fire" to the forest, Bolsonaro said in a Facebook Live broadcast on Wednesday morning. When asked if he had evidence to back up his claims, he said he had "no written plan," adding "that's not how it's done."
The former army captain turned politician said the slashing of NGO funding by his government could be a motive.
"Crime exists," he said. "These people are missing the money."
Bolsonaro said his administration was working to control the Amazon fires, which have reached a record number this year. Brazil's space research center, INPE, has detected 72,843 fires so far in 2019, an 83% increase on the same period in 2018.
Environmental and climate experts labeled his claims that NGOs were responsible a "smoke screen" to hide his government's dismantling of protections for the world's largest tropical rainforest. They said farmers clearing land were responsible for the uptick in fires.
"This is a sick statement, a pitiful statement," said Marcio Astrini, Greenpeace Brazil's public policy coordinator. "Increased deforestation and burning are the result of his anti-environmental policy."
Bolsonaro, a longtime skeptic of environmental concerns, wants to open the Amazon to more agriculture and mining, and has told other countries worried about rising deforestation under his watch to mind their own business.
Congressman Nilto Tatto, leader of the lower house environment caucus, said Bolsonaro's "stunning" attack on NGOs was an attempt to obscure his administration's destruction of 30 years of Brazilian environmental protections.
Climate scientist Carlos Nobre said farmers seeking to clear land for cattle pastures wait for the dry season when forests become combustible and then set them alight. He attributed this year's spike to illegal deforestation since it has not been unusually dry.
"NGOs working in the Amazon do not use fire in farming. On the contrary, they encourage rural communities to avoid fire," said Nobre, senior researcher at Sao Paulo University's Institute for Advanced Studies.
Former presidential candidate and environment minister Marina Silva took to Twitter to criticize Bolsonaro.
"The Amazon is on fire," she wrote. "The president says NGOs may be behind this. The lack of commitment to the truth is a chronic pathology. This irresponsible attitude only aggravates an environmental disaster in Brazil."
Speaking later on Wednesday, Bolsonaro also took aim at the Paris climate accord, saying that if it were so good, the United States would have stayed in it. But he added that for the time being, Brazil would remain in the pact.
French President Emmanuel Macron warned in June he would not sign the EU-Mercosur trade treaty if Bolsonaro pulled Brazil out of the Paris accord.
Earlier this month, Norway and Germany suspended funding for projects to curb deforestation in Brazil after becoming alarmed by changes to the way projects were selected under Bolsonaro.
Reporting by Eduardo Simões in Sao Paulo and Anthony Boadle in Brasilia; Writing by Ana Mano and Gabriel Stargardter; Editing by Tom Brown and Rosalba O'Brien
Jair Bolsonaro Launches Assault on Amazon Rainforest Protections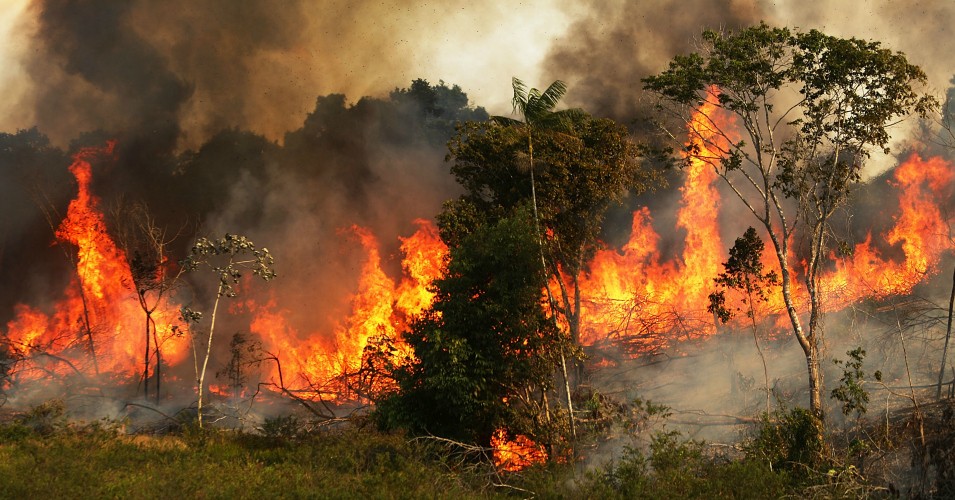 Executive order transfers regulation and creation of indigenous reserves to agriculture ministry controlled by agribusiness lobby
RIO DE JANEIRO (January 2, 2019) — Hours after taking office, Brazil's new president, Jair Bolsonaro, has launched an assault on environmental and Amazon protections with an executive order transferring the regulation and creation of new indigenous reserves to the agriculture ministry – which is controlled by the powerful agribusiness lobby.
The move sparked outcry from indigenous leaders, who said it threatened their reserves, which make up about 13% of Brazilian territory, and marked a symbolic concession to farming interests at a time when deforestation is rising again.
"There will be an increase in deforestation and violence against indigenous people," said Dinaman Tuxá, the executive coordinator of the Articulation of Indigenous People of Brazil (Apib). "Indigenous people are defenders and protectors of the environment."
Sonia Guajajara, an indigenous leader who stood as vice-presidential candidate for the Socialism and Freedom party (PSOL) tweeted her opposition. "The dismantling has already begun," she posted on Tuesday.
Previously, demarcation of indigenous reserves was controlled by the indigenous agency Funai, which has been moved from the justice ministry to a new ministry of women, family and human rights controlled by an evangelical pastor.
The decision was included in an executive order which also gave Bolsonaro's government secretary potentially far-reaching powers over non-governmental organizations working in Brazil.
The temporary decree, which expires unless it is ratified by congress within 120 days, mandates that the office of the government secretary, Carlos Alberto Dos Santos Cruz, "supervise, coordinate, monitor and accompany the activities and actions of international organizations and non-governmental organizations in the national territory".
Bolsonaro, who has often criticised Brazilian and international NGOs who he accuses of "sticking their noses into Brazil", defended the measure in a tweeton Wednesday. "More than 15% of national territory is demarcated as indigenous land and quilombos. Less than a million people live in these places, isolated from true Brazil, exploited and manipulated by NGOs. Together we will integrate these citizens," he posted.
Separately, the incoming health minister, Luiz Henrique Mandetta, suggested on Wednesday that there would be spending cuts on healthcare for indigenous people. "We have figures for the general public that are much below what is spent on healthcare for the indigenous," he said, without providing details.
During last year's election campaign, Bolsonaro promised to end demarcation of new indigenous lands, reduce the power of environmental agencies and free up mining and commercial farming on indigenous reserves. His measure also gave the agriculture ministry power over new quilombos – rural settlements inhabited by descendants of former slaves.
After she was sworn in on Wednesday, the new agriculture minister, Tereza Cristina Dias, defended the farm sector from accusations it has grown at the expense of the environment, adding that the strength of Brazil's farmers had generated "unfounded accusations" from unnamed international groups.
Silas Malafaia, an influential televangelist and close friend of Bolsonaro, said developed countries who centuries ago cut down their own forests should pay if they wanted Brazil to preserve the Amazon.
"We're going to preserve everything because the gringos destroyed what they had?" he said.
Former environment minister Marina Silva tweeted: "Bolsonaro has begun his government in the worst possible way."
Tuxá, the indigenous leader, said: "We will go through another colonisation process, this is what they want."
Posted in accordance with Title 17, Section 107, US Code, for noncommercial, educational purposes.