The US Navy's Robot Battleships
(August 19, 2019) — The US Navy wants to build a fleet of ten robot warships over the next five years.
The huge ships referred to as Large Unmanned Surface Vehicles (LUSVs) would function as scouts for the main battle fleet, carrying radar and sonar as well as anti-air and cruise missiles.
The vessels will mostly carry out "3D work" — dull, dirty and dangerous.
A document shared with potential contractors, posted on the FedBizOpps website, said: "The LUSV will be a high-endurance, reconfigurable ship able to accommodate various payloads for unmanned missions to augment the Navy's manned surface force.
"With a large payload capacity, the LUSV will be designed to conduct a variety of warfare operations independently or in conjunction with manned surface combatants.
'LIGHT FRIGATE'
"The LUSV will be capable of semi-autonomous or fully autonomous operation, with operators in-the-loop (controlling remotely) or on-the-loop (enabled through autonomy)."
The US Navy hopes to build two ships a year, costing £330million per pair, over five years, according to US Naval Institute News.
Each ship would be about 200 to 300ft in length with a displacement of about 2,000 tons.
The ships are described as essentially "a light frigate" and will also have some limited accommodation for a human crew, if necessary.
The plan is to have the ships as generally unarmed but with the ability to carry missiles if needed.
LUSVs will also be capable of acting as floating scouts, sailing ahead of manned ships to detect threats early.
CRUISE MISSILE CAPABILITY
The Pentagon's Strategic Capabilities Office originally spearheaded LUSV under a program called Overlord, which initially tried to convert a fast commercial vessel into an unmanned ship capable of travelling for thousands of miles and weeks.
The US is also acquiring a fleet of unmanned submarines.
Boeing was paid £35.4 million by the US Navy in February this year for four Orca Extra Large Unmanned Undersea Vehicles, according to The National Interest.
The 51ft Orca can travel up to 6,500 nautical miles.
In February this year the China Shipbuilding and Offshore International Company unveiled a small robotic warship that could give China the edge over the US fleet.
The JARI unmanned surface vehicle is 49 feet long and displaces 20 tons of water, Defence Newsreported. It can sail for around 500 miles at a top speed of 42 knots, according to the trade publication.
<iframe width="560″ height="315″ src="https://www.youtube.com/embed/inRnG_CMS_4″ frameborder="0″ allow="accelerometer; autoplay; encrypted-media; gyroscope; picture-in-picture" allowfullscreen></iframe>
DARPA's Unmanned Submarine Stalker Could Change Naval Warfare Forever
(April 4, 2015)  — In 2010, DARPA announced that it wanted to create a surface dwelling unmanned sub hunter stalker, otherwise known as the Anti-Submarine Warfare Continuous Trail Unmanned Vessel, or ACTUV for short. Fast-forward five years and the prototype is about to set sail. What comes next could be a revolution in naval warfare.
China Is Working on Killer Robot Ships of its Own
David B. Larter / Defense News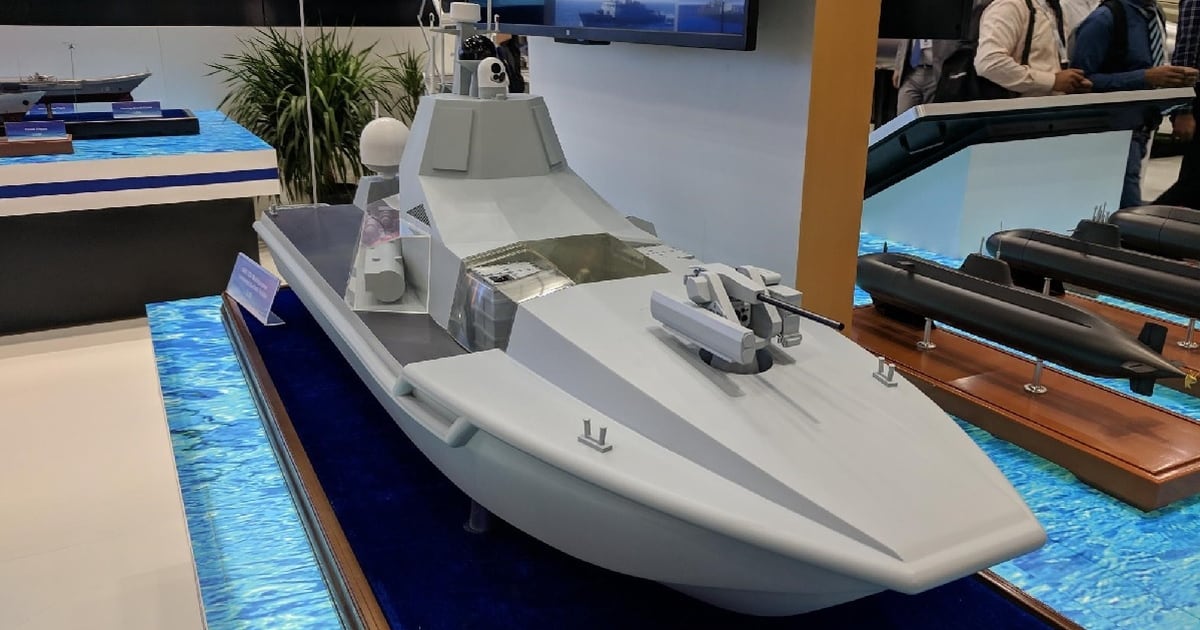 ABU DHABI (February 18, 2019) —The Chinese shipbuilder China Shipbuilding and Offshore International Company is developing a small unmanned surface vessel that China wants to function essentially like the uninhabited baby brother of a US Arleigh Burke destroyer.
The JARI USV is a 20-ton, 15-meter boat that is orders of magnitude smaller than the People's Liberation Army Navy's manned Type -55 destroyer but has all the same mission areas: anti-submarine, anti-surface and anti-air warfare.
A model of the drone was on display at the International Defense Exhibition and Conference in Abu Dhabi.
'The JARI comes equipped with electro-optical sensor atop a superstructure, a phased array radar, a dipping sonar, eight small vertical launch system cells, a torpedo launcher and a forward mounted machine gun and rocket launcher for counter-surface engagements, according to a model displayed at the International Defense Exhibition and Conference.
The US Navy has been increasingly discussing its desire to pursue unmanned technologies to fight on the surface and subsurface, employing a network of sensor and shooter drones to penetrate anti-access environments such as the South China Sea. The JARI seems to be at least part of China's response to that kind of warfare.
According to the product video, the drone appears to be modular and reconfigurable for the different mission areas, but it's unclear what missions are permanently integrated into the system. In the video, JARI is shown alternately shooting down an aerial drone, sinking a submarine, machine-gunning a RHIB full of adversaries trying to steal it (after firing warning shots) and sinking a surface ship that looked a little like a littoral combat ship.
The boat tops out at 42 knots and has a range of about 500 nautical miles.
Last year, when China unveiled the design at a show in Africa, a representative told Navy Recognition that the drone was for use by the PLAN and for foreign sales and that a working prototype was being tested in China.
The drone can be controlled by either a shore station or from a mother ship, Navy Recognition reported.
There is no word on what kind of communication link the boat would have and where exactly humans would be in the loop. In the video it appeared that at least the forward-mounted machine gun would fire automatically at rapidly closing surface targets after firing a round of warning shots.
In an interview with Defense News, the US Navy's Surface Warfare director said the service was looking to field a family of drones that can network back to larger manned combatants, which could remain passive and not give away their position with larger sensors such as ballistic missile defense phased array radars lit off.
Posted in accordance with Title 17, Section 107, US Code, for noncommercial, educational purposes