Yemen's Houthis Attack Saudi Oil and Gas Fields
The rise of drone warfare leaves Saudi infrastructure vulnerable
(September 15, 2019) — Over the weekend, Yemen's Shi'ite Houthis reported that they launched major drone attacks against Saudi oil and gas fields, setting oil refineries ablaze and also slowing some energy production on the Arabian Peninsula.
The Houthis confirmed being behind the attacks, as part of years of Saudi war against them in northern Yemen, saying it was a "response" to Saudi aggression. The Houthis still control much of northern Yemen despite the long Saudi-led war against them.
The Houthis have been making some early steps toward drone warfare for awhile, and this seems to be a major step forward in that, both in capabilities and in the Saudis' inability to stop them.
Despite Saudi Arabia spending the third most of any nation on the planet on their military, they've so far proven ill-prepared to do anything about Yemeni drones, and as these attacks step up, they will pose a growing danger to Saudi Arabia's general infrastructure.
These attacks are raising questions as to Saudi air defenses, as the nation seems to be able to intercept at least some missiles fired by the Houthis, but have proven unable to prevent drone attacks.
Iran Rejects US Accusation Over Saudi Drone Attacks
Pompeo quick to blame Iran for 'unprecedented attack' — with no evidence
(September 15, 2019) — When Saudi oil refineries were struck by a drone attack on Saturday, Secretary of State Mike Pompeo was quick to declare Iran to be responsible. This was par for the course for Pompeo, who has long been the driving force in pushing the US toward military action against Iran.
Iran rejected the accusation, saying that the US allegations were "meaningless" and just meant to justify military action. Officials also presented it as a continuation of US "deceit" about Iran.
Indeed there doesn't appear to be any publicly available evidence of Iranian involvement, while Yemen's Houthi movement, the most probable culprit, openly admits to having carried out the attack themselves. Pompeo says there is "no evidence" the attack came from Yemen, suggesting that North Yemen's largest faction flat out saying they did it doesn't count as evidence to him.
A commander for the Iranian Revolutionary Guard also suggested if Iran wanted to attack something, it wouldn't be some Saudi refinery, noting that a number of US military bases and aircraft carriers are well within range of Iranian missiles. He added that Iran has long prepared for a full-fledged war, suggesting Iran is ready to respond if the US uses this as a pretext for war.
What the US will ultimately do with Pompeo's narrative remains to be seen, though President Trump has declared the US "locked and loaded" for action, and is waiting for the Saudis to assign blame for the attack.
Iraq Denies Its Territory Was Used in Attack on Saudi Arabia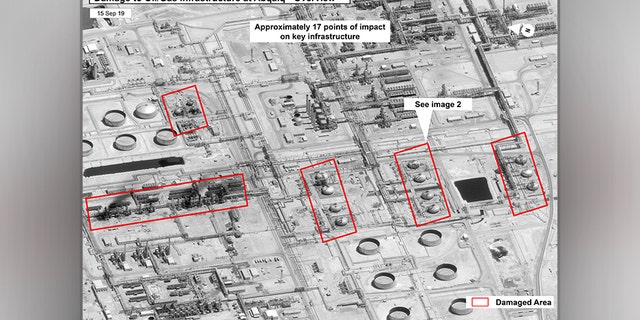 Govt vows not to allow anyone to use Iraq as launchpad for attacks
(September 15, 2019) — Following Saturday's drone attack on Saudi Arabia, Iraq's government has issued a statement denying that there was any link to Iraqi soil and the attack, saying its territory had not been used in any way in the attack.
Moreover, the statement vowed to "punish anyone who intended to use Iraq as a launchpad for attacks in the region." Some media reports trying to blame Iran for the attack suggested Iranian backed militias in Iraq may have been involved.
There is no evidence of any such thing happening, and indeed Iran denied any involvement in the attack as well. Yemen's Houthi movement has claimed credit for the attack, though many anti-Iran hawks are looking to pin it
on them, and that's likely to mean trying to implicate Iraq as well.
Efforts to make Iraq an Iranian proxy have been ongoing for months, as US tensions have risen. Israel has also carried out multiple attacks on Iraqi soil in recent months on this pretext.
Posted in accordance with Title 17, Section 107, US Code, for noncommercial, educational purposes.