Report: US-Made Bomb Killed Six Yemeni Civilians, Including Three Children, in June Attack
"It is unfathomable and unconscionable that the USA continues to feed the conveyor belt of arms flowing into Yemen's devastating conflict."
(September 25, 2019) — US made bombs killed six Yemeni civilians on June 28, including three children, in the Ta'iz governate, according to a Wednesday report from Amnesty International.
The attacks were part of the Saudi Arabia-led war on Yemen, which has killed thousands and triggered what has been described as the world's greatest humanitarian crisis.
"It is unfathomable and unconscionable that the USA continues to feed the conveyor belt of arms flowing into Yemen's devastating conflict," Amnesty's Rasha Mohamed said in a statement.
"Despite the slew of evidence that the Saudi- and Emirati-led coalition has time and again committed serious violations of international law, including possible war crimes," Mohamed continued, "the USA and other arms-supplying countries such as the UK and France remain unmoved by the pain and chaos their arms are wreaking on the civilian population."
Survivors told a harrowing tale of the attack's aftermath.
"We buried them the same day because they had turned into severed limbs," said a family member of the victims. "There were no corpses left to examine. The flesh of this person was mixed with that person. They were wrapped up [with blankets] and taken away."
US support for the Saudi war has been heavily criticized by progressives and some lawmakers. Sen. Bernie Sanders (I-Vt.), in March, led a bipartisan and bicameral group of lawmakers to approve a resolution ending US support for the "humanitarian and a strategic disaster." The bill was vetoed by President Donald Trump.
Amnesty's Mohamed said that there is no longer an excuse for inaction by the countries supplying weapons to the war.
"Arms-supplying states cannot bury their heads in the sand and pretend they do not know of the risks associated with arms transfers to parties to this conflict who have been systematically violating international humanitarian law," said Mohamed. "Intentionally directing attacks against civilians or civilian objects, disproportionate attacks and indiscriminate attacks that kill or injure civilians are war crimes."
As Common Dreams reported Wednesday, the Amnesty report comes on the heels of a a Saudi strike that killed 16 Yemenis, including seven children, were killed in a strike.
"Children should not be victims of this conflict," Save the Children in Yemen country director Tamer Kirolos told Middle East Eye.
Our work is licensed under a Creative Commons Attribution-Share Alike 3.0 License. Feel free to republish and share widely.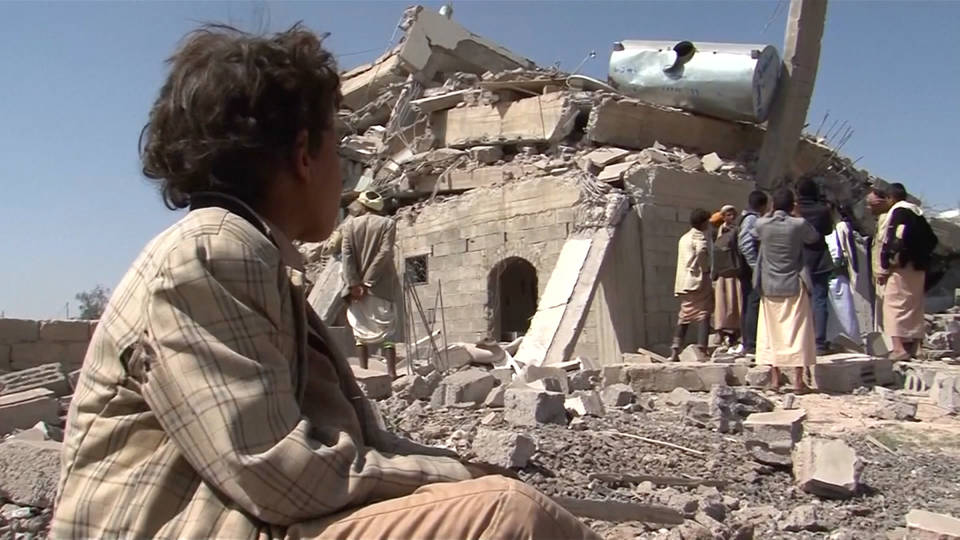 Yemen Town Mourns Family of 15 Killed in Air Strike
Mohamad Ali Harissi / Agence France-Presse
DUBAI (September 25, 2019) —It took medics and residents of Qatabah in southern Yemen more than 12 hours to retrieve the bodies of the Al-Halimi family from under the rubble of their collapsed home.
Fifteen members of the family, including seven children, were killed Tuesday in air strikes allegedly carried out by the Saudi-led coalition fighting Iran-backed Huthi rebels. They were buried on Wednesday in their village of Al-Fakhir, on the edge of the town ringed by mountains, as their loved ones voiced shock and anger.
"It's as if the whole village has been killed," Salem al-Halimi, a relative, told AFP.
"No one would have thought they would die this way. They were a peaceful family." Abbas al-Halimi, 38, his wife and five children — ranging from 11 years to just three months old — were among those killed. His brother and sister-in-law and their two children also lost their lives, along with three other relatives.
The United Nations said Tuesday that 15 civilians, including children, were killed.
Medics told AFP a 16th person was killed outside the house. A Saudi-led coalition spokesman did not confirm or deny the allegations.
'Daily Clashes'
Qatabah, on the edge of Al-Daleh province, has seen fierce fighting between coalition-backed pro-government forces and the Huthis. According to rights activist Mahmoud al-Sheaiby, based in the province, the town is "witnessing non-stop and daily clashes".
Daleh is partly controlled by the rebels, who, according to a local official, seized Qatabah in May this year after fierce fighting. Abbas and his brother worked in nearby fields growing coffee plants and the mild narcotic qat, banned in some countries but part of Yemeni culture for thousands of years.
On Tuesday morning, hours before the men headed to work and their children to school, air raids hit their home. Nothing was left except a pile of wood and debris, a purple shirt visible in the rubble.
"They had nothing to do with the fighting," Salem al-Halimi said. "They were a happy family, and they always avoided trouble and looked for safety. There's anger and shock. We want the truth behind what happened."
Hours before the Al-Halimi family were killed, seven members of another family died in an air strike that hit a mosque in the rebel-held northern province of Amran, according to the UN.
'End This Terrible War'
Yemen, long the Arab world's poorest country, plunged into war after rebels seized the capital Sanaa in late 2014. The Saudi-led coalition launched a blistering offensive months later to prop up the government of Abedrabbo Mansour Hadi.
The fighting has since killed tens of thousands of people and pushed Yemen to the brink of famine. It has also displaced millions and left more than two-thirds of the population in need of aid. The United Nations has described Yemen as the world's worst humanitarian crisis.
"This is the time when everyone should be finding ways to end this terrible war," said Lise Grande, UN's humanitarian coordinator in Yemen. "Families are being forced to bury their loved ones and tend the wounded. This is heart-breaking and senseless."
Afghan Anger Over US Strikes Grows as Election Nears
Protest leaders accuse govt of being too busy campaigning to protect civilians
(September 24, 2019) — 32 civilians killed last week in a US airstrike against pine nut harvesters, and another 40 civilians killed Monday in US airstrikes on a wedding in Afghanistan's Helmand Province. These civilian casualties are fueling growing outrage among Afghans, who took to the streets of Lashkar Gah to protest. 
Hundreds of protesters in Lashkar Gah were demonstrating, and this comes just days ahead of Saturday's election. Mullah Amir Mohammad Akundzada accused the government of being too busy campaigning for the vote to protect civilians from bombings. 
This suggests the protests are going to be a bad thing for incumbent President Ghani and his supporters, with the US defending its recent killings and Ghani seemingly doing nothing about it. 
That's been a recurring problem for Afghan governments, as locals have watched for decades as US strikes kill huge numbers of civilians, and any US accountability seems to be entirely the decision of US leadership.
That an imminent election puts pressure on Ghani to say something is part of the reason why the US is always pressuring Afghanistan to delay its elections, as it's just easier for the existing government not to feel that they have to immediately answer to the voting public.
Pentagon Chief Claims He Will Reduce Rising Civilian Casualties
(September 25, 2019) — The Pentagon is reporting that Defense Secretary Mark Esper is in the process of spearheading a "major new policy" which would be focused on cutting the number of civilians the US military and US-armed allies are killing.
There are said to be concerns about the growing number of civilians killed in US drone strikes and airstrikes, as well as the number of civilians killed by other countries, particularly Saudi Arabia, with ever-growing supplies of US arms. 
That said, the Pentagon is only saying changes would come "where possible," and that a lot of the effort might end up with the Pentagon trying to "be transparent when civilian casualties do occur."
Ultimately this suggests that there aren't big changes coming as initially branded. Any changes would be done only where convenient, and honestly after decades of war any efforts to reduce civilian deaths have been unsuccessful, or short-lived. The priority "where possible" is almost always the status quo.
Promises of more transparency are also difficult to take credibly, as that is certainly not the direction that the Trump Administration has been going with military policy, and especially not with informing the American public about unpopular matters. 
In fact, data that was once offered as a matter of course, like troop levels, have become heavily classified for the sake of avoiding public oversight.
Posted in accordance with Title 17, Section 107, US Code, for noncommercial, educational purposes