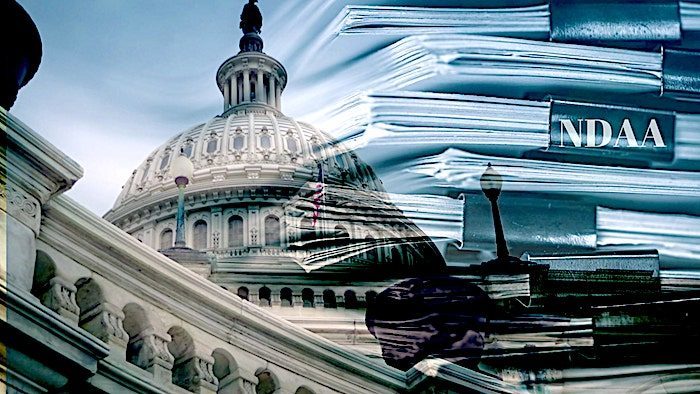 Inhofe to Offer 'Skinny' Defense Policy Bill as Backup Plan
WASHINGTON (October 24, 2019) — Senate Armed Serviced Committee Chairman Jim Inhofe announced Thursday he would offer a "skinny" version of the 2020 defense policy bill this week as a backup plan, in case talks to reconcile the main bills become deadlocked.
Though House and Senate lawmakers initially hoped to quickly negotiate competing versions of the bill, Inhofe's idea is to ensure there's no year-end scramble to authorize special payments and bonuses for service members, construction projects and military acquisition program oversight that would otherwise expire at the end of the calendar year.
"My fellow conferees and I have made good progress on the fiscal year 2020 defense authorization bill, but we haven't yet reached a final agreement. We're not giving up. We've passed this bill for 58 years running because it is our constitutional duty, and we're going to do it again this year," Inhofe, R-Okla., said in a statement. "However, we're running out of time."
The House has a recess planned for early November, after which both chambers are in session for only eight days before they recess for Thanksgiving. From there, both chambers would have another eight working days before the Christmas recess begins in mid-December.
Inhofe's comments came days after House Armed Services Committee Chairman Adam Smith, D-Wash., said that after weeks if negotiations, partisan splits remained on war powers, Guantanamo Bay, transgender service members, the Feres Doctrine, the so-called widow's tax and the border wall ― a key priority of the White House.
"I still believe that we're going to get a bill done, that we're not going to go with this smaller bill," Smith said. "Just yesterday I really started talking with the White House about the issues we're still divided on, and I'm confident that we can resolve this. It's not going to be as quick as we would like because government's divided."
Among a range of differences on nuclear issues, the House bill bars fundingfor the deployment of a low-yield variant of a submarine-launched warhead called the W76-2. It would cut the entire $19.6 million Defense Department request and $10 million Energy Department request for the program.
Republicans insist prohibiting these weapons puts the US at a disadvantage against Russia. Smith ― speaking Thursday at an event sponsored by the Ploughshares Fund, an anti-nuclear weapons group ― repeated his view that this class of weapons is too dangerous to produce but admitted there are low odds the House language will prevail.
House Armed Services Committee ranking member Mac Thornberry, R-Texas, said Wednesday the skinny bill was Inhofe's backup plan, and acknowledged the border wall as a key sticking point.
"The end of the year approaches, but we're also getting tied up in other challenging issues that [we] have to resolve on the appropriations side," Thornberry said.
President Donald Trump's efforts to divert millions of dollars in military construction funding to his promised wall along the US-Mexico border has been a key barrier for the conference negotiations and for talks over individual appropriations bills.
The House bill has language barring such funding transfers in the future, and it does not include money to cover the projects that lost funding in the shift. The Senate version has money in the draft and does not include any language restricting funding transfers.
House Votes to Curb Trump's War Powers, Challenging Senate to Act
WASHINGTON (July 12, 2019) — The House passed legislation Friday with limits on President Donald Trump's ability to strike Iran without the consent of Congress, one of several proposed provisions to curb his war powers that were added to the annual defense policy bill.
Among other provisions that attracted progressives but mostly repelled Republicans in the House, the war powers language could get attention in the Senate, where lawmakers on both sides of the aisle have sought to check the president on foreign policy.
The chamber voted along partisan lines, 220-197, to advance the bill that authorizes $733 billion for fiscal 2020. That's $17 billion less than the White House and Republicans were seeking.
The additions to the bill reflect House Democrats' desire to rein in Trump on military matters, notably through a bipartisan amendment to bar the president from offensive action against Iran without Congress' express authorization. That measure passed 250-170, as 27 Republicans voted with the majority and seven Democrats voted with the minority.
"This is a historic moment for Congress," said Rep. Ro Khanna, one of the co-sponsors. "Although President Trump campaigned on ending costly wars oversees, his … actions to increase tensions with Iran prove he is far from living up to that promise. With more than 25 Republicans voting in favor of passage, this amendment is proof that opposition to war with Iran transcends partisan politics."
The measure brought together Khanna, first vice chair of the House Progressive Caucus, and co-sponsor Rep. Matt Gaetz, R-Fla., known for his staunch support of the president on Fox News and on Twitter. Their action comes after Trump in June reversed course on a military strike against Iran.
"If [US troops] must deploy the patriotism to go downrange and win this war, we should at least have the courage to vote for it or vote against it — every darn one of us," Gaetz said Thursday, challenging hawkish lawmakers to request congressional authorization. "Let them make the case to Congress and the American people, and let them show the military families what their loved ones will fight and die for."
But GOP lawmakers argued the amendment would complicate the commander in chief's ability to respond to Iranian provocations and bar an immediate response if Iran were to attack Israel, Saudi Arabia or an allied tanker in the Straits of Hormuz. The House Armed Services Committee's top Republican, Rep. Mac Thornberry, R-Texas, said military commanders told him the language would limit them too much.
"We have a number of ways that are not war but are the legitimate use of force, where the people who have to live under it think this goes too far and presents them from doing what they need to do," Thornberry said. "This is only good news for Iran."
The bill comes as the Senate's Republican majority defeated a similar war authorization measure last month, 50-40, meant to bar Trump from launching a military strike against Iran without Congress' permission.
An amendment from Reps. Barbara Lee, D-Calif., and Justin Amash, I-Mich., would repeal the 2002 Authorization for Use of Military Force against Iraq. The measure passed with a strong, bipartisan 242-180, as 176 Republicans voted with the majority and four Democrats voted with the minority.
The sponsors argued the AUMF had been stretched far beyond its original intent, while the House Homeland Security Committee's top Republican, Rep. Michael McCaul, called it "dangerous" and said it would shutter US counterterror operations around the globe.
Another amendment from Khanna would cut off US support for the Saudi-led coalition's military operations against Houthi rebels in Yemen. It passed 240-185, with 12 Republicans and one Independent joining the majority and five Democrats joining the minority.
The chamber already approved a prohibition on the transfer of defense articles or services to Saudi Arabia or the United Arab Emirates under the emergency authority of the Arms Export Control Act. Lawmakers have been displeased by Trump's use of an emergency declaration to bypass Congress and make the sales.
The House also agreed to a one-year prohibition on the sale of air-to-ground munitions used in the conflict in Yemen to Saudi Arabia and the UAE, while providing an exemption for any export or license suspensions that would incur a cost to the US government.
The uptick in congressional action has been fueled by civilian casualties in the Saudi-led air campaign against the Houthis in Yemen as well as the death of Washington Post columnist Jamal Khashoggi. Western intelligence agencies accuse the Saudi crown prince of ordering the killing of the journalist at a Saudi consulate in Turkey.
In the Senate in recent months, Republicans have joined Democrats to pass similar measures, but not enough to override a presidential veto.
In March, the US Senate voted 54-46 to end US support for the Saudi-led coalition fighting in Yemen. In June, the Senate voted 53-45 and 51-45 to block White House plans for $8.1 billion in military sales to Saudi Arabia and the UAE, respectively.
Mostly along party lines, the House passed an amendment from Progressive Caucus co-chair Pramila Jayapal, D-Wash., ordering the Pentagon to provide a broad report on how it would cut its own budget. Opposed by Republicans, it would require options for reducing the nuclear arsenal, service contracts, force structure, overseas presence and weapons system costs.
The House was only willing to go so far on the topic, and another Lee amendment ― to slash $17 billion from the operations and maintenance portion of the 2020 war budget ― met a sound bipartisan defeat, 115-307.
Posted in accordance with Title 17, Section 107, US Code, for noncommercial, educational purposes.