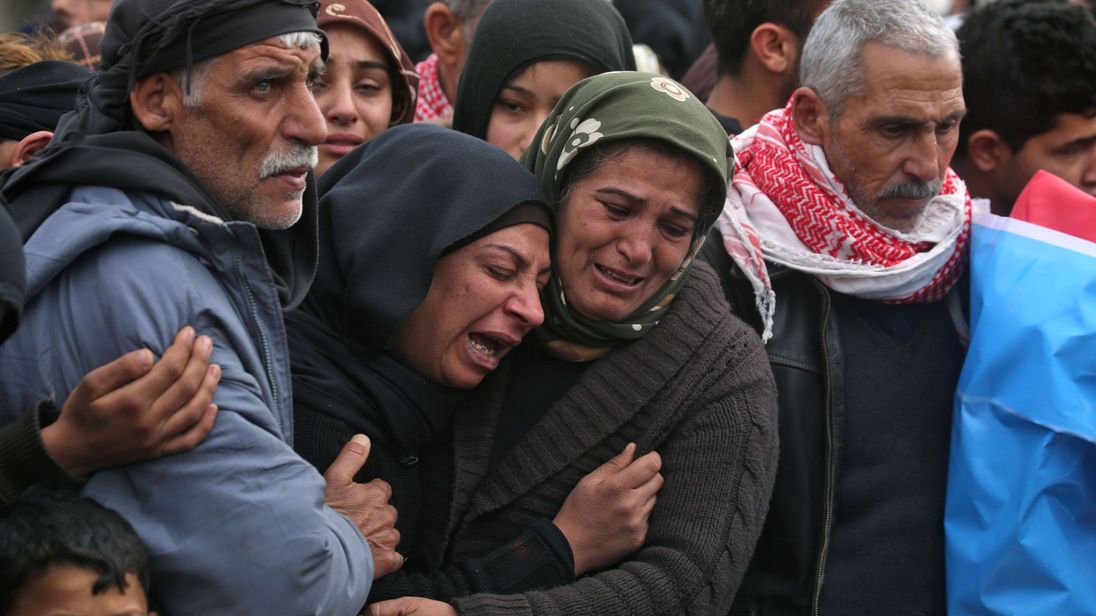 Urgent Alert: They're Running for Their Lives
Avaaz: The World in Action
(October 29, 2019) — As you read this, tens of thousands of children and their families are running for their lives, fleeing bombs, fighter jets, and even chemical weapons that have left horrific burns across kids' bodies.
Turkey's invasion of northern Syria is a humanitarian catastrophe — forcing many global aid groups to flee the fighting! But one brave organization still on the ground is delivering truckloads of blankets, diapers and critical hygiene products, and serving over 50,000 hot meals a day to families who need it most.
They have a simple, stirring motto that resonates so clearly with our movement's mission: "To love is to act." And with so many families in northern Syria still on the move and in dire need, they've appealed directly to our community for help!
Turkey's army is back on the attack, and so many desperate parents in Syria are wondering where their childrens' next meal will come from. Let us be the answer! Imagine the amount of love, comfort and lifesaving aid we can send them right now, if tens of thousands of us chip in.
The latest carnage in Syria is why our community sprung into action this month calling on major governments to ban arms sales to Turkey. Avaazers have sent thousands of messages and phone calls to lawmakers and leaders across the EU and the US, demanding urgent measures to isolate Turkey, and to bring all sides of the conflict to the table, to finally end this abominable war.
But while we work for peace, we can still save lives today. If enough of us chip in, the team on the ground can:
• Make hundreds of thousands of warm meals, and provide milk for babies and infants;
• Distribute mattresses and blankets to families, which will be critical to survival with winter in the region fast approaching;
• Provide emergency medical support and care to people fleeing conflict;
• Help rebuild education and health infrastructure destroyed by bombs and artillery
And with what we raise, Avaaz can bolster this life-saving aid with smart, strategic advocacy for peace-building in Syria, as well as tenacious campaigning for the rights of displaced, vulnerable people everywhere!
There's another inspiring element to this story: our movement has backed this team of humanitarians before. In 2017 we crowdfunded a massive aid budget in days, to help them save Rohingya refugees fleeing ethnic cleansing in Burma. Now we can get behind the same inspiring, hard-working team as they provide food, supplies, and shelter to Syrians running for their lives. Chip in what you can today.
Our movement has stood with the people of Syria since the beginning. At every critical moment, we were there, pushing world governments to create civilian safe zones and allow humanitarian aid to reach those in need, reporting on human rights abuses by the Assad regime and fighting for long-term peace. Today thousands of Syrian families are fleeing for their lives, desperately searching for shelter and food. They need our help. Let's show them they're not alone.
To love is to act,
Joseph, Rosa, Rewan, Wissam, Will, Bert and the Avaaz team
Avaaz is a 51-million-person global campaign network that works to ensure that the views and values of the world's people shape global decision-making. ("Avaaz" means "voice" or "song" in many languages.) Avaaz members live in every nation of the world; our team is spread across 18 countries on 6 continents and operates in 17 languages. Avaaz relies entirely on small donations from members. That's why we're fully independent, nimble and effective. Learn about some of Avaaz's biggest campaigns here, or follow us on Facebook, Twitter, or Instagram. For more information, go to Partners Relief & Development.
Families fleeing escalating violence in northeast Syria continue to arrive in Tal Tamar, 75 km southeast, having fled escalating violence. (Photo: UNICEF)
Syria: UN Remains Concerned for Safety of Civilians in the Northeast
United Nations Office for the Coordination of Humanitarian Affairs
NORTHEAST SYRIA (October 28, 2019) — The UN remains deeply concerned for the safety and protection of hundreds of thousands of civilians in northeast Syria following reports of sporadic fighting.
Of the more than 180,000 reported displaced since 9 October by the fighting, some 106,000 people remain unable to return to their homes.
The latest violence compounds an already dire humanitarian situation in the northeast. Of the 3 million women, children and men in northeast Syria, 1.8 million were already in need of humanitarian assistance, including more than 900,000 in acute need. More than 710,000 of those living in the area were already internally displaced.
The UN continues to call on all parties to exercise maximum restraint and calls for all parties to respect their obligations under international humanitarian law to protect civilians and civilian infrastructure.
Smoke and fire rising from the Syrian town of Ras al-Ayn during the Turkish offensive against Kurdish groups in northeastern Syria.
Turkey Accused of War Crimes after Suspected White Phosphorus Use Against Kurds in Syria
(October 18, 2019) — Turkey, a NATO member, has allegedly used munitions containing white phosphorus against civilians in northern Syria.
Multiple sources have reported that the munitions are believed to have been dropped in the border town of Ras al-Ayn, after images and video surfaced of civilians, including children, suffering gruesome burns associated with the chemical.
Anthony Loyd, a journalist for The Times of London, was present at a Syrian-Kurdish hospital in Tal Tamir where a 13-year-old boy was brought in with associated injuries.
"The burns on the screaming child brought into the Syrian-Kurdish hospital at Tal Tamir were enough to reduce even hardened medical staff to silence yesterday," he wrote.
"Yet the terrible wounds that had all but flayed the 13-year-old Mohammed Hamid Mohammed's skin from his torso, penetrating deep into his flesh, suggested his injuries were caused by something far worse than blast alone.
"They added to the growing body of evidence that suggests Turkey, a NATO member, is using white phosphorus against Kurdish civilians in its eight-day offensive into northern Syria."
Loyd shared the images with Hamish de Bretton-Gordon, a British chemical weapons expert, who confirmed in his estimations that white phosphorus was used.
"This very much looks like it was caused by white phosphorus," Bretton-Gordon said.
"In 24 hours I have been shown more photographs of these kinds of burn than at any recent stage in Syria's war. White phosphorus is a horrific weapon, which can be delivered by aircraft or artillery. It reacts to the moisture in the skin in a way that intensifies its burning, so that water cannot put it out."
The alleged use of the chemical was also documented by Mustafa Bali, head of media relations for the Syrian Democratic Forces (SDF)—the Kurdish-led group currently trying to keep the Turkish invasion into northern Syria at bay.
"After eight days of fierce resistance by our fighters against heavy ground and aerial attacks of Turkey in Serekaniye, we suspect that unconventional weapons are used against SDF fighters upon the reports and signs we receive from the besieged town," Bali said on Twitter.
"We urge international organizations to send their teams to investigate some wounds sustained in attacks. The medical facilities in NE Syria lack expert teams following withdrawal of NGOs due to Turkish invasion attacks."
A corresponding video shows several children with severe burns around the body and face.
The deployment of incendiary weapons against civilian targets is banned by the Geneva and Chemical Weapons conventions. However, white phosphorous is used in a great variety of munitions and devices for a number of purposes. It is not universally illegal, although many countries have disavowed its use in civilian areas. Moreover, not all such devices can be considered chemical weapons. The US uses white phosphorous in devices like smoke grenades, tracer rounds and artillery shells.
It is not yet clear exactly what kind of munitions impacted Ras al-Ayn and how they were deployed.
A spokesperson for the U.N.'s Organisation for the Prohibition of Chemical Weapons (OPCW) told Newsweek: "The OPCW is aware of the situation in northern Syria and is collecting information at OPCW Headquarters with regard to the alleged use of chemical weapons.
"So far, the OPCW has not yet determined the credibility of these allegations."
The allegations come as a press release on the OPCW website released on Thursday stated that Turkey donated €30,000 to the body in order to support construction of a new facility.
"The OPCW plays a significant role in the field of disarmament and international security and it is the central actor in the chemical non-proliferation regime," Turkey's ambassador to the OPCW Şaban Dişli said in the accompanying statement.
"This contribution is another display of the strong commitment of Turkey to the Chemical Weapons Convention and to the OPCW."
The allegations surfaced shortly after an announcement from Vice President Mike Pence on Thursday that a ceasefire deal was reportedly agreed between Turkey and Kurdish-led forces.
Both sides have pushed back against the remarks, however, and evidence of clashes have continued to mount on Friday.
Turkey has denied any use of chemical weapons in a statement released on Thursday. It claimed that terrorists were staging the attacks.
"We receive information that terrorist organizations, after using chemical weapons on themselves, will throw the blame onto our armed forces and try to create perception," Minister of National Defense Hulusi Akar said.
"It is a fact known by everyone that there are no chemical weapons in the Turkish Armed Forces' inventory."
Newsweek has contacted the Department of Defense, the White House and NATO for comment.
Bloodied Clothes and Body Bags: Kurds Mourn Dead in Syria
Northeast Syria (October 11, 2019) — n a wooden hut at the back of a hospital, a woman cradled the head of a dead man and dabbed away grime and blood with a sponge. A blanket covered the man's mutilated lower half. His blood-soaked military fatigues were still wrapped around his chest.
On a table behind, another body lay zipped into a large blue bag — a young woman this time, also dressed in green and wearing the patches of Kurdish forces. The medical worker straightened her head and gently swept the dead woman's hair from her face. "We have five martyrs now," she said, pointing across the makeshift morgue. "Three military and two civilians. The fighters were trying to rescue the others."
The war between Kurdish forces and Turkey was well into its third day, the bloodiest yet, and ambulances, both real and makeshift, were arriving regularly. As they pulled up, locals and medics gathered around ready to tend to each new body and tell the story of how they had died. "He was a civilian," one man said as he uncovered a young boy's face. "Most of them are," claimed another. "This is a war against the Kurdish people."
In war the dead often give up their secrets. It was no different here in this Syrian town 20 miles from the frontline where many of those killed were being brought. So far the majority have been fighters torn apart by Turkish weapons fired into the town of Ras al-Ayn, from which civilians continued to flee on Friday along the only road to safety.
In the sky, fighter planes and vultures circled. The jets picked out targets beneath and the circling birds fed on the aftermath. "There are 10 martyrs in the field, near the blue building," said a local man, sheltering under a shopfront a mile from Ras al-Ayn. "A plane bombed them this morning."
Further down the road a second airstrike had hit a checkpoint, all but sealing the town and trapping the few civilians who remained. The thud of artillery rounds sent a mushroom cloud of concrete dust soaring, yet the occasional truck dared to run the gauntlet. Teaming with mattresses, bags and the odd caged parrot, they made their way towards the relative safety of Tal Tamir, a town used as a waypoint by many of those fleeing.
Ambulances sped past them, disgorging the old and young at the hospital entrance or continuing around the back if there was nothing more to do. A woman sat on her haunches singing songs to her dead son inside. Next to her, a Kurdish woman wrapped large pieces of cotton wool in bandages and laid them on the ground.
"What happened to him?" a Kurdish morgue worker asked the mourning Arab mother as she placed a veil over her hair. "We were sitting outside and the bullets came; one hit him in the head," she replied. "I don't know where it came from."
Across the yard, two men had just finished cutting body armour from two corpses and removing ammunition magazines from their webbing. Dripping blood pooled at their feet as they piled the remains into black plastic bags. "They were trying to pull out the civilians and our comrades were cut in half. A three-year-old girl lost her life."
The narrative has quickly become an essential part of the Kurdish fight with Turkey, and who is dying is central. Halfway between Tal Tamir and Ras al-Ayn, a Turkish Kurd in control of a meeting point repeated a claim made many times in the past three days, in the wake of Donald Trump's decision to sever a four-year alliance: that the world had conspired throughout history against the Kurds, and this time was no different.
On the road back to Qamishli, a foreboding black plume suddenly appeared. War had struck the heart of the largest city in north-east Syria. "There's been an attack near the airport," shouted a local over the phone. The smoke came from a car bomb, not a Turkish attack. The chaotic aftermath of steam, grime and scorched steel littered much of a city block as firefighters and rescuers attempted to gain control.
"There was a massive explosion, then all this," said Razeq Ahmad, a falafel seller who had been standing 20 metres away and somehow emerged unscathed. At least two other people had been killed and another five maimed by an attack that has added yet another dimension to the war for Kurdish lands. Islamic State were the suspects this time.
"Whenever there's chaos you'll find them," said Kawa Maqso. "Who else could have done this?"
Additional reporting by Mohammed Rasool.
Related Stories
• Humanitarian Crisis Looming for the Kurds in Northern Syria, MSNBC
• Why Aid Groups Are Leaving Syria as Another Humanitarian Crisis Unfolds, Washington Post
Posted in accordance with Title 17, Section 107, US Code, for noncommercial, educational purposes.