(November 14, 2019) — US-made Oshkosh armored vehicles were secretly filmed rolling onto the dock at the Yemeni port of Aden last week.
Armored vehicles are not your average transporter: they're one of our military's most up-to-date armed tactical vehicles, and many of them are almost certainly destined to bolster UAE & Saudi-backed forces in Yemen — some of whom have been accused of war crimes. This would be a complete violation of US law governing arms sales agreements.
This is exactly how the conveyor belt of US weapons into the war in Yemen works in practice. It's been going on for years now, and time and again the Trump administration turns a blind eye while Yemeni civilians suffer the devastating consequences.
Right now there's a sliver of hope to stop this horror: a key provision in a must-pass defense bill would suspend future sales of some of the most destructive weapons for one year.
We've got a tiny but critical window, and our team is lining up calls with members of Congress and raising the alarm in the media. We need your help.
The US defense industry's prolific role sending weapons into Yemen, which was approved and justified by the idea that the United States must support Saudi Arabia and the UAE, blatantly disregards the cost to Yemenis.
CNN investigations found that earlier this year al Qaeda-linked groups were armed with US-made weapons in Yemen — even as the US continues to fight al Qaeda in Yemen!
This not only violates explicit end-use agreements that dictate who can use US-sold weapons, it also makes the United States complicit in war crimes when these weapons are misused.
Yeet, even as these widespread and well documented violations occur, new equipment is already being approved for sale. Just last week the Trump administration notified Congress of a sale of 10 Chinook helicopters for $830.3 million to… the UAE.
The US defense industry has shown no hesitation in happily profiting off the prohibited use of their weaponry — but we've now got a crucial window to stop them.
We are working all day every day to demand Congress include the one-year ban on arms sales to the Saudi-Emirati-led coalition in Yemen in the must-pass defense bill.
Thank you for working for peace.
Under Shroud of Secrecy, US Weapons Arrive in Yemen Despite Congressional Outrage
Nima Elbagir, Salma Abdelaziz, Mohamed Abo El Gheit, Florence Davey-Attlee and Ed Upright / CNN
(November 4, 2019) — The awkward camera angle is meant to hide the fact that the owner of the phone is filming, but there is no mistaking the outlines of the heavy cargo being deposited on the dock in the Yemeni port of Aden last week.
The distinctive shape of the US-made Oshkosh armored vehicle stands out in the early morning darkness, a piece of military hardware that is currently at the heart of a standoff between some American lawmakers and President Donald Trump's administration.
Aden is controlled by the Saudi-led coalition in Yemen, whose main partners are continuing to ship American-made weapons into the country despite bipartisan outrage in Congress over the way the US is backing Riyadh in this bloody and bitter conflict.
This footage showing the unloading of a variety of US-made arms — which was filmed illicitly at the offloading site, then obtained and verified by CNN — is itself contentious. Multiple witnesses told CNN that Yemeni authorities, backed by the Saudi-led coalition, have been arresting and questioning those they suspect of leaking it to the media.
Using whistleblower accounts and port documents CNN has identified the ship which offloaded the US weaponry in Aden last week as the Saudi-registered Bahri Hofuf. Looking at tracking data, the vessel's last recorded location was in the Saudi port of Jeddah on September 17, before it sailed to Port Sudan, arriving the following day.
After this, the boat's tracking system was switched off, before it appeared again under the cover of darkness in Aden on October 29.
Secrecy surrounds the flow of weaponry to Yemen's conflict that as of October 31 has killed more than 100,000 people since 2015, according to the Armed Conflict Location & Event Data Project.
The fighting has divided the country's north from south. Iranian-backed Houthi rebels control the capital of Sanaa, while the US-supported, Saudi-led anti-Houthi forces hold Aden. Infighting in the south this summer — between Saudi-supported forces of the internationally recognized government and UAE-backed separatists — further splintered territorial control, threatening to plunge the entire country into a protracted and multi-sided war.
A peace deal between government forces and the separatists was signed on Tuesday in the Saudi capital of Riyadh. It aims to end the power struggle around Aden and defer the issue of whether the south will secede until after the battle against the Houthi-controlled north has been won.
Related Article: Sold to an ally, lost to an enemy
Violating US Arms Agreements
In February, a CNN investigation revealed that Saudi Arabia and the UAE — key US allies — had transferred American-made weapons to al Qaeda-linked fighters, hardline Salafi militias, and other fighting factions in Yemen, in violation of their agreements with Washington.
Oshkosh Defense, the manufacturer of one of the armored vehicles (MRAPs) seen in the latest shipment, told CNN that the firm "strictly follows all US laws and regulations relating to export control."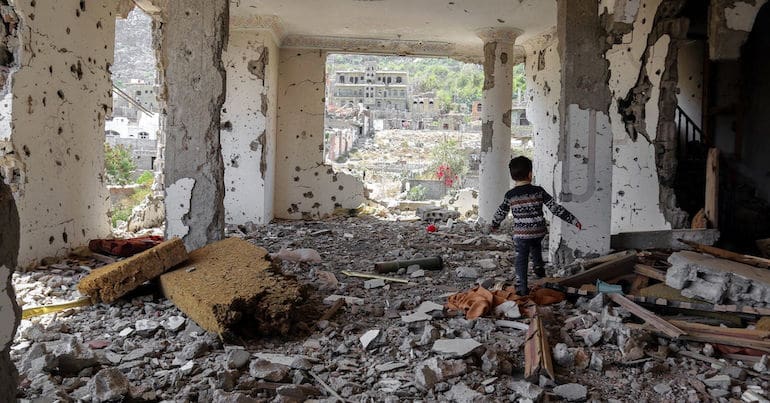 Illegal Saudi attack on Yemen water plant.
Last month, CNN revealed that US MRAPs had been distributed, in contravention of arms deals, to militia groups including the UAE-backed separatists. The separatists were using this equipment in the fight against government forces, who are also armed with US weapons.
Following the initial reporting the Pentagon said it had launched its own investigation, in conjunction with the State Department, into the unauthorized transfer of US weapons in Yemen, which a Pentagon spokesperson says remains "ongoing."
US lawmakers, citing CNN's investigations, have since moved to ban weapons sales to Riyadh and Abu Dhabi, passing the War Powers Resolution against a sitting President for the first time in a bid to end US military support for the Saudi-led coalition in Yemen, and also tried to sanction the Saudis for the alleged murder of journalist Jamal Khashoggi. The War Powers Resolution was approved by the House and Senate but was vetoed by Trump in April.
Trump again invoked his veto rights in late July to block a trio of Congressional resolutions banning $8.1 billion in weapons sales to various countries, including Saudi Arabia and the UAE. The President argued that maintaining the flow of weapons to the two US allies was necessary, citing national security issues and fears of Iranian aggression.
The 2014 deal signed by the UAE with the US was worth $2.5 billion and required the delivery of 4,500 MRAPs.
Under the UAE and Saudi Arabia's arms sales agreements with the US, American-made MRAPs are considered "proprietary technology," which neither party was supposed to let out of its control.
Recipients of US weaponry are also legally obligated to adhere to end-use requirements which prohibit the transferring of any equipment to third parties without prior authorization from the US government. That authorization was never obtained.
A State Department official told CNN that the American government takes all allegations of the misuse of US weaponry very seriously but insisted "there is currently no US prohibition on the use of US-origin MRAPs by Gulf coalition forces in Yemen." A spokesman for the Pentagon, Lt. Col Uriah L. Orland, told CNN "we cannot comment on any potential or ongoing investigations of claims of end-use violations," but also reiterated there was currently no prohibition on the use of US MRAPs in Yemen.
CNN has found multiple instances this year where that weaponry was diverted, in defiance of end-user agreements.
In response to CNN's request for comment a spokesman for the Saudi-led coalition Col. Turki Al-Maliki said "the information that the military equipment will be delivered to a third party is unfounded." He went on to say that "all military equipment is used by Saudi forces in accordance with term and conditions of Foreign Military Sales (FMS) adopted by the US government and in pursuance of the Arms Export Control Act."

US Hold on Arms to UAE
Speaking exclusively to CNN, multiple congressional sources now say the US government has placed a hold on the latest outstanding MRAP delivery to the UAE while the Pentagon continues its investigation.
What this latest Saudi delivery of American weaponry to Aden proves is US military hardware is still flowing into Yemen.
The UAE has not responded to requests for comment.
In February, the UAE told CNN that there was no violation of end use requirements "in any manner." Responding to CNN's evidence in October, a UAE official said: "There were no instances when US-made equipment was used without direct UAE oversight, except for four vehicles that were captured by the enemy."
The US House Foreign Affairs Committee is demanding an urgent briefing from Secretary of State Mike Pompeo and Defense Secretary Mark Esper after CNN's reporting in October, seeking ways to stop the flow of weaponry into Yemen's chaos once and for all.
Sen. Chris Murphy, who sits on the US Senate's Foreign Relations Committee, also responded to CNN's latest findings, saying: "It is reckless to continue selling weapons that fuel this conflict until we get a handle on these illegal arms transfers". He also called on Secretary Pompeo to act and "lean on all parties to agree to a ceasefire in Yemen and bring an end to this war".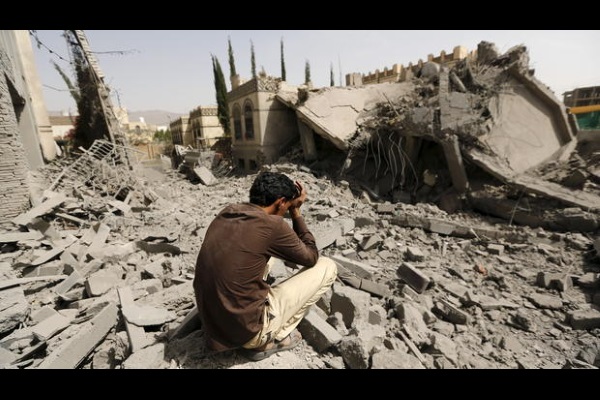 Peace deal
An agreement between the Saudi-backed forces and the UAE-supported separatists was signed in Riyadh on Tuesday. The text of the deal requires militias to return troops by mid-November to locations under their control prior to the breakout of fighting in August. The deal also designates that "medium and heavy weapons" are placed in camps under coalition supervision. It's unclear what this will mean in practice as there is no requirement for the militias to disarm.
No specific measures in the deal address the illicitly distributed US-made weaponry, whose advanced technology has proven decisive on the ground.
Sources close to the talks told CNN that the internationally recognized government had sought assurances from the UAE that it would cease arming separatist forces — but none was forthcoming.
Meanwhile, the broader conflict between the Iran-supported Houthis and the US-backed Saudi-led coalition still remains unresolved.
CNN's Oscar Featherstone, Jennifer Hansler, Sarah El Sirgany, Barbara Starr and Ryan Browne contributed to this report.
Posted in accordance with Title 17, Section 107, US Code, for noncommercial, educational purposes.