Petition: Demand the Trump Administration Keep the US in the Paris Climate Agreement
California Attorney General Xavier Becerra / ActBlue
(December 15, 2019) — This week marks the fourth anniversary of the adoption of the Paris Climate Agreement. While President Trump has abandoned the fight to protect our planet, people, and well-being, we are pushing forward. California's energy standards, environmental protections, and emissions-cutting programs lead the nation in real solutions to address the climate crisis. And in the courts, we're stopping some of the worst parts of Trump's disastrous environmental record — filing over 30 lawsuits to block his pro-pollution agenda.
The Paris Climate Agreement is a key part of the global fight to reduce the impacts of the climate crisis. But Trump is now backing out of it!
President Donald Trump has been pledging to withdraw from the Paris Climate Agreement since the beginning of his presidency. He even made it central to his campaign. Now, he's made it official.
The Paris Climate Agreement is a voluntary emissions-slashing pledge signed by nearly 200 nations with the goal of keeping global warming to less than 2°C. Withdrawing from this agreement spells disaster for our planet and sets a terrible precedent for our allies across the globe.
On November 4, the Trump administration formally submitted its notice to the United Nations to withdraw the United States from the agreement. Now is the time to raise our voices on this issue.
ACTION: The United States must keep its commitment to the planet, and that starts with honoring our obligation to the Paris Climate Agreement. Add your name today to demand the Trump administration keep the US in the Paris Climate Agreement.
ACTION: To keep up to date with Xavier's fight against Trump in court, click here.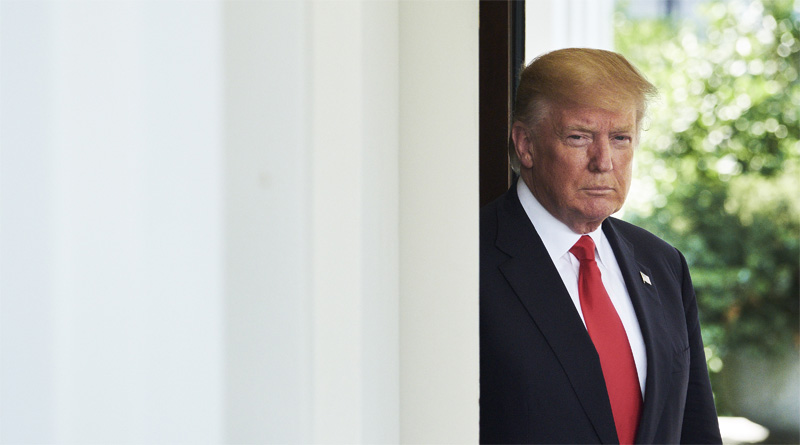 URGENT: TRUMP'S EXTINCTION PLAN MOVING FORWARD
Michael Brune / The Sierra Club
(December 15, 2019) — The Trump Administration's Interior Department is plowing forward with misguided, unpopular rollbacks of the Endangered Species Act. Beloved species—especially those affected by climate change—are in more danger than ever before.
What would our skies be like without the iconic American bald eagle? Our coastlines without the Florida manatee? Our western national parks without the grizzly bear?
The only reason these beloved animals are still with us is the Endangered Species Act, the landmark law supported by 4 out of 5 Americans — which was gutted this year by the Trump administration.
The Sierra Club is fighting the Trump Extinction Plan on two major fronts, to save the Act itself and the countless species depending on its protections for survival:
• We're defending the ESA against the Interior Department's devastating plans.
• We're rallying support on Capitol Hill behind two bills that would effectively restore all of the protections obliterated by Interior's rollbacks.
The Trump Interior Department's rollbacks to the Endangered Species Act are nothing short of disastrous. The Trump Administration's Extinction Plan would make it more difficult to protect imperiled species like the Monarch butterfly, Florida Key deer, and Canada lynx — delaying lifesaving action until it's potentially too late.
This plan would also make it easier for corporate polluters to build roads, pipelines, mines and other disruptive projects in critical habitat areas crucial to vulnerable species' survival.
And it's not just you and me who care about the Endangered Species Act: More than 800,000 people submitted comments objecting to Interior's changes…105 members of Congress and 34 US Senators sent letters protesting the harmful rollbacks . . . 10 states, 30 tribal nations and the District of Columbia went on record opposing the plan… and thousands more attended town halls, made calls and posted on social media.
This assault on our wildlife will not stand, swim or fly — not on our watch. Please, help us defend the Endangered Species Act in the courts, on Capitol Hill and in the grassroots.
Thank you for your support of the animals and ecosystems on which our planet's biodiversity depend. With your help, we will protect our natural heritage from the Trump administration's poison pen and poisonous corporate backers.
Michael Brune is the Executive Director of the Sierra Club
Critical Vote on Trump's Pro-polluter NAFTA 2
Ben Beachy / Sierra Club
(December 15, 2019) — Trump's pro-polluter NAFTA 2.0 will likely come to a vote this week in the House. Though some members of Congress are touting it as new and improved, the deal makes no mention of the climate crisis, fails to protect our environment, and helps corporate polluters.
Trade deals have long-term consequences for our climate and our economy. That's why it is critically important that we get it right when we have a rare opportunity to renegotiate a bad trade deal like NAFTA.
Environmental groups have been clear from the beginning about what we need to see in a NAFTA replacement. Yet one year ago, the Trump administration signed a bad deal with Mexico and Canada that would help corporate polluters dodge climate policies, expand fossil fuels, and dump toxic pollution. To try to fix this, more than 100 climate champs in Congress spoke up this Fall and asked for key changes to the trade pact, including binding climate standards and a commitment to the Paris Climate Agreement. (1)
But the final deal struck last week between House leaders and the Trump administration ignored our calls for a climate-friendly NAFTA replacement. In fact, it failed on seven out of seven core environmental priorities. (2) We strongly oppose Trump's final deal, along with other leading environmental groups. (3)
A vote on Trump's pro-polluter NAFTA 2.0 is expected this week. Tell your representative to vote NO on the deal to protect our communities and climate.
It's infuriating to hear news reports and talking heads touting this deal as a new template for trade agreements when we know what this deal will do to our climate and communities. In the midst of the climate crisis, it is simply unacceptable for any trade deal to make so little effort to limit the climate and environmental impacts of trade.
If passed, this deal would lock into place Trump's polluting legacy for years after he has left office. It would contribute to the climate crisis by helping corporate polluters outsource climate pollution, export more tar sands oil and fracked gas, and challenge Mexico's climate policies in private tribunals. It would perpetuate NAFTA's ugly track record of helping corporations dump toxic pollution in communities in Mexico while outsourcing jobs so as to evade our hard-fought protections for clean air and water.
ACTION: Send an urgent message to Congress now, asking your representative to oppose Trump's pro-polluter NAFTA 2.0!
Thank you for helping us fight toxic trade deals and work toward climate-friendly trade.
Ben Beachy is the director of the Sierra Club's A Living Economy campaign.
ACTION: Please Join Sierra Club and CREDO Action for an Emergency NAFTA 2.0 Webinar — Monday 7:00 p.m. ET / 4:00 p.m. PT. We'll discuss the latest trade deal and detail efforts a to stop it.
ACTION: Once you send your message, can you also make a phone call? Call 1-855-980-2349 and we'll connect you to your representative's office where you can leave a message asking your member of Congress to oppose the deal.
1. More than 100 Democratic House Members Demand Binding Climate Standards and a Commitment to the Paris Agreement in Ongoing NAFTA Negotiations, September 2019.
2. Trump's NAFTA 2.0: An Environmental Failure, Sierra Club Analysis, December 2019.
3. Environmental Groups: Vote No on USMCA, December 13, 2019.