Avaaz.org — The World in Action
Jamie Dimon is the King of Carbon, overseeing billions invested in planet-cooking fossil fuels. But suddenly one of his biggest competitors was pushed to announce a major shift away from coal — and Dimon's coming under massive pressure to match it. This is our chance! Let's turn up the heat, splash his face in a major financial paper, and push King Carbon to green his trillions!
(January 20, 20202) — Remember this name: Jamie Dimon. He's the King of Carbon — CEO of the world's biggest banker of climate change, pumping $196 BILLION into planet-cooking fossil fuels since 2016. We have to stop him.
After relentless public pressure, one of Dimon's biggest competitors just promised a major shift away from coal — and Dimon's feeling the heat. If he changes course, it could choke the fossil fuels industry and kickstart an energy revolution! Public pressure worked before — now let's do it again!
Dimon's expected at a key global summit: Let's meet him with millions of our voices, splash his face in a major financial paper, and force him to green his bank's trillions — add your voice now! 
Climate change isn't in the future anymore — it's here, now. We're pushing against planetary boundaries every single day, and the costs are counted in acres burnt and lives lost. The need to shift trillions away from dirty energy has never been more urgent.
But suddenly there's huge movement, with the world's largest asset manager, BlackRock, promising to put climate at the heart of their business. It's a major breakthrough — and creates the perfect moment to target Dimon's bank, JPMorgan Chase, and set off a chain reaction of big banks ditching fossil fuels.
Let's get to work! BlackRock moved after relentless public pressure — so let's turn it up again and force Jamie Dimon to green his trillions.
ACTION: Sign now and tell everyone: Click here to sign!
The climate fight is now an everything fight — from schools to politics, and business to finance, we have to show up EVERYWHERE. Thousands and thousands of Avaazers just donated to help fund fire rehabilitation in Australia, now let's follow it up by pushing the world's biggest banks to put the planet first!
With hope and determination,
Mike, Patricia, Christoph, Alice, Risalat, Nax, Pascal and the Avaaz team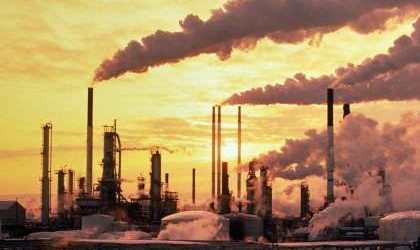 Climate Devastation Is Big Business For Big Banks
(April 22, 2019) — $1.9 trillion dollars.
That's how much money 33 big private banks have pumped into fossil fuels since the Paris Agreement, an international pact between 197 countries to combat climate change, was adopted in late 2015. It also happens to be enough money to put solar power on every house in the world.
This headline finding comes from Banking on Climate Change — a report released last month from Rainforest Action Network, BankTrack, Indigenous Environmental Network, Sierra Club, Oil Change International, and Honor the Earth — which shows that big bank financing for fossil fuels has been on the rise over the last three years.
We know some of the devastating effects of climate change; stronger hurricanes, rising sea levels, and intense heat waves, to name a few. And we know the role that humans play in climate change; namely burning fossil fuels to create excessive carbon dioxide and other greenhouse gases like methane, which trap heat in our atmosphere. While big banks increasingly commit to Environmental, Social, and Governance (ESG) policies that state their dedication to environmental sustainability, one can not ignore the irony of big banks also increasing exposure to the fossil fuel industry at the same time.
To underline this hypocrisy, the report sums together bank lending and underwriting to the fossil fuel sector at large, as well as to the 100 top companies aggressively expanding fossil fuel production. In both cases, JPMorgan Chase is found to be the most prolific banker of climate change by a wide margin. (Chase seems to always be found at the top of financing extractive industries. If you recall, the bank was also the biggest financier of the private prison industry up until last month when they agreed to cut future ties with GEO Group and CoreCivic).
Researchers calculated bank financing for various subsectors of the fossil fuel industry, like tar sands and coal. The report also grades banks on their future-facing policies to manage their fossil fuel financing. While some banks, particularly in Europe, have taken important steps, no global bank is close to being aligned with the Paris Agreement's goal of limiting climate change to 1.5° Celsius. This would require measures like expanding renewable energy to provide 70–85% of the world's electricity by 2050, and curbing carbon emissions by at least 49% by 2030. To accomplish this, the world would need to invest an average of $3 trillion a year over the next three decades — a feat that effectively requires buy-in of our largest financial institutions. In honor of Earth Day sat down with Jason Opeña Disterhoft, RAN's bank policy and advocacy lead, to dig deeper into the report and what it means for our collective future.
What makes the Banking on Climate Change report so groundbreaking? What are a few of the most jarring facts that this report exposed, in your opinion?
This report is the fullest accounting to date of private banks' contributions to climate change. For the first time, we've zoomed out to look at financing for over 1,800 companies across the coal, oil and fossil gas sectors globally over the past three years. And what we find is that even though the IPCC has made clear the path we need to take to limit global warming to 1.5° Celsius — and the devastating consequences of not meeting that goal — overall bank financing for fossil fuels is huge, and on the rise.
Another finding that took us by surprise is the extent to which fossil fuel financing is dominated by the US megabanks. The top four largest funders of fossil fuels are US banks — with JPMorgan Chase far and away the worst of the worst. At $196 billion, JPMorgan Chase's fossil financing over the past three years is 29% higher than second-placed Wells Fargo. And when we look at funding for those 100 top companies expanding fossil fuels, JPMorgan Chase's $67 billion in financing since Paris is a stunning two-thirds higher than the second-biggest banker of fossil fuel expansion, Citi.
We know that emissions have to drop by almost half by 2030, and going forward, banks' fossil financing has to match that trajectory. The first step is to stop financing of fossil fuel expansion. On climate, we're in a deep hole already, and banks have to stop digging.
Who was this report made for? What audience are you trying to most directly reach?
The report is useful for people around the world to learn what banks in their regions are financing and demand that they do better — like we saw just a few weeks ago, when people in 22 US cities took to the streets to protest JPMorgan Chase's financing of climate change.
This report should also make clear to investors in banks just how much climate risk there is in those holdings, and prompt them to ask the banks hard questions about their plans to phase out their fossil fuel financing. We've also seen regulators take up the findings of the report, most notably earlier this month when Representative Rashida Tlaib asked the CEOs of the US megabanks about their fossil fuel financing and commitments at a high-profile House Financial Services Committee hearing.
Can you talk a little bit about the connection between Indigenous rights and the responsibility of big banks, as outlined in the report?
The first thing to note is that Indigenous peoples are among those experiencing impacts from a changing climate first and worst. At the same time, they are at the forefront of movements around the world to protect land, air, and water from fossil fuel production. The roots of the climate crisis and the exploitation of land for natural resources are issues Indigenous peoples have been speaking out against for hundreds of years.
The banks supporting the fossil fuel industry have a responsibility to avoid financing projects and companies that violate Indigenous rights, including in particular the right to require free, prior, and informed consent for development that impacts them. And yet, we see banks backing companies like Enbridge, which is trying to build the Line 3 tar sands pipeline despite explicit opposition by impacted Indigenous nations.
The same banks in this report have also been at the center of controversy around financing the private prison industry. Do you see holding banks accountable on financing fossil fuels as part of a growing trend toward corporate accountability?
Absolutely. Right now, the banks that so many of us trust with our life savings are actively funding climate chaos. That doesn't have to be the case. Consumers, investors, and other stakeholders increasingly expect basic moral and financial responsibility from these banks. And real corporate accountability will have to mean more than just "greening" their offices, or funding renewables, as important as that is. Climate change is a crisis, and an all-of-the-above approach is not an option. A key element to true accountability is being proactive and transparent about setting a trajectory that matches what the science says we need. Banks have to tell us their plans to phase out fossil fuel financing.
If you bank with one of the banks implicated in the report, what should you do? Should you break up with your bank and move to another one, should you get involved in grassroots activism to change the banks' behavior… in other words, what's the best way to engage?
At RAN, we believe that the banks are most likely to change their ways if they hear from a wide variety of stakeholders — including customers, shareholders, and people on the street. The first step is naming the fact that banks have a climate problem, and making it urgent for them to address it. At ran.org, you can send a message to the CEOs of the top four fossil banks in the world. You can also join our Climate Year of Action — each month we'll be spotlighting high-leverage ways to move the needle on banks and fossil fuels. People who track the financial world, like readers of Forbes.com, are a key constituency. We'd love you to join us.
BlackRock CEO Larry Fink: Climate Crisis Will Reshape Finance
Andrew Ross Sorkin / New York Times
(January 14, 2020) — Laurence D. Fink, the founder and chief executive of BlackRock, announced Tuesday that his firm would make investment decisions with environmental sustainability as a core goal.
BlackRock is the world's largest asset manager with nearly $7 trillion in investments, and this move will fundamentally shift its investing policy — and could reshape how corporate America does business and put pressure on other large money managers to follow suit.
Mr. Fink's annual letter to the chief executives of the world's largest companies is closely watched, and in the 2020 edition he said BlackRock would begin to exit certain investments that "present a high sustainability-related risk," such as those in coal producers. His intent is to encourage every company, not just energy firms, to rethink their carbon footprints.
"Awareness is rapidly changing, and I believe we are on the edge of a fundamental reshaping of finance," Mr. Fink wrote in the letter, which was obtained by The New York Times. "The evidence on climate risk is compelling investors to reassess core assumptions about modern finance."
Read more online.
More Information:
•   World's top three asset managers oversee $300bn fossil fuel investments (The Guardian)
https://www.theguardian.com/environment/2019/oct/12/top-three-asset-managers-fossil-fuel-investments
•   Banking on Climate Change Report – 1.9 trillion funneled into fossil fuels
https://www.ran.org/bankingonclimatechange2019/#data-panel
Posted in accordance with Title 17, Section 107, US Code, for noncommercial, educational purposes.