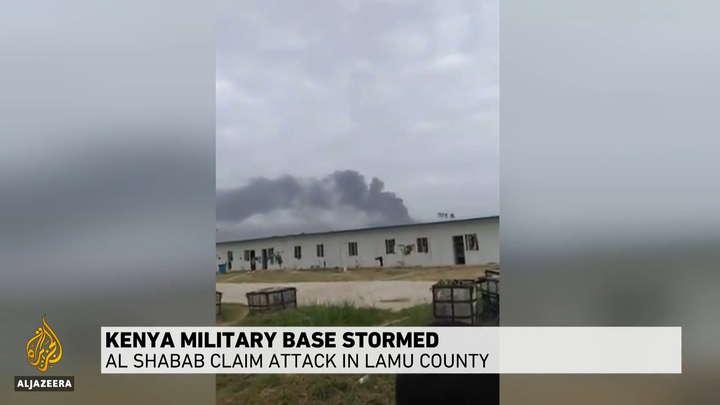 The bloody ambush of a US base in Kenya shatters the illusion of our military primacy
Kelley Beaucar Vlahos / The American Conservative
(January 22, 2020) — While the world was reacting to the US military's double hit—bombing Iraq/Syria on Dec. 29, and assassinating Iraqi Quds Force Gen. Qassem Soleimani on Jan. 2, no one paid much attention to American soldiers being completely ambushed 4,000 miles away, in Kenya, on Jan. 5.
Four Americans—three contractors and one 23-year-old soldier—were killed.
No doubt the TAC audience will recall a piece by Gil Barndollar over the holidays cautiously praising the impulses of Secretary of Defense Mark Esper, who had just announced that the US was considering a major troop withdrawal from the African continent. Where January's attack on our troops in Kenya leaves that small sliver of hope is anyone's guess. But we can surmise from this New York Timespiece today that the E Ring brass are likely rethinking any serious withdrawal plans.
That is unfortunate, because as better strategists than I would probably say, it is the very fact that the US military has spread itself so wide and thin across the globe, putting itself into vulnerable positions, antagonizing local insurgencies and proto-terror groups, all to serve as World Police, that sparks these violent events in the first place. Sadly the military, bruised and bolstered by this ambush of rag tag (but highly effective) Shabab militiamen, will likely hunker down now, and if anything, seek reinforcements.
The Times has a great breakdown of the attack but here is the rub:
On Jan. 5, about a dozen armed Shabab destroyed an American surveillance plane taxiing on the tarmac at the "sleepy" US base on Manda Bay, which is near Kenya's border with Somalia. According to the paper, three American contractors were on the plane when they saw the fighters coming at them through the "poorly defended fence line." The militiamen fired a rocket-propelled grenade into the plane, killing two of the contractors, while the third, badly burned, crawled out of the plane to safety (it took eight hours to get the man to hospital-level care in Djibouti).
The fighters then proceeded to destroy "a significant portion of the American fleet of aircraft—a mix of six surveillance aircraft and medical evacuation helicopters on the ground at the time." They also "made quick work" of a fuel storage area, "rendering the airfield next to useless," and most likely costing the Pentagon millions of dollars.
There was an ensuing gun fight of course, but our forces were clearly caught unawares, according to the paper, which said that it took American commandos from the area "around an hour to respond." Many of the local Kenyan forces, who were assigned to defend the base, "hid in the grass while other American troops and support staff were corralled into tents, with little protection, to wait out the battle."
A 23-year-old soldier, Spc. Henry Mayfield, was killed in the tarmac ambush. He was in a nearby truck where he was acting as an air traffic controller. Two other American servicemembers were wounded in the attack. 
While some Americans there on the base were able to return fire, "roughly a dozen members of a Marine Special Operations team" led a counter attack, alongside several Kenyan Rangers they had been training and accompanying during their deployment to the region. But they were at Camp Simba, "an American enclave roughly a mile from the airfield." Many of the insurgents had time to disperse during the "hours-long" battle.
There is finger pointing on all sides but the bottom line is the base was not fortified or heavily protected, and Kenyan forces fell down on the job. But this isn't the first time that the US has been taken unawares. Despite all of its superior firepower and technical advantages, the military lost four soldiers in another tragic, but preventable, ambush in Niger in 2017.
The US carried out 63 drone strikes in Somalia in 2019, according to the paper, almost all against Shabab militants, who align themselves with Al Qaeda. There have been three US strikes this year already. The group, which according to the paper is responsible for 900 recorded attacks against civilians and US, Somali, and Kenyan forces since 2017, has responded by openly threatening the US military. Keep in mind that Shabab did not come on the scene until the US started meddling again in Somalia after 9/11.
So this is not likely to end well, or soon. Already 100 more US soldiers from the 101st Airborne Division have been shuttled to Manda Bay (currently home to about 200 US personnel and contractors), to bolster security there.
The old "whack-a-mole" analogy was never so apt, as 5,000 US military spread over the continent are constantly shifting to respond to crises (and evolving threats) in one place or another. While it keeps the Pentagon in business, it can hardly be consolation for the civilians eternally stuck in the crossfire, or the mother of that 23-year-old boy who was on a "sleepy" tarmac at the wrong time.
Kelley Beaucar Vlahos, executive editor, has been writing for TAC for the last decade, focusing on national security, foreign policy, civil liberties and domestic politics. She served for 15 years as a Washington bureau reporter for FoxNews.com, and at WTOP News in Washington from 2013-2017 as a writer, digital editor and social media strategist. She has also worked as a beat reporter at Bridge News financial wire and Homeland Security Today.
Posted in accordance with Title 17, Section 107, US Code, for noncommercial, educational purposes.