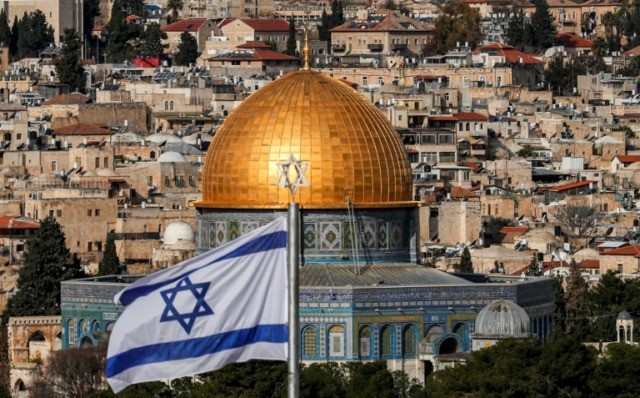 US Envoy Warns Palestinians Not to Oppose Peace Plan at UN: Palestinians oppose plan in 'strongest possible language' 
(January 31, 2020) — US Ambassador to the United Nations Kelly Craft issued a statement Friday warning the Palestinians against expressing any displeasure to Trump's peace plan at the UN. She warned criticism would do nothing. The US is expected to veto any resolution criticism the plan.
Palestinian Ambassador Riyad Mansour has taken the plan to the UN already, and is working on a UN Security Council resolution, describing Trump's plan as a "recipe for the destruction of the national rights of the Palestinian people."
Mansour's resolution wants to condemn the text in the "strongest possible language" and express the scope of the Palestinian opposition to it. A US veto at the UN Security Council would allow the Palestinians to take the matter to the UN General Assembly, where it would likely be a much bigger matter.
While Craft was warning the Palestinians against any moves at the UN, it's not clear that the United States can actually do any more to the Palestinians than they've already done with the plan and the encouragement of Israeli annexations in the West Bank. The US is likely to blame the Palestinians for the plan failing, but that was likely the idea all along, given literally no one expected the Palestinians to be on board with it. 
Palestinians Mount Peace Plan Fightback at UN
(January 31, 2020) — Palestinian officials went on the offensive at the United Nations this week, seeking to rally opposition to United States President Donald Trump after he released a proposal for Middle East peace that favors Israelis over Palestinians.
Palestine's UN ambassador Riyad Mansour derided Trump's plan during a media appearance, held meetings with UN bigwigs and revealed plans for a Security Council address by Palestinian President Mahmoud Abbas and a new, draft resolution for the 15-nation body.
Still, UN officials and diplomats were careful to not openly discuss the White House initiative. Analysts told Mondoweiss that the Palestinians could end up with little more than platitudes and would struggle to best Israel's powerful ally, the US, which can veto key UN decisions.
Addressing reporters for nearly 30 minutes in Arabic and English on Wednesday, Mansour bashed a plan that, he said, gave Israel the "upper hand" and featured "deceiving" language that would dash Palestinian hopes of one day having their own sovereign nation.
"It is a recipe for the destruction of the national rights of the Palestinian people, and it will not fly," said Mansour, standing beside Moncef Baati, the UN ambassador for Tunisia, which holds the Arab bloc's rotating, two-year seat on the Security Council.
"It is not acceptable, and those who think of the Palestinian people would evaporate: they will not. Those who think that a Palestinian people will pack up and leave: they will not."
Mansour offered few details about the planned Security Council resolution, which is still being drafted. He called for the "strongest possible" language and "strong, large opposition to this Trump plan" at Abbas' appearance in New York in the first half of February.
Abbas seeks support from Arab foreign ministers at a meeting in Cairo on Saturday, as well as from the Organisation of Islamic Cooperation, the European Union, the African Union and the so-called NAM group of 120 developing countries, said Mansour.
He called for a "unified position of the entire international community" against a long-awaited plan that Trump unveiled in Washington on Tuesday, standing beside Israeli Prime Minister Benjamin Netanyahu but with no Palestinians attending.
To this end, Mansour met on Thursday with Tijjani Muhammad-Bande, a Nigerian diplomat who is president of the UN's 193-nation General Assembly — another possible route through which the Palestinians could seek a resolution that carries a seal of international approval.
After the sit-down, Muhammad-Bande tweeted that the UN is "guided by" its members' decisions, by which a "two-state solution is envisaged as the way forward with Israelis and Palestinians living side by side in peace and security according to international law".
Other UN officials made similar references to established principles of Israeli-Palestinian bargaining, such as the goal of a two-state solution along the borders that existed before a 1967 war, yet appeared unwilling to address Trump's plan directly.
UN secretary-general Antonio Guterres canceled a scheduled press briefing at short notice on Tuesday, in what was widely viewed as an effort to dodge an hour-long grilling by journalists on the intricate details of Trump's plan.
His spokesman, Stephane Dujarric, was repeatedly asked about the proposal at daily press briefings throughout the week, but was never drawn into commenting on the peace initiative from the UN's biggest donor.
"Our position last week, last month and last year and today remains the same," said Dujarric. "We have nothing more to add to that."
According to Jonathan Cristol, an expert on the Middle East at Adelphi University, the Palestinians are turning to the UN absent any better alternatives, given the hostility of the Trump administration and Netanyahu.
"The Trump-Kushner deal of the century is not a deal at all — it is an ultimatum," said Cristol, using a moniker for a plan that was devised by the president's senior advisor and son-in-law Jared Kushner.
Palestinian officials could likely muster enough votes for a supportive General Assembly resolution, but that would be non-binding, said Cristol. Security Council resolutions carry more weight, but require nine votes in favor and no vetoes by permanent members the US, China, Russia, Britain, or France to be adopted.
"For real impact, the Palestinian Authority needs a Security Council resolution and, it is an absolute certainty that the US will veto anything they put forward," Cristol told Mondoweiss.
"However, the reverse is also true. If the US proposes a council resolution in support of this plan, it would definitely be vetoed by China and Russia, probably France, and possibly the U.K. as well."
James Reinl is a journalist, editor and current affairs analyst. He has reported from more than 35 countries and won awards for covering wars in Sri Lanka, Congo and Somalia, Haiti's earthquake and human rights abuses in Iran. His work has appeared on PRI's The World, Al Jazeera, Foreign Policy, Fox News, France 24, CBC, CBS News, dpa, RTÉ, The Times, The National, Monocle and APTN.
Posted in accordance with Title 17, Section 107, US Code, for noncommercial, educational purposes.