US Troops Clash With Syria Locals at Government Checkpoint
(February 12, 2020) — A US military patrol came into conflict with Syrian locals at a government-controlled checkpoint in Qamishli, leading to US troops opening fire on and killing at least one Syrian civilian.
The US coalition is claiming they responded in "self-defense" in killing the Syrian, saying they had issued a series of warnings to the Syrians and that the US believes the troops were under small arms fire at the time. They promised an investigation in the future.
It is unusual for the US to send patrols out into northern Syria these days, as President Trump has ordered a substantial shift in their military priorities, insisting the US is only in Syria to control the oil. Officials did not say why this patrol was being carried out.
Syrian state media offered a similar accounting of what happened, saying that the US troops arrived at the checkpoint and started hassling the locals, and that the residents responded by attacking the convoy after the US troops started shooting.
Syrian state media also suggested that Russian and Syrian forces were present in the area. This has not been confirmed, though one Syrian soldier was reportedly hospitalized after the clash.
US Troops Clash with Pro-government Group in Northeast Syria
DAMASCUS (February 12, 2020) — A Syrian was killed and another was wounded when government supporters attacked American troops and tried to block their way as their convoy drove through an army checkpoint in northeastern Syria, prompting a rare clash, state media and activists reported.
The US military said its force came under fire, and that troops responded in self-defense. It said an investigation of the incident was underway.
Syrian state-run media said the man killed was a civilian and that he was among residents of a village east of the town of Qamishli who had gathered at the checkpoint and pelted the US convoy with stones.
A video posted on state news agency SANA's website showed angry men firing small arms at a convoy of several armored US vehicles flying the US flag. Some residents pelted the convoy with stones, while another dumped a bucket full of dirt on the back of one vehicle.
In one of the worst incidents of violence against US troops deployed in northeastern Syria, a small fire appears to ignite on an armored vehicle, apparently from fire bombs lobbed at the convoy. US soldiers were seen standing in the middle of the melee, trying to disperse the crowd.
Other videos showed another vehicle stuck in the dirt, apparently having veered into a ditch, while another had a flat tire. In one video, a resident walked up to US soldiers at one of the vehicles, holding a US flag, screaming: "What do you want from our country? What is your business here?" A soldier tells the shouting man to "back off."
At that point, American troops fired live ammunition and smoke bombs at the residents, the reports said.
A US military spokesman said coalition forces conducting a patrol near Qamishli encountered a checkpoint occupied by pro-Syrian government forces who ignored a series of warnings by coalition troops to de-escalate the situation. The patrol came under small-arms fire from unknown individuals, coalition spokesman Myles Caggins said, adding that coalition troops returned fire in self-defense.
"The situation was de-escalated and is under investigation," he said in a statement. Air Force Lt. Col. Carla Gleason, traveling with the US defense secretary in Brussels, said no Americans were killed in the incident.
Asked about the incident, US Secretary of Defense Mark Esper said in Brussels he was told there was an "altercation," without providing details.
"As far as I know today's incident did not involve the Russians," he said.
In other violence in the country's northwest, Syrian President Bashar Assad's forces continued their advance in Idlib and Aleppo provinces near the border with Turkey. They took full control of a strategic highway that runs through the rebel-held territory and links the capital to northern Syria. The M5 highway had been under opposition control for most of the war.
Russia's Defense Ministry said in a statement that Syrian troops fully cleared the M5.
"Syria's most important transport artery — the M5 highway linking the blocked northern capital of Aleppo with Hama, Homs and Damascus in the south — has been freed from terrorists," the statement said.
With support from Russia, Syrian troops have been on the offensive for weeks in Idlib and parts of nearby Aleppo provinces, unleashing a humanitarian crisis with 700,000 people fleeing their homes and surging north toward the Turkish border.
The U.N. human rights office in Geneva recorded incidents between Feb. 1-10 in which at least 85 civilians were killed, including 20 women and 27 children with most casualties in the so-called "de-escalation area" in Idlib, U.N. spokesman Stephane Dujarric said Wednesday.
The Syrian war, now in its ninth year, has pulled in international players including the US, Russia and Turkey. Russia has supported Assad's government, while Turkey is the rebels' main backer.
Hundreds of US troops are stationed in northeastern Syria, working with the Kurdish-led Syrian Democratic Forces to fight against the Islamic State group. The US carries out patrols in northeastern Syria, but it was not immediately clear why the convoy drove into a government-controlled area Wednesday.
The clash marked a rare confrontation involving US and Syrian troops in the crowded region where Russian forces are also deployed and was certain to escalate tensions.
At one point during the incident, US, Russian and Syrian flags could be seen next to each other, reflecting the complicated terrain in northeastern Syria. Some reports said a Russian convoy arrived on the scene to defuse the tension.
The Syrian Observatory for Human Rights said residents and armed pro-government militiamen in Khirbet Ammu blocked the path of a US convoy. The militia fired in the air, prompting the American troops to fire smoke bombs. Tension escalated and US troops killed one person, the Observatory said.
The Observatory, which has a network of activists on the ground, said it was not clear if the person killed was a civilian or a militia member. The Observatory also said a Russian convoy arrived on the scene to defuse the tension.
The Idlib offensive has also triggered clashes between Syrian and Turkish troops in which 13 Turkish soldiers have died in one week.
Turkish President Recep Tayyip Erdogan said Wednesday that Turkey could attack Syrian government forces anywhere in Syria if another Turkish soldier is hurt. He said Turkey is determined to force the Syrian military back from the gains it has made in Idlib, giving Syrian troops until the end of February to retreat.
"As of today, in the event of any minor harm to our soldiers, I announce that we will strike regime forces everywhere without being bound to Idlib or the boundaries of the Sochi agreement," Erdogan told a ruling party meeting in Ankara.
Erdogan was referring to the 2018 agreement between Russia and Turkey in which the two countries' troops would enforce a demilitarized zone in Idlib. As part of the agreement, Turkey established a dozen military observation posts in the province, where it backs some opposition groups. Several of these posts have been surrounded by government forces in recent weeks.
On Wednesday, opposition fighters, backed by Turkish artillery, launched an attack against new government positions along the highway.
Erdogan said he had spoken to Russian President Vladimir Putin by telephone about the situation in Idlib. The Kremlin said the phone conversation underlined the need to fully implement the Russian-Turkish agreements.
Putin spokesman Dmitry Peskov said despite a pledge by Turkey, militants in Idlib have continued to launch attacks on Syrian troops and threaten Russian facilities in Syria. "It's inadmissible and it runs contrary to the Sochi agreements," Peskov said in a conference call with reporters.
Wilks reported from Ankara, Turkey. Associated Press writers Robert Burns in Brussels, Zeina Karam, Edith M. Lederer at the United Nations and Sarah El Deeb in Beirut and Vladimir Isachenkov in Moscow contributed to this report.
US Forces Clash with Locals at Checkpoint in Qamishli
Joanne Stocker / The Defense Post
(February 12, 2020) — US forces on Wednesday clashed with civilians near Qamishli in northeast Syria near the Turkish border following a confrontation over an American convoy patrol.
The confrontation occurred at a pro-Syrian government National Defense Forces militia checkpoint in Khirbat Amo, Dirbat, east of Qamishli airport on the southern outskirts of the city, the Rojava Information Center said.
US military personnel clashed with locals and shots were fired, according to RIC researcher Thomas McClure, who said a US airstrike was visible from the group's office.
"On Feb. 12, Coalition forces, conducting a patrol near Qamishli, Syria, encountered a checkpoint occupied by pro-Syrian regime forces. After Coalition troops issued a series of warnings and de-escalation attempts, the patrol came under small arms fire from unknown individuals. In self-defense, Coalition troops returned fire. The situation was de-escalated and is under investigation. The Coalition patrol returned to base," said Colonel Myles B. Caggins III, Coalition military spokesperson.
Caggins told The Defense Post there was no airstrike.
It was unclear whether the confrontation was between US military personnel and the militia members, civilian protesters, or a mix of both. Russian forces later arrived at the scene to mediate, according to other reports.
Video posted to social media appeared to show at least four US armored vehicles stopped on a road with military personnel on foot. A second video showed armored vehicles with Russian and Syrian flags.
One injured person in a Syrian Arab Army uniform was taken to a nearby hospital, McClure said, while Syrian state media SANA reported that a civilian was killed and another injured in the confrontation.
Residents attacked the convoy after US soldiers opened fire on civilians, according to the SANA report, which has not been verified.
Update, February 13: On Thursday, Caggins tweeted that US troops killed a man in the melee.
"Despite US troops de-escalation efforts, local militia members attacked US troops w/ small arms weapons; @CJTFOIR have the right to self-defense and fired back at armed aggressors killing an adult male combatant (20+ y/o)," he said.
Later video from the SDF-linked North Press Agency showed a damaged US vehicle being towed through a village.
The incident threatens to increase tensions between US and Russian forces that back Syrian President Bashar al-Assad's army in already congested areas of northeast Syria.
Russian forces have patrolled the surrounding area since October when Turkey and its Syrian rebel proxies launched an incursion into parts of SDF-held territory to oust the force from the border region.
Russia has occupied the Qamishli airport since mid-November.
A small number of US troops remain in the country after President Donald Trump said he would withdraw the majority of forces from Syria. Trump later reversed course and said he would leave a small number to protect critical oil fields and prevent them from falling into the hands of the regime or Iran, but American troops still remain in areas held by the Syrian Democratic Forces in the northeast.
Security control of Qamishli, the de facto capital of the self-declared autonomous region of North and East Syria, is split between the SDF and Syrian government.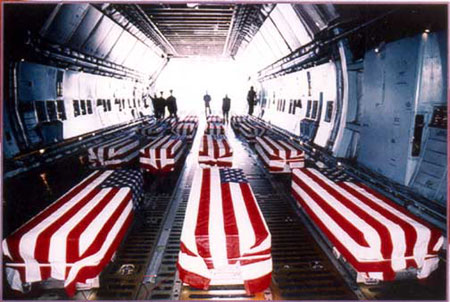 Russian Military Claims US Clash in Syria Was the Fault of Americans Deviating from Their Route
(February 13, 2020) — The Russian military has blamed American soldiers for Wednesday's deadly clash at a checkpoint in northeastern Syria, claiming that only the presence of Russian troops stopped further bloodshed.
An altercation broke out Wednesday after a US convoy was stopped by a checkpoint manned by fighters loyal to Syrian President Bashar al-Assad in the city of Qamishli.
Locals and armed men argued with the American troops before a firefight broke out. At one point, a bystander stole a US flag from one of the armored vehicles and was filmed shouting at troops, "What do you want from our country? What is your business here?"
A Russian military patrol also arrived on the scene. Video of the incident showed a Russian vehicle and soldiers pulled up close behind the armored US convoy, which was under fire from armed men who took cover behind a building just yards away.
A Russian military daily bulletin issued Thursday claimed that its troops prevented further violence. The statement, reported by The Moscow Times, claimed that the altercation erupted because the US convoy "deviated from its route."
The statement also said, "Further escalation of the conflict was prevented thanks only to the efforts of Russian servicemen who arrived at the scene."
Newsweek has contacted the Coalition to request comment on the Russian assertion.
Colonel Myles Caggins, a spokesperson for the US-led Coalition, said Wednesday that the Americans came under small arms fire and responded in kind after "a series of warnings and de-escalation attempts."
Caggins later added that "an adult male combatant" was killed by American fire. Caggins said the dead man was estimated to be aged 20 or above, though local reports and the Russian military claimed the casualty was a 14-year-old boy.
A US soldier sustained a "minor superficial scratch" in the confrontation, Caggins said. Military vehicles were also damaged by small arms fire.
Wednesday's clash was the most serious in a series of stand-offs in northwestern Syria in recent weeks. Troops loyal to the US, Russia, Syria and Turkey all have a presence in the area and regularly come into contact while patrolling.
James Jeffrey, the US special envoy for Syria, has accused Russia of attempting to displace American influence in the area. Moscow is a staunch ally of Assad, who is seeking to reunify the war-torn country under his control. Both the Russian government and Assad have described American military presence in the country as illegal.
Posted in accordance with Title 17, Section 107, US Code, for noncommercial, educational purposes.