ACTION ALERT: Rep. Ilhan Omar's Bill Would Stop US from Arming Repressive Regimes 
(February 19, 2020) — Despite significant human rights laws already on the books, the United States continues to arm and enable repressive regimes around the world, with disastrous humanitarian and security impacts. It's time for Congress to pass legislation that can change this dangerous and unacceptable status quo.
The most egregious current case of US support for a human rights abuser involves US arms transfers and assistance to the Saudi regime in support of its brutal war in Yemen. US bombs, aircraft, attack helicopters, and other military equipment have been used in indiscriminate attacks that have killed thousands of civilians, enabled destruction of civilian infrastructure, and bolstered a blockade that has impeded the provision of vital humanitarian supplies.
The result has been up to 100,000 unnecessary deaths and the placement of millions of Yemenis on the brink of famine. Efforts by Congress to end US support for this civilian slaughter have so far been vetoed by President Trump.
 The case of Yemen is far from the only example of a US arms client that engages in systematic violations of human rights and humanitarian law. In Egypt, torture, unlawful confinement, and forced disappearances are now routine, under what many analysts view as the most repressive regime in the history of that nation.
In addition, the Egyptian regime has engaged in forced displacement, strikes on civilians, and other abuses in its anti-terror campaign in the northern Sinai, all the while attempting to hide these abuses from the media and foreign governments, including major aid suppliers like the United States. 
In the Philippines, the Duterte regime and the death squads it supports have killed thousands of civilians under the guise of fighting drug trafficking, without benefit of trial or formal charges. A cursory review of the State Department's annual human rights report or the yearly reviews done by non-governmental organizations like Human Rights Watch and Amnesty International would find many more such examples.
Supporting governments that violate human rights and humanitarian law is not only morally wrong, it is also strategically unwise. Undemocratic regimes are more likely to engage in aggression against their neighbors and spark terrorist backlash against their repressive practices, to the detriment of US, regional, and global security.
 A new bill introduced by Rep. Ilhan Omar (D-MN) offers a potential solution to this dangerous and dysfunctional element of US policy. The Stop Arming Human Rights Abusers Act, if enacted, could help prevent the worst cases of US assistance to human rights abusers by imposing sanctions on nations that engage in genocide, crimes against humanity, or war crimes.
Each practice targeted by the bill is carefully defined to avoid any ambiguity. And the range of activities covered by the sanctions are comprehensive, including arms transfers, military training, and military, intelligence, or police support. The bill calls for a commitment on the part of the United States to help violators to come into compliance with the standards set out in the proposed legislation.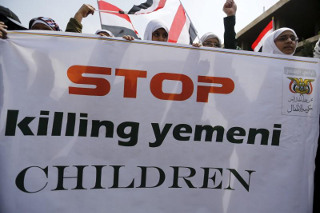 In addition to setting out clear standards and well-defined consequences, the new bill would create a Commission on Atrocity Accountability and Human Rights that would investigate, recommend, monitor, and report on countries and activities relevant to its provisions, thereby ensuring that it is faithfully implemented.
The commission would also have the ability to call witnesses and hold hearings, which would serve a valuable public education function. And the commission could help carefully sort out which countries are acting in ways that would require that sanctions be imposed. 
If this legislation had been in place in 2015, when a Saudi/UAE-led coalition began its military assault on Yemen, US support for that war would never have occurred, or would have been ended in short order once its human rights and humanitarian impacts became clear.
Without a blank check from Washington, its primary supplier of weapons and military support, the Saudi regime might have ended its intervention and come to the peace table much sooner, saving thousands of lives and heading off what the United Nations has described as the world's worst humanitarian crisis.
Rather than abetting human rights abuses and setting conditions that make war more likely, it's time for the United States to take a preventive approach that minimizes humanitarian suffering and curbs the outbreak of unnecessary conflicts.
William Hartungis the director of the Arms and Security Project at the Center for International Policy. I am the author of Prophets of War: Lockheed Martin and the Making of the Military-Industrial Complex (Nation Books, 2011) and the co-editor, with Miriam Pemberton, of Lessons from Iraq: Avoiding the Next War (Paradigm Press, 2008). My previous books include And Weapons for All (HarperCollins, 1995), a critique of US arms sales policies from the Nixon through Clinton administrations.
Posted in accordance with Title 17, Section 107, US Code, for noncommercial, educational purposes.