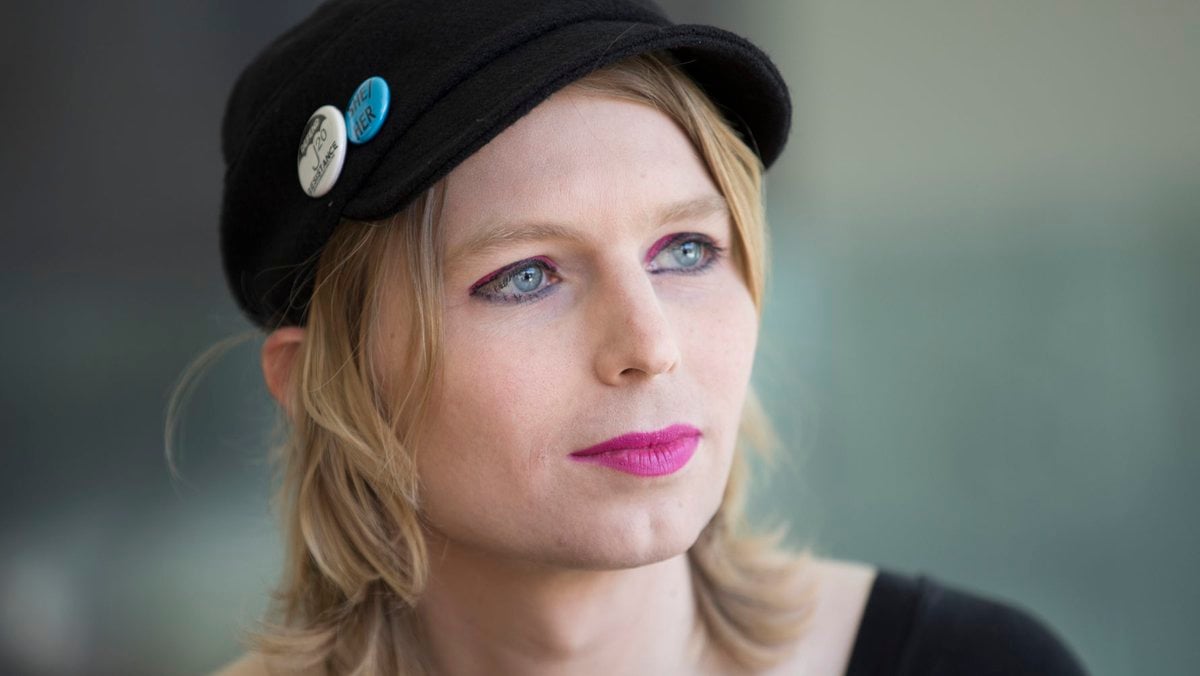 The attempt came just days before she was scheduled to appear in court over sanctions related to an investigation of Julian Assange.
(March 11, 2020) — The activist and whistleblower Chelsea Manning attempted suicide on Wednesday, her legal team said in a news release.
The statement came only a few days before Manning was scheduled to appear at a court hearing on whether sanctions imposed on her after she refused to comply with a grand jury investigation into WikiLeaks founder Julian Assange should continue. Manning came to national attention after she leaked classified documents to WikiLeaks and was court-martialed for violating the Espionage Act.
Manning has claimed that the grand jury investigation was potentially open to abuse, writing in 2019 that it was "an effort to frighten journalists and publishers, who serve a crucial public good."
Manning has been jailed for contempt of the investigation for months. She had previously been held in a military prison from 2010 to 2017, until her sentence was commuted by President Barack Obama.
Manning's lawyers announced on Wednesday that their client was in the hospital, recovering from the suicide attempt.
ACTION: Send Letters of Support to Chelsea
Lee Camp / Twitter
Chelsea Manning attempted suicide today. She's being held in prison with mounting fines that are at $255,000 now. And it's all because she has refused to LIE about Julian Assange. Please send her messages of support. Get more info at http://ReleaseChelsea.com.
Chelsea Manning Hospitalized after Suicide Attempt
(March 11, 2020) — Former US Army analyst Chelsea Manning attempted suicide Wednesday while in a Virginia jail, where she has been held in contempt for almost a year.
Manning was taken to a hospital and is recovering ahead of her scheduled hearing on Friday, according to a press release from her legal team. The 32-year-old has been in federal custody in Alexandria since May 2019 after refusing to answer questions from a Virginia grand jury looking into the release of documents to WikiLeaks.
"Her actions today evidence the strength of her convictions, as well as the profound harm she continues to suffer as a result of her 'civil' confinement — a coercive practice that the United Nations Special Rapporteur on Torture, Nils Melzer, recently said violates international law," her legal team said Wednesday.
Manning told reporters last March she declined to answer grand jury questions based on her First, Fourth, and Sixth Amendment rights. She claimed that all substantive information being sought on her 2010 disclosure of documents were provided in her 2013 court-martial.
US District Judge Claude Hilton told Manning that she would remain in federal custody "until she purges or the end of the life of the grand jury," a statement from her representatives said.
She was released briefly after about two months, but jailed again in May, also for contempt.
Manning was sentenced to 35 years in prison for leaking a trove of military intelligence records to the anti-secrecy website Wikileaks. Her sentence was commuted by President Barack Obama in 2017 after seven years behind bars.
If you or someone you know is in crisis, call the National Suicide Prevention Lifeline at 800-273-8255, text HOME to 741741 or visit SpeakingOfSuicide.com/resources for additional resources.
ACTION ALERT: Sign the Petition: Free Chelsea Manning Now
To Judge Anthony Trenga
In 2010, former military intelligence analyst Chelsea Manning disclosed earth-shattering information about the nature of asymmetric warfare and US handling of global affairs. And she paid dearly for it. Chelsea was incarcerated for years, including long stretches in solitary confinement, under conditions that the United Nations condemned as torture.
After millions of people around the world spoke out and demanded her release, Chelsea's sentence was commuted. But the US government did not stop persecuting her.
Now, Chelsea has been back in jail for nine months, and faces nine more. Not because she has committed any crime, but because of her conscientious objection to participating in a secretive grand jury investigation into the publication of her 2010 disclosures.
Between their original forensic investigation and Chelsea's detailed statement at court martial, the government gained exhaustive knowledge about her role in the disclosures. They have no need for her testimony—they obtained at least one indictment a full year before she was called to testify before the grand jury, and disclosed another two months after she was jailed for her refusal to do so.
Chelsea's refusal to participate in this process is part of a long history of resistance to grand juries, which are routinely used to harass and entrap activists, journalists, and truth tellers. In a shocking move, the judge in the case has imposed massive fines on Chelsea, charging her $1,000 per day while the US government holds her in "coercive confinement," ostensibly to convince her to agree to their demand that she give testimony to the grand jury.
We know Chelsea Manning's name because she is a principled and fearless advocate for her beliefs. She is prepared to spend another nine months in confinement, and to bear the crushing debt of these unprecedented fines. Senior US officials, including the Secretary of State and the President himself have publicly expressed their hostility toward her.
It could not be more clear that the government wishes to punish Chelsea further for her 2010 disclosures. It could not be more clear that she will never comply with the grand jury.
Chelsea has already served half of the 18 month maximum that the government can hold her. She's about to spend another birthday in a jail cell. The US government has no legal justification for continuing to imprison her. This must stop. 
Sign the petition now to send the following letter to Judge Trenga demanding Chelsea Manning's immediate release.
Posted in accordance with Title 17, Section 107, US Code, for noncommercial, educational purposes.