Dems call for US to declare war, militarize fight against outbreak
Pentagon Warns They Aren't Set Up to Fight Coronavirus
Jason Ditz / AntiWar.com
(March 16, 2020) — With many politicians long seeing the military as an all-purpose problem solver with a bottomless budget, it is unsurprising that the outbreak of coronavirus has many, particularly high-ranking Democrats, angling for a declaration of war and an outright militarization of the domestic issue. 
"I would call out the military now," Democratic presidential front-runner Joe Biden said on Sunday. He said it's an emergency and the US needs to treat it like a war. He suggested that the military could provide a "surge" for US hospitals, building more beds and tents that are secure. "We're at war with the virus," Biden added. 
They all think that sounds like a great idea, except for the US military itself. Pentagon officials are warning that fighting a virus really isn't their thing, and that those tent hospitals are designed to treat combat casualties, not respiratory illness. 
Gen. Paul Friedrichs, the top medical adviser to the Joint Chiefs, said that the US military simply doesn't have any 500-bed hospitals designed for infectious disease. Even more of a problem, they don't have a bunch of idle doctors and nurses to man them if they did. 
If the military was expected to set up such tent hospitals, they'd have to call in reserves and the National Guard to staff them, and many of them would be taken away from civilian facilities, meaning they're just shifting people from a building to a tent. 
Friedrichs added that the military is eager to help, but that he thinks the Pentagon needs to be transparent about its limitations before starting this huge "war" for the sake of public health. Whether that will deter anyone remains to be seen.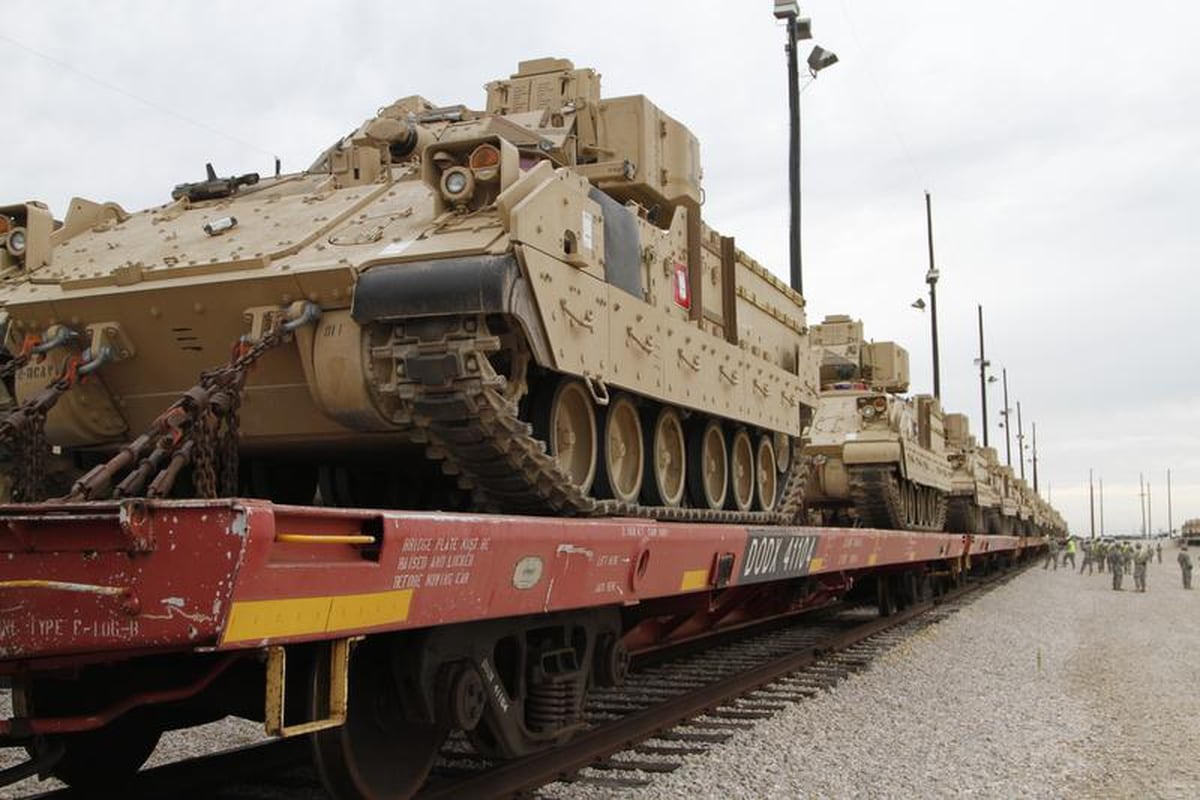 Pentagon Scales Back Biggest Military Exercise in Europe Since Cold War Amid Coronavirus Outbreak
Ben Wolfgang and Mike Glenn / The Washington Times
(March 16, 2020) — The Pentagon on Monday canceled or scaled down major drills across the globe, took dramatic new steps to protect Defense Secretary Mark Esper, and ramped up teleworking as the U.S. military races to deal with the global coronavirus pandemic.
The wave of new directives stretch across all corners of the military, from the sprawling Pentagon complex and its more than 25,000 workers to U.S. military personnel in Europe, Africa, and elsewhere around the world. The Army said it is downsizing the long-awaited Defense Europe 20 exercise — the largest military drill on the continent since the Cold War — in an effort to keep coronavirus from spreading through the ranks.
More than 20,000 U.S. military personnel were expected to take part in the landmark set of drills, but that number now will be closer to 6,000. No additional American service members will deploy to Europe and the transfer of additional equipment has been halted.
"As of March 13, all movement of personnel and equipment from the United States to Europe has ceased," the Army said in a statement. "The health, safety and readiness of our military, civilians, and family members is our primary concern."
Hours later, U.S. Africa Command followed suit and canceled its African Lion 2020 exercise. The exercise was designed to promote U.S. military partnerships with African nations dealing with a rising wave of jihadi terrorism.
The Pentagon has restricted both international and domestic travel for military personnel, making the logistics of a major foreign military exercise virtually unworkable.
At home, the Defense Department is taking new steps to protect both the brass and the rank-and-file workforce. Officials said Mr. Esper, for example, will no longer be in the same location as Deputy Defense Secretary David Norquist as the military institutes a "continuity-of-command" protocol in the event of a worst-case scenario.
Multinational African Lion Exercise Canceled Amid Coronavirus Outbreak
Kyle Rempfer and Diana Stancy Correll / The Army Times
(March 16, 2020) — U.S. Africa Command announced Monday that the upcoming, multinational exercise African Lion will be canceled to safeguard against the spread of COVID-19 — less than a week after the command announced plans to scale back the exercise.
"Cancellation of this exercise is a preventative measure to ensure U.S. and partner force protection and to alleviate coronavirus concern," AFRICOM spokesman Air Force Col. Chris Karns told Military Times. "It does not lessen our resolve to our partners nor our commitment to countering common enemies and threats on the continent."
The exercise, the largest one organized by U.S. Army Africa, was scheduled to start on March 23 and involve roughly 3,800 U.S. troops from the Army, Navy, Air Force and Marine Corps. Additionally, more than 5,000 troops from more than a dozen countries — including Morocco, Tunisia, and the United Kingdom — were slated to participate.
Originally, AFRICOM was planning to modify the exercise and eliminate components that required troops to remain in close quarters.
The exercise, which was supposed to occur in Morocco, is designed to foster interoperability among partner nations to counter transnational threats and threats from violent extremist organizations, according to AFRICOM.
Despite the exercise's cancelation, the command has stressed that it will keep working with partner nations to quash threats on the African continent.
"In Africa, we will continue to work together to counter mutual threats and strengthen collective readiness via a collaborative and collective approach," Karns said. "Whether it is preventing the potential of an infectious disease or preventing the spread of dangerous violent extremist ideologies and activities, cooperation and working together will reduce both in size, scope, and potential to do harm."
There are more than 150,000 cases of COVID-19 around the world, and more than 5,000 deaths, according to the World Health Organization.
The virus has infected multiple service members and dependents stationed worldwide, including a soldier in South Korea, a sailor in Italy, and a Marine in Virginia.
U.S. officials are significantly reducing the size and scope of the long-awaited Defender 2020 exercise intended to test the Army's ability to move a division-sized force from U.S. seaports to European training grounds this spring.
The exercise included 20,000 soldiers who were meant to conduct training across 10 European countries. Several linked exercises — Dynamic Front, Joint Warfighting Assessment, Saber Strike and Swift Response — will no longer be conducted, Army Europe officials said Monday.
Approximately 6,000 soldiers had already deployed from the United States to Europe since January, including a division headquarters and an armored brigade combat team.
"We anticipate the armored brigade combat team already deployed to Europe will conduct gunnery and other combined training events with Allies as part of a modified Allied Spirit exercise," Army officials said in a statement. "Forces already deployed to Europe for other linked exercises will return to the United States."
The exercise is being curtailed due to the outbreak of the novel form of coronavirus, also known as COVID-19, which has made its way through Europe. As of Friday, all movement of personnel and equipment from the United States to Europe were suspended.
Equipment for the exercise already started to arrive at ports like Bremerhaven, Germany, earlier this winter, as part of the opening salvo of the largest deployment of soldiers from mainland United States to Europe in a quarter century.
Army Europe leaders said this fall that they planned to have the 116th Armored Brigade Combat Team, from the Idaho Army National Guard, draw from pre-positioned stocks rather than bring equipment with them, testing the Army's ability to equip units rapidly on the continent if needed.
U.S. forces have already moved roughly 9,000 vehicles and pieces of equipment from pre-positioned stocks in Europe and about 3,000 pieces of equipment by sea from the United States. Other troops have already been moved from multiple ports to training areas in Germany and Poland.
The major participating units originally included the 1st Cavalry Division, 1st Armored Division, 1st Infantry Division, 3rd Infantry Division and 82nd Airborne Division.
Defender 2020 drew parallels to the Cold War-era REFORGER exercise in Europe, which simulated a NATO deployment to West Germany in the event of a conflict with the Soviet Union. This year's exercise was planned to simulate a fictional near-peer competitor in a post-Article V environment set in the year 2028.
The Army still plans to conduct another division-sized exercise in the Indo-Pacific region in fiscal year 2021.
Posted in accordance with Title 17, Section 107, US Code, for noncommercial, educational purposes.