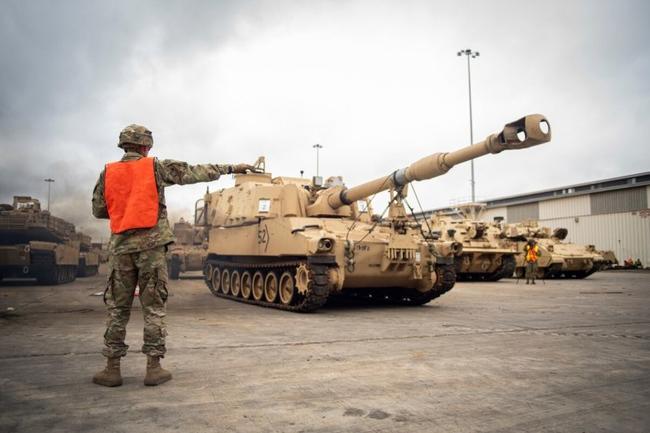 Pentagon halts all overseas travel, increases restrictions at bases as coronavirus cases reach 600
Corey Dickstein, Caitlin M. Kenney and Bat Bouza / Stars and Stripes
WASHINGTON (March 26, 2020) — Defense Secretary Mark Esper has issued orders barring nearly all official movement for Defense Department personnel overseas and instituted new health protection measures worldwide as the Pentagon attempts to slow the spreading coronavirus, which has sickened at least 600 people in the military community.
Esper's stop-movement order applies to all service members, DOD civilians and sponsored family members serving in any location overseas, the Pentagon announced late Wednesday. The order halts almost all travel for at least 60 days related to "exercises, deployments, redeployments and other global force management activities," according to a Pentagon memorandum.
The order came just hours after Esper had elected to raise the health protection condition level at military bases worldwide to its second-highest threat level, HPCON Charlie. That decision places restrictions on large gatherings, adds temperature checks for personnel at building access points, and largely limits base access to mission-essential individuals.
Air Force Brig. Gen. Paul Friedrichs, the Joint Staff surgeon, told reporters Wednesday that he expected military-related cases of the virus to continue to increase for the foreseeable future.
"Our curve is not flattening," Friedrichs said during a Pentagon news briefing. "… We think the best way to limit that growth or mitigate that growth are the measures that we've been talking about."
Thursday morning, Pentagon officials announced an increase of 163 coronavirus cases worldwide among its service members, their dependents, DOD civilian workers and defense contractors. Pentagon officials said 600 individuals linked to the military had now tested positive for the virus worldwide. One person, a defense contractor, died of the disease Saturday.
The largest increase was among military troops with 73 new cases reported, marking the biggest single-day jump of cases among troops announced during the outbreak. As of Thursday, 304 service members had tested positive for the virus in recent weeks. Among them, 24 had recovered from the disease and 15 were hospitalized, DOD reported.
The new data also included the first case of a service member permanently station at the Pentagon to test positive for the virus, a Marine who has been in self-isolation since March 13. The Air Force previously announced two individuals — an active-duty airmen stationed elsewhere and a defense contractor assigned to the Pentagon — had been in the military's Arlington, Va., headquarters in March and later tested positive for the virus. Both have since been isolated and received medical care, officials said.
Friedrichs on Wednesday declined to speculate about a timeline for slowing the virus' spread or ending measures implemented across the force — like telework to allow for social distancing. On Tuesday, Esper and Army Gen. Mark Milley, the chairman of the Joint Chiefs of Staff, said people should expect the outbreak to last at least three months in the United States.
Esper's overseas stop-movement order will likely impact some 90,000 service members slated to deploy or return to their home stations during the next 60 days, Pentagon officials said.
However, it should not slow the ongoing drawdown of American forces in Afghanistan, which started this month as part of a peace plan agreed to with the Taliban late last month.
The drawdown of some 3,400 troops, leaving about 8,600 in Afghanistan, "is scheduled to be complete within 135 days following the signed agreement," the memo stated.
Esper's order also allows for other exceptions, which could be granted by commanders for issues such as obtaining medical treatment, mission-essential travel or humanitarian reasons on a case-by-case basis, the memo states. Other authorized exceptions include scheduled deployments or redeployments of Navy vessels, provided they have met the restriction of movement requirements now in place.
"This measure is taken to aid in further prevention of the spread of the coronavirus disease to protect US personnel and preserve the operational readiness of our global force," according to the memo.
Friedrichs said he hopes the measures being taken in the United States will start to show similar success as seen in South Korea in stopping the spread of the virus. But it could take weeks to find out for certain.
"This is a pandemic," he said. "This is a significant infectious disease outbreak, and it is going to be weeks, not days. It's going to take intensive measures, as we are implementing, to mitigate it."
Stars and Stripes staff member Joseph Ditzler contributed to this report.
US Cancels Military Drills with Philippines over Coronavirus
The amphibious assault ship USS Wasp arrives in Subic Bay for Balikatan drills in March 2019. (Photo: Benjamin Devella III: US Navy)
MANILA (March 27, 2020) — The United States has canceled annual military exercises with treaty ally the Philippines, it said on Friday, as a precaution against a coronavirus pandemic.
The exercises, set to run from May 4 to May 15, have taken place in the southeast Asian nation for decades, involving thousands of troops from both countries. The alliance with the Philippines is one of Washington's most important in Asia.
US, Philippines Cancel Annual Balikatan Drills over Coronavirus Concerns
Seth Robson / Stars and Stripes
(March 27, 2020) — The US military has canceled a major exercise in the Philippines because of the coronavirus.
"Due to concerns for the health and safety of the participating exercise forces and local populations near the planned exercise areas, US Indo-Pacific Command has canceled Exercise Balikatan 2020 scheduled for May 4-15 in the Republic of the Philippines," an INDOPACOM official said in a statement Friday.
Balikatan is an annual exercise between the United States and the Philippines with participation by Australia.
Canceling the exercise follows restrictions on international travel implemented by the US Department of Defense and the Philippines in response to the coronavirus pandemic, the command said.
"In light of the extraordinary circumstances surrounding COVID-19 pandemic and in the best interest of the health and safety of both countries' forces, it is prudent to cancel Balikatan 2020," Adm. Phil Davidson, INDOPACOM commander, said in the statement. "We remain deeply committed to our long-standing Alliance and friendship."
Last year, the Navy sent the amphibious assault ship USS Wasp and F-35B Lightning II stealth fighters to the Philippines for the first time as part of the drills.
This year's exercise was expected to proceed despite a rift between the allies. In February, the Philippines notified the United States of its intention to terminate the Visiting Forces Agreement, which permits US troops to deploy in the country.
Philippines President Rodrigo Duterte ordered the termination after Washington reportedly canceled a US visa for Sen. Ronald Dela Rosa, a stalwart ally and former Philippines National Police chief.
Dela Rosa has been cited for human rights violations related to Duterte's bloody drug war that began when he was elected president in 2016.
At Spangdahlem, US F-16s Are Flying as Airmen Adjust Exercise Around the Coronavirus
Jennifer H. Swan / Stars and Stripes
SPANGDAHLEM AIR BASE, Germany (March 26, 2020) — The coronavirus pandemic has stood daily routines on their head around the world, but at this Air Force base in Germany's rural Eifel region, one thing hasn't changed: The F-16s are still flying.
The 52nd Fighter Wing has been taking advantage of a late-March string of crystal-clear, sunny days in southwestern Germany and launching F-16 sorties as part of a combat readiness exercise — modified, of course, because of the coronavirus.
Spangdahlem reported its first confirmed coronavirus cases Thursday, after two airmen assigned to the wing tested positive, four days after they started experiencing symptoms, a base statement said. The members will remain in isolation for at least 14 days, officials said.
The wing has made adjustments to the exercise to minimize further risk to airmen, officials said before the announcement of the two cases.
"We are in a real-world COVID-19 environment, and in the future, it may be some other contagion or something like that, that we're dealing with," said wing commander Col. David C. Epperson, using the acronym for coronavirus disease.
"Our adversaries are watching how we're going to react to something like COVID-19," he said. "It's important for us to continue to exercise and to demonstrate that we have that mission readiness today."
The virus has infected more than half a million people on every continent except Antarctica and been blamed for more than 23,000 deaths as of Thursday.
Operations and maintenance crews have been split into teams that work on different days during the exercise, to allow them to maintain more social distance, Epperson said.
They alternate 10-hour shifts daily, instead of splitting two 12-hour shifts per day, shortening the typical, round-the-clock exercise schedule to reduce exposure.
"To load even a training missile on our aircraft requires three people," he said. "But by making sure that team is not close to my other team that loads munitions, I can make sure if one team gets exposed to COVID, the other team is still safe."
Keeping a safe distance from each other is tricky, but airmen are doing their best, said Master Sgt. Nicholas Kailing, a maintenance production supervisor.
"We're used to working very closely. We'll normally have three people in a three-foot area," he said.
Another adjustment is that video conferencing has replaced the face-to-face meetings that would normally take place during an exercise between the wing and leadership, Epperson said.
"It's just reminding people … that we can spread out, we can still communicate at a greater distance away from each other," he said. "And, really, it creates better security … we're not a concentrated target for an adversary."
The Agile Combat Employment part of the exercise, in which forces spread out and operate at various locations with minimal personnel, resources and time, has also been altered because of the coronavirus.
The plan before the pandemic was for a small team to set up at Ramstein for a few days and drop into another base farther afield to refuel, practicing how to pick up and go with the right items to sustain them for several days.
But the virus changed that and the team has instead set up on a separate area of Spangdahlem's flight line to simulate a forward operating site.
The airmen involved said that, even though they haven't left Spangdahlem, they've had to deal with spotty communication and long waits for small items, making them feel as if they're in a remote location.
After they unpacked, for example, and realized they'd forgotten to bring lightbulbs, they had to wait hours for them to be delivered — roughly the same time it would have taken had they been at Ramstein.
As a result, "we were in a dark tent for the first four hours of the day," said F-16 pilot Capt. Tim Miller, who's acting as a deployed squadron commander. "We're building the checklist as we go."
How to launch sorties with minimal resources while dealing with a contagious virus are among the many lessons being learned, Epperson said.
"We've had to adapt," he said. "It's not business as usual, but we have figured out ways to make sure we're still mission-ready."
Posted in accordance with Title 17, Section 107, US Code, for noncommercial,