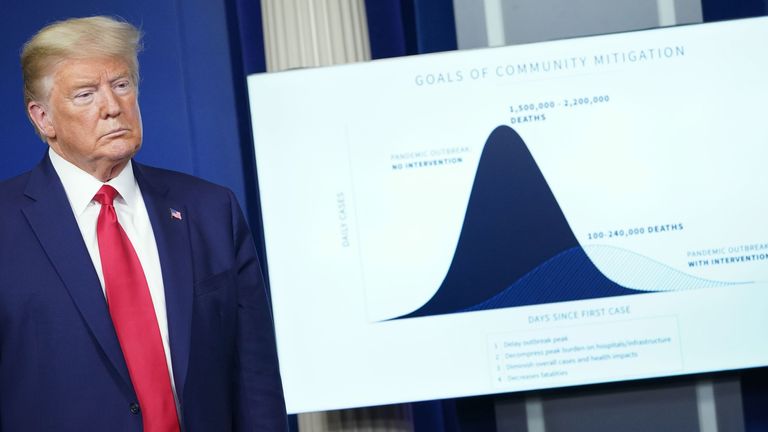 Donald Trump has been accused of putting 'Israel first'
Did Trump Give Israel 1 Million Face Masks Despite Coronavirus Equipment Shortages in the US?
An Israeli press report claiming the US Department of Defense had shipped one million face masks to Israel to help protect Israeli soldiers has angered Americans, causing some to question the Trump administration's priorities amid the coronavirus pandemic amid reports of shortages of protective equipment for US health workers.
The Pentagon's alleged shipment was initially reported by the Jerusalem Post, however mention of American involvement was later scrubbed, raising suspicions that US public anger may have forced Israeli military censors to act.
Israel's army is notorious for tightly monitoring media output, having barred or redacted over 2,000 stories just last year, according to the Movement for Freedom of Information.
"US Department of Defense give 1 million masks to IDF for coronavirus use," read a headline published by the Jerusalem Post on Wednesday, referring to the shipment that had arrived at Ben-Gurion Airport on Tuesday night.
The original article said: "A plane carrying over a million surgical masks for the IDF landed in Ben-Gurion airport Tuesday night, in an operation run by the US Department of Defense's Delegation of Procurement".
Curiously, the headline was later revised to: "Israel brings 1 million masks from China for IDF soldiers" but traces of the old headline can be seen in the article's URL.
All mention of the US Department of Defense's alleged involvement also appear to have been removed, with no reason given in the updated article for the revision or official retraction posted.
A yet-to-be-deleted tweet by the Jerusalem Post official account still shows the original introduction (screenshot here).
The New Arab has reached out to the Department of Defense Defense Logistics Agency for comment but did not receive a response at the time of publication.
Israel's spy agency Mossad has been involved in a frantic effort to secure protective gear as Tel Aviv scrambles to respond to a major coronavirus outbreak.
The initial headline mentioning US involvement in the shipment sparked fury on social media, where users highlighted America's own struggles to contain the coronavirus outbreak.
"American hospitals are begging for protective gear, this is sickening," wrote one Twitter user, referring to US medical workers who have complained about reported shortages of protective gear for frontline workers.
"While frontline American health workers go without & Palestinians are told to use their socks, Trump ships a million masks to israel's army," wrote another, referring to reports that Palestinian prisoners were told by Israeli authorities to use socks as face masks.
The delivery of US supplies to support Israel's military comes just days after a US Navy captain was removed for alleging that the Pentagon had given inadequate attention to a Covid-19 outbreak on the USS Theodore Roosevelt aircraft carrier.
Brett Crozier wrote a letter that was leaked to the media describing the virus-struck vessel's dire situation.
Following Crozier's removal, US Acting Navy Secretary Thomas Modly resigned on Tuesday over his mishandling of the affair and the heavy-handed approach towards the navy captain.
The Crozier affair was just the latest in a string of missteps by the Trump administration amid the coronavirus pandemic, drawing sustained criticism from the American public.
US President Donald Trump initially downplayed the virus, which he likened to an ordinary flu and said was under control in the United States, before later accepting that it was a national emergency.
More than 12,000 Americans have now died from Covid-19.
Corps Says Marines Won't Be Allowed to Wear N95 or Surgical Masks, Even If They Own Them
Paul Szoldra / Task and Purpose
(April 7, 2020) — The Marine Corps on Monday ordered all its personnel to start wearing cloth face coverings to help prevent the spread of the novel coronavirus (COVID-19), but restricted Marines from wearing masks with higher levels of protection, such as surgical and N95 masks.
In an administrative message that followed a Pentagon order to wear face coverings, the Corps directed all individuals on its property and installations to wear cloth face coverings that are "conservative in appearance, not offensive, and conform to CDC guidance."
Marines are encouraged to make their own face coverings, but are not allowed to "procure or wear" surgical masks or N95 masks, the message said, since those are "reserved for appropriate personnel."
Among the do-it-yourself masks the Corps recommends are issued balaclavas, neck gaiters, or uniform green t-shirts fashioned into face coverings. Full masks, which the message said included surgical masks, N95 respirators, ski masks, and issued gas masks, "are not authorized."
"Cloth face covers shall NOT be substituted with surgical masks or N-95 respirators," the message said. "Surgical masks and N-95 respirators are personal protective equipment (PPE) and must be reserved for use in medical settings. Cloth face covers and PPE are integrated into a larger system of non-pharmaceutical interventions (NPIs) to limit transmission of infection."
The message did not include exceptions for people who may have previously purchased their own surgical or N95 masks. A Marine official told Task & Purpose the order indeed restricted Marines from wearing masks that could potentially better protect them from the virus, even if they had been purchased before the outbreak.
"The Marine Corps considers N95 masks to be prioritized for medical personnel or first responders on the front lines of the pandemic response," Capt. Joseph Butterfield, a Corps spokesman, told Task & Purpose in an emailed statement.
"The guidance outlined in the MARADMIN is intended to assist with the optimization strategies of the PPE supply chain published by the CDC. To the extent practical, the Marine Corps will support these strategies. The intent is to avoid Marines attempting to procure these supplies and further interrupting the supply chain."
Surgical masks can block large-particle droplets, splashs, and sprays that may contain germs from reaching the mouth and nose, according to the FDA. Even better protection comes from N95 respirators, which fit closer to the face and can block at least 95% of very small particles.
The U.S. has seen a shortage in masks and other personal protective gear in the wake of the COVID-19 outbreak. The Federal Emergency Management Agency has nearly exhausted its own strategic reserve to supplement states' dwindling stockpiles of protective equipment, while the Trump administration has used the Defense Production Act to mobilize private industry to make additional masks.
The Marine Corps had 78 confirmed cases of COVID-19 within its ranks as of Tuesday. There have been 2,449 total cases across the Department of Defense, and seven deaths.
Paul Szoldra is the editor in chief of Task & Purpose and a former Marine infantryman. Reach him paul@taskandpurpose.com or on Twitter: @paulszoldra
Hospitals Say Feds Are Seizing Masks and Other Coronavirus Supplies
Scott Horton / The Libertarian Institute & The Los Angeles Times
(April 8, 2020) — Although President Trump has directed states and hospitals to secure what supplies they can, the federal government is quietly seizing orders, leaving medical providers across the country in the dark about where the material is going and how they can get what they need to deal with the coronavirus pandemic.
Hospital and clinic officials in seven states described the seizures in interviews over the past week. The Federal Emergency Management Agency is not publicly reporting the acquisitions, despite the outlay of millions of dollars of taxpayer money, nor has the administration detailed how it decides which supplies to seize and where to reroute them. …
The medical leaders on the front lines of the fight to control the coronavirus and keep patients alive say they are grasping for explanations. "We can't get any answers," said a California hospital official who asked not to be identified for fear of retaliation from the White House.
In Florida, a large medical system saw an order for thermometers taken away. And officials at a system in Massachusetts were unable to determine where its order of masks went.
Are they stockpiling this stuff? Are they distributing it? We don't know," one official said. "And are we going to ever get any of it back if we need supplies? It would be nice to know these things.
Is this PPE they're stealing from American hospitals the same stuff they're turning over to the Israeli army instead? It's all fungible, so same difference anyway.
Scott Horton is director of the Libertarian Institute, editorial director of Antiwar.com, host of Antiwar Radio on Pacifica, 90.7 FM KPFK in Los Angeles,
Posted in accordance with Title 17, Section 107, US Code, for noncommercial, educational purposes.