(May 28, 2020) — Last night, 3,700 South Korean riot police and US Army soldiers clashed with local residents in Seongju when the US attempted to deliver supplies for its THAAD weapons system. Several residents were injured.
Police Clash with Residents During Transport of Maintenance Equipment into THAAD Base
(May.29,2020) — Police in Seongju, North Gyeongsang Province, clashed with residents during a ground transport of maintenance equipment for US Forces Korea (USFK)'s Terminal High-altitude Area Defense (THAAD) system on May 29 as citizens opposed to THAAD's installation crowded the entrance of the base in an attempt to prevention the equipment from entering.
The local police, however, deployed over 3,700 officers to the area, who cleared the base's entrance and prevented the protesters from blocking the equipment's transport. (Park Jong-shik, staff photographer)
3,700 Korean Riot Police and US Forces Clash with Residents Opposing THAAD
K. J. Noh / Korea Collaboration
(May 30, 2020) — Although the US and SK governments are taking pains to characterize this as a "routine" maintenance/replacement operation — like an oil change (for a WMD system, no less), what is striking and surprising about this recent action is that it is the first land transport operation for THAAD since 2017 (when the missiles were installed, despite mass protest).
The US and Blackwater operators of the THAAD system have been like the French foreign legion at Dien Bien Phu — totally besieged on top of a hill, with all supplies airlifted in, due to the constant encirclement and surveillance of the base by protestors.
That this risky, costly, high manpower ground transport operation was undertaken signifies several things:
1) It's not a routine "replacement" — it's likely a significant upgrade in systems, arsenal, or firepower: a one-time operation.
2) The claim by officials "speaking anonymously", is that the operation was to "replace older missiles, a power generator, electronic devices", and that
"The new missiles are of the same type that the US Forces Korea (UFSK) currently operates. As the mission was to replace expired ones, the number of updated ones is exactly the same as those to be taken out of the base."

This claim is simply not credible. It's not credible that the lifespan of a billion dollar launching system is only three years, or that unused missiles expire like cheap yogurt. Even a well-maintained urn of Kimchi can last longer than that. Even the poster boy for the built-in-obsolescence racket known as Microsoft only forces replacement of its systems every 5-10 years.
3) There's no official MOD declaration on what was transported in or "replaced" — at least 4 trucks were covered up with black shrouds — most likely new missile batteries, launch units, possibly radar. http://www.dmitryshulgin.com/thaad/. Possibly a complete soup-to-nuts THAAD system. Definitely not a brake pad or cat-6 cables switchout.
4) Nothing was taken out (yet), so whatever this is at this point, it's not a simple "replacement", but an augmentation or increase in equipment, systems, armaments, firepower.
5). They also claim it was "to improve living conditions of troops at the base". It's unclear to me how you can improve living on an elite country club on a hill surrounded by lush nature. Perhaps they need a golf course?
6). The official also said "the operation has nothing to do with the US move to improve its seven THAAD batteries in the region, including the one in Seongju." Never believe something until it's been officially denied, especially if the denial seems unnecessary.
The withdrawal of the US from the ABM — which allowed the development and deployment of THAAD at seven sites around the world, and the 2019 disavowal of the INF treaty — allowing the emplacement of nuclear cruise missiles around China's periphery are all ominous, threatening maneuvers that increase US firepower and thus the risk of war.
As US-China relations were escalating, in mid Feb of this year, there was talk of "upgrading" the missile launchers and radar at the Seongju THAAD site — separating them out, as well as increasing the number of missiles. That discussion was tabled, but the stealth — and misconduct — employed in the THAAD deployment and development should lead us not to take any disavowal seriously.
In fact, in light of those plans, this is an ominous maneuver in terms of all the other military activities going on in the SCS, Taiwan Strait, etc.
Unsurprisingly, China has officially condemned these maneuvers. (
K. J. Noh is a Korean scholar who often speaks on Pacifica Radio and blogs on several sites.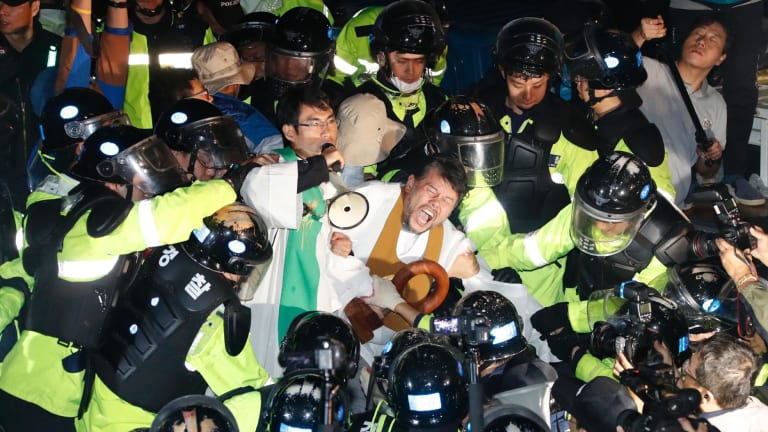 China Opposes US THAAD Weapons System in South Korea
BEIJING (May 29, 2020) — China's foreign ministry said on Friday it firmly opposes the US Terminal High Altitude Area Defense (THAAD) missile defence system in South Korea and urged the US not to harm bilateral relations between Beijing and Seoul.
American and South Korean troops brought replacement THAAD missiles to a base in South Korea overnight, Yonhap news agency reported, citing unnamed officials who described it as a routine resupply operation.
The missiles were to replace older ones and the number of weapons at the base did not increase, the report said.
Chinese foreign ministry spokesman Zhao Lijian told reporters during a daily briefing that Beijing and Seoul have reached a clear consensus on a phased resolution to the THAAD issue and said China hopes Seoul will adhere to that agreement.
Posted in accordance with Title 17, Section 107, US Code, for noncommercial, educational purposes.