ACTION ALERT Generals Say "Hell, No!" to Trump
Stephanie Taylor and Adam Green / Bold Progressives.org
(June 5, 2020) — Our democracy faces grave times. Donald Trump used our US military to gas and attack peaceful protesters this week, and then lied about it.
Hopefully you saw the news — Trump's own former Defense Secretary, James Mattis, and other retired military officers spoke up and said: Hell no. Not in America.
Mattis wrote: "Donald Trump is the first president in my lifetime who does not try to unite the American people — does not even pretend to try . . . We are witnessing the consequences of three years without mature leadership . . . We know that we are better than the abuse of executive authority that we witnessed in Lafayette Square. We must reject and hold accountable those in office who would make a mockery of our Constitution."
This is a red-alert moment for our democracy.
It's almost unheard of for retired generals and admirals to speak out against the Commander In Chief. But here's some of what they're saying:
• "June 1, 2020. Remember the date. It may well signal the beginning of the end of the American experiment." — John Allen, four-star Marine general
• "It sickened me yesterday to see security personnel — including members of the National Guard — forcibly and violently clear a path through Lafayette Square to accommodate the president's visit outside St. John's Church. I have to date been reticent to speak out on issues surrounding President Trump's leadership, but we are at an inflection point, and the events of the past few weeks have made it impossible to remain silent." — Mike Mullen, Chairman of the Joint Chiefs of Staff under Presidents Obama and Bush
• "The president proclaimed himself the 'ally of peaceful protesters.' But, at that very moment, just a few hundred feet away across Lafayette Park, fully equipped riot police and troops violently, and without provocation, set upon the peaceful demonstrators there, manhandling and beating many of them, employing flash-bangs, riot-control agents, and pepper spray throughout. These demonstrators had done nothing to warrant such an attack." — General John Allen
• "Whatever Trump's goal in conducting his visit, he laid bare his disdain for the rights of peaceful protest in this country . . . We must, as citizens, address head-on the issue of police brutality and sustained injustices against the African American community. We must, as citizens, support and defend the right — indeed, the solemn obligation — to peacefully assemble and to be heard." — Chairman Mike Mullen
• "The vast majority of the people protesting in the streets are justifiably furious at the murder of George Floyd, but they're even angrier over pervasive injustice, mass incarceration, frequent false arrests, and an institutionalized devaluation of black lives and property . . . as much as the president would like them to be — indeed, needs them to be — terrorists, that is not what these people are . . . the obvious targets for designation as domestic terrorists are, first and foremost, violent white supremacist groups." — General John Allen
• "I am deeply worried that as they execute their orders, the members of our military will be co-opted for political purposes . . . Our fellow citizens are not the enemy, and must never become so." — Chairman Mike Mullen
ACTION: Sign on to Endorse Mattis's Statement: We are asking everyone to co-sign Mattis's statement here – especially veterans.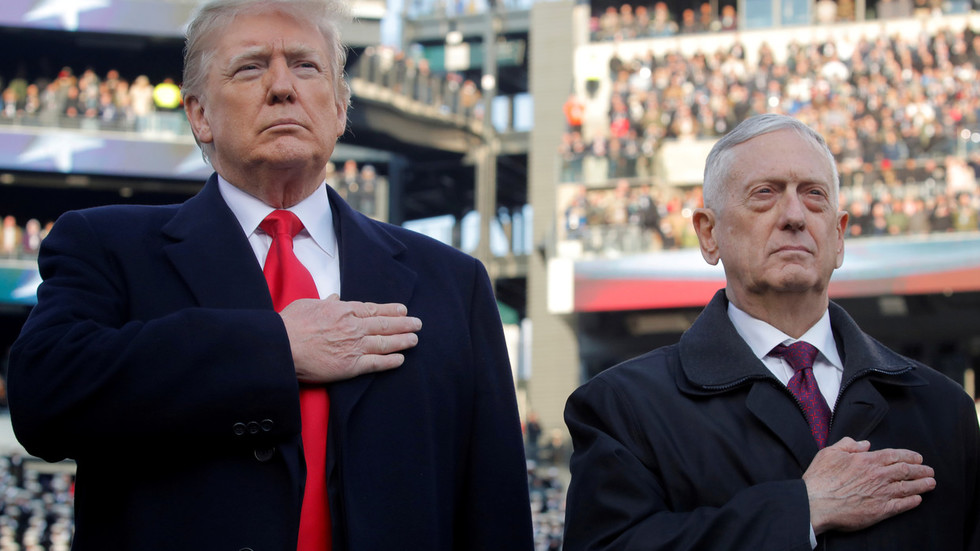 In Union There Is Strength
James Mattis, former Trump Defense Secretary
I have watched this week's unfolding events, angry and appalled.
The words "Equal Justice Under Law" are carved in the pediment of the United States Supreme Court. This is precisely what protesters are rightly demanding. It is a wholesome and unifying demand — one that all of us should be able to get behind. We must not be distracted by a small number of lawbreakers. The protests are defined by tens of thousands of people of conscience who are insisting that we live up to our values — our values as people and our values as a nation.
When I joined the military, some 50 years ago, I swore an oath to support and defend the Constitution. Never did I dream that troops taking that same oath would be ordered under any circumstance to violate the Constitutional rights of their fellow citizens — much less to provide a bizarre photo op for the elected commander-in-chief, with military leadership standing alongside.
We must reject any thinking of our cities as a "battlespace" that our uniformed military is called upon to "dominate." At home, we should use our military only when requested to do so, on very rare occasions, by state governors.
Militarizing our response, as we witnessed in Washington, D.C., sets up a conflict — a false conflict — between the military and civilian society. It erodes the moral ground that ensures a trusted bond between men and women in uniform and the society they are sworn to protect, and of which they themselves are a part. Keeping public order rests with civilian state and local leaders who best understand their communities and are answerable to them.
James Madison wrote in Federalist 14 that "America united with a handful of troops, or without a single soldier, exhibits a more forbidding posture to foreign ambition than America disunited, with a hundred thousand veterans ready for combat." We do not need to militarize our response to protests. We need to unite around a common purpose. And it starts by guaranteeing that all of us are equal before the law.
Instructions given by the military departments to our troops before the Normandy invasion reminded soldiers that "The Nazi slogan for destroying us . . . was 'Divide and Conquer.' Our American answer is 'In Union there is Strength.'" We must summon that unity to surmount this crisis — confident that we are better than our politics.
Donald Trump is the first president in my lifetime who does not try to unite the American people — does not even pretend to try. Instead he tries to divide us. We are witnessing the consequences of three years of this deliberate effort. We are witnessing the consequences of three years without mature leadership.
We can unite without him, drawing on the strengths inherent in our civil society. This will not be easy, as the past few days have shown, but we owe it to our fellow citizens; to past generations that bled to defend our promise; and to our children.
We can come through this trying time stronger, and with a renewed sense of purpose and respect for one another. The pandemic has shown us that it is not only our troops who are willing to offer the ultimate sacrifice for the safety of the community. Americans in hospitals, grocery stores, post offices, and elsewhere have put their lives on the line in order to serve their fellow citizens and their country.
We know that we are better than the abuse of executive authority that we witnessed in Lafayette Square. We must reject and hold accountable those in office who would make a mockery of our Constitution. At the same time, we must remember Lincoln's "better angels," and listen to them, as we work to unite.
Only by adopting a new path — which means, in truth, returning to the original path of our founding ideals — will we again be a country admired and respected at home and abroad.
ACTION ALERT: House and Senate Veterans Condemn Trump's Use of Military
(June 4, 2020) — Today VoteVets organized ten veterans and national security leaders in Congress to pen a stunning open letter to all Americans sounding the alarm on Donald Trump's recent threats to unleash the active-duty military against protests. Senator Tammy Duckworth and Representatives Ted Lieu, Jason Crow, Andy Kim, Max Rose, Salud Carbajal, Jimmy Panetta, Gil Cisneros, Seth Moulton, and Anthony Brown have all cosigned.
ACTION: Read their letter below, then click to add your name as a citizen supporter of the statement.
To Our Fellow Americans,
In the midst of a pandemic that has claimed more than 105,000 American lives, we are also facing a crisis of confidence in the ability of law enforcement to do its job — and to protect all Americans regardless of their race. Yet, in this moment of national pain and frustration, the President is choosing to throw gasoline on the fire and is abusing the US military to do so.
As members of Congress who have served in the United States Armed Forces or national security roles, we are appalled by Donald Trump's threat to illegally turn active duty military personnel against their fellow citizens. His words and threats are similar to those made by despots we have long stood against. Left unchecked, the President and his Pentagon officials are on the verge of ripping the very fabric of our democracy apart.
Americans choose to serve in the United States military to defend the Constitution — the document that binds us together to form "a more perfect Union." It's an oath to something bigger than any President or politician. It is not an oath to Donald Trump. Our troops did not join the US military to intimidate their fellow citizens on the streets of Washington or Minneapolis.
How we respond to this current crisis, and the President's authoritarian desires, will define the future of this great nation.
Americans from all walks of life and corners of this country have come together — before — to defend our democracy from threats overseas. We've walked side-by-side with those men and women and together stood in awe at the generations of patriots who served before us.
This moment calls on us, now, to rise up and stop this threat.
Please join us — speak up, call your lawmakers, make your voices heard on social media — and demand an immediate end to the President's threats of military intervention against governors, mayors, and protesters. In November, turn out to vote.
Most of all, use your freedom. If you feel the need to protest injustice, continue to do so, peacefully, no matter what Donald Trump says. Our oath never ended. We still swear to defend the Constitution, and the rights it guarantees you.
Yours,
Sen. Tammy Duckworth
Rep. Ted Lieu
Rep. Jason Crow
Rep. Andy Kim
Rep. Max Rose
Rep. Salud Carbajal
Rep. Jimmy Panetta
Rep. Gilbert R. Cisneros, Jr.
Rep. Seth Moulton
Rep. Anthony Brown