House Democrats Join Liz Cheney to Oppose US Withdrawal from Afghan War
Win Without War
(July 17, 2020) — You can't make this up: last week House Democrats joined Liz Cheney and House Republicans to try to make it HARDER to pull troops out of Afghanistan … indefinitely extending the US's longest war.
That's right, the hawkish bipartisan foreign policy establishment is STILL using every trick in their legislative toolkit to keep us embroiled in Afghanistan. Nineteen years, 775,000+ deployed troops, and 150,000 lives later.
In days there'll be a dramatic 'only in DC' showdown as bold progressives in Congress and groups like Win Without War work to strike down this ridiculous proposal and keep the United States committed to troop withdrawals — and our team is pivoting on a dime to do everything we can to make sure we win.
This is *not* what we were planning for, but our team is digging deep — working late into the night and through the weekend, being available to put pressure on representatives to answer their calls at any time, and mobilizing activists like you— because this grueling, critical, behind the scenes work is ESSENTIAL if we're going to win — and we need your help to keep it up.
The National Defense Authorization Act amendment Liz Cheney — yes, daughter of Dick Cheney, who got us into this mess — introduced with freshman Democrat Jason Crow would use Congress's power of the purse to BLOCK troop reductions without a series of unlikely conditions first being met — conditions even the hawkish Trump administration doesn't think are necessary.
Their justification and the backdrop to this showdown is a rise in violence in Afghanistan in the wake of uncertainty over the US agreement with the Taliban to withdraw troops.
But we've heard this story before, and the truth is: violence is a hallmark of US involvement, NOT a problem that goes away when we stay.
Almost everyone gets this: more than two-thirds of the people in the United States — including 73 percent of military veterans — support a FULL military withdrawal from Afghanistan.
Our team is doing everything we can to carry these voices directly into the decision making rooms in D.C to support progressive leaders in Congress taking on the war machine in the days — we need your support.
Thank you for working for peace — Stephen, Tara, Kate, and the Win Without War team
P.S. As we were sending this email, we learned of Congressman John Lewis' passing. Representative Lewis dedicated his life to critical issues of social justice and civil rights, and was an inspiration to us all. This is a deep loss and our hearts go out to his family, friends, and constituents. We remain committed to making #goodtrouble to build a more just and peaceful world.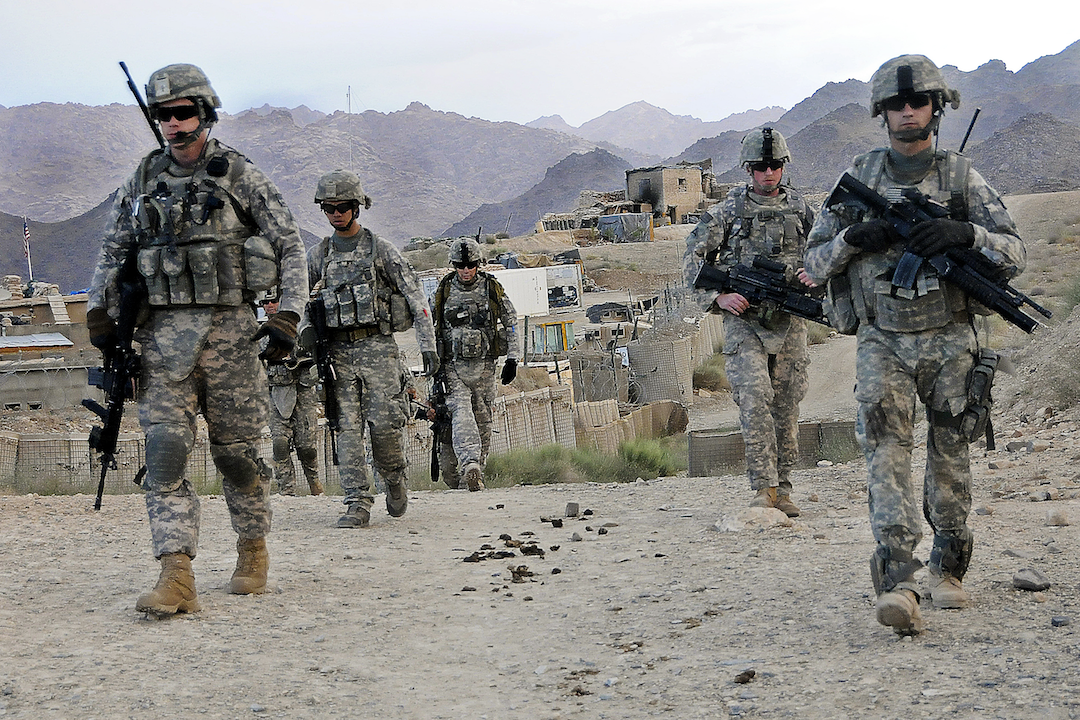 House Democrats, Working With Liz Cheney, Restrict Trump's Planned Withdrawal of Troops From Afghanistan and Germany
Glenn Greenwald / The Intercept
(July 2 2020) —The US military has been fighting in Afghanistan for almost 19 years. House Democrats, working in tandem with key pro-war GOP lawmakers such as Rep. Liz Cheney, are ensuring that continues.
Last night, the House Armed Services Committee voted overwhelmingly in favor of an amendment — jointly sponsored by Democratic Congressman Jason Crow of Colorado and Congresswoman Cheney of Wyoming — prohibiting the expenditure of monies to reduce the number of US troops deployed in Afghanistan below 8,000 without a series of conditions first being met.
The imposed conditions are by no means trivial: for these troop reductions from Afghanistan to be allowed, the Defense Department must be able to certify, among other things, that leaving Afghanistan "will not increase the risk for the expansion of existing or formation of new terrorist safe havens inside Afghanistan" and "will not compromise or otherwise negatively affect the ongoing United States counter terrorism mission against the Islamic State, al Qaeda, and associated forces."
The Crow/Cheney amendment to the National Defense Authorization Act (NDAA) last night passed by a vote of 45-11. The NDAA was then unanimously approved by the Committee by a vote of 56-0. It authorizes $740.5 billion in military spending — roughly three times more than the world's second-highest spender, China.
President Trump throughout the year has insisted that the Pentagon present plans for withdrawing all troops from Afghanistan prior to the end of 2020. Last week, reports indicated that "the Trump administration is close to finalizing a decision to withdraw more than 4,000 troops from Afghanistan by the fall." Trump's plan "would reduce the number of troops from 8,600 to 4,500 and would be the lowest number since the very earliest days of the war in Afghanistan, which began in 2001." In February, Trump announced an agreement with the Taliban to end the war completely.
Shortly after those White House withdrawal plans were reported, anonymous intelligence officials leaked a series of claims to the New York Times regarding "bounties" allegedly being paid by Russia to Taliban fighters to kill US troops. Those leaks emboldened opposition to troop withdrawal from Afghanistan on the ground that it would be capitulating to Russian treachery. It was that New York Times leak that Liz Cheney, along with GOP Congressman Mac Thornberry, cited in a joint statement on Monday to suggest troop withdrawal would be precipitous:
"After today's briefing with senior White House officials, we remain concerned about Russian activity in Afghanistan, including reports that they have targeted US forces. It has been clear for some time that Russia does not wish us well in Afghanistan. We believe it is important to vigorously pursue any information related to Russia or any other country targeting our forces. Congress has no more important obligation than providing for the security of our nation and ensuring our forces have the resources they need. We anticipate further briefings on this issue in the coming days."
The Crow/Cheney amendment impeding Trump's withdrawal plan asserted that "a rapid military drawdown and a lack of United States commitment to the security and stability of Afghanistan would undermine diplomatic efforts for peace" (only the US could malign a troop withdrawal plan after a 19 year-old war as "rapid").
Their amendment also claims that "the current agreement between the United States and the Taliban does not provide for the appropriate protections for vulnerable populations, does not create conditions for the rejection of violence and prevention of terrorist safe havens, and does not represent a realistic diplomatic solution, based on verifiable facts and conditions on the ground, that provides for long-term stability"
The NDAA that was approved last night by the Committee also imposed restrictions on Trump's plan to withdraw troops from Germany. Trump's plan called for the removal of roughly 9,500 troops from German soil, reducing the number of US troops in this extremely prosperous and rich European nation from 34,500 to 25,000. But by an overwhelming vote of 49-7, the Armed Service Committee approved an amendment to the NDAA that "bans the administration from lowering troop levels below current levels until 180 days after Pentagon leaders present a plan to Congress and certify it will not harm US or allied interests."
Just as she did with Afghanistan, Congresswoman Cheney, to oppose this troop removal from Germany, cited — along with her Democratic Committee colleagues — the threat of Russia, now the all-purpose rationale for continuing endless US imperialism and war, just as it was during the first Cold War:
Meanwhile, the leading Democrat who joined Cheney to oppose troop withdrawal from Germany, Congressman Ruben Gallego of Arizona, also cited "increasing Russian aggression" to argue that "it is more important than ever that our NATO allies and partners remain confident about the United States' commitment." For decades, the perceived threat from Moscow was the leading instrument used to justify endless US imperialism, and even now that Russia is little more than what journalist Vincent Bevins today called "a minor power in Eastern Europe," it still somehow occupies this same crucial role in the US imagination and militaristic discourse.
Opposition to troop withdrawal in both Afghanistan and Germany was not unanimous. There were elements of the progressive left and the pro-Trump right who supported these withdrawals. Yesterday on Twitter, Democratic Rep. Ro Khanna, the former co-chair of the Sanders campaign, and GOP Rep. Matt Gaetz, traded mutual support and vows to work together to defeat the Crow/Cheney amendment:
But this left-right anti-war coalition is no match for the war machine composed of the establishment wings of both parties and the military and intelligence community that continue to use selective, illegal leaks to sabotage any plans to reduce the US military presence around the world. That the Democrats have spent a full decade desperately recruiting former military and intelligence officials to serve as their Congressional candidates (both Congressman Crow, Liz Cheney's co-sponsor on the Afghanistan amendment, and the anti-German-troop-withdrawal Congressman Gallego, are both Iraq War veterans) has only made the party even more militaristic.
Combined with the fact that Democrats are increasingly merging with and being led by the Bush-era neocons and other Bush/Cheney operatives in creating such jingoistic and militaristic messaging campaigns as the beloved-by-liberals Lincoln Project, and that Biden is clearly trying to run to Trump's right on foreign policy with ads accusing him of being too soft on China and linking him to Castro and Chavez, the picture is clear.
It should come as absolutely no surprise that House Democrats are finding common cause with Liz Cheney and other GOP warmongers to block any efforts to reduce even moderately the footprint of the US military in the world or its decades-long posture of endless war.
Updated:
The roll call vote on the Crow/Cheney amendment to prevent Trump's withdrawal plan from Afghanistan is now available. Of the 11 members voting "no," eight were Republicans (Mo Brooks, Bradley Burne, Austin Scott, Scott DesJarlais, Ralph Abraham, Trent Kelly, Matt Gaetz, Jim Banks) and three were Democrats (Tulsi Gabbard, Anthony Brown, Ro Khanna). That means that the "yes" votes — to impede troop withdrawal from Afghanistan — came from a signifiant majority of Democratic votes. The roll call vote can be seen on the videos below:
Posted in accordance with Title 17, Section 107, US Code, for noncommercial, educational purposes.