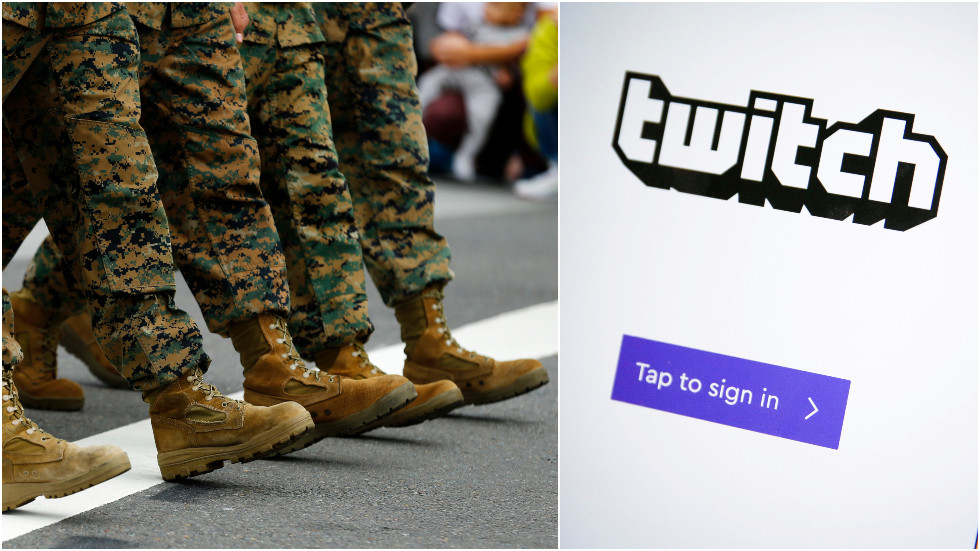 Rep. Ocasio-Cortez Calls for End to Federal Funding for Military Recruitment in Schools
John Bowden / The Hill
(August 1, 2020) — Rep. Alexandria Ocasio-Cortez (D-NY) has introduced a pair of amendments to a defense appropriations bill that would bar the military from using funding to maintain a recruiting presence in US schools or on digital streaming platforms such as Twitch.
In a statement to The New York Times, the first-term lawmaker explained that the amendments are intended to curb a trend of military recruiters targeting low-income students.
"Whether through recruitment stations in their lunchrooms, or now through e-sports teams, children in low-income communities are persistently targeted for enlistment," Ocasio-Cortez said.
"In many public high schools where military recruiters have a daily presence, there is not even a counselor," she continued. "As a result, the military stops feeling like a 'choice' and starts feeling like the only option for many young, low-income Americans."
The armed forces, she told the Times, "can for some provide a rewarding career," but recruitment should not be targeted to poorer students while "low-income Americans are not being given anywhere near the same information or access to trade schools, college or other post graduate opportunities."
The amendments come days after the Army suspended its streaming on Twitch after it faced accusations of censoring viewers who posted comments about war crimes committed by members of the US military.
Ocasio-Cortez had previously told Motherboard in a statement that the military should not be recruiting on the Twitch streaming platform, citing its younger audiences. The Army's now-paused streaming channel frequently featured soldiers streaming first-person shooters such as "Call of Duty: Warzone" and "Valorant," as well as other games including "Super Smash Bros."
"It's incredibly irresponsible for the Army and the Navy to be recruiting impressionable young people and children via live streaming platforms," the congresswoman told Motherboard. "War is not a game, and the Marine Corps' decision not to engage in this recruiting tool should be a clear signal to the other branches of the military to cease this practice entirely."
War IS a Game? US House Rejects AOC's Amendment to Bar Pentagon from Recruiting on Twitch as Over 100 Dems Side with GOP
WASHINGTON, DC (July 31, 2020) — Congress has voted to kill an amendment that would have blocked the military from recruiting through streaming platforms like Twitch, with nearly half of Democrats in the House joining the effort to strike down the measure.
A House vote of 196-292 easily quashed the appropriations bill amendment on Thursday, a measure introduced by New York Democrat Alexandria Ocasio-Cortez to bar military funding for outreach to young gamers. While Republicans opposed the amendment unanimously, Democrats were split down the middle, with 103 joining the GOP and only a narrow majority of 126 voting in favor.
"War is not a game," Ocasio-Cortez said on the House floor ahead of the vote. "This amendment is specifically to block funding for recruitment practices on services such as Twitch, which are live streaming platforms largely populated by children well under the age of military recruitment rules."
Children as young as 13 … are targeted for recruitment forms that can be filled online.
The self-avowed democratic socialist took to Twitter after the vote to vent frustration about tech-illiterate colleagues, asking followers to "imagine trying to explain… what Twitch is" to elderly lawmakers, observing that "Congress can't keep up" with the pace of technology. Despite scores of fellow Democrats shooting down her amendment, Ocasio-Cortez nonetheless deemed the failed vote a "really solid start."
Among Democrats to vote no on the AOC amendment was Ted Lieu of California, an Air Force veteran and former military prosecutor. His opposition prompted a wave of criticism online, some deeming the rep a reliable "supporter of the military industrial complex."
At 51-years-old, Lieu is slightly younger than the average representative — just over 57, according to the Congressional Research Service — a fact House candidate Richard Thripp said played into Thursday's vote, citing a lack of "technological literacy" among older lawmakers.
Though the US Army paused its "e-sports" activities on Twitch earlier this month on the heels of several critical press reports, the practice has been condemned as an effort to draw impressionable children as young as 13 for future military service, with soldiers streaming war-themed games such as Call of Duty while chatting with teenage viewers for hours on end. The Pentagon was also found to use deceptive giveaways to generate interest, which ultimately directed participants to recruitment forms.
Posted in accordance with Title 17, Section 107, US Code, for noncommercial, educational purposes.