Tell Mnuchin and Pompeo: No New Sanctions on Iran!
Win Without War
(October 4, 2020) — As you're reading this, the Trump administration is considering adding more sanctions on Iran.
Existing sanctions are already hurting the ability of people in Iran to access critical healthcare in the face of COVID-19. The pandemic has killed nearly 27,000 people and infected over 471,000 in Iran, and the country is once again shut down in the face of a new and terrifying COVID wave. New blanket sanctions would only exacerbate the humanitarian crisis Iran's people are currently facing.
Earlier this year, THOUSANDS of activists, like you, recognized that our humanity doesn't stop at the border and urged the Trump administration to suspend sanctions on Iran during COVID. We made SO much noise that #EndCovidSanctions became a movement-wide rallying cry. I know it may feel impossible right now, but it's clear we've got to get even LOUDER if we want to see the END of Trump's "maximum pressure" campaign. Will you join with us again?
Maximum pressure has meant maximum failure. Urge Secretaries Mnuchin and Pompeo: No new sanctions on Iran!
And once you've signed, please spread the word by sharing on social media or forwarding the action to five friends.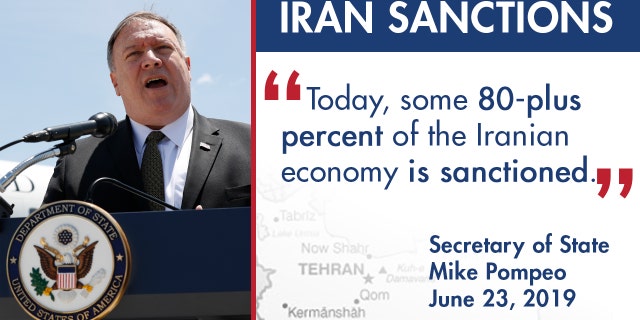 Trump, Secretary of State Mike Pompeo, and Treasury Secretary Steve Mnunchin would reportedly blacklist the few remaining Iranian financial institutions that have been allowed to continue importing medicine and food into the country.
There's no doubt Iran's COVID outbreaks are not solely the fault of U.S. sanctions. The Iranian government's corruption and incompetence have played a role in COVID's spread across the country. But adding sanctions that will further impede delivery of medical supplies into that mix will unnecessarily and callously push many people further into desperation.
Hawks in the Trump administration pushing for new sanctions argue that they can safeguard humanitarian aid with letters from the Treasury for businesses and financial institutions to navigate. But that strategy has failed —people in Iran couldn't access apps for basics like food delivery on iPhones, let alone even more essential services.
What's more, study after study shows that broad-based sanctions tend to make the countries they target MORE authoritarian and repressive. As resources become increasingly limited and demand grows, governments can more easily control who gets access, using that power to directly reward or repress. Given what we've seen happen in Iran recently — coerced confessions and violence against and mass arrests of protesters — that rings true.
People in Iran don't deserve to have their families, their hopes, and their lives be further put at risk because of political posturing by the Trump administration. Maximum pressure means maximum failure and the Trump administration's failed campaign needs to end.
ACTION: Urge Secretaries Mnuchin and Pompeo: No new sanctions on Iran!
Broad-based sanctions are economic warfare. They hurt ordinary people the most — and right now, I don't think it's difficult for many of us to imagine the despair an Iranian feels as they watch their government bungle a public health response or make policy decisions that fly in the face of their values and sense of morality.
Will Munchin and Pomepo listen to us? I don't know. But I DO know that our silence becomes complicity and nothing will change if we don't speak out. A few clicks and shares will take just a few seconds of your time, but will mean so much to this work and our movement, in addition to the families and people just like you in Iran.
Thank you for working for peace,
Shayna, Tanaya, Michael, and the Win Without War team
UN Security Council Rejects US Attempt to Extend Iran Sanctions
Indonesia said no further action could be taken on US request because there was no consensus on 15-nation body
Patrick Wintour / The Guardian
(August 25, 2020) — The US has suffered another humiliating diplomatic setback after the president of the UN Security Council rejected the Trump administration's attempt to extend economic sanctions on Iran.
America was rebuffed last week when 13 countries on the Security Council argued that the US had no legal right to "snap back" sanctions because it had already walked out of the 2015 nuclear deal with Iran.
On Tuesday, Indonesia — which this month holds the Security Council's rotating presidency — said that no further action could be taken on the US request, because there was no consensus on the 15-nation body.
The announcement prompted an angry response from Kelly Craft, the US envoy to the UN, who said: "Let me just make it really, really clear: the Trump administration has no fear in standing in limited company on this matter. I only regret that other members of this council have lost their way and now find themselves standing in the company of terrorists."
The US claims it still has a right to intervene on the nuclear deal since the original Iran deal listed the US as a participant, and it requires only one signatory to the deal for the sanctions to be reimposed.
Pompeo said on Thursday he had triggered a 30-day process to reimpose sanctions taking the crisis into the heart of the UN general assembly, the annual UN conference addressed by heads of state.
Russia's UN ambassador, Vassily Nebenzia, said he hoped the United States would now drop its bid to snap back Iran sanctions, "which is not only illegal, but simply will not lead to achieving the result that was envisaged by the United States".
Nebenzia's deputy, Dmitry Polyanskiy, interpreted the Indonesian assessment in a Twitter post: "It means, there is NO SNAPBACK."
The Iran deal allowed for the embargo on conventional arms sales to be lifted after five years, a deadline that expires in mid-October. The US is vehemently opposed to Tehran being able to strengthen its military, although it is not clear whether Russia or China would be willing to sell arms to Iran — or whether a cash-strapped Iran currently has the means to purchase sophisticated electronic weaponry.
The EU has its own separate arms embargo, but is working to keep alive the 2015 deal — known as the Joint Comprehensive Plan of Action (JCPOA) — partly in the hope that the deal could be revived if Trump is unsuccessful in his bid for re-election.
The UK's acting deputy envoy, James Roscoe, said: "We do not support a move to snap back at this time, which would be incompatible with our current efforts to preserve the JCPOA … It is the UK's opinion that the United States ceased to be a participant to the JCPOA following their withdrawal from the deal on the 8th of May 2018."
Niger is president of the Security Council in September and Russia in October. Neither country is likely to adopt a different position to Indonesia so making it hard to see how the US can push the Iran issue back on to the agenda before November.
Posted in accordance with Title 17, Section 107, US Code, for noncommercial, educational purposes.