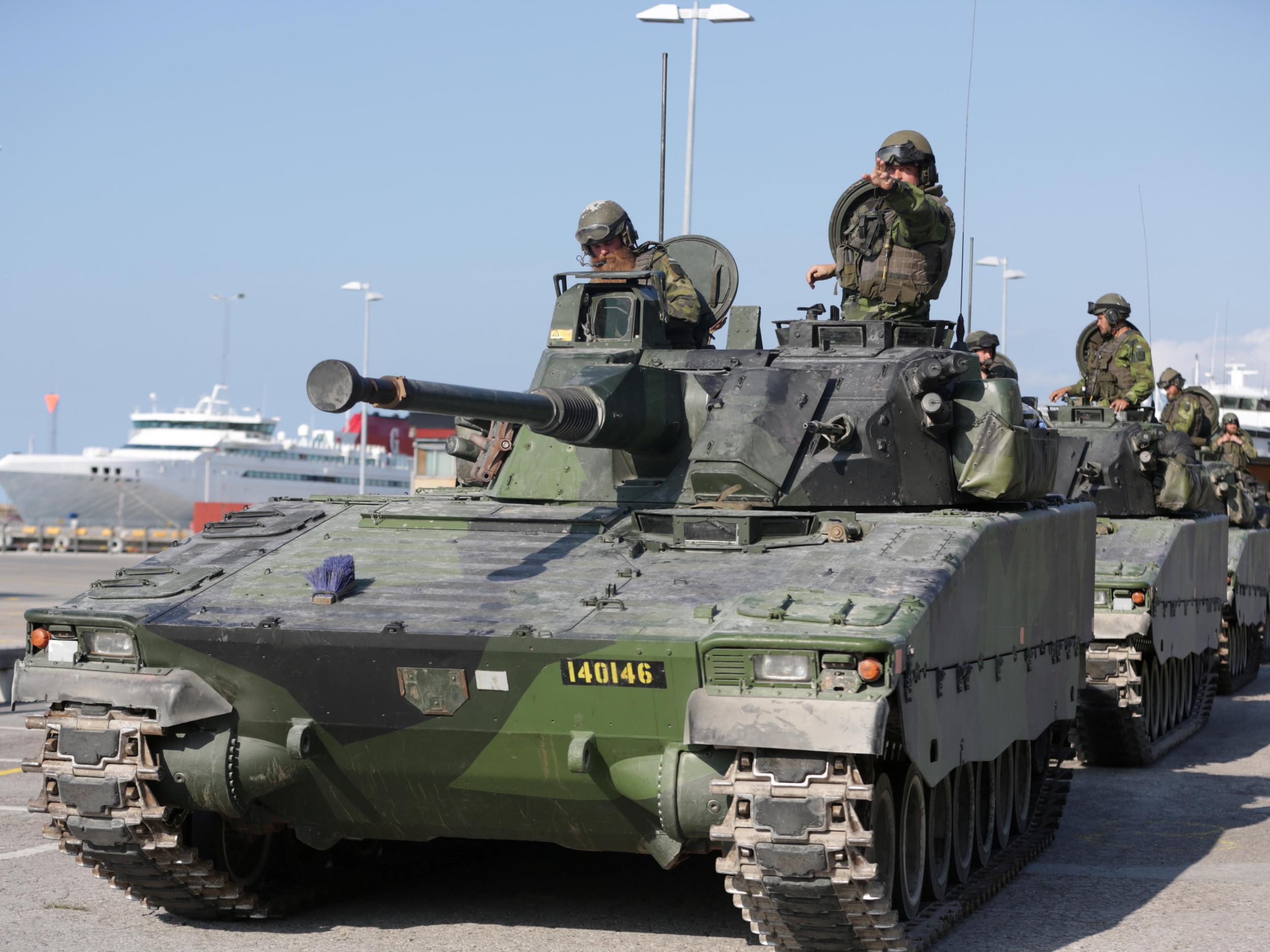 Russian Activity in Baltic Sea Forces Hasty Rearmament
Reuters and The Guardian
STOCKHOLM (October 15, 2020) — Sweden will increase military spending by about 40% in the next five years and double the number of people conscripted into its armed forces as it aims to strengthen its defence amid growing tensions with Russia, the government has said.
The country, which is not a member of NATO but enjoys close ties with the alliance, ran down its military forces after the cold war to save money.
"We have a situation where the Russian side is willing to use military means to achieve political goals," the defence minister, Peter Hultqvist, told reporters on Thursday. "Based on that, we have a new geopolitical security situation to deal with." He said the new proposals would mean an increase in the military budget of 27.5bn Swedish kronor ($3.10bn) by 2025.
Increased Russian activity in the Baltic Sea region has pushed Sweden into a hasty programme of rearmament, including buying Patriot missiles from the US.
Last month, Stockholm protested to Moscow after two warships entered its territorial waters without permission, and it has repeatedly complained about Russian military planes flying too close to its own aircraft and violating Swedish airspace.
The government said the military budget would be increased between 2021 and 2025, and would fund an expansion of military personnel to about 90,000 from 60,000 people, including a new mechanised brigade with updated artillery.
The navy will get an extra submarine, increasing the number to five, and the corvette fleet will be updated, while the army and air force will get upgraded weapons systems. In addition, the draft will be expanded to 8,000 a year by 2025, up from 4,000 in 2019. Sweden ended conscription in 2010, but reintroduced compulsory military service for a limited number of men and women in 2017.
Sweden to Reintroduce Conscription Amid Rising Baltic Tensions
Draft will cover men and women born in 1999 or later, though only small minority will be selected to serve
Philip Oltermann / The Guardian
(March 2, 2017) — Sweden has voted to reintroduce military conscription by 1 July after struggling to fill army ranks on a voluntary basis, citing increased Russian military activity in the Baltics as one of the reasons for the policy U-turn.
In 2010, Sweden's centre-right government of the time abolished the draft after more than 100 years, arguing that targeted recruitment would increase the quality of a military that had shrunk by more than 90% since the end of the cold war.
But with unemployment rates having returned to pre-2008 levels, the country has been struggling to meet its target of 4,000 new recruits per annum.
On Thursday, the Social Democrat-Green coalition government voted to adopt measures, recommended in a report last September, which mean that about 100,000 male and female teenagers born between 1999 and 2000 will soon be asked to complete questionnaires for recruitment.
Of the targeted age group, 13,000 will be called to take part in an enrolment process – of which about 4,000 a year will be selected for basic military training in 2018 and 2019.
The defence minister said the move was in response to a deteriorating security environment in Europe. "We are in a context where Russia has annexed Crimea," Peter Hultqvist, the minister, told AFP. "They are doing more exercises in our immediate vicinity."
"We saw that our units could not be filled on a voluntary basis. A decision had to be taken to complement the (volunteer) system which is why we are reactivating conscription," he added.
A resurgent Russia and tensions over Ukraine have prompted politicians to consider bolstering military capability while addressing the shortfall of people willing to pursue a career as a professional soldier.
The lack of military preparedness has been exposed in recent years, such as when Russian warplanes carrying out a mock bombing run on Sweden in 2013 caught air defences off guard. 
Sweden is not a NATO member but has signed the organisation's partnership for peace programme, which was launched in 1994 to develop military cooperation between NATO and non-member countries.
Hultqvist said motivation would be an important factor when selecting recruits.
With its reintroduction of the draft, Sweden will for the first time join Norway to become only the second country in Europe where military service is compulsory for women and as well as men.
"It's very important to emphasise that military service is for girls and guys," Hultqvist said. "It is important for the military to have a gender equal profile," he added.
One teenager, Sofia Hultgren, who turns 17 this year and could be drafted in the coming years, told Reuters that many young Swedes viewed lengthy careers as military professionals as odd and old-fashioned. "I think many see it as something lame, something your father did, when there are so much other fun things to do," said Hultgren, a student
However, she welcomed the reintroduction of military service and said she would consider such training, even if she did not want to make it a career. "I think this can give a feeling of comfort. Conscription strengthens our defence when we see so much ugliness in the world," she said.
The wages for professional soldiers are well below the national average for the age group, providing little monetary incentive, while the pool of potential recruits, primarily former conscripts from before 2010, has dwindled.
"This buffer is now exhausted and that leaves great challenges in recruiting," said Johan Österberg, a staffing researcher at the Swedish Defence University.
Swedish military expenditure has fallen from 2.5% of GDP in 1991, around the time the Soviet Union collapsed, to 1.1% in 2015, data from the Stockholm International Peace Research Institute shows.
Conscription in Europe
Numerous European countries phased out conscription after the end of the cold war.
However, in Scandinavia and eastern Europe, Belarus, Denmark, Estonia, Finland, Lithuania, Moldova, Norway and Ukraine have retained the draft.
In southern Europe, Cyprus, Greece and Turkey still have military conscription.
In central Europe, only Austria and Switzerland require citizens to do compulsory military service, for a period of 6 months and 262 days respectively.
Germany abolished military conscription in July 2011 but last year considered measures to bring back the draft during a national emergency.
Norway legally extended conscription to both sexes in 2015, and last year about 33% of an intake of 10,000 conscripts were female.
Posted in accordance with Title 17, Section 107, US Code, for noncommercial, educational purposes