Stop Famine! End the US-Saudi War in Yemen!
Paul Shannon / Raytheon Antiwar Campaign & Watertown Citizens
CAMBRIDGE, Mass. (October 17, 2020) — Massachusetts-based Raytheon Technologies is helping to create the worst famine of the 21st century. The people of Massachusetts must do something to stop it.
Today is World Food Day. As you all know, the greatest food crisis in the world today is taking place right now in Yemen, due to the US-Saudi war that has been raging for more than five years.
It's also deeply connected to Massachusetts. Waltham-based Raytheon Technologies is a major arms supplier to Saudi Arabia, selling many of the bombs and missiles being dropped on Yemen. They have actively lobbied against congressional restrictions on weapons sales to the Saudis. US Secretary of Defense Mark Esper is the former head of lobbying for Raytheon. We are calling on Raytheon Technologies to immediately cease selling weapons to Saudi Arabia and for the United States Government to end all participation in the illegal war on Yemen.
On October 17, the Raytheon Antiwar Campaign will demonstrate to end the worst famine in the world today, a crisis that is deeply connected to Massachusetts through Raytheon Technologies. The demonstration will take place at the Boston Irish Famine Memorial (294 Washington Street, Boston, MA 02108) from 12:00 pm -1:00 pm. (Masks and social distancing required!) 
ACTION: Our involvement in this war is deeply unpopular. It continues, in large part, because of the billions of dollars in profits to weapons manufacturers. The only way to end our involvement, and the war itself, is through public pressure. Add your voice to the chorus, calling for an end to this travesty. Click here to send a message to your members of Congress. 
THE LETTER
I ask that you use the power of your office and the power of your voice to help end our participation and complicity in this war. Please make public statements against this barbaric war, introduce legislation to end it, and support initiatives from your colleagues to do so.
We will demonstrate at the Boston Irish Famine Memorial at the corner of Washington Street and School Street (294 Washington Street) near Downtown Crossing. This monument commemorates the Great Famine in Ireland, that killed hundreds of thousands and caused millions of Irish to flee their homes in the 19th century. Those that recognize the evil of the Great Famine must take action to oppose the greatest famine of our own time, the war in Yemen.
We call on Raytheon Technologies to immediately cease selling weapons to Saudi Arabia and for the United States Government to end all participation in the illegal war on Yemen. Join us!
We will wear masks and hold signs 6 feet apart, maintaining public safety and social distancing. We encourage participants to make your own signs focused on Raytheon helping the Saudis destroy Yemen.
"Raytheon: The Local Connection to Famine and Death in Yemen"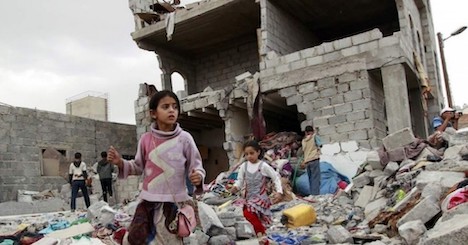 Watertown Citizens for Peace, Justice and the Environment
(October 20, 2020) — For four years a coalition led by Saudi Arabia and the United Arab Emirates has been bombing the country of Yemen, routinely striking hospitals, schools, food-storage facilities and water-treatment plants. They are also using man-made famine as a weapon of war. Over 14 million people, half the population, now live on the brink of starvation. The war in Yemen, which the United Nations calls "the world's worst humanitarian crisis," has caused the deaths of at least 85,000 children under the age of 5 from starvation. One million people have contracted cholera.
Raytheon is a major arms supplier for Saudi Arabia, and it is estimated that between 2009 and 2015 alone Raytheon delivered $2.5 billion in weapons to Saudi Arabia. Raytheon is headquartered in Waltham and has facilities in Cambridge, Burlington, Woburn, Tewksbury, Andover, Billerica, Marlborough and Northborough.
The event offers attendees an opportunity to learn more about this crisis, the local connection and what they can do to make a difference.
There will be a related peace vigil demanding that Raytheon stop selling arms to human rights violators, especially to Saudi Arabia while it is making war in Yemen, on Saturday, November 16, from 11 a.m. to noon, at the corner of Main and Moody Streets on Waltham Common.
In addition to WCC, these events are co-sponsored by Raytheon Antiwar Campaign, Mass. Peace Action, Watertown Citizens for Peace, Justice and the Environment, Newton Dialogues on Peace and War, Arlington United for Justice with Peace and Veterans for Peace.
Waltham Concerned Citizens was founded in 1981 to work for peace and justice. Its initial focus was on a nuclear weapons freeze. WCC has also sponsored programs and activities that have addressed other issues, including US intervention in Iraq, Central America, Afghanistan and the Middle East; affordable housing; civil liberties; and the environment. WCC holds regular peace vigils on the first and third Saturdays of the month.