First House Republican to Support Measure Calling for an End to the Korean War
Jessica J. Lee / Responsible Statecraft
(October 30, 2020) — Rep. Andy Biggs (R-Ariz.) announced on Thursday that he will support a resolution that calls for a formal end to the Korean War.
In July, I wrote about Rep. Ro Khanna's (D-Calif) efforts to declare the Korean War over. Such a political declaration would be an important first step in formally ending the war, which in turn can help resolve the broader security challenge surrounding North Korea's growing nuclear weapons.
This summer, Khanna announced his plan to visit South Korea with Biggs, his fellow co-chair of the War Powers Caucus. And Biggs' office confirmed that he also intends to co-introduce the resolution on formally ending the war, H.Re.152, with Khanna in the next Congress, as well as help secure a Republican Senator to introduce a companion bill in the Senate.
"I am proud to join my friend and fellow co-chair of the War Powers Caucus Rep. Ro Khanna in calling for a formal end to the Korean War," Rep. Biggs told me. "Americans are tired of endless wars. We must focus our limited resources on domestic priorities rather than engage in open-ended conflicts that could escalate into war."
That the chair of the influential Freedom Caucus will be the first Republican cosponsor to the Khanna resolution is a highly noteworthy development. It is the clearest indication yet that no matter what happens on November 3, both sides of the aisle in Congress will help end America's original endless war.
Most Americans may not know that the Korean War is technically still ongoing since no peace treaty was ever signed ending the conflict. Only an armistice agreement between the United States, North Korea, and China stands in the way of renewed fighting on the Korean Peninsula. The unresolved status of the war has been relegated as a secondary issue in Washington's efforts to reduce the threat of North Korea's nuclear and missile weapons, so far without success. 
Those in Washington who oppose the peace declaration argue that doing so would give away leverage on North Korea without getting much in return. This is flawed. Declaring the war over could create leverage by putting pressure on Pyongyang to reciprocate actions associated with the declaration that are designed to reduce tensions, which would be part of a broader peace regime on the peninsula. Peacebuilding moves could include verifiable reductions in North Korea's ability to produce nuclear weapons, lifting of sanctions, and other types of security, political, economic changes.
H.Res.152 currently has over 50 cosponsors, including all three contenders to lead the Democrats on the House Committee on Foreign Affairs: Reps. Joaquin Castro, Gregory Meeks, and Brad Sherman. The resolution enjoys support from a wide range of Democratic members of Congress, from anti-interventionist Rep. Barbara Lee, the sole member of the House of Representatives to vote against the authorization for the war in Afghanistan, to Rep. Katie Porter, who represents the second largest Korean community in the United States.
The growing number of members of Congress who are willing to go on the record about the Korean War has several implications.
First, it reasserts congressional authority on the issue of the Korean War as the first branch of government that has the sole power to declare war. This is a matter of constitutional authority and enjoys bipartisan appeal.
As Nate Anderson of Concerned Veterans for America noted when announcing the bipartisan War Powers Caucus, "Congress, led by both parties over the last 17 years, has repeatedly failed to step up and exercise its war powers — a responsibility enshrined to it in the Constitution. We, along with our partners at VoteVets, eagerly look forward to working with this cohort to advance a better American foreign policy." 
Second, the growing momentum for H.Res.152 will force a debate about US policy toward the Korean Peninsula in ways that are far more transparent and democratic compared to having the issue under the firm control of the executive branch. Currently, there is a great deal of confusion about what a peace process would look like, in part because the Trump administration has not clarified the terms and sequencing of such an effort.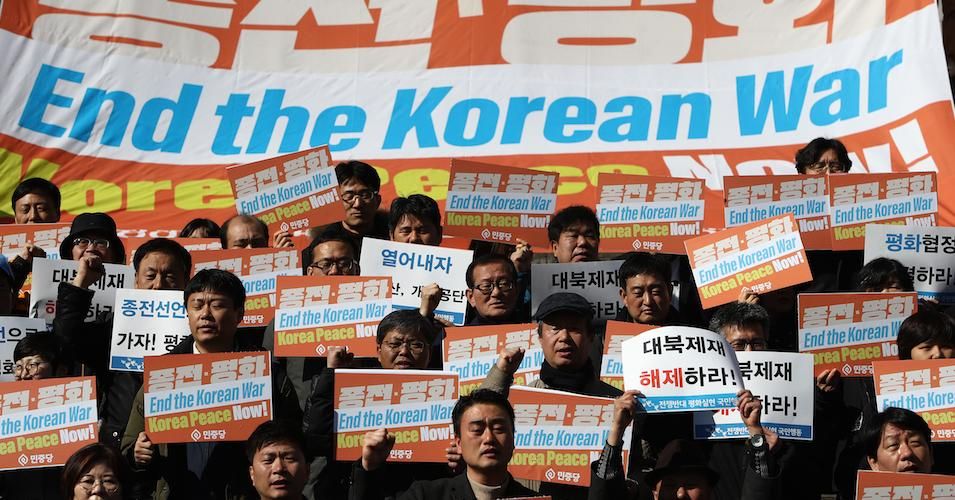 For example, Secretary of State Mike Pompeo recently expressed support for peaceful relations between the two Koreas, saying that the administration's " position on that set of issues, that suite of issues with respect to the denuclearization of North Korea ― a brighter future for the North Korean people, which would obviously include documents that would change the status between North and South Korea."
Pompeo seems to be equating a formal end to the war with "documents" that would change the status between the two Koreas. But Pompeo does not make clear that the actual peace treaty would not involve South Korea, since it was not a signatory of the armistice.
He also does not mention how the United States would pursue these "documents," which would involve negotiating with Pyongyang and Beijing, in consultation with Seoul. Congress should demand that the next president formally declare the war over and appoint a special envoy to negotiate a peace treaty to be ratified by the US Senate. 
Third, growing support for the resolution lends support to the United States' commitment of a "new US–DPRK relationship," as declared in the Singapore joint statement signed by President Trump and Chairman Kim Jong Un. This peace-oriented path is what South Korean President Moon Jae-in has also argued as the best path toward denuclearization of the Korean Peninsula, both at the United Nations General Assembly in September and at the New York-based The Korea Society's annual gala this month.
Both Trump and former Vice President Joe Biden seem to prefer a diplomacy-centered approach with North Korea. President Trump met Kim Jong Un three times and left the door open for more negotiations, and Biden recently noted his support for a "principled diplomacy" with North Korea.
Both likely fear congressional pushback from those who oppose negotiating with Pyongyang. We saw this happen before. During the Clinton administration, a newly-controlled Republican Congress obstructed the Agreed Framework reached by Clinton's negotiators without offering any alternatives to the deal's cap on North Korea's development of nuclear weapons in exchange for energy assistance. Within 10 days of signing the Agreed Framework in October 1994, Ambassador Stephen Bosworth said the deal became a "political orphan" due to partisan objections from Capitol Hill.
For too long, Washington has ignored the Korean War in its pursuit for building a peaceful Korean Peninsula. The next US president should take the first step toward peace by declaring the Korean War over as part of a broad strategy toward de-escalating tensions with North Korea. This is not a Republican issue or a Democratic issue; it's an American issue.
Posted in accordance with Title 17, Section 107, US Code, for noncommercial, educational purposes.