Facebook bans event page for a CUBA-US conference featuring ambassadors, doctors, scholars, elected officials, labor, and religious figures.
National Network on Cuba
(October 30, 2020) — Even in the time of a COVID pandemic when Cuba has been recognized for its leading humanitarian role, apparently in some circles discussion of US-Cuba relations is unacceptable. Unfortunately, Facebook joined a politically motivated disinformation campaign when it removed the National Network on Cuba's event page for the Nov. 14-15 Conference. 
November 13-15 2020, hundreds from across the US, Canada, and around the world will join together for a virtual concert and conference for the full normalization of US-Cuba Relations.
Under President Trump, the embargo against Cuba has been tightened, leading to many day-to-day challenges for the Cuban people. Trump has also restricted American travel to Cuba, undermining the ability of Americans to see Cuba with their own eyes.
ACTION: Find Registration and Full Conference Details on our Website: us-cubanormalization.org
"We know that whether the next President of the United States is Donald Trump or Joe Biden, we will need to strengthen our campaign to push Washington to end the over 60 years of the cruel embargo against Cuba," explains conference spokesperson Cheryl LaBash. "This dynamic 3-day event combining arts, culture, speakers, and discussion will remind us that while the US economic blockade has reached unprecedented levels, never has the possibility of ending it been closer."
The weekend will kick off with a colorful and vibrant concert, on Friday, November 13 at 8 pm eastern time. "We will bring together artists of all ages and backgrounds from Cuba, the US & Canada," explains conference spokesperson Tamara Hansen. "We are honored to be featuring the talents of two-time Grammy winners, El Septeto Santiaguero and the US-Cuba collaboration of jazz, afro, rock, and salsa of Pablo Menendez and Mezcla."
On Saturday, November 14, the first session at 2pm eastern time, will feature José Ramón Cabañas, Cuba's Ambassador to the United States and Josefina Vidal, Cuba's Ambassador to Canada. They will speak alongside politicians from the US and Canada to discuss the importance of the full normalization of US-Cuba relations.
The second session, at 7 pm eastern time, will discuss Cuba's leading role in combatting the global Covid-19 pandemic both within Cuba and internationally with the Henry Reeve International Medical Brigade. It will feature Dr. Andy Coates, a physician in Albany NY on the frontline of treating COVID-19 patients and Dr. Samira Addrey, a graduate of Cuba's Latin American School of Medicine, along with other prominent panelists.
The final session on Sunday, November 15, at 2 pm eastern, will be dedicated to planning and building a campaign to effectively end the US embargo against Cuba in 2021. This will feature a variety of speakers from across the US and Canada, including Cuban-Americans and speakers from Puerto Rico and Quebec.
This campaign is a united effort between the US based National Network on Cuba, Table de concertation et de solidarité Québec-Cuba, and the Canadian Network on Cuba
ACTION: Find registration and full conference details on our website:
us-cubanormalization.org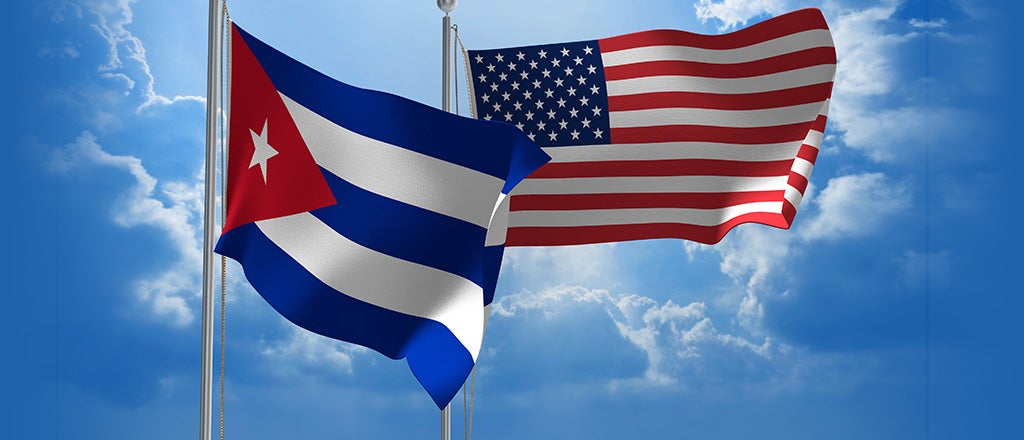 Additional Supporters of US-Cuba Normalization
Alison Bodine, Fire This Time, Movement for Social Justice, Vancouver
Alicia Jrapko, Co-chair of the Cuba Nobel Prize Committee
Bob Schwartz, Vice President, Global Health Partners
Catherine Murphy, Founder The Literacy Project
Cheryl LaBash, Co-Chair, National Network on Cuba 
Chuck Kaufman, Alliance for Global Justice
Cindy Domingo, Chair, US Women and Cuba Collaboration
Clever Banganayi, Friends of Cuba Society (South Africa)
Danny Glover, Actor and Activist
Diane Stradling Delegation Coordinator, Witness for Peace
Don Rojas Director of Communications and International Relations Institute of the Black World
Erin Feely-Nahem, LMSW, Domestic Violence Advocate
Frank Velgara, Call to Action on Puerto Rico
Gail Walker, Executive Director, IFCO/Pastors for Peace  
Ike Nahem, Organizer, US-Cuba International, and 2nd National Cuba Conferences
Isaac Saney, Canadian Network on Cuba
James Early, Assistant Secretary for Education and Public Service Smithsonian Institution Retired
Joe Lombardo Co-coordinator, United National Antiwar Coalition (UNAC)
Rev. Jim Winkler, President and General Secretary, National Council of Churches
Joan P Gibbs, Attorney at Law NY-NJ CubaSi
Jocelyn Velazquez, Jornada, Se Acabaron Las Promesas, Puerto Rico
John Waller, Seattle Cuba Friendship Committee
Jon Flanders, Railroad Workers United
Michelle Ellner, Latin America Campaign Coordinator, CODEPINK 
Medea Benjamin, Co-chair of the Cuba Nobel Prize Committee
Malcolm Sacks, Venceremos Brigade
Margaret Gilpin, LCSW,
US-Cuba Health Exchange (former President), Producer, Cuba In Focus, WBAI Radio
Mark Friedman, Organizer, US Delegation to MarCuba, Cubambiente International Environmental Conferences
Milagros Rivera, Presidenta, Comité de Solidaridad con Cuba en Puerto Rico
Natasha Lycia Ora Bannan, Former President, National Lawyers Guild
Robert Miller, Cuba Solidarity Campaign UK
Dr. Rosemari Mealy, Author, Fidel, and Malcolm X: Memories of a Meeting
Sharon Wrobel, Board President, ProximityCuba
Shepard McDaniel, Executive Director of Universal Zulu Nation – World Department Of Community Affairs
Tamara Hansen, Coordinator, Vancouver Communities in Solidarity With Cuba
Rev. Tom Warren, United Church of Christ, North Carolina
Wayne Smith, Former Chief, US Interests Section in Havana
Plus solidarity and US-Cuba Normalization Coalitions in
Albany, Boston, Chicago, Detroit, Halifax, Hartford, Houston, Los Angeles, Miami, Minnesota, Montreal, New York-New Jersey, San Francisco, Seattle, Toronto, Washington, DC, Wisconsin, Vancouver
US -Cuba Normalization Committee, 328-61st Street, West New York, NJ 07093
Cuba Elected to Human Rights Council by 88% of UN Members
This is the fifth time Cuba has been chosen to occupy a seat within this body, among the eight reserved for the Latin American and Caribbean group of member states
Milagros Pichardo Pérez / National Network on Cuba
(October 14, 2020) — US manipulation and coercion have once again failed. Their desperate efforts to organize a boycott of the election of Cuba as a member of the UN Human Rights Council went nowhere and Cuba was elected, for the fifth time, yesterday, with the votes of 170 countries, to occupy a seat within this body, among the eight reserved for the Latin American and Caribbean group of member states.
"Despite imperialist lies and distortion, the world recognizes Cuba, admires and respects the country for the firmness of our convictions and example. A resounding victory," tweeted President of the Republic Miguel Díaz-Canel Bermúdez, upholding the humanist work of the Revolution, which has promoted human rights on the basis of its very nature and principles.
Foreign Minister Bruno Rodríguez Parrilla also took to Twitter to insist, "Cuba's achievements cannot be overshadowed."
The support of 88% of UN members states represents a tribute to the self-determination and resistance of the Cuban people in the face of the serious obstacles and threats caused by the unilateral policy of hostility, aggressions and economic, commercial and financial blockade imposed by the United States, a flagrant, massive and systematic violation of human rights.
The Foreign Ministry noted on its website that the vote is an expression of recognition by the international community of the significant advances the country has achieved in the enjoyment of human rights and the extensive record of worldwide cooperation, demonstrating, through concrete action, the unequivocal willingness to participate in respectful, frank and open dialogue. Cuba is party to 44 of 61 international human rights instruments, reporting regularly to the UN on our compliance.
Posted in accordance with Title 17, Section 107, US Code, for noncommercial, educational purposes.