New Report Details Major US Arms Sales Deal to the United Arab Emirates
Security Assistance Monitor
WASHINGTON, DC (November 13, 2020) — Washington, DC-based Center for International Policy's (CIP) Security Assistance Monitor (SAM) has produced a new issue brief providing key details, context, and likely consequences of the recently announced $23.37 Billion arms sales deal between the United States (US) and the United Arab Emirates (UAE), the largest arms package of the Trump Administration.
This deal raises serious strategic and human rights concerns due to the UAE's participation in the Saudi-led coalition in the war in Yemen — Elias Yousif, Acting Director of SAM and issue brief co-author, says, "In a region already pockmarked by American munitions fired from American aircraft by American gulf allies, the sale of drones, advanced fighter jets, and munitions to the UAE is deeply troubling, and raises serious civilian protection concerns, especially in Yemen and Libya."
Congress or the Biden administration could block any or all components of this deal. "To his credit, President-elect Biden has pledged to end arms sales to Saudi Arabia because of its devastating use of US-supplied weapons in Yemen.  A similar argument can be made for stopping arms sales to the UAE given its severe human rights abuses and reckless behavior in the region," said William Hartung, the director of the Center for International Policy's Arms and Security Program and issue brief co-author.

Issue Brief: $23.37 Billion Arms Sales to the United Arab Emirates
William Hartung and Elias Yousif / Center for International Policy
WASHINGTON, DC (November 13, 2020) — The announcement of a massive $23 billion arms offer to the United Arab Emirates (UAE) is the largest arms package the Trump Administration has proposed to Abu Dhabi and raises serious strategic and human rights concerns. The UAE's active role in a number of regional conflicts raises the prospect that the arms and munitions announced as part of the package could directly contribute to ongoing violence and a troubling history of international humanitarian law violations.
Although it has pulled back some troops, the UAE remains a member of the Saudi-led coalition in Yemen that has been blamed for thousand of civilian casualties, including many from coalition airstrikes. The many of the thousands of munitions included in latest arms package are the very same sorts of bombs and missiles found to have been use in strikes against civilians across the country.
The UAE continues to maintain a contingent of forces in Yemen, and to arm and train militias that have engaged in systematic human rights abuses. Additionally, the UAE has been accused of diverting US-origin armored vehicles and small arms to militia groups, including some with links to Al Qaeda, in contravention of US regulations.
In Libya, the UAE has conducted a number of drone strikes in support of Gen. Khalifa Haftar's battle with the internationally recognized government in Tripoli, raising direct concerns about the proposed sale of strike capable Reaper drones. Additionally, Abu Dhabi has been accused of violating a United Nations embargo to supply the general's forces.
The UAE's internal human rights record is also cause for serious concern. As Human Rights Watch has noted, "UAE residents who have spoken about human rights issues are at serious risk of arbitrary detention, imprisonment, and torture." Many are serving long prison terms or have left the country under pressure. Dissidents and their families that have left the country have faced harassment, intimidation and surveillance by the UAE government's intelligence services.
The new arms package for the UAE comes in the wake of its normalization of relations with Israel, and though the size and sophistication of the weapons involved have prompted concerns about whether the sale will erode Israel's qualitative military edge, the Israeli government has stopped publicly criticizing the deal, in part because it will be seeking additional sales of billions of dollars-worth of advanced combat aircraft, attack helicopters and other equipment.
Though the Trump administration has suggested that the arms package will enable the UAE to address threats posed by Iran, the weapons included in the deal – especially the armed drones and precision-guided munitions – are more likely to find practical use in Yemen or Libya. The F-35s are unlikely to be delivered or come into use any time soon, but their offer represents a significant message of political support from Washington.
For his part, President-elect Biden has pledged to stop arms sales to Saudi Arabia in light of the devastating impacts of its war in Yemen, and a similar argument can be made for stopping arms sales to the UAE. It remains to be seen whether Congress or the next administration will block any or all of the components of the $23 billion sale.
Details of UAE Arms Sales Notifications
18 MQ-9B Reaper Drone: $2,970,000,000
50 F-35 Joint Strike Fighters: $10,400,000,000
Munitions, Sustainment and Support: $10,000,000,000
What's Being Sold
The three proposed sales notified to Congress on Nov. 10, 2020, represent one of the largest arms packages ever offered to the UAE, and more than three times the value of all other FMS offers made to the UAE under the Trump Administration combined. More importantly, the particular arms on offer are especially sensitive, and include advanced weaponry never before sold to an Arab Gulf country.
F-35 Joint Strike Fighters: An advanced fifth generation aircraft, and the most sophisticated US jet ever proposed for sale to the UAE. The UAE would be the first Arab state to field the aircraft.
MQ-9B Reaper Drone: A strike capable unmanned aerial vehicle (UAV). This advanced UAV is rarely exported outside of NATO member countries.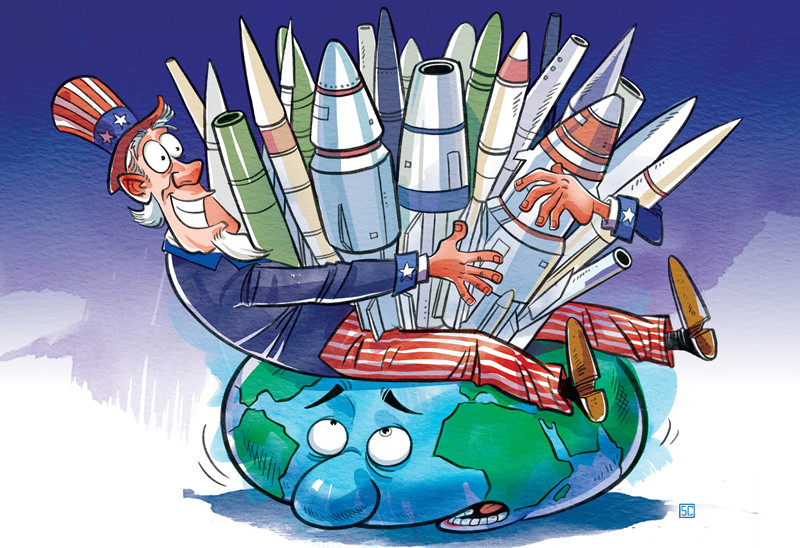 Thousands of Munitions, Bombs, and Missiles: $10B in munitions and other support, including 2K Joint Direct Attack Munitions (JDAM) and 2.5K GBU-39 Bombs, the very sorts of munition identified in a number of strikes against civilians in Yemen.
About the Center for International Policy
The Center for International Policy (CIP) works to make a peaceful, just and sustainable world the central pursuit of US foreign policy. We promote cooperation, transparency and accountability in the international relations of the United States. Through research and advocacy, our programs offer common sense solutions to address the most urgent threats to our planet: war, corruption, inequality and climate change.
About CIP's Security Assistance Monitor
The Security Assistance Monitor (SAM) tracks and analyzes US security and defense assistance programs worldwide. By informing policymakers, media, scholars, NGOs and the public (in the United States and abroad) about trends and issues related to US foreign security assistance, SAM seeks to enhance transparency and promote greater oversight of US military and police aid, arms sales and training. View SAM's website and database here.
William D. Hartung is the director of the Arms and Security Program at the Center for International Policy, 2000 M Street NW, Suite 720 • Washington, DC 20036. Phone: (917)-923-3202. www.internationalpolicy.orgPosted in accordance with Title 17, Section 107, US Code, for noncommercial, educational purposes.