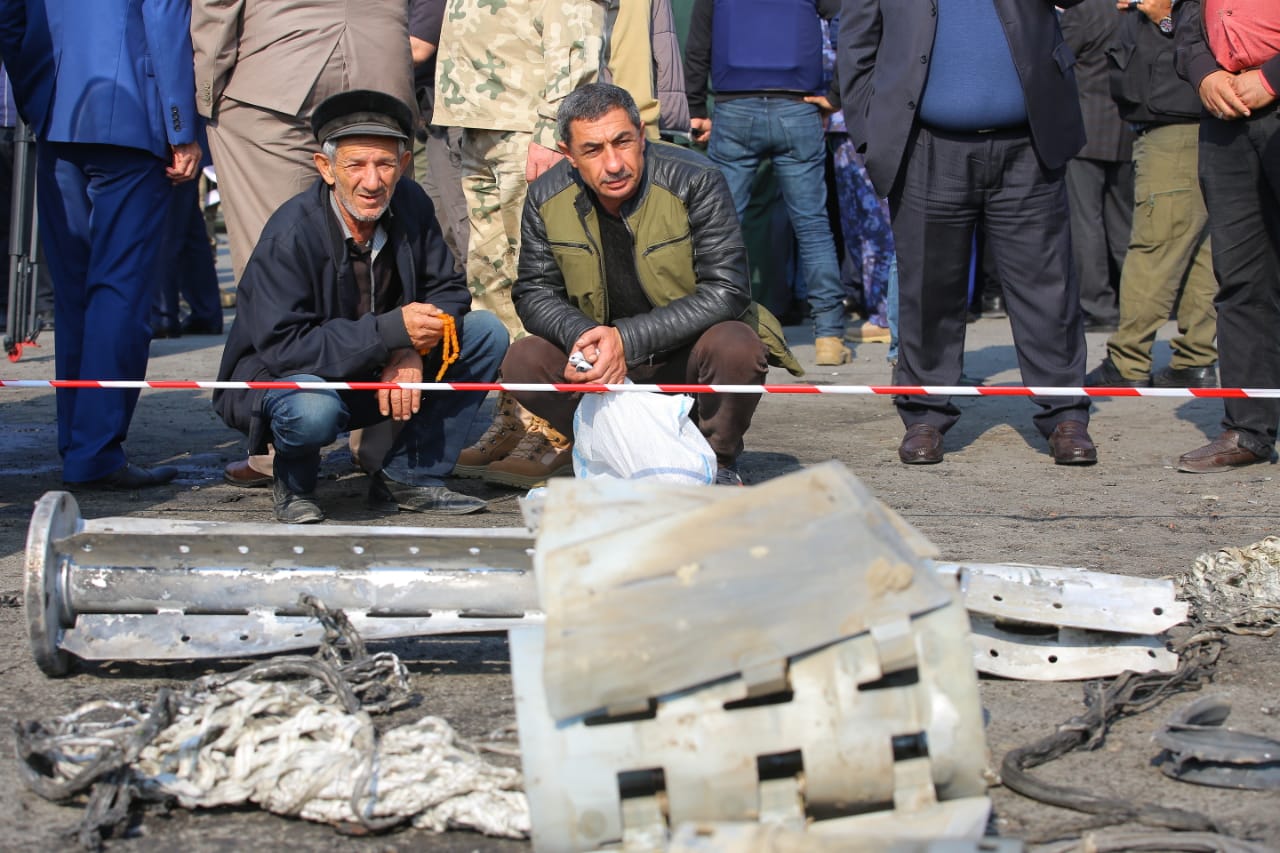 Cluster munitions kill civilians in Azerbaijan (Human Rights Watch)
International Campaign to Ban Landmines & Cluster Munition Coalition
CLUSTER MUNITIONS
(November 2020) — Cluster munitions pose significant dangers to civilians for two principal reasons: their impact at the time of use and their deadly legacy. Launched from the ground or dropped from the air, cluster munitions consist of containers that open and disperse submunitions indiscriminately over a wide area, claiming both civilian and military victims. Many explosive submunitions, also known as bomblets, fail to detonate as designed when they are dispersed, becoming de facto landmines that kill and maim indiscriminately long after the conflict has ended and create barriers to socio-economic development.
To protect civilians from the effects of cluster munitions, Norway and other like- minded countries initiated a fast-track diplomatic process in 2006 aimed at creating a new international treaty. Working in partnership with UN agencies, the International Committee of the Red Cross, and civil society grouped under the Cluster Munition Coalition (CMC), the fast-track Oslo Process resulted in the adoption of the Convention on Cluster Munitions in May 2008.
The year 2020 marked the tenth anniversary of the entry into force of the Convention on Cluster Munitions on 1 August. The convention prohibits the use, production, transfer, and stockpiling of cluster munitions. It also requires destruction of stockpiled cluster munitions within eight years, clearance of cluster munition remnants within 10 years, and assistance to victims, including those injured by submunitions as well as the families of those injured or killed, and affected communities.
CLUSTER MUNITION COALITION
Launched by non-governmental organizations (NGOs) in November 2003, the CMC plays a crucial facilitating role in leading global civil society action in favor of the ban on cluster munitions. With campaign contacts in more than 100 countries, the CMC works for the full universalization and implementation of the Convention on Cluster Munitions. In January 2011, the CMC merged with the International Campaign to Ban Landmines (ICBL) to become the ICBL-CMC, but the CMC and ICBL remain two distinct and strong campaigns.
LANDMINE AND CLUSTER MUNITION MONITOR
Landmine and Cluster Munition Monitor provides research and monitoring for both the CMC and the ICBL on the Convention on Cluster Munitions and Mine Ban Treaty respectively. Created by the ICBL as Landmine Monitor in June 1998, the initiative became the research and monitoring arm of the CMC in 2008 and changed its name in 2010 to Landmine and Cluster Munition Monitor, known simply as "the Monitor."
The Monitor represents the first time that NGOs have come together in a coordinated, systematic, and sustained way to monitor humanitarian disarmament treaties and to regularly document progress and problems. Established in recognition of the need for independent reporting and evaluation, the Monitor has put into practice the concept of civil society-based verification that is now employed in many similar contexts.
It has become the de facto monitoring regime for both treaties, monitoring and reporting on States Parties' implementation and compliance, and more generally, assessing the international community's response to the humanitarian problems caused by landmines, cluster munitions, and other explosive remnants of war (ERW). The Monitor's reporting complements transparency reporting by states required under the treaties and reflects the shared view that transparency, trust, and mutual collaboration are crucial elements for the successful eradication of antipersonnel mines and cluster munitions.
The Monitor is not a technical verification system or a formal inspection regime. It is an attempt by civil society to hold governments accountable for the legal obligations they have accepted with respect to antipersonnel mines and cluster munitions. This is done through extensive collection and analysis of publicly available information, including via field missions in some instances. The Monitor works in good faith to provide factual information about issues it is monitoring in order to benefit the international community as a whole. It aims to promote and advance discussion in support of the goal of a world free of landmines and cluster munitions.
A Monitoring and Research Committee coordinates the Monitor system and has overall decision-making responsibility for the Monitor's research products, acting as a standing committee of the ICBL-CMC Governance Board. To prepare this report, an Editorial Team gathered information with the aid of a global reporting network comprised of more than a dozen researchers with the assistance of CMC campaigners. Researchers contributed primarily to country pro les, available on the Monitor's website at www.the-monitor.org.
Unless otherwise specified, all translations were done by the Monitor.
The Monitor is a system that is continuously updated, corrected, and improved, and as was the case in previous years, the Monitor acknowledges that this ambitious report is limited by the time, resources, and information sources available. Comments, clarifications, and corrections from governments and others are sought in the spirit of dialogue and in the common search for accurate and reliable information on this important subject. . . .
CLUSTER MUNITION CASUALTIES
The total number of cluster munition casualties for all time, recorded by the Monitor, reached 22,050 as of the end of 2019. This includes both casualties directly resulting from cluster munition attacks and from unexploded remnants. The data begins from the mid-1960s, due to extensive cluster munition attacks by the United States (US) in Southeast Asia, through to the end of 2019.
As many casualties still go unrecorded, a better indicator of the total number of casualties globally over time is roughly 56,000, calculated from various country estimates, with a high-end total of estimates at some 86,000. Some global estimates of cluster munition casualties are as high as 100,000. However, these are based on extrapolations from limited data samples, which may not be representative of national averages or the actual number of casualties. The countries with the highest recorded numbers of cluster munition casualties are Lao PDR (7,755), Syria (3,580), and Iraq (3,070). The total number of casualties recorded in Syria surpassed those recorded for Iraq in 2016.
Thousands of cluster munition casualties from past conflicts have gone unrecorded, particularly casualties that occurred during extensive use in Southeast Asia, Afghanistan and the Middle East (notably in Iraq, where there have been estimates of between 5,500 and 8,000 casualties from cluster munitions since 1991). Before 2008, when the Convention on Cluster Munitions opened for signature, 13,306 recorded cluster munition casualties were identified globally. Since then, the number of recorded casualties has increased due to updated casualty surveys identifying pre-convention casualties, new casualties from pre-convention remnants, as well as new use of cluster munitions during attacks and the remnants they have left behind.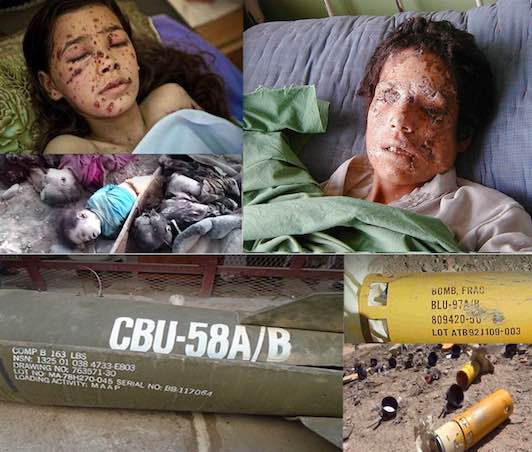 CLUSTER MUNITION CASUALTIES IN 2019
The Monitor recorded a total of 286 cluster munition casualties in 2019. These casualties occurred in nine countries, including four States Parties, and two other areas. Civilians accounted for 99% of all casualties whose status was recorded in 2019, as was the case in 2018 and 2017, consistent with statistics on cluster munition casualties for all time due to the indiscriminate and inhumane nature of the weapon.
The total figure for annual casualties in 2019 includes those incurred at the time of attack (221) and from explosive cluster munition remnants (65). The real number of new casualties is likely to be much higher and fluctuations in some years may be due to variations in the availability of information and data at country level.
The 2019 total marks an increase from the total of 149 casualties recorded in 2018, which was the lowest annual global casualty figure since 2012 when the Monitor started recording cluster munition casualties from new use in Syria. The 2019 total is almost equivalent to the 289 casualties recorded in 2017, which marked a signi cant drop from the 971 cluster munition casualties recorded in 2016.
Overall, in 2019, 221 people were recorded killed or injured directly due to cluster munition attacks in Libya and Syria. This is an increase on the 65 casualties recorded in Syria in 2018, and the 196 casualties recorded in total due to attacks in Syria and Yemen in 2017. In 2016 and 2017, the only casualties from cluster munition attacks were recorded in Syria and Yemen.
As has been the case for each year since 2012, the majority of annual cluster munition casualties in 2019 were recorded in Syria. Overall, since 2012, 81% of all cluster munition casualties globally were recorded in Syria.
In State Party Lao PDR, the world's most cluster munition-affected state, the number of submunition casualties continued to decrease from the 10-year high of 51 recorded in 2016 to ve in 2019. Another 10 casualties in 2019 may have been due to unexploded submunitions, but the explosive item involved in each of those cases could not be adequately determined.
In 2017, in an account of the long-term humanitarian impacts of cluster munitions recorded during the reporting period, a 10-year-old girl picked up a submunition, known in Lao PDR as a "bombie," while walking to school in the northern province of Xieng Khouang. Thinking it was a toy, she took it to her home where it exploded, killing her and injuring another 11 people, including eight children—the youngest being three years old.
The majority of all recorded cluster munition casualties for all time, 59%, occurred in States Parties. Casualties directly caused by attacks before the convention in States Parties have been grossly under-recorded, with no data or estimate available for Lao PDR, the most heavily bombed country.
Data collection for casualties and victim assistance
Article 5 of the convention requires that States Parties with victims make "every effort to collect reliable relevant data" and assess the needs of cluster munition victims. The Dubrovnik Action Plan commits States Parties to the ongoing assessment of those needs. Although data is collected on casualties, often little is known or reported about the actual number of families and communities affected by cluster munitions, who are also victims by definition. Available information indicates that their needs are likely to be extensive.
Afghanistan was finalizing a national health and disability information system, and in a related project, was registering persons with war-related disabilities to provide them with pensions. In Lao PDR, the National Regulatory Authority (NRA) Survivor Tracking System, a system for collecting data on new casualties, is designed to provide an ongoing survey of all survivors' needs. In 2019, data on services provided was available through the NRA online Operations Dashboard. BiH continued to report that further survey was needed to establish detailed information on cluster munition victims, specifically those who had already been identified through initial survey.
Both Croatia and Lebanon needed to revise or combine their national victim databases, and a much-delayed victim survey in Croatia was expected to start in the first half of 2020. The Lebanon Mine Action Center (LMAC) completed the first phase of a national needs assessment of mine/explosive remnants of war (ERW) and cluster munition victims, in 2010, prior to the convention's entry into force for the country.  In 2013, LMAC, along with the UN Development Programme (UNDP), launched a survey focused on 690 victims (survivors and deceased) and their families.
A mine/ERW victim census was planned to be conducted in Chad in order to update the national database. Further survey was needed in order to identify cluster munition victims and/or needs in Guinea-Bissau, Iraq, Montenegro, and Sierra Leone. Mauritania and Zambia had yet to conduct initial surveys to identify or con rm if they have cluster munition victims.
CLUSTER MUNITION CASUALTIES IN NON-SIGNATORY STATES AND OTHER AREAS
In non-signatory states and areas, 8,471 cluster munition casualties have been recorded for all time. This data includes countries that remain affected long after the attacks took place, such as Cambodia and Vietnam; as well as those that have had new casualties due to more recent attacks occurring since entry into force of the convention in Syria, Ukraine, and Yemen.
Data was often severely lacking for casualties that were killed and injured during cluster munition attacks, including those among military personnel and other direct participants in conflict, such as combatants in non-state armed groups and militias. However, since 2010, recording of the impact of cluster munition attacks has improved significantly, and casualties recorded from attacks have outnumbered those due to cluster munition remnants. Of all recorded casualties which occurred during cluster munition attacks for all countries and areas for all time (4,514), just under half (2,102) of those casualties were reported in Syria since 2012.
Since 2010, cluster munition remnant casualties have occurred in eight non-signatory states: Cambodia, Libya, Serbia, South Sudan, Sudan, Ukraine, Vietnam, and Yemen; and three other areas: Kosovo, Nagorno-Karabakh, and Western Sahara.
Note: The complete, 100-page report can be read here.
Posted in accordance with Title 17, Section 107, US Code, for noncommercial, educational purposes.