How Trump Conspired to Overthrow Democracy
Trump personally pressured more than 150 Republicans to overthrow election for him, report says
Graig Graziosi / The Independent
(December 21, 2020) — Donald Trump launched an expansive campaign to convince more than 150 Republican officials to overturn election results in his favour, a new report claims.
A Politico report outlined the unprecedented steps Mr. Trump took to convince Republican lawmakers at various levels of power to use their authority to overturn election results in his favour.
In one instance, Mr. Trump contacted Monica Palmer, who sits on a board that confirms the election results for Wayne County, Michigan — the state's most populous county.
Shortly after the call, Ms. Palmer said she wanted to rescind her vote to authorise the election results, which showed that Joe Biden had won.
Though her efforts were ultimately in vain, they were just the beginning of Mr. Trump's attempts to sway lawmakers into fraudulently naming him the election victor.
Over the next month, Mr. Trump contacted at least 31 Republican officials, primarily state and local officials in battleground states that he lost, the report says.
He called at least 11 people, and invited 20 Republicans to meet personally with him at the White House. The attendees included state attorneys general, party leaders, and lawmakers.
He also discussed his plans with sitting House Republicans and at least three incoming Republican senators.
Politico spoke with 22 White House aides who described the president's attempts to convince Republicans to overturn the election.
Despite his efforts, no Republican lawmakers were willing to play ball and fraudulently overturn their state's election results or otherwise discount legally cast votes.
Even still, Mr. Trump's conspiracy theories alleging election fraud have caught on with his base, and have only been echoed and amplified by his loyalists like former New York Mayor Rudy Giuliani and conspiracy theorist lawyer Sidney Powell.
Mr. Trump's first strategy was to derail the election at the state and local levels by preventing key counties from certifying their results if they favoured Mr. Biden.
At the time, Sen Mitt Romney criticised Mr. Trump's actions, calling them "undemocratic."
"It is difficult to imagine a worse, more undemocratic action by a sitting American president," he said.
After his attempts to stop the certifications failed, he invited lawmakers from Michigan and Pennsylvania to meet with him at the White House.
While the details of those discussions are largely unknown, both groups of Republicans said they were committed to honouring the results of the elections in the areas they represent.
Later, Mr. Trump became furious when Arizonagovernor Doug Ducey accepted the state's election results that named Mr. Biden the winner.
Mr. Trump apparently called Mr. Ducey — who set the president's ringtone as "Hail to the Chief" — during a press conference, but Mr. Ducey rejected the call.
After that, Mr. Trump joined the election battle in Georgia, where the state's Republican governor and secretary of state were besieged with conspiracy theories that the election result was fraudulent.
Republican senators from the state Kelly Loefflerand David Perude — who both face runoff elections in January which will determine the control of the Senate — called for the secretary of state to step down. Sen Lindsey Graham allegedly called the secretary of state and asked him to discount votes based on signature match loopholes. The senator denies the claim.
Mr. Trump pressured Governor Brian Kemp to convene a special legislative session in order to appoint electors loyal to himself, which would have effectively overturned the state's election results. He also pressed Mr. Kemp to call for an audit of the state's absentee ballots, which Mr. Kemp explained he could not do.
Mr. Kemp outright rejected Mr. Trump's plan to elect loyalist electors.
The president then threw his support in with an ill-fated lawsuit out of Texas challenging the election results in Michigan, Wisconsin, Pennsylvania and Georgia.
Georgia's Attorney General Chris Carr was publicly critical of the lawsuit, calling it "constitutionally, morally and factually wrong."
His criticism sparked a personal response from Mr. Trump, who told him to stop criticising the lawsuit and to join it instead. Mr. Trump wanted every Republican attorney general signed onto the lawsuit. While 17 agreed, nine refused.
Mr. Trump then pressured Republicans in the House of Representatives to join in on the lawsuit: 126 Republicans agreed to join.
The president hoped the US Supreme Court would rule on the lawsuit, but the court rejected the case, bringing an end to the long-shot attempt to overturn the election.
Days after the Texas lawsuit failed, the electoral college met and certified the election results, confirming Mr. Biden as the winner of the 2020 election.
Despite the electoral college announcement, Mr. Trump continues to challenge the results. He is now backing a plan by Republican House members and potentially at least one senator — Tommy Tuberville — to object to the election results when Congressmeets on 6 January to accept the election results.
Election experts say the objection will not change the results of the election, that it will only delay the process and further injure the American public's trust in the electoral process.
Desperate Trump Reportedly Mulling a Presidential Coup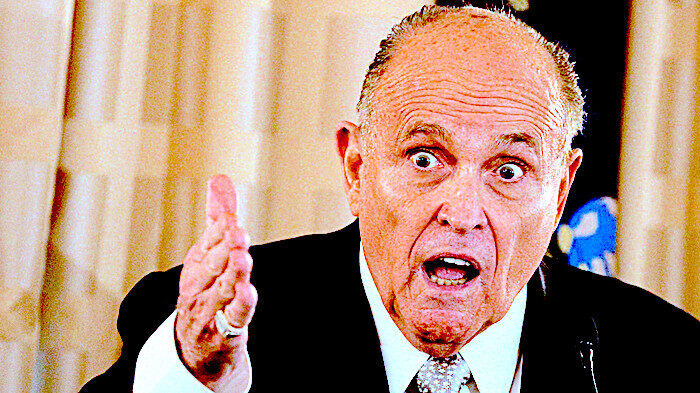 Trump Floats Coup Plan That's So Wild Even Rudy Giuliani Is Terrified
Jonathan Chait / New York Magazine
 (December 20, 2020) — At the White House on Friday, President Trump held what may have been his most deranged meeting yet. In it, the president raged at his loyalists for betraying him, and discussed taking extralegal measures to overturn the election.
The meeting, first reported by the New York Times, included lawyer and conspiracy theorist Sidney Powell, convicted felon Michael Flynn, and Rudy Giuliani. One plan floated at the meeting was for Trump to appoint Powell as a "special counsel" overseeing allegations of voter fraud. Powell's voter fraud claims are so fantastical she has been mocked even by other far-right legal conspiracy theorists.
Andrew McCarthy, a former birther and author of one book titled How Obama Embraces Islam's Sharia Agenda and another calling for his impeachment on multiple counts, has described Powell's vote-fraud claims as "loopy."
Trump also reportedly brought up Flynn's proposal, which he has expounded on cable news, to impose martial law and direct the military to hold a new election. "At one point in the meeting on Friday, Mr. Trump asked about that idea," reports the Times.
Political scientists have debated whether it is accurate to describe Trump's efforts to overturn the election as a "coup," an "autogolpe," or neither. Trump's interest in deploying the military to cancel an election he clearly lost certainly seems to resolve that debate, at least in terms of his intent.
There is no reason to believe Trump commands the power to actually implement any of these wild ideas. Trump's best chance to steal the election was to have the decisive voting margin in the Electoral College determined by the counting of mail-in ballots that were mailed before, but arrived after Election Day. This would have let him either persuade the Republican-controlled Supreme Court to invalidate those decisive ballots, or Republican-controlled state legislators to disregard their state's voting results and appoint pro-Trump electors to represent their state.
But the election was not close enough for him to pursue either strategy, whatever chance he had for some kind of Bush v. Gore replay has passed. The measures he is now contemplating lie outside the normal framework for resolving election disputes, and would require, at minimum, almost uniform levels of GOP support.
Trump does not have that. Indeed the striking thing is that he is veering to positions so extreme and self-defeating that even his loyalists have blanched. Perhaps the most alarming fact about the Friday meeting is that Giuliani, who has spent months spreading fantastical claims of imagined voter fraud, became a quasi-voice of reason.
Giuliani has proposed using the Department of Homeland Security to seize and examine voting machines — a move the Department has resisted — but even Giuliani opposes appointing a nutter like Powell.
One theme running through Trump World reporting in recent weeks is that the president has increasingly tuned out any advisers or friends who try to reason him toward accepting defeat. Friday's meeting devolved into a loyalty contest, with "yelling and screaming," and competing lawyers "often accusing each other of failing to sufficiently support the president's efforts," reports Politico.
Reporters are emphasizing that it isn't just the usual Republicans who have always privately worried about Trump who express concern. Advisers fret that Trump "is spending too much time with people they consider crackpots or conspiracy theorists," reports Jonathan Swan. The "too much time" line captures the extremely relative nature of the schism. It's apparently well and good for Trump to spend some time with crackpots and conspiracy theorists — just not too much time. Even Trump's hardened loyalists sound genuinely worried:
In all likelihood, their concern is not some scenario where tanks roll down the streets or Trump blockades himself in the Oval Office on January 20 like Al Pacino in the last scene of Scarface. It's that Trump will spin so completely out of control that he discredits them, or puts the Georgia special election at risk. The crazies are turning on the crazier.
Posted in accordance with Title 17, Section 107, US Code, for noncommercial, educational purposes.