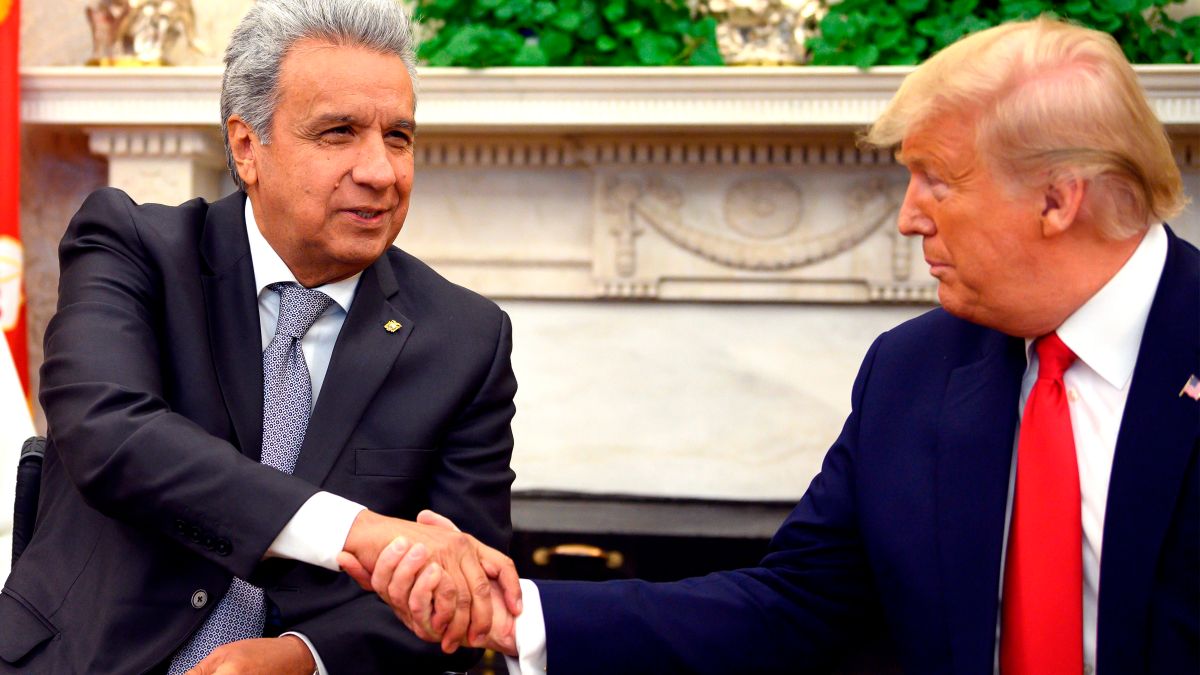 ACTION ALERT: No US Interference in Ecuador's Elections
Alliance for Global Justice
(February 4, 2021) — Ecuador's outgoing President Lenin Moreno has traveled to Washington DC to meet with officials from the White House, the International Monetary Fund, and the Organization of American States as the Ecuadorian people prepare for national elections on Sunday.
Polls indicate that Leftist presidential candidate Andrés Arauz is widely expected to win; but former President Rafael Correa has alerted the country and the world to credible speculations that Moreno is in the United States to discuss canceling the elections.
Meanwhile, international organizations including the OAS are in Ecuador acting as observers. In the same capacity, the OAS led the race to denounce the election of Evo Morales in 2019, justifying a right-wing coup. It has since been shown conclusively that that vote was not fraudulent.  
Currently, the OAS is under investigation for its role in the coup. [See story below — EAW] Fortunately, after months of chaos and brutal repression, Bolivia's popular forces regained power. We must not allow these same institutions of interference to do to Ecuador what they tried to do to Bolivia. 
Ecuador is a frontline of struggle against the US Empire's goal for hegemony throughout Latin America. Lenin Moreno was elected on a progressive platform but betrayed his backers from the moment he took office. He quickly revealed that his true political bosses were not the people, but transnational corporations and the US government.
He reversed the expulsion of the US military as well as the ban against institutions like the National Endowment for Democracy that exist to manipulate and influence foreign elections. Lenin Moreno has been an avid supporter of US interventions against popular governments in Venezuela, Cuba, Bolivia, and Nicaragua. At home, he greatly slashed social spending and workers' rights and unleashed brutal repression against mass movements and political opposition.
While Lenin Moreno is not up for reelection, the conservative political forces allied behind him are facing overwhelming defeat at the polls this Sunday.
Conversely, Andrés Arauz has committed to reverse Lenin Moreno's most damaging policies. He is a socialist who will build alliances with Cuba, Venezuela, Bolivia, and Nicaragua. Rather than bowing to the direction of Washington, DC and Wall Street, he promises to defend Ecuador's sovereignty and to orient the government towards social investment and away from the austerity demanded by the International Monetary Fund and the interests of global capitalism.
ACTION: We have only a matter of hours to contact the appropriate institutions and demand: No US, IMF, or OAS Interference in Ecuador's Elections This Sunday
OAS Chief Under Investigation for Role in Bolivian Coup
Steve Sweeny / The Morning Star
LONDON (December 22, 2020) — An investigation will be launched into the role played by the Organisation of American States (OAS) in last year's Washington-backed coup in Bolivia, which ousted leftist president Evo Morales.
The president of the South American parliament Parlasur, Oscar Laborde, announced on Sunday that OAS general secretary Luis Almagro's efforts will be scrutinised after the group published a damning report citing electoral irregularities in the November 2019 poll.
The report has since been dismissed by subsequent reports and investigations that found no evidence of fraud in the vote, which was won by Mr. Morales and the Movement Towards Socialism (MAS).
Opposition groups and the US used the OAS report to insist that the election was invalid. The furore led to his overthrow and replacement by the far-right Jeanine Anez, and a bloodbath in which hundreds of indigenous Bolivians, the community from which Mr. Morales drew much of his support, were MASsacred.
Mr. Laborde described the report, which was compiled following an OAS election observation mission as "a brazen thing without feet or head."
He said: "If there had been a fraud, why do the same political representations get 55 per cent (MAS) and 29 per cent (Citizen Community) a year later? [This year's October election resulted in a resounding victory for Mr. Morales's successor Luis Arce and MAS] The numbers are clear and concise."
The Washington-based OAS has been accused of operating as a tool of imperialism over its support for measures against Venezuela and Nicaragua, both countries in which the US seeks regime change.
Earlier this month the group adopted a resolution condemning Bolivia's recent parliamentary elections as fraudulent, despite presenting no evidence to back such assertions.
In contrast, the Puebla Group, a progressive alliance made up of 17 countries, said in a statement that "the elections were carried out within normality, in a peaceful manner and without incidents."
In 2018 Mr. Almagro was expelled from his own party, the Broad Front of Uruguay, for his "interventionist attitude towards Venezuela at the services of the US," which it said were "serious violations."
Posted in accordance with Title 17, Section 107, US Code, for noncommercial, educational purposes.