The war in Yemen 'has to end', Joe Biden says in his first foreign policy-focused address as president
Applauding Biden's Decision to End US Role in Yemen War
CODEPINK Yemen Campaign Statement & Ali Harb / Middle East Eye
(February 4, 2021) — We applaud President Biden's declaration that he will be ending US support for all offensive operations in Yemen. The people of Yemen have endured years of brutal war and a suffocating blockade.
The Saudi-led coalition has attacked Yemeni weddings, hospitals, schools, and funerals with consistent support from the United States. The ruthless attacks on Yemeni healthcare infrastructure have led to the rampant spread of preventable diseases like cholera and dengue — and now COVID.
The end to American support for this war will hopefully bring some much-needed relief to the people of Yemen.
This announcement is coming after almost six years of tireless advocacy around the world, and on the heels of the January, 25th World Says No to War on Yemen Global Day of Action that CODEPINK helped organize. It comes after years of US lobbying, including getting bipartisan bills on Trump's desk that were vetoed by the president.
"This is a day peace activists around the world have been waiting for," says Danaka Katovich, CODEPINK's Yemen Campaign Coordinator. "On the campaign trail, President Biden said he would end support for the war in Yemen, and I hope he keeps that promise to the fullest extent."
"We hope Biden's announcement marks the beginning of the end of this horrific war," said CODEPINK co-founder Medea Benjamin. "We will be closely following the activities of the new envoy, Timothy Lenderking, in negotiating a peace process and will push the Biden administration to increase US aid to help repair the damages caused by our devastating participation in this war."
CODEPINK has been engaged in the movement to end the war on Yemen since it began in 2015. "This is a hard-fought win for peace and it shows that activism in the streets and in the halls of Congress can bear fruit. We hope peace activists everywhere are heartened by this decision," said CODEPINK co-director Ariel Gold.
Moving forward, CODEPINK will continue to push the Biden Administration to truly end all support for this war, which should include an end to all intelligence sharing with the coalition, an end to arms sales, and an immediate reversal of the terrorist designation for the Houthis, restoring and increasing humanitarian aid to all parts of Yemen, and reparations for the Yemeni people.
Biden Ends US Support for Saudi Arabia's War in Yemen
Ali Harb / Middle East Eye
WASHINGTON (February 4, 2021) — US President Joe Biden announced the end of US support to the Saudi-led coalition in Yemen, in a major policy reversal from the previous administration that may alter the course of the conflict.
"This war has to end. And to underscore our commitment, we're ending all American support for offensive operations in the war in Yemen, including relevant arm sales," Biden said on Thursday in his first major foreign policy speech.
It was not immediately clear whether Biden will suspend all arms sales to Saudi Arabia or only weapons that may be used in offensive operations in Yemen.
Biden followed his statement on ending support to the Saudi-led coalition by voicing commitment for the kingdom's security.
"Saudi Arabia faces missile attacks, UAV [unmanned aerial vehicle/drone] strikes and other threats from Iranian supplied forces in multiple countries," Biden said. We're going to continue to support and help Saudi Arabia defend its sovereignty and its territorial integrity and its people."
Biden expressed support for UN efforts to secure a ceasefire in Yemen and pledged to bolster US humanitarian aid and diplomatic involvement to end the conflict.
The US president also announced Timothy Lenderking, a career diplomat, as envoy for Yemen.
"I've asked my Middle East team to ensure our support for the United Nations-led initiative to impose a ceasefire, open humanitarian channels and restore long-dormant peace talks," Biden said.
Saudi Arabia and its regional allies, namely the United Arab Emirates, have been conducting a bombing campaign in Yemen since 2015 against the country's Houthi rebels to restore the government of President Abd Rabbuh Mansour Hadi.
Riyadh views the Houthis as Iranian proxies, but the rebels deny receiving material support from Tehran.
The conflict has killed more than 100,000 people and brought the already impoverished country to the verge of famine, in what the United Nations has called the world's worst humanitarian crisis.
Former US President Donald Trump had resisted calls to end US assistance to the Saudi-led coalition. In 2019, he vetoed legislation to end that support.
Biden had pledged to "reassess" US-Saudi relations. Last month, the administration froze weapon sales to Riyadh and was reviewing purchases made by the UAE.
Ending the War
Anti-war activists and lawmakers have been pushing to end the US involvement in the Yemen war. Beyond weapons sales, Washington had been providing logistics support and sharing intelligence with the Saudi-led coalition in Yemen.
Afrah Nasser, Yemen researcher at Human Rights Watch, welcomed the announcement but said the new administration needed to investigate whether any US officials were complicit in war crimes.
"This looks like a very positive step, but does not dismiss the fact that the US, according to investigations by Human Rights Watch and reports by a UN panel of experts, has risked complicity in committing war crimes over weapons sales to the Saudi-led coalition," she told Middle East Eye.
During the past six years, legal scholars had warned that American support for the coalition put Washington in a position to be accused of providing material support to a military offensive that has continuously killed civilians.
In a detailed report in September, the United Nations asked the Security Council to refer the conflict to the International Criminal Court (ICC) for an investigation into potential war crimes by all parties.
The United States, not a party to the ICC, had objected to any investigations into itself or allies.
"As much as this is a welcome step, it's important that accountability comes as a central element of withdrawing support. And this means that the US has to seriously investigate whether US officials were involved in war crimes in Yemen," Nasser said.
Ariel Gold, national co-director at the anti-war group Code Pink, said when her organisation started protesting against the war in 2015, "We were often out in the streets by ourselves with small numbers."
Opposition against the war grew as the humanitarian catastrophe ushered by the fighting became more apparent.
"I feel celebratory, filled with hope," Gold told MEE. "And yet, I also know that this isn't the end. There's still much more work to be done. This won't end the war entirely, and we don't know the full extent yet of what exactly Biden is going to do."
Rasheed Alnozili, publisher of Yemeni American News, a bilingual publication based in Detroit, welcomed the announcement and lauded Biden for fulfilling his campaign promise.
"But this is just the beginning," Alnozili told MEE. "Ending US support for the Saudi-led coalition is a means. The goal should be ending the war altogether, which is a more difficult task."
He called on the Biden administration to encourage Saudi-Iranian dialogue to address various conflicts in the region including Yemen.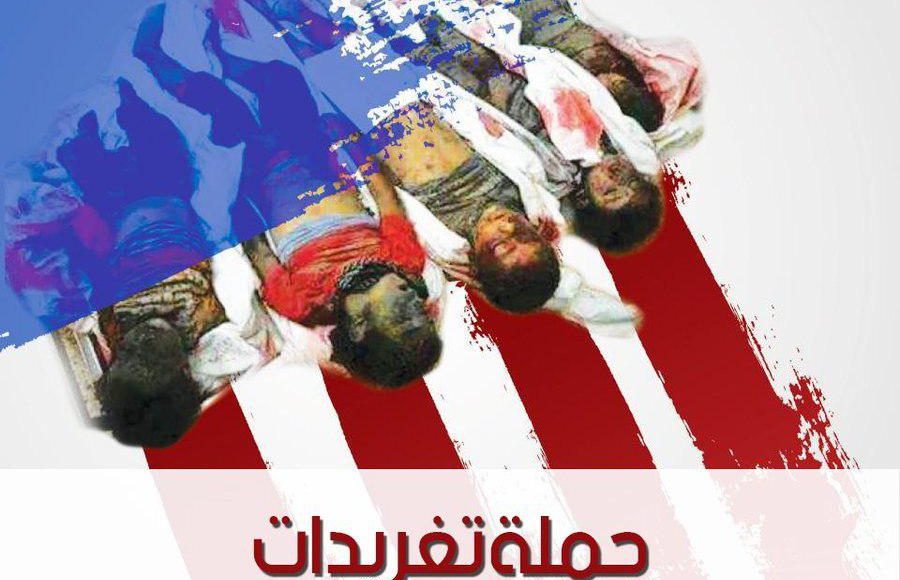 The US Role
Details about what Biden's decision will entail and how exactly it will impact the conflict are sparse. It is not clear whether the decision will affect weapons sales or Washington's role in the blockade that has been a catalyst for shortages and suffering.
"Certainly this is good news, as Biden seems to be following through on his campaign promise to end all US support for the war. However, it remains to be seen what his administration considers 'offensive' vs. 'defensive,' as Obama's justification for entering this war was defending Saudi Arabia against Yemen's Houthis," said Shireen al-Adeimi, a Yemeni-American activist and professor at Michigan State University.
The Saudi-led coalition's bombing campaign started in 2015 with the full backing of then-President Barack Obama. Biden served as vice president at the time.
"In support of GCC actions to defend against Houthi violence, President Obama has authorised the provision of logistical and intelligence support to GCC-led military operations," the National Security Council said in a statement on 25 March 2015.
Adeimi called for a complete halt of Washington's involvement in the war, including "weapons sales, intelligence sharing, training soldiers and pilots, servicing vehicles and aircraft, and assisting with targeting".
"The US role has been shameful and devastating to Yemen, and accountability must follow a full exit from this war," she said.
Congresswoman Debbie Dingell, a Michigan Democrat who represents a large Yemeni community, welcomed the move by Biden, saying that the war had caused "immense pain and suffering".
"By ending support for offensive operations, our government can focus on the diplomacy and humanitarian relief necessary to bring peace and safety to millions in the country and surrounding region… Today, we begin a new chapter of American leadership in Yemen, but that only means the hardest work is ahead of us," Dingell said in a statement.
Imad Harb, director of research and analysis at Arab Center Washington DC, said Biden's announcement is a "major step" that will likely shake US-Saudi relations.
He said Washington has been "almost as guilty as Saudi Arabia and the UAE" of the suffering in Yemen, but Biden is trying to separate himself from the policies of the previous administration.
"Let's not forget that Biden has to answer to a domestic audience, especially within the Democratic Party, that is objecting to further US assistance for the war efforts in Yemen," Harb said.
Posted in accordance with Title 17, Section 107, US Code, for noncommercial, educational purposes.