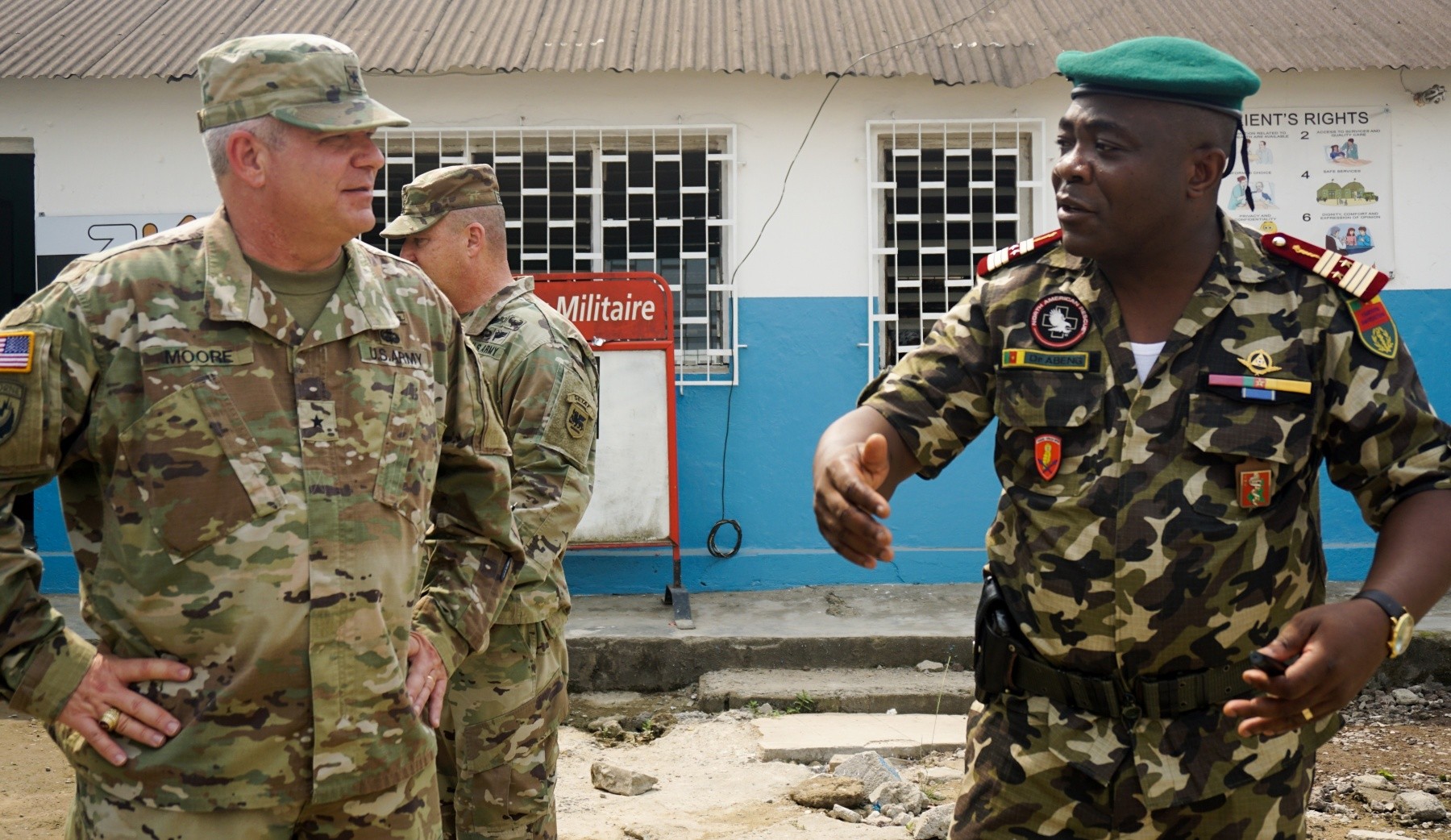 Soldiers in Cameroon, a Close US Ally, Commit Mass Rape
Nick Turse / The Intercept
The atrocity-filled raid on a village in Cameroon included the rape of at least 20 women, according to Human Rights Watch.
(February 27, 2021) — In the predawn hours of March 1, 2020, more than 50 Cameroonian soldiers entered the village of Ebam and conducted an atrocity-filled raid that included the rape of at least 20 women, according to a new report from Human Rights Watch. Over three hours, the soldiers systematically broke into 75 homes, looting money and goods, arrested 36 men, and later tortured a number of them. The soldiers also executed one of those men.
This raid appears to be the worse case of mass rape committed by a US ally in Africa in recent years. Over the last decade, the United States aided Cameroon's security forces to the tune of almost $224 million, according to Security Assistance Monitor, which tracks US security aid and arms sales. Over that same span, US troops trained elite Cameroonian forces and even saw combat alongside them. The US military also built up a network of outposts integral to drone operations in the region.
In the wake of revelations of atrocities by Cameroonian forces in recent years, the US government continued to voice strong support for its military partners there. More recently, however, the US scaled back security assistance due in part to Cameroon's troubled human rights record. Documents obtained by The Intercept via the Freedom of Information Act also show that two US bases in Cameroon may be closed.
The documents show that US Africa Command recommended the closure of the outposts in the north of the country — a drone base at Garoua and a separate outpost in Maroua. The documents are vague about the reasons, noting only that the bases were "no longer operationally required" due to a "termination of activities or lack of requirements."
Ebam, where the 2020 attack took place, lies about 570 miles south of Garoua. The Human Rights Watch report provides graphic evidence from survivors.
"One of them removed my dress and raped me on the ground," a 45-year-old woman from Ebam told HRW. "He abused me for over 15 minutes. He searched my clothes, took my phone and money, and left." She was one of 35 people — 20 of them rape survivors — with direct knowledge of the crimes to speak to HRW. There has reportedly been no Cameroonian government investigation, much less accountability, for these atrocities.
"Sexual violence and torture are heinous crimes that governments have an obligation to immediately, effectively, and independently investigate and to bring those responsible to justice," said Ida Sawyer, deputy director of HRW's Africa division. "One year on, survivors of the Ebam attack are desperate for justice and reparations, and they live with the disturbing knowledge that those who abused them are walking free and have faced no consequences whatsoever."
The Cameroonian government did not respond to questions from HRW about the abuses. The Cameroonian Embassy in Washington, D.C., similarly ignored The Intercept's repeated requests for comment.
The attack on Ebam occurred in Cameroon's South-West region, which, like the North-West, has been engulfed in violence since 2017, when armed separatists from the nation's minority Anglophone regions launched a war for independence.
The raid was apparently a reprisal for perceived support of separatists by villagers and is one of a long series of atrocities by Cameroonian forces that have been detailed in previous Intercept stories, including systemic torture of detainees, massacres of civilians, and executions of women and children. The raid on Ebam came just 15 days after soldiers in the North-West region killed 21 civilians, including a pregnant woman and 13 children in the village of Ngarbuh. On January 10, Cameroonian soldiers also looted Mautu village and killed at least nine civilians, including a woman and a child.
Four men from Ebam who were arrested by government forces said they were taken to a military base in Besongabang, about five miles from their village, and tortured by soldiers in an effort to force them to admit to supporting the armed separatists. "The military beat us with their hands and other objects," one of the victims told HRW. "I was hit many times. While they beat us, they accused us of sheltering the Amba boys [separatists]. We had no answers to give about the Amba, so they beat us even more strongly. I had bruises on my back and buttocks for over two weeks and was in pain."
The testimony echoes a 2017 investigation conducted by The Intercept and the London-based research firm Forensic Architecture which found that a Cameroonian military base known as Salak, which was home to American personnel and drones, was also the scene of illegal imprisonment, brutal torture, and even killings by Cameroonian troops. Nearly 60 victims held there described being subjected to water torture, beaten with electric cables and boards, or tied and suspended with ropes, among other abuses.
Last year, the US Department of State issued a report that chronicled "unlawful or arbitrary killings, including extrajudicial killings" by Cameroon's security forces as well as atrocities by separatists.
After this article was published, a State Department spokesperson told The Intercept via email: "We are aware of a number of military operations in early 2020 that resulted in allegations that government forces killed and/or raped civilians and destroyed homes or other properties. We condemn in the strongest terms any targeting of civilians with violence and extend our condolences to all those who may have been affected. Such behavior by security forces undermines both public faith in authorities and efforts to end this conflict. We strongly urge the government of Cameroon to investigate allegations of human rights violations and hold those responsible to account."
According to the spokesperson, the US has "significantly reduced security assistance because the government of Cameroon had not responded to credible accusations of gross violations of human rights by its security forces." Nonetheless, between fiscal years 2019 and 2020, the State Department still earmarked $7.2 million in military assistance for Cameroon, including support for intelligence activities, surveillance and reconnaissance platforms, and small boat training.
"We continue to review security assistance on a case-by-case basis so that assistance we provide aligns with US interests, including promotion of human rights," the spokesperson said. "US law requires those receiving our security assistance be vetted prior to receiving assistance."
According to HRW, more needs to be done. "We call on the United States, as well as on Cameroon's other international partners, to express concern about the human rights abuses we documented, including sexual violence, and urge Cameroon's government to ensure a rights-respecting counterinsurgency strategy in the Anglophone regions," said Ilaria Allegrozzi, the senior Central Africa researcher at HRW. "
As a member of the United Nations Security Council, the US should press to add the situation in the Anglophone regions as a priority item into the agenda of the Security Council so that human rights abuses committed by soldiers and by armed separatists can be addressed and perpetrators held accountable."
Posted in accordance with Title 17, Section 107, US Code, for noncommercial, educational purposes.