Weapons Biz Bankrolls Experts Pushing to Extend Afghan War
Quincy Institute for Responsible Statecraft
(February 23, 2021) — A study group established by Congress recommends that the US extend the May 1st deadline for withdrawing troops from Afghanistan. But who's providing these critical recommendations about America's longest war?
Over two-thirds of the group's members have current or recent financial ties to the weapons business. They've received at least $4 million in reported compensation from weapons companies.
Only four members come without clear financial ties to the weapons business, so there is a potential conflict of interest for the majority of group members, between their outside work and their policy recommendations about the war.
After 20 years — at a massive cost to Americans right here at home — wouldn't it be a good idea to get a diversity of perspectives? Not just from people in the weapons business?
Read more at responsiblestatecraft.org and on quincyinst.org
Could Biden Trigger An All-Out Conflict in Afghanistan?
(February 24, 2021) — President Joe Biden faces one of his first major foreign policy tests as he weighs his approach to the conflict in Afghanistan, the longest-running war in US history. Today, the stakes for finally achieving a lasting peace may be higher than ever.
Representatives from the two rival factions of the conflict, former US officials and experts all told Newsweek that the wrong move by the US at this critical juncture could spell disaster, creating a perhaps fatal setback for the recent fragile diplomatic discussions among the rival parties and a return to all-out war that would further devastate Afghanistan and potentially extend the "forever war" fought by Washington there for nearly two decades.
The immediate challenge facing the White House, the State Department and the Pentagon is the looming May 1 deadline agreed to with the Taliban one year ago by former President Donald Trump for the withdrawal of all remaining US troops in Afghanistan.
But violence not only continues in the country, but it is actually spiking in some regions, complicating the US decision. The Biden administration has placed the Afghanistan policy under review along with other foreign policy moves made by its predecessor, some of which have already been reversed just a month after a particularly arduous transition of power in Washington.
The Taliban — officially the Islamic Emirate of Afghanistan — has warned any reversal would have negative consequences.
"There is no doubt that adherence to the agreement and its provisions will contribute greatly to ending the war and solving problems, because it was the result of tremendous efforts and efforts," Taliban spokesperson Mohammad Naeem said in a statement sent to Newsweek.
"Just as commitment will help in solving problems, so lack of commitment not only does not help in solving problems, but also causes problems and increases them," he said. "Therefore, it is necessary for all parties concerned to abide by the agreement."
The recent rise in violence has included the targeting of civilians since the Afghan government and the Taliban first gathered for talks in September. Representatives of President Ashraf Ghani's government are asking the US to reconsider its exit, given what they see as their mutual enemy's failure to establish the promised peaceful conditions for such a departure.
"If there is a decision to extend the outlined withdrawal deadline, it is because withdrawal is meant to be conditions-based and the United States needs time to assess the Taliban's compliance and hold them accountable," Afghan ambassador to the US Roya Rahmani said in a statement sent to Newsweek. "Concerns that the Taliban may have a violent reaction to the United States' decision to abide by the February 29th deal are indicative of the Taliban's lack of commitment to the peace process."
She pointed to the recent increase in violence as evidence of this lack of commitment on the part of the Taliban, which denies participating in such a campaign of targeted killings.
These killings have claimed the lives of dozens of activists, journalists and civil servants, many of them women. They were detailed in a special report released Tuesday by the United Nations Assistance Mission in Afghanistan (UNAMA), which highlighted the involvement of "anti-government forces" in the murder of civilians.
This descriptor includes other non-state actors such as the Islamic State militant group's local branch, known as ISIS-Khorasan or ISIS-K. But the Afghan government blames the Taliban, which has rejected the UN report as biased in favor of Kabul and its supporters.
"Should the Taliban choose to continue to pursue such a horrific course of action, we must raise questions about their motives and sincerity," Rahman said. "Do they truly want peace in Afghanistan? If being held accountable for not fulfilling their end of the deal causes them to increase violence against innocent Afghans, then no."
She said that these civilians were being used as pawns in part of a larger political game playing out both within her country and among international actors.
US service members secure the perimeter at an undisclosed location in Afghanistan in support of NATO-led Operation Resolute Support. 
"The lives of Afghan men, women, and children should not be used as leverage to strong-arm the world into giving in to their demands," she said. "The Afghan people are paying the price as both lives are lost and development is hampered. If the Taliban were truly committed to peace, they would allow for a ceasefire so that Afghans have the opportunity to live in peace, grow their economy, and build a better future for generations to come."
The achievement of a peaceful outcome remains the stated goal of the Biden administration. Reached for comment, the State Department referred to remarks made Tuesday by spokesperson Ned Price.
"The Afghan people want and deserve peace, and that is precisely what we are evaluating," Price told reporters, "how best to bring that peace, that stability, that prosperity to the people of Afghanistan through a just, through a durable, negotiated political solution to this long-running conflict."
He called the current levels of violence in Afghanistan "unacceptably high."
US diplomats who had previously been tasked with finding a resolution to the conflict shared their concerns about finding a way forward now with current conditions on the ground, with the added pressure of an imposed deadline for withdrawal a little more than a month away.
"The original deadline set for a US troop withdrawal from Afghanistan was conditioned on the Taliban meeting certain benchmarks," Michael McKinley, who served as former President Barack Obama's envoy to Afghanistan from January 2015 to December 2016, told Newsweek. "It is clear that the benchmarks have not been met, and that there has been little progress in the talks meant to produce a political agreement between the Afghan government and the Taliban."
He said further discussions with US partners in Kabul and its international allies supporting US operations are necessary.
"The conflict on the ground is also intensifying and targeted assassinations are increasing," McKinley said. "It makes sense to take another look at the best way forward in consultation with allies and our Afghan friends."
Ronald Neumann, who served as former President George W. Bush's ambassador to Afghanistan from July 2005 to April 2007, also expressed doubts about the Taliban's commitments.
"The Taliban has made no concessions for peace, not even begun substantive negotiations," Neumann told Newsweek. "A final troop withdrawal in May will likely increase the war as the Taliban tries for final victory."
He acknowledged, however, that even a delay could also inflame the conflict.
"A delay in the withdrawal may also increase fighting," he said, "but the Taliban has reasons to continue negotiating so the response is uncertain."
Neumann was skeptical of the efficacy of the May 1 troop withdrawal deadline, and said even negotiating a new exit timeline was "a very bad idea" under the present circumstances.
"Negotiating a date for withdrawal on the ground will require more concessions to the Taliban for agreement, and is likely to be followed by a similar lack of actual concessions on their part while they wait for the date," Neumann said. "The issue is conditions, not dates. Every attempt to fight or end this war by definite dates has proved to be a mistake."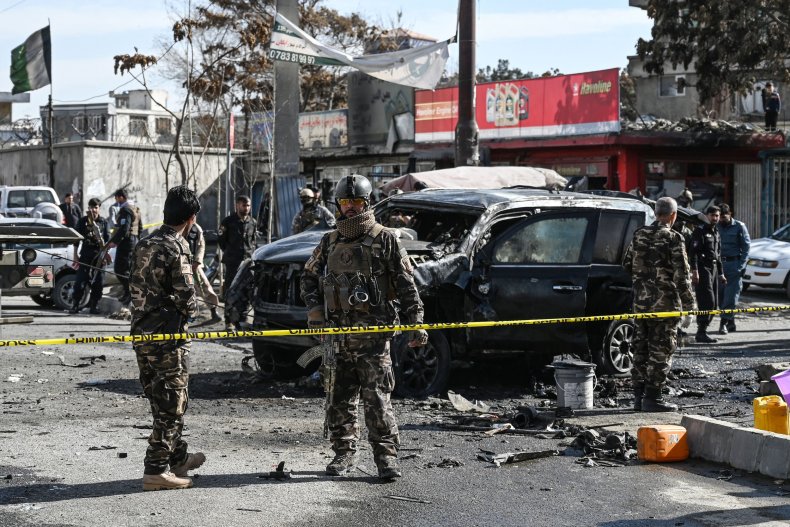 Afghan security personnel investigate a damaged armored car at the site after multiple bomb blasts in Kabul on February 10.
Both Republican and Democratic officials have described the near-20-year US experience in Afghanistan as having been defined by missteps. Even prior to the 2001 invasion, strategic oversight has come back to haunt the US
Al-Qaeda and its leadership, which masterminded the 9/11 attacks that triggered the US-led intervention in Afghanistan, trace their roots back to another guerrilla war against a different major power, the Soviet Union, in the 1980s. The US offered support for the mujahideen rebellion, whose victory led to renewed civil war and the establishment of the Taliban the following decade.
Under the terms of the agreement reached last year with the US, the Taliban must reject ties with groups such as Al-Qaeda and ISIS-K. And while many are anxious about a future without US troops in Afghanistan, others warned an open-ended presence was certain to beget more violence.
"Keeping or increasing troops in Afghanistan is likely to aggravate the conflict," Asfandyar Mir, a postdoctoral fellow at Stanford University's Center for International Security and Cooperation, told Newsweek. "The main target of intensified conflict will be the Afghan government, its security forces, and Afghan civilians. There are strong indications that the Taliban are preparing for stepped-up offensive operations across the country following any US announcement of staying beyond May 1st."
Mir suggested the best approach might be to leverage a mix of pressure and diplomacy on the Kabul government and the Taliban—along with foreign supporters—to avoid a critical showdown. But he acknowledged finding the right formula will be a daunting challenge.
"It is really down to President Biden," Mir said. "His military and diplomatic strategies will be put to a challenging early test."
The scope of a possible Taliban offensive remains uncertain, but it might go so far as to include US troops in its crosshairs. To date, more than 2,300 US troops have been killed and more than 16,000 injured in Afghanistan, most of them in combat with the Taliban from the mid-2000s through the early 2010s, when the US troop level peaked at 100,000.
This figure dropped drastically over the past decade, and President Trump further reduced the number of US troops in the country to just 2,500.
Among those deployed during the height of the US military presence in Afghanistan was Adam Weinstein, a Marine veteran who today serves as a research fellow for the Quincy Institute think tank. He too cautioned that the US overstaying the agreement's scheduled withdrawal could lead to instability.
"Intra-Afghan negotiations are likely to fail if the US leaves Afghanistan, but they are guaranteed to fail if Washington unilaterally decides to stay beyond May," Weinstein told Newsweek. "Leaving the US-Taliban agreement to stay past May will put Washington and the Taliban on a collision course just as the summer fighting season gears up."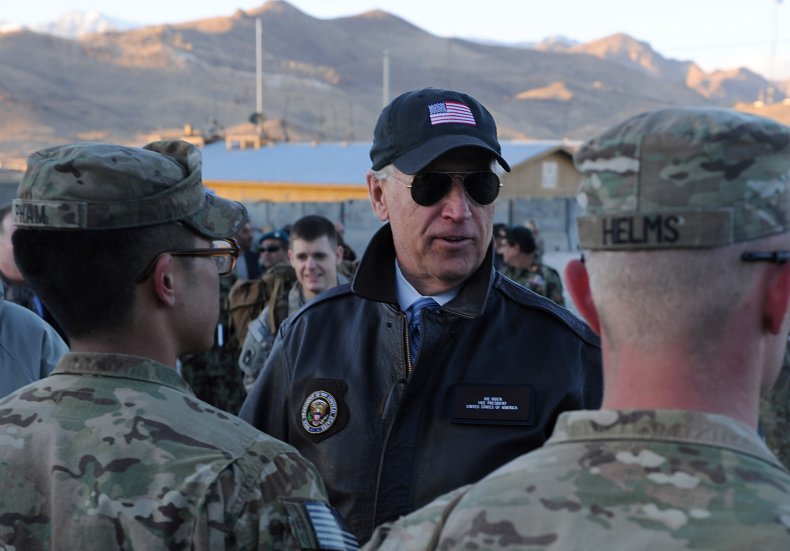 Then-US Vice President Joe Biden (C) speaks with US soldiers at a base in Maidan Shar Wardak province on January 11, 2011
This timely clash would restart a deadly cycle that, while dangerous for U.S personnel, most of all threatens Afghans, tens of thousands of whom have been killed since 2001 as a result of the war.
"The choice is not so much between violence and peace, but where that violence occurs," Weinstein said. "Re-committing to a US-led counterinsurgency against the Taliban will plunge rural Afghans back into violence even if it temporarily secures large cities."
Arash Yaqin has firsthand knowledge of what this could mean for Afghanistan. He fled his native country amid the nationwide unrest that gave rise to the Taliban in the 1990s. He has since taken on various roles, including with UN agencies and the State Department, and today expresses exasperation and what he said are consistent attempts to keep the US in Afghanistan, contrary to the best interest of both countries.
"As an Afghan-American closely involved in the mission, I can say that the United States entered this war without a strategy and already left a mess behind," Yaqin told Newsweek. "But staying longer will mean more mess, more American casualties, and more Afghan deaths. The United States has never had a winning military strategy for Afghanistan. It does not have one now."
Yaqin said that Biden needed to "prevent a new civil war," and urged the US leader to utilize political and financial efforts to push both sides of the war to form a power-sharing coalition government. Whether this arrangement is temporary or lasting, Yaqin stated "it doesn't matter right now for most Afghans and Americans."
"We need our troops home," Yaqin said, "and Afghans want to see the end of innocent bloodshed."
Posted in accordance with Title 17, Section 107, US Code, for noncommercial, educational purposes.