UN Demands Sides in Conflicts Protect Schools, Hospitals and Water
Associated Press & the Daily Sabah
(April 27, 2021) — The United Nations Security Council on Tuesday demanded that all participants in various conflicts around the globe protect schools, hospitals, power grids, water supplies and other infrastructure.
The resolution that focused for the first time on the destruction of critical civilian requirements in conflicts from Syria and Afghanistan to South Sudan and Ukraine was adopted unanimously.
The resolution strongly condemns "indiscriminate or disproportionate attacks" that deprive civilians of essential needs, which violates international humanitarian law. It demands all parties in armed conflicts comply with these laws and stresses the need to ensure accountability for violations.
The Vietnam-sponsored resolution was adopted unanimously at a high-level virtual meeting of the Security Council chaired by Vietnamese Foreign Minister Bui Thanh Son, whose country holds the council presidency this month. It was co-sponsored by some 65 countries, including the 14 other countries on the UN's most powerful body.
"We often measure the consequence of conflicts in numbers of direct victims of violence, but indirect and longer term impacts of widespread damage to the basic infrastructure are equally destructive," Son said. "For instance, in protracted conflicts, children are much more likely to die from diseases linked to unsafe water and sanitation than violence in conflict."
He said Vietnam has first-hand knowledge, pointing to decades of wars that left the country's schools, hospitals, roads and power, water and sanitation systems destroyed and its farmland and environment contaminated.
"Unfortunately, history keeps repeating itself," and the Security Council has more often focused on protecting people "with little attention paid to securing the means for their survival," Son said.
UN humanitarian chief Mark Lowcock lamented that the last two decades have seen "the emergence of transnational terrorist groups who totally reject the laws of war" and use their "nihilistic ideologies to justify unspeakable violence against civilians."
When governments and other armed groups see this they "regard it as an invitation to do the same," he said. "At the same time, big military powers are reorienting their military planning, training and spending to deter and defeat enemy states."
Lowcock singled out the impact of these trends on essential needs for food, water and medical care during conflicts.
As examples, he cited an attack on a rice farm on the outskirts of Maiduguri in Nigeria last year that killed more than 110 farmers, widely reported pillaging of food and livestock in South Sudan between 2013 and 2020 and reports of systematic destruction of farms and infrastructure taking place now in Ethiopia's embattled Tigray region.
Lowcock also cited the Daesh's cutoff of the water supply to Aleppo governorate in Syria in January 2016 that affected some 2 million people, Nigheria's Boko Haram extremist group poisoning water sources, fighting in Ukraine and Libya damaging water infrastructure, and South Sudanese government soldiers stealing water pumps in the town of Mboro.
"What I have found particularly hard to stomach are the systematic attacks on medical facilities in Syria," he said. "The World Health Organization (WHO) counted 250 such attacks between 2018 and 2020 alone. About 1,000 health care workers have been killed in those attacks there over the last 10 years."
Peter Maurer, president of the International Committee of the Red Cross (ICRC), warned the Security Council that "without urgent action to protect essential services in conflict zones, we face a humanitarian disaster on a vast scale."
Through the ICRC's work in Yemen, Syria, Libya, Iraq, Gaza and beyond, he said, the organization has seen the consequences of no safe drinking water, no electricity to power homes, no health services to treat the wounded and sick, and millions of people fleeing to find food to survive.
Both Lowcock and Maurer called on all parties to comply with international humanitarian law protecting civilian infrastructure and to avoid using explosive weapons in populated areas.
Lowcock pointed to good practices in Afghanistan and Somalia, for example, "where multinational forces' use of certain air-delivered weapons has been restricted, or their use of artillery and other indirect fire munitions has been limited."
He said that unless there is accountability for war crimes, "things will get worse."
Britain's deputy ambassador, James Roscoe, said when civilian infrastructure like schools, hospitals and roads is attacked, the UN should collect evidence and report.
The Security Council must then take action to hold those who target these essential services responsible — and "also be ready to consider sanctions against those who attack civilian objects or otherwise violate international humanitarian law," he said.
On 17 April 2018 in Yambio, South Sudan, Ganiko*, 12, and Jackson*, 13, stand during a ceremony to release children from the ranks of armed groups
Children Under Attack: Six Grave Violations Against Children in Times of War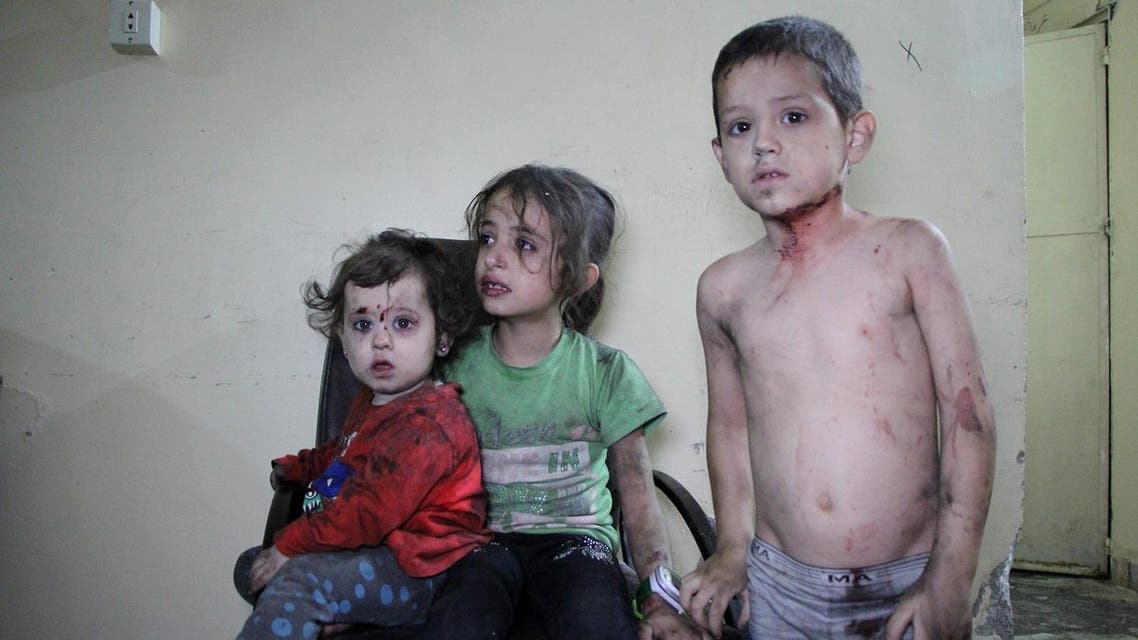 How Children Become Frontline Targets in Armed Conflicts
UNITED NATIONS (September 27, 2018) — From widespread killing, maiming, abduction and sexual violence to recruitment into armed groups and strikes on schools and hospitals, as well as essential water facilities — children living in conflict zones around the world continue to come under attack at a shocking scale.
Today, one in four children live in a country affected by conflict or disaster, and 2017 saw a large increase in the number of documented violations against children in these areas.
Armed forces and armed groups are required by international humanitarian law to take measures to protect civilians, including children who are particularly vulnerable during times of war. Civilians must never be the target of attacks.
To better monitor, prevent, and end attacks on children, the United Nations Security Council has identified and condemned the following six grave violations against children in times of war, which were monitored in 20 conflict-affected countries around the world in 2017.
1. Killing and Maiming of Children
Since 2010, the number of UN-verified cases of children being killed and maimed has increased significantly. In 2017 alone, the UN verified more than 10,000 cases of children who were killed or maimed in conflict. Maiming includes any serious, permanent, or disabling injury to a child.
These violations contributed to the overall rise in the number of children globally affected by fighting in 2017, fueled by a growing disregard for the rules of war amidst indiscriminate violence in countries like Syria, South Sudan, Yemen and Afghanistan.
2. Recruitment and Use of Children by Armed Forces or Armed Groups
Tens of thousands of girls and boys are estimated to be recruited and used in conflicts worldwide. Many have been taken by force, while others join due to economic or social pressure. Children who are displaced or living in poverty are even more vulnerable to recruitment.
Children are recruited or used for various functions by armed forces and groups, including as fighters, cooks, porters, messengers and spies, or they are subjected to sexual exploitation.
The numbers of children recruited into armed forces are rising — verified cases increased four times in the Central African Republic (299) and doubled in the Democratic Republic of the Congo (1,049) compared to 2016. The number of verified cases of the recruitment and use of children in Somalia (2,127), South Sudan (1,221), the Syrian Arab Republic (961) and Yemen (842) persisted at alarming levels.
3. Attacks on Schools or Hospitals
Schools and hospitals should be protected spaces, where children are safe even in times of conflict. Yet, attacks against schools and hospitals during conflict have become a growing, and alarming, trend. These attacks range from partial or total destruction of schools or medical facilities, to the military use of buildings and attacks against staff.
Not only do these attacks put children's lives at risk, they also disrupt their learning and limit their access to medical assistance, which can have a lifelong impact on their education, economic opportunities and overall health.
In the Philippines, for example, the siege of Marawi from May to October 2017 led to the destruction of more than 20 schools, hindering access to education for more than 22,000 children.
4. Rape or Other Sexual Violence Against Children
Millions of children and women around the globe live with the terrifying threat of sexual violence in conflict every day. In times of war, they are subjected to rape, sexual slavery or trafficking, forced marriage/pregnancy, or enforced sterilization. In some cases, sexual violence is used to intentionally humiliate a population or to force people from their homes.
Some armed groups, such as Boko Haram in Nigeria, often specifically target girls, who are raped, forced to become wives of fighters or used to perpetrate suicide attacks. In February 2018, for instance, the group abducted 110 girls and one boy from a technical college in Dapchi, Yobe State, the majority of whom have since been released.
The widespread stigma around rape and sexual violence means it is a particularly under-reported issue affecting children in conflict, but it is clear that this violation remains all too common and that both girls and boys are at risk.
5. Abduction of Children
In areas affected by armed conflict, children are often captured or taken against their will, either temporarily or permanently, and subjected to exploitation or abuse.
In many cases, children who are abducted are also victims of other grave violations, like killing, maiming, sexual violence or recruitment into armed groups. They might also be held hostage or arbitrarily detained.
Parties to conflict also abduct children as an intentional act of violence or retaliation against civilian populations.
In 2017, there was a 70 per cent increase in the cases of child abduction. In Somalia alone, the Al-Shabaab armed group abducted more than 1,600 children with the primary objective of increasing their ranks by using boys and girls in combat and support roles.
6. Denial of Humanitarian Access to Children
In conflicts around the world, armed forces and armed groups block humanitarian aid from reaching millions of people — many of them children — in desperate need of help. Warring parties often deny humanitarian actors access to those in need or prevent assistance from reaching civilian populations. Civilians are also denied aid when humanitarian workers are targeted and treated as threats.
In Syria, for example, the removal of medical kits and surgical supplies from aid convoys, restrictions on medical evacuations, and killing of medical personnel, mean that access to critical and lifesaving healthcare for many civilians is diminishing day by day.
Since 2010, documented incidents of denial of humanitarian access have increased by more than 1,500 per cent, according to a Save the Children analysis of UN figures.
Posted in accordance with Title 17, Section 107, US Code, for noncommercial, educational purposes.