Russia's Defense-Industrial Complex at a Crossroads: Aura Versus Reality (Part One)
Sergey Sukhankin / Jamestown.org & Eurasia Daily Monito
(April 13, 2021) — On March 31, during a virtual meeting with the Kremlin, the president of the Federation of Independent Trade Unions of Russia (FNPR), Mikhail Shmakov, proposed that any companies operating within the domestic defense industry (DI) sector that fail to meet state procurement obligations should be nationalized. Russian President Vladimir Putin replied that such an option would be possible and might be applied under certain circumstances in the future (Interfax, March 31). Putin further noted that this prospect will be discussed during consultations with the Ministry of Defense in Sochi (Kommersant, March 31).
Indeed, Russia's political leadership may already be pondering the introduction of new measures (including nationalization) to improve the DI sector, which, despite its glittering image, has showcased multiple fissures. Those problems became all the more visible in the past several years due to a combination of foreign economic sanctions and COVID-19 (see EDM, July 30, 2019, February 27, 2020, July 28, 2020, December 2, 2020).
In an attempt to alleviate the impact, at the beginning of April 2020, Russian Prime Minister Mikhail Mishustin promised additional help to companies "of critical value to Russia's economy and defense capabilities" (Rambler.ru, April 2, 2020). Speaking during the military-technical forum "Armia-2020"—where delegations from 90 countries assembled with more than 1,500 Russian DI companies showcasing 28,000 military products—Mishustin assured the audience that the Russian defense-industrial complex is internationally competitive in all areas, and is "capable of sustaining the toughest international competition" (Rossyiskaya Gazeta, August 23, 2020).
These defiant statements, however, sharply contrasted with other signals emanating from top-level Russian officials. For instance, Deputy Prime Minister Yury Borisov announced that Russian enterprises should start looking for alternative ways of generating income beyond seeking state economic help (which is rather limited). Specifically, he noted that issuing bonds and other financial securities would be a good solution (Rosbalt, February 20). Borisov's declaration vividly highlighted the systemic and structural problems facing the Russian DI, which apparently can no longer be solved through massive financial injections coming from the state's budget.
As noted by the director of the Center of Analysis of Strategies and Technologies, Ruslan Pukhov, the Russian DI contends with three significant challenges. First is the issue of import substitution, which, according to Pukhov, is being successfully solved.
The second issue is diversification—developing dual-use products and goods that can be sold to civilian end users. This matter requires "huge investments and colossal organizational work and marketing efforts," which, for now, remain arduous for Russia.
The third and most problematic aspect is the issue of profitability of the Russian DI sector as a whole, where the majority of companies are experiencing visible financial difficulties. As a result, the lion's share of profits generated by these companies is being paid toward interest on outstanding loans. This, in turn, leads to average profitability hovering around 4–5 percent of total revenue—an intolerably low level in comparison with Russia's foreign competitors that demonstrate profits of around 20 percent (Theworldnews.net, September 10, 2019).
In the fall of last year, the military-focused media outlet Yezhenedelnik Zvezda carried a particularly penetrating and detailed piece systematically analyzing the problems facing Russian DI firms (Yezhenedelnik Zvezda, September 29, 2020):
The PJSC Motovilikha Plants (Motovilikhinskiye Zavody PAO)—a metallurgical and military equipment manufacturer, specializing in modern artillery production, which joined NPO Splav, a Rostec company in 2016—has been wrestling with its financial obligations. This has led to its partial bankruptcy in 2018. The unique company survives thanks to a de facto interest-free loan of 1 billion rubles (almost $13 million) received from Rostec.
The famous "Tankograd" (the Chelyabinsk Tractor Plant) seems unable to cope with financial hardship and suffers from "poor management and unprofessional leadership."
The Voronezh-based "Elektropribor" factory, specializing in repairing aircraft and developing certain parts of the Kh-47M2 Kinzhal nuclear-capable air-launched ballistic missile (ALBM), is apparently teetering on the brink of bankruptcy. Local sources claim the factory—which employs 600 highly qualified professionals wielding unique skills and knowledge—is now using only a fraction of its industrial capacity and is unable to cover its financial arrears (Riavrn.ru, February 4, 2021).
The Yezhenedelnik Zvezda article additionally points to two other paramount challenges holding back the Russian DI sector. One of them—quite traditional for Russia—is large-scale larceny. The second problem is related to the mushrooming of various hoax schemes that involve so-called one-day firms (firmy-odnodnevki). According to the research, the most notorious case involved Moskapstroy LLC, a contractor in the development of the RS-28 Sarmat liquid-fueled, super-heavy intercontinental ballistic missile, which led to huge financial losses and failure to deliver the weapon in a timely manner (Yezhenedelnik Zvezda, September 29, 2020).
It is particularly notable that the article—published in a conservative outlet that specifically promotes the interests of the DI—calls for urgent measures to increase the economic effectiveness and profitability of Russia's defense contractors. Without such drastic actions, the piece argues, the Russia DI sector may come to resemble its Soviet predecessor, whereby a cumbersome and unprofitable "oboronka" (DI) gobbled up all available economic resources, ultimately breaking the back of the ailing Soviet economy. The main recommendation of the article's author is for the Russian DI to increase its output of civilian products, which is not a "panacea" but a first step in the right direction.
Nevertheless, mainstream Russian media sources—coupled with the rhetoric emanating from the Kremlin—promote an entirely different solution. Picking up on Putin's remark about nationalization, these outlets argue that "the larger the state procurement plan […] the greater the role of the government [in DI]" and the more this contributes to state security (RT, April 2).
Other experts have contended that the relationship between the DI and the state should not be loosened due to the invaluable "geopolitical function" Russian arms exports play—a consideration that outweighs the economic calculus. According to a piece in Vedemosti, "[T]he mechanism of Russian arms export is an integral part of the world multi polar system," since "the main importers of our [Russian] weaponry are countries eager to conduct sovereign foreign and defense policy." Thus, this is one of the main ways of undermining the global hegemony of the United States (Vedomosti, October 23, 2020).
With Russia's conflict with the West growing and deepening, Moscow—rhetoric about "remembering Soviet mistakes" notwithstanding—is increasingly resorting to Cold War–era practices in various domains. Economics and policies involving the defense-industrial complex are no exception.
Russia's Defense-Industrial Complex at a Crossroads: Aura Versus Reality (Part Two)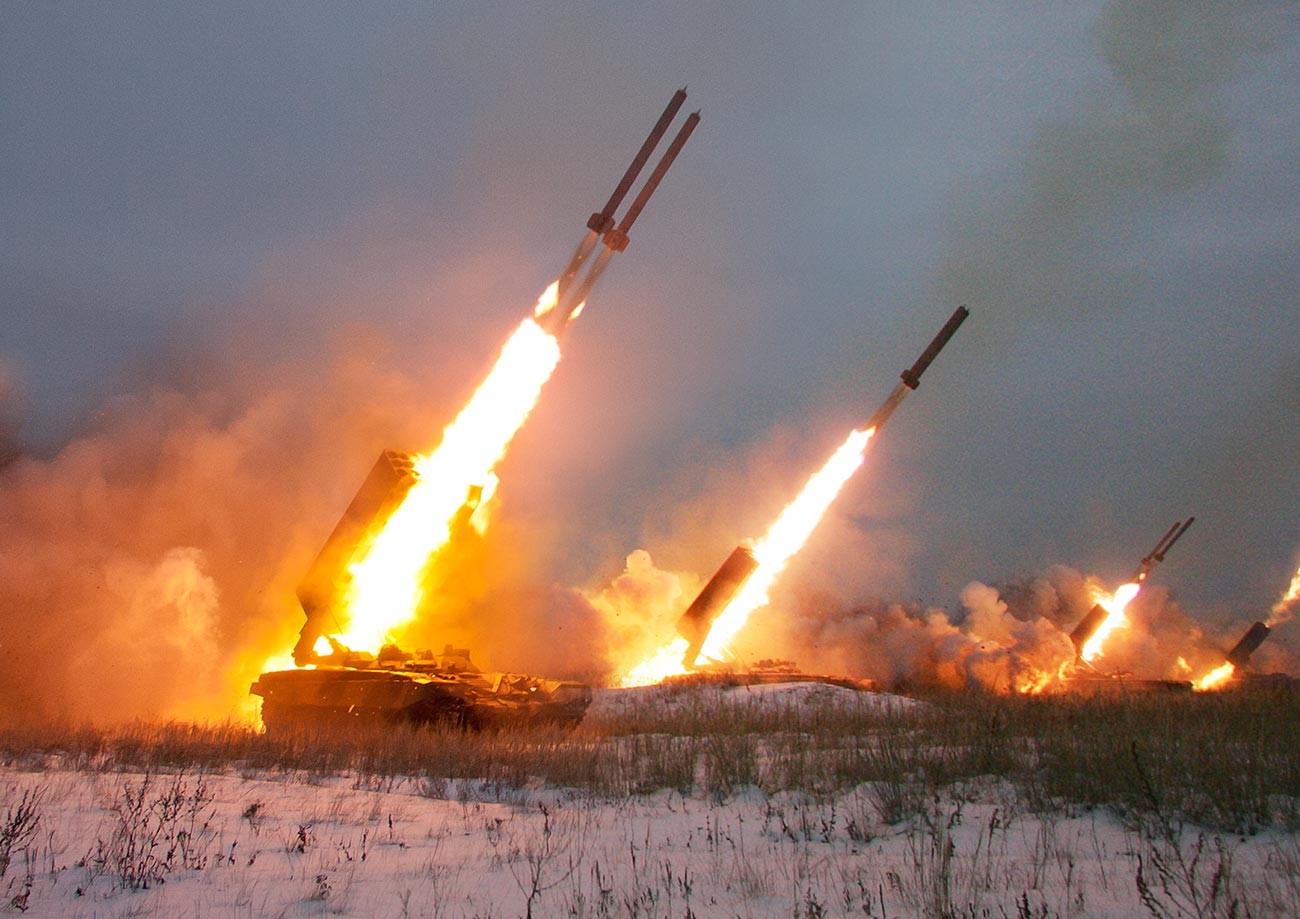 Sergey Sukhankin / Jamestown.org

(May 4, 2021) — President Vladimir Putin's remarks about possibly nationalizing the Russian defense industry (DI) (Interfax, March 31) reinvigorated a debate on measures to optimize this strategically crucial yet decreasingly profitable sector of the country's economy (sePart One in EDM, April 13). The Kremlin leader's cautiously phrased openness to the idea was preceded by a telling and unambiguous comment from Deputy Prime Minister Yury Borisov.
Speaking at the "Goszakaz-2021" government procurement forum, Borisov firmly stated that he is "a supporter of direct and firm protectionist policies" regarding the DI (1prime.ru, March 24). And in light of tightening international sanctions as well as the continued negative impact of COVID-19 on the Russian economy, the issue of the profitability of Russian arms manufacturers—as well as their future development more generally—has acquired new meaning.
Analysis of the Russian DI's recent performance paints a mixed picture. On the one hand, last year was marked by several momentous achievements. To name just a few, the following weapons systems were produced or entered service in 2020 (Nvo.ng.ru, January 14):
The Sukhoi Su-57 "fifth-generation" jet fighter, which ostensibly placed Russia into the "elite club" of countries (the United States and, somewhat more questionably, China) that possess this type of weaponry.
Project 955A Borei-A and the K-549 Knyaz Vladimir nuclear-powered ballistic missile submarines.
The 3M22 Zircon/Tsirkon scramjet-powered, maneuvering, anti-ship, hypersonic cruise missile.
The Project 23900 Ivan Rogov and Mitrofan Moskalenko amphibious assault ships (LHDs)—replacements for the French Mistral-class helicopter carriers, whose sale to Russia was aborted in 2014.
The medium-altitude, long-endurance (MALE) Orion, Russia's premier unmanned aerial combat vehicle (UCAV), perhaps the most important achievement of Russia's DI in 2020.
On the other hand, despite such achievements, Russian arms producers have continued to be plagued by serious maladies that pose long-term and far-reaching challenges to the industry. Among them, five outstanding issues deserve special mention.
First are persistent structural problems. As noted by multiple leading Russian defense experts, the Russian DI sector as a whole continues to operate in line with traditions of a planned economy—hardened adherence to a plan and the heavy involvement of the state—which in many ways hampers innovation (Denis Popkov, "Prichini otsutstvia stimulov k razvitiyu predpriyatii OPK Rossii," Ekonmocheskoye Razvitiye Rossii, 2017). Moreover, a strong tilt toward the production of weaponry (overall production ranges between 70–98 percent) at the expense of dual-purpose or civilian products (contrary to common practice among most international defense-sector manufacturers) has arguably held back the business potential of Russia's DI since the late 1920s (Arsenal-otechestva.ru, February 9, 2018).
The second problem is the sector's heavy indebtedness. In 2016, the Russian government covered 800 billion rubles' worth (currently, $10.5 billion) of defense contractors' loans; and an additional 200 billion ($2.6 billion) were covered in 2017 (Novaya Gazeta, July 21, 2019). And yet, in late 2020, Deputy Prime Minister Borisov revealed that the DI sector's overall indebtedness had reached three trillion rubles ($39.5 billion) (Riafan.ru, December 21, 2020). Earlier, Borisov admitted that the whole sum is unlikely to ever be repaid to the state (RBC, July 8, 2019). Even though he had warned top DI executives that Moscow would not be writing off any more of their arrears and debts (Interfax, July 17, 2019), less than a year later Borisov announced another write-off and restructuring of 750 billion rubles' ($9.8 billion) worth of loans owed by weapons makers (1prime.ru, March 5, 2020).
The third issue facing Russia's arms manufacturers is a lack of economic efficiency and mistakes related to import substitution. Russian sources have long argued that Russian weapons systems are competitive on the global market not only thanks to their high quality and original technological solutions but also, importantly, due to their relative inexpensiveness. However, given that most modern weaponry requires massive investments into research and development, the profits derived at Russia's low price points can barely cover what had to be spent to produce these products (Flanker.su, November 21, 2019).
Consequently, economic sustainability becomes the main victim. At the same time, despite resilient rhetoric, Russia's top officials recognize that the country's import-substitution strategy—adopted after 2014 as a result of Russian actions in Ukraine—itself has multiple flaws. For instance, Russian Security Council Secretary Nikolai Patrushev grudgingly admitted last summer that "The Russian oboronka [DI] is still dependent on foreign technologies" (Vzglyad, June 9, 2020). In turn, President Putin openly demanded that the domestic DI rectify key mistakes in import-substation planning and management, which resulted in considerable delays of several projects of high importance (Vzglyad, September 19, 2019).
The DI sector's fourth major predicament relates to corruption and lack of corporate transparency. In fall 2020, Transparency International published a report on the basis of analysis of 37 Russian companies operating in the realm of DI (the low level of representation was reportedly due to many companies refusing to share their data).
The study concludes that corruption and opaque business practices—by no means new to Russia's corporate culture—have grown profoundly worse since 2014 (introduction of sanctions). The situation, Transparency International's analysts argue, is particularly dire when it comes to "public accountability," "procurement activities" and "anti-corruption policies" (Rosbalt, November 27, 2020).
The final, and perhaps most controversial, factor contributing to the underperformance of Russia's DI was identified in an article published last year by Russia's leading military-analytical outlet Voenno-Promyshlennyi Kurier. Specifically, the piece contends that, despite common perceptions to the contrary, Syria did not become an important "exposition fair" for Russian defense products.
The author claims that the employment of costly, cutting-edge weaponry—such as Su-57s and Kalibr cruise missiles—against a technologically constrained opponent lacking both electronic warfare and air-defense systems, was hardly an achievement, and little more than a "costly show." The article suggests that unlike during the Cold War, when Soviet weaponry was tested against technologically advanced enemies in Korea, Vietnam and the Middle East, the Syrian experience simply wasted Russian economic resources and "demonstrated a serious gap between Russian capabilities and its potential opponents… Americans were not destroying targets with the use of relatively inexpensive drones without the use of costly missiles."
The article concludes that the "Syrian success" generated only sluggish growth in Russian arms exports (Vpk-news.ru, June 17, 2020). For now, Russia's defense manufacturers remain capable of producing new technological wonders and original solutions—but largely thanks to heavy state support. Qualitative progress will only come from addressing some of the domestic defense sector's traditional weakness. And given the political-economic trends under late Putinism, this will be far from a simple or straightforward undertaking
Posted in accordance with Title 17, Section 107, US Code, for noncommercial, educational purposes.