Yara Mohammad al-Kawlak (9), her sister Rula (5) and Tala Ayman Abu al-Auf (13). Klled by air strikes on 16 May 
Children Receiving Trauma Counselling Killed by Israeli Bombings
Areeb Ullah / Middle East Eye
(May 18, 2021) — Eleven children who were receiving trauma counselling from the Norwegian Refugee Council (NRC) have been killed by Israeli air strikes in the Gaza Strip, the charity said on Tuesday.
The NRC said the children were aged between five and 15 years old, and were killed while sheltering inside their homes.
Officials at the Gaza Ministry of Health said Israeli strikes had killed at least 212 people, including 61 children and 36 women, since the bombing campaign began on 10 May.
"We are devastated to learn that 11 children we were helping with trauma were bombarded while they were at home and thought they were safe," said NRC's Secretary General Jan Egeland.
"They are now gone, killed with their families, buried with their dreams and the nightmares that haunted them. We call on Israel to stop this madness: children must be protected.
"Their homes must not be targets. Schools must not be targets. Spare these children and their families. Stop bombing them now."
Among the children who received counselling from the NRC and have been killed by the Israeli bombardment include 15-year-old Lina Iyad Shar, who was killed with both of her parents on 11 May in Gaza's al-Manara neighbourhood. The charity said that Shar's two-year-old sister, Mina, sustained third-degree burns and remains in critical condition. 
Hala Hussein al-Rifi, 13, was killed on the night of 12 May when an air strike hit the Salha residential building in Gaza City's Tal al-Hawa neighbourhood. The attack also killed four-year-old Zaid Mohammad Telbani and his mother, Rima, who was five months pregnant. Zaid's sister remains missing and is presumed dead.
'They are now gone, killed with their families, buried
with their dreams and the nightmares that haunted them'
— Jan Egeland, NRC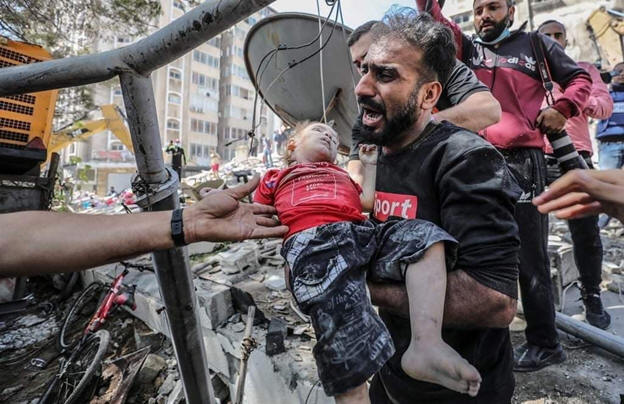 Air raids on al-Wahda Street in central Gaza City also killed six children NRC worked with, alongside their family members.
These included Tala Ayman Abu al-Auf, 13 and her 17-year-old brother, whose father, Dr Ayman Abu al-Auf, was the head of internal medicine at Gaza City's Shifa hospital and who was also killed in the air strike.
The same attack killed Rula Mohammad al-Kawlak, five, Yara, nine, and Hala, 12 — all sisters — together with their cousin Hana, 14, and several other of their relatives, as well as sisters Dima and Mira Rami al-Ifranji, 15 and 11, and neighbour Dana Riad Hasan Ishkantna, nine.
In the same area on 17 May, Rafeef Murshed Abu Dayer, 10, another student helped by NRC, was killed after shrapnel hit her and her two brothers, who were having lunch in the garden of the Ghazi Shawa building.
Posted in accordance with Title 17, Section 107, US Code, for noncommercial, educational purposes.