Activists Cover Israeli Consulate Steps in Toronto with River of "Blood"
World BEYOND War, Independent Jewish Voices, Just Peace Advocates, and Canadian Foreign Policy Institute,
TORONTO, Ontario (May 21, 2021) — Today members of the Jewish community and allies delivered a clear message at the Israeli consulate in Toronto about bloodshed from Israel's violence in Gaza and across historic Palestine. Video here.
Rabbi David Mivasair, a member of Independent Jewish Voices, said, "It can no longer be business as normal at Israel's consulates in Canada. The death and destruction inflicted by Israel in Gaza, as well as the heightened violence by Israel across Palestine, cannot be washed away. This belligerence is the latest in an ongoing aggressive 73-year settler-colonization project by Israel across historic Palestine. The ceasefire doesn't end the injustice and oppression."
Since May 10, at least 232 Palestinians have been killed in the Israeli bombardment of Gaza, according to health authorities, including 65 children. Over 1900 people have been wounded.
Rachel Small, organizer with World BEYOND War, explained, "We are making the violence of Israel's brutal occupation, military attacks, and ethnic cleansing visible right here on the consulate's doorstep. We are making it impossible for anyone to enter and exit Israeli government offices here without directly confronting the violence and bloodshed they are complicit in."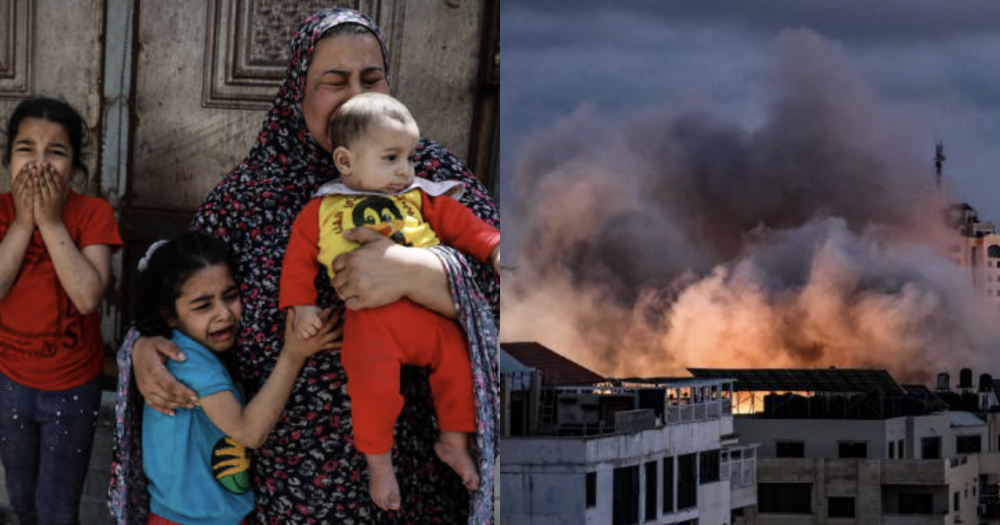 Rabbi Mivasair quoted the Book of Genesis saying:
"'The voice of your brother's blood cries out to Me from the earth.' Canadian Jews and others joined today to make sure that cry is heard even if the blood stops being spilled anew. Red paint streaming from the Israeli consulate onto the street in Toronto represents the blood of massacred innocent Palestinian civilians, the blood on Israel's hands. As Canadians, we demand that our government holds Israel accountable for war crimes and stops the Canada-Israel arms trade.
"Jews in our communities in Canada are overcome with grief and anger. Many of us stand in solidarity with our Palestinian siblings. We say loud and clear, 'not in our name.' Israel can no longer continue to commit these atrocities in the name of the Jewish people."
Since 2015, Canada has exported $57 million worth of weapons to Israel, including $16 million in bomb components. Canada recently signed a contract to purchase drones from Israel's largest weapons maker, Elbit Systems, which supplies 85% of drones used by the Israeli military to monitor and attack Palestinians in the West Bank and Gaza.
Across Canada, tens of thousands of people in dozens of cities have been on the streets denouncing Israel's violent attacks. The Canadian government received at least 150,000 letters within days following the Israeli attacks on Al-Aqsa and Gaza. They call on Canada to hold Israel accountable for its violations of human rights and international law, and to place immediate sanctions on Israel.
John Philpot of Just Peace Advocates says, "The Israeli consulate in Toronto has advertised on several occasions an Israel Defense Forces (IDF) representative available for personal appointments for those wishing to join the IDF, not just those who are required to do mandatory service. The Canadian Foreign Enlistment Act makes it illegal to induce or recruit for a foreign military and Canada Revenue Agency guidelines state that 'supporting the armed forces of another country is not a charitable activity.'"
Yves Engler from the Canadian Foreign Policy Institute indicates that "at the same time as Canadians are being recruited to join the IDF in violation of the Foreign Enlistment Act some registered Canadian charities support the Israeli military in probable contravention of Canada Revenue Agency regulations."
A petition sponsored by NDP MP for Hamilton Centre, Matthew Green, calls upon Minister of Justice David Lametti to undertake a thorough investigation of those who have recruited or facilitated recruiting in Canada for the Israel Defense Forces, and, if warranted, lay charges against those involved. To date over 6,400 Canadians have signed this petition.
ACTION ALERT: Ceasefire in Gaza
CODEPINK
Tell your Senators and Representative to join Bernie Sanders and Alexandria Ocasio-Cortez in blocking an imminent $735 million arms transfer to Israel.
(May 21, 2021) — Last night at 2 AM Jerusalem time, an Egyptian-brokered ceasefire stopped the barrage of Israeli bombs from continuing to rain down on the people of Gaza. But don't be confused. The violent assault on Palestinian rights and lives continues unabated. The military occupation of the West Bank remains in place, Palestinian families are still being ethnically cleansed from their East Jerusalem homes, and the siege on Gaza that severely limits electricity, medicine, fuel, and life retains its grip.
Around 150 lives were lost over the last 12 days, about a fourth of them children. Hospitals in Gaza are overflowing with the injured, thousands are homeless, and bodies are still being pulled from the rubble. Israel remains an apartheid state that is armed to the teeth with US weapons. 
"At a moment when US-made bombs are devastating Gaza, and killing women and children, we cannot simply let another huge arms sale go through without even a Congressional debate," tweeted Senator Sanders only 24 hours ago.
Blocking this weapons transfer should not be considered radical. The Obama administration suspended a shipment of Hellfire missiles to Israel amid the 2014 massacre in Gaza. Back in 1981, Reagan suspended F-15 and F-16 jets to Israel and in 1991 George H.W. Bush delayed $10 billion in loan guarantees to Israel over their settlement building and refusal to engage in peace talks. The result was the Madrid Conference.
Now is another critical time to send a strong message to Israel, especially since just this morning, Israeli forces again stormed the Al-Aqsa mosque compound, firing tear gas and stun grenades at Palestinians in worship.
As long as the US continues to supply Israel with weapons, Israel will continue to violate Palestinian lives, commit war crimes, and maintain apartheid.  Stop the next massacre now! 
ACTION:
Israel receives $3.8 billion every year from the US in military "aid" to oppress and massacre Palestinians. In just 10 days in May 2021, Israel has massacred over 220 Palestinians in Gaza, almost one-third of them children. In the West Bank, they have been shooting protestors with live ammunition. So why has President Biden just approved the "sale" — it isn't really a sale as Israel will be purchasing the weapons with the money the US gave them — of $735 million more in precision-guided weapons?
Sign On: Tell your members of Congress to Support the Sanders and Ocasio-Cortez bills to block this newest sale to Israel! 
Join us this Tuesday, May 25 at 8 pm ET as we talk to Congressional Progressive Caucus Director Michael Darner and Foreign Policy Director Keane Bhatt about how to push for a more progressive foreign policy. RSVP here.
Toward peace, 
Ariel, Danaka, Carley, Ally, Ann, Carley, Ciara, Cody, Emily, Farida, Grace, Jodie, Kelly, Leila, Leonardo, Madison, Mary, Marcy, Medea, Michelle, Moses, Nancy, Paki, Sana, and TeriPS: