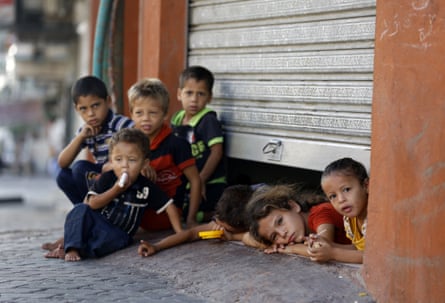 Years of Suffering Ahead for Palestinian Children in Gaza, Says Save the Children
(May 22, 2021) — Round-the-clock bombing has compounded Palestinian children's trauma, Save the Children said.
Eleven days of non-stop bombardment in the Gaza Striphas compounded existing trauma in Palestinian children, paving the way for years of suffering if adequate treatment is not provided, Save the Children said on Friday.
At least 65 children were killed in Israeli airstrikes and shelling of the densely populated enclave this month.
Gaza's overwhelmingly young population — nearly half are aged under 14 — has been exposed to a crippling blockade, sporadic attacks, and four all-out military campaigns since 2008.
Previous research by Save the Children has shown the traumatising effects of Israeli bombing on children in the Gaza Strip.
A majority of children had nightmares and were wetting the bed a year after the 2014 assault on the enclave, and as many as 89% of parents said their children were consistently afraid.
Three years later, a quarter of children in Gaza — 290,000 — were found to need continuous psychosocial support.
A majority of caretakers reported at that time that children were terrified of aircraft and bombing sounds and feared the threat of war and death. A majority of children reported feeling scared to be alone.
The 2019 report also found high levels of stress, sleep deprivation, depression, grief and speech problems among children.
Gaza Official Says 2,000 Housing Units Destroyed in War with Israel
United Nations says 800,000 people don't have regular access to clean water,
as nearly 50% of network was damaged in fighting
Agencies and Times of Israel Staff
GAZA CITY (May 22, 2021) — A Palestinian official says an initial assessment shows at least 2,000 housing units were destroyed in the fighting between Israel and Palestinian terror groups in Gaza.
Naji Sarhan, deputy of Gaza's Hamas-run works and housing ministry, said more than 15,000 other units were partly destroyed in the 11-day war.
The fighting in Gaza began after Hamas launched rockets toward Jerusalem following days of clashes and unrest in East Jerusalem and the Temple Mount and Al-Aqsa Mosque, including over the planned eviction of several Palestinian families from the Sheikh Jarrah neighborhood.
As the conflict unfolded, Hamas fired thousands of missiles at Israeli communities, and Israel launched hundreds of airstrikes on what it said were terror targets in the enclave.
The Israeli Air Force targeted residential, commercial and government buildings, saying it was going after locations where Hamas — the Islamist terror group that seized control of Gaza from Palestinian Authority President Mahmoud Abbas's Fatah in 2007 — had offices, command posts and resources.
Sarhan said four mosques were destroyed along with dozens of police offices in Gaza. He said most of the factories in Gaza's industrial zone were destroyed or damaged. Israel says Hamas stores rockets and other weapons in mosques and schools, and fires from nearby.
Meanwhile, police inspected unexploded Israeli ordnance collected during the campaign. Police chief Mahmoud Salah said nearly 300 Israeli rockets and shells did not explode.
Sarhan put the estimated financial losses from the fighting at $150 million. He said the assessment was still ongoing.
The United Nations said approximately 800,000 people in Gaza did not have regular access to clean piped water, as nearly 50% of the water network was damaged in the recent fighting.
Quoting Gaza's public works and housing ministry, the UN 's office for the Coordination of Humanitarian Affairs said nearly 17,000 residential and commercial units had been damaged or destroyed in the 11-day campaign.
These include 769 housing and commercial units that had been rendered uninhabitable, at least 1,042 units in some 258 buildings, which had been destroyed and another 14,538 units that have suffered minor damage.
The UN said 53 education facilities, six hospitals and 11 primary health care centers were damaged since May 10. One health center was severely damaged, the UN said, while one hospital was not operational because of lack of electricity. Schools in Gaza remained closed, affecting almost 600,000 children.
An Egypt-brokered truce halted Israeli airstrikes on the crowded Palestinian territory and rockets fired by Palestinian groups at Israel, which had been ongoing since May 10.
The latest round of bombardment killed at least 248 people in Gaza, including 66 minors, and wounded more than 1,900 since May 10, the Hamas-run health ministry says.
The United Nations says more than half of those killed, the overwhelming majority in Israeli airstrikes, were civilians. Israel says more than 200 were terrorists, including 25 commanders. It also says some civilians were killed by errant Palestinian rockets.
During the same period, thousands of rockets fired by Palestinian terror groups killed 12 people in Israel including one child, a teenager, an Israeli soldier, one Indian and two Thai nationals. Hundreds of Israelis were injured.
An Egyptian diplomat said Saturday that two teams of Egyptian mediators were in Israel and the Palestinian territories to continue talks on firming up the ceasefire deal — and securing a long-term calm.
The diplomat said discussions include implementing agreed-on measures in Gaza and Jerusalem, including ways to prevent practices that led to the latest fighting.
The official did not elaborate. He was apparently referring to violence at the Al-Aqsa Mosque and the planned eviction of Palestinian families from the Sheikh Jarrah neighborhood in East Jerusalem.
The diplomat also said Israel had given a green light to Gaza fishermen to return to sea Saturday as part of the ceasefire deal.
Hussein Sheikh, a senior aide to PA President Abbas, tweeted that one of the Egyptian delegations planned to hold talks with the Palestinian leadership in Ramallah on Saturday.
Both sides were fast to claim victory as the ceasefire came into effect.
Prime Minister Benjamin Netanyahu said Israel's bombing campaign against terror groups had been an "exceptional success."
Hamas leader Ismail Haniyeh said Israel had been "dealt a painful and severe blow that will leave its deep marks," and thanked Iran for "providing funds and weapons."
While also claiming a decisive victory, Defense Minister Benny Gantz on Friday called for a major international effort to rebuild and develop Gaza to improve the lives of its residents.
H said it was now time for diplomacy to build a new reality "on the rubble of the homes of the Hamas leaders." He added: "If we don't act diplomatically, quickly and wisely," this operation will go down as "simply another round of conflict to be followed by the next one."
Convoys of trucks carrying aid began passing into Gaza through the Kerem Shalom crossing Saturday after it was reopened by Israel, bringing much-needed medicine, food and fuel.
Israel temporarily reopened both the Erez and Kerem Shalom crossings into Gaza at the height of the violence, allowing many truckloads of desperately needed fuel, medical equipment and animal feed into the enclave, according to Israel's military liaison to the Palestinians.
While the crossings were opened, terrorists in the Strip launched a large mortar barrage across the border, firing dozens of shells throughout the area, including at Kerem Shalom and Erez.
A soldier was lightly wounded Tuesday in a mortar attack while assisting in the transfer of humanitarian aid shipments into Gaza Strip through the Erez Crossing, and Israel decided to again shut the crossings.
Posted in accordance with Title 17, Section 107, US Code, for noncommercial, educational purposes.