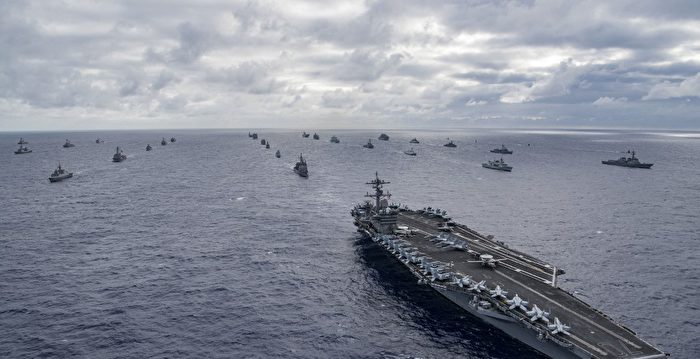 Biggest Navy Exercise in a Generation Will Include 25,000 Personnel Across 17 Time Zones
Gina Harkins / Military.com
(May 21, 2021) — Tens of thousands of sailors and Marines will participate in the biggest US naval exercise in a generation to test how the services will fight across vast distances as they prepare for possible conflict with China or Russia.
Aircraft carriers, submarines, planes, unmanned vessels, and about 25,000 personnel will participate in Large Scale Exercise 2021, which will begin in late summer. The massive exercise will span 17 time zones with sailors and Marines in the US, Africa, Europe and the Pacific joining.
Live forces will participate in both the Atlantic and Pacific oceans.
"LSE is more than just training, it is leveraging the integrated fighting power of multiple naval forces to share sensors, weapons, and platforms across all domains in contested environments, globally," said Adm. Christopher Grady, commander of US Fleet Forces, told Military.com in an email.
The exercise, he added, will be the first in a series "that will continue to push the envelope of what it means to be the superior maritime force."
The Navy and Marine Corps are working more closely after decades of missions focused on the Middle East. As competition for influence builds with China and Russia, the Department of the Navy is shifting its focus from a largely land-based fight against terror groups to deterring aggression.
Three dozen units will participate in physical portions of the large-scale exercise, while more than 50 will join the exercise remotely, said Lt. Cmdr. Tabitha Klingensmith, with US Fleet Forces Command. Participating units will include personnel from all three Marine expeditionary forces and sailors from the Navy's Second, Third, Sixth, Seventh and Tenth fleets.
While the US has held big naval exercises like Bold Alligator and Rim of the Pacific, Klingensmith said the training events are growing in scope and complexity. Chief of Naval Operations Adm. Mike Gilday has referred to the upcoming large-scale exercise as the biggest naval training event in a generation.
That's because combining live and virtual participants "will expand the playing field beyond what has ever been achieved in live-only exercises," Klingensmith said.
"LSE 2021 will use technologies similar to what you see in virtual video gaming environments to expand the number of participants by linking commands and units around the globe virtually, thereby increasing the number of players, real and synthetic, to better replicate the realistic scale of scenarios the Navy and Marine Corps team is likely to face in the future," she added.
The sailors and Marines participating will test several concepts they're likely to encounter in a possible conflict with China. Scenarios will test the sailors and Marines' ability to conduct distributed operations; expeditionary advanced-base operations; littoral operations in a contested environment; and command and control in a contested environment.
"We've been applying warfighting concepts like Distributed Maritime Operations … to fleet battle problems at the strike group level to rapidly advance organizational learning," Grady said. "LSE 2021 is important because we will apply those lessons learned at-scale to further our employment of synchronized, integrated operations across all domains globally, to ensure we remain the superior maritime force in a high-end fight."
The Navy and Marine Corps are finalizing details on the exercise, but Klingensmith said they plan to incorporate at least one unmanned platform — the Autonomous Littoral Connector, a surface vessel that can provide logistics support from shore to ship.
That's traditionally a Navy mission, she said, but during the exercise it'll be under the command and control of the Marine Corps. The 2021 updates to Commandant Gen. David Berger's Force Design plans for the Marine Corps call for that service to — in partnership with the Navy — explore developing "littoral maneuver groups" to operate the future light amphibious warship.
Marines Hop Islands, Set Up Long-Range Fires as Force Preps for Clash with China
(October 22, 2020) — Marines in Japan got a look at what the Corps' future missions could look like during a recent island-hopping naval exercise in the East China Sea.
After a small team of reconnaissance Marines landed on an island during the first-of-its-kind Exercise Noble Fury, a larger force swooped in on MV-22 Ospreys and AH-1Z Viper attack helicopters. The grunts "quickly seized control of the island, establishing defensive positions," according to a news release on the exercise.
The Marines then coordinated with Seventh Fleet sailors, who had identified a target they couldn't engage. After passing info along to the Marines ashore, an Air Force MC-130J Super Hercules landed on an expeditionary airfield in the middle of the night with a high-mobility artillery rocket system, or HIMARS.
"The HIMARS team fired a notional shot, destroying the target, and quickly loaded back into the MC-130J, taking off minutes after landing on the island," the release states. The Marines then loaded into CH-53E Super Stallions, it adds, and "were on the move again to prepare for follow-on missions."
In a call with reporters when the exercise wrapped up, Col. Robert Brodie, III Marine Expeditionary Force's operations officer, called Noble Fury "a highly successful operation."
"This is III MEF's ability to establish expeditionary fires and forward arming and refueling points throughout the Indo-Pacific at any time, in any place of our calling," Brodie said.
The exercise follows a call by Commandant Gen. David Berger to make III MEF a "credible deterrent to adversary aggression in the Pacific." The Marine Corps is undergoing a series of force-wide changes as it refocuses on naval-based missions amid rising tensions with China.
That includes folding heavy tank units as leathernecks pivot toward missions in which small teams travel light and don't remain in one spot for long. The service recently reestablished a landing support battalion that can deliver supplies to those types of stand-in forces ashore.
Noble Fury, Brodie said, gave III MEF and Seventh Fleet the chance to work together in simultaneous and distributed training events across Japan and at sea. During the exercise, Marines and sailors were spread across two Japanese islands — Ie Shima and Iwo To — while others were in Okinawa or aboard the amphibious assault ship America.
"It … showcases III MEF's ability to command and control multiple expeditionary advance bases, [and] forward arming and refueling points throughout the Indo-Pacific theater," Brodie said, adding it's the first time "we've been able to exercise and achieve this."
As the Marine Corps put it, "The future of the naval services was on display at Noble Fury."
"This future envisions a light, agile Marine Corps force to conduct raids and rapidly seize islands throughout the Indo-Pacific to aid in establishing expeditionary advanced bases," a news release states.
Posted in accordance with Title 17, Section 107, US Code, for noncommercial, educational purposes.