Memorial Day: US Nuclear Bombers and NATO Warplanes Fly Over All 30 NATO Nations
Rick Rozoff / AntiWar.com & Anti-Bellum
(May 31, 2021) — US Air Forces in Europe and Air Forces Africa announced that American B-52H Stratofortress strategic bombers accompanied by military aircraft from twenty-one other NATO nations flew over all 30 NATO member states today. Those would include the five that border Russia — Norway, Poland, Estonia, Latvia and Lithuania — of course.
The B-52s (designed to carry nuclear weapons during the Cold War), like their fellow nuclear-capable long-range bombers the B-1 and B-2, started deployment to Europe in 2018 under the aegis of the Pentagon's Bomber Task Force and so far this year have maintained a ready presence in Europe, in one instance landing at a Norwegian air base within the Arctic Circle.
Today's transcontinental flights were codenamed Operation Allied Sky and were the second such since last August when six B-52s accompanied by 80 NATO fighter jets flew over the thirty member states in a single day. The message sent by the operations shouldn't be difficult to understand.
Currently the B-52s are based at the Morón Air Base in Spain under NATO arrangements, as four, soon to be six, US guided-missile destroyers equipped with interceptor missiles are based at the Naval Station Rota in the same nation, also under NATO auspices.
The NATO allies providing warplanes to escort the American nuclear-era bombers were Belgium, Britain, Bulgaria, Canada, Croatia, the Czech Republic, Denmark, France, Germany, Greece, Hungary, Italy, Netherlands, Norway, Poland, Portugal, Romania, Slovakia, Spain and Turkey.
If you're one of two nations in Europe not enrolled in (conscripted, dragooned into) NATO's continental military phalanx — in other words, if you're Russia and Belarus — the handwriting is in the sky.
General Jeff Harrigian, jointly NATO Allied Air Command and US Air Forces in Europe-Air Forces Africa commander (to demonstrate there's no difference between the Pentagon and NATO), said of today's unambiguous spectacle, "Today's mission is an awesome demonstration of NATO air superiority and together there is no challenge we cannot tackle."
The Harrigians of the world, both in North America and Europe, appear to be preparing a pyrotechnical extravaganza the likes of which humanity has been spared until now. One that could dwarf in comparison the horrors of Nagasaki and Hiroshima — by several orders of magnitude.
But it's all in a day's work. Nothing for the world to take note of — so it appears.
Rick Rozoff is a contributing editor at Antiwar.com. He has been involved in anti-war and anti-interventionist work in various capacities for forty years. He lives in Chicago, Illinois. He is the manager of Stop NATO. This originally appeared at Anti-Bellum.
Russia To Form 20 New Military Units in West To Counter NATO Threat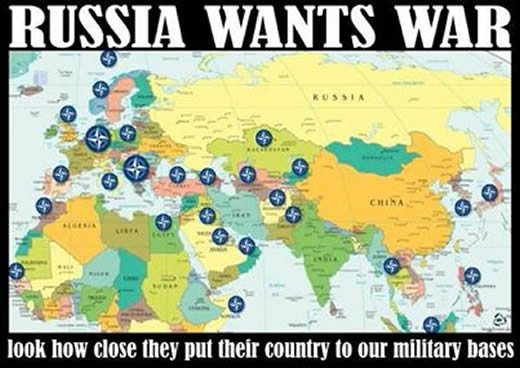 (May 31, 2021) — Today Russian Defense Minister Sergei Shoigu chaired and addressed a Defence Ministry Board Session at the National Centre for State Defence Control in Moscow. The second half of his comments dwelt on plans for upgrading capabilities in the Western Military District.
Shoigu warned of mounting military threats on his nation's Western border posed by NATO, threats increasing almost daily, and revealed his ministry's intended response to that endangerment of Russia's national security.
He did not provide an historical overview of NATO's encroachment along his country's Western border; did not, for example, describe NATO's induction of former Warsaw Pact members the Czech Republic, Hungary and Poland in 1999 and Bulgaria, Estonia, Latvia, Lithuania, Romania, Slovakia and Slovenia five years later, which began the process of NATO moving into and effectively taking control of the Baltic and Black Seas. Nor did he itemize the Pentagon's and NATO's flooding those regions with fighter jets, nuclear-capable bombers, anti-ballistic missiles, training centers, cyber warfare centers, radar installations, battle groups, special forces operations and other military assets and personnel.
Instead he cited the recent escalation of NATO activities along Russia's western frontier. Among other developments he mentioned:
US Air Force strategic bomber flights in Europe have increased fourteen times in the last seven years
NATO guided-missile warships are deployed with increased incidence in the Baltic Sea, with such warships exercising off the coast of Russia's Kaliningrad territory three times in the past year
Since 2016 Russia has recorded eighteen similar deployments "to the alleged launch areas of cruise missiles"
The Pentagon and NATO have continued to expand the scale of operational and combat training and drills near Russia's borders
The number of such exercises has increased by a time and a half in recent years
The US and NATO are currently conducting the largest war games since the end of the Cold War, Defender Europe — 21, with 40,000 troops participating (Shoigu's estimate)
That exercise has as its main objective "to practice the transfer of a full-fledged division from the United States to Europe."
The defense chief provided diagnosis and prescription: "The actions of our Western counterparts are destroying the security system in the world and forcing us to take adequate countermeasures. We are constantly improving the combat composition of the troops. By the end of the year, about 20 formations and military units will be formed in the Western Military District."
Try finding mention of any of the above outside the Russian news media. One fears the results of NATO's military encirclement of Russia will only garner headlines when an irreversible catastrophe occurs.
Belarusian President Latest To Warn of World War Starting in Europe
(May 31, 2021) — Belarusian President Alexander Lukashenko met with his country's members of parliament, members of the Constitutional Commission and other representatives of his government last week amidst the current crisis with the West that has been escalating since last summer and has intensified since the Ryanair incident of May 23.
His comments included this somber assessment: "The time has chosen us. We have found ourselves on the frontline of a new cold, even freezing cold war. Only countries that will be able to resist this hybrid pressure will hold out."
Belarus has been under Western scrutiny and criticism and has been the victim of Western subversion since last August's presidential election, with the US and the European Union supporting opposition candidate Sviatlana Tsikhanouskaya against the incumbent Lukashenko. The nation will soon face American sanctions as well.
Lukashenko's address focused on patriotic values and activities as would be expected under the circumstances, situating the crisis within the current global context: "Everyone is trying to tear us apart or to drag us to their side. But we should stay strong. I have said several times: the price for sovereignty and independence is high. Every Belarusian may be directly affected by this amid the increased competition in the world."
He referred to a multi-dimensional, multi-level hybrid war being conducted against his government and his nation, stating: "The goal is clear. We also know who would benefit from demonizing Belarus. We are a small country, but we will respond appropriately. The world knows examples of similar situations. Before making any rushed moves, remember, that Belarus is in the center of Europe, and if things spin out of control here — it will be another world war."
World war or not, Northeastern Europe is as likely a location for triggering a nuclear war as any on the planet.
By way of disclaimer, there are different ways of interpreting his ordering the diversion of a passenger airline en route to Lithuania and the subsequent detention of a person described as an opposition activist: Roman Protasevich. It can be asserted that, the West looking for any pretext to further discredit, isolate and undermine his government, such an action was feeding into its plans. On the other hand the adage may as well be hung [for stealing] a sheep as a lamb comes to mind.
Similarly, the use of the words world war can be seen as political rhetoric, as hyperbole, as an attempt to scare off would-be aggressors. The same language has been used of late on the other side, if you will, by Ukrainian officials like former president Leonid Kravchuk. The very fact that those words are used in Europe thirty years after the disappearance of the Soviet Union and the Warsaw Pact is itself alarming. But, regrettably, the latter fact is ignored by the world press.
Lukashenko also sounded this emotional appeal: "Sensible people understand what is happening. I would like to ask those who are behind the provocation: don't you realize what catastrophic consequences it may bring? Do you understand what you are doing? You know that we are in the right and that you will have to answer anyway. Please, stop!"
Sounding defiant (or bluffing, as you will), he added: "We will respond to all sanctions, attacks, and provocations accordingly. We do not want to start a fight in the center of the continent. We do not want this, we have had enough. But the West does not leave us other options."
Belarus is a member of the Collective Security Treaty Organization (CSTO) with Russia, Armenia, Kazakhstan, Kyrgyzstan and Tajikistan, and as such could appeal to its fellow members for assistance in the event of military aggression by NATO from neighboring Lithuania and Poland. However, after Georgia invaded South Ossetia in 2008 and the resultant war with Russia, the CSTO did not support Russia. Lukashenko embraced Georgian President Mikheil Saakashvili, the aggressor in the conflict, immediately afterwards, as he's recently done with Azerbaijani President Ilham Aliyev following the latter's invasion of Nagorno-Karabakh and armed conflict with Armenia (a CSTO member) last year.
In language bold (and rather grand) for a small and besieged nation, Lukashenko also stated: "If the West does not want to be our friendly neighbor — so be it. We will compensate for the sanctions by stepping up our activities and presence in other markets. We will turn away from the ageing Europe to rapidly growing Asia. Belarus is ready to become a part, an outpost of new Eurasia."
On May 26 the nation's foreign minister, Vladimir Makei, sounded a comparable note in quoting a recent comment by former US national security adviser John Bolton, one ominous in its implications: "Ukraine and Belarus should be admitted to NATO in order to eliminate the 'gray zone' that has arisen between Russia and the countries of the North Atlantic Alliance. Belarus is the hardest challenge of all, with alliance membership inconceivable for quite some time. Yet however difficult it may be, the US cannot leave Belarus to Moscow uncontested."
He also noted that, as always, under the guise of human rights the West is undermining the sovereignty of a non-aligned nation and in doing so is launching a direct attack on its independence.
Today Foreign Minister Makei is cited, in what one hopes is not mere wishful thinking, contending that Russia has at long last dropped its blinders, abandoned its prostrate position and recognized what the West — the US, NATO and the European Union — is up to. A consummation devoutly to be wished — if true.
In a statement that may be nine-tenths bravado but is interesting nonetheless, he claimed the West is "very nervous about the fact that the world is becoming multipolar, that there have emerged many major geopolitical players, the opinion of which should be taken into account."
The Belarusian foreign minister elaborated as follows:
"I agree with my colleague Sergey Lavrov, who said that the world has ceased to be Western-centric. For the five hundred years, the West dictated to us the conditions of how to live, what to do, what rules to live by. Today there are major geopolitical players: China is one of the largest economies in the world, India has been growing rapidly, Russia has taken off rose-colored glasses that it had in the 1990s and early 2000s, got up from its knees and now sees what the West is like."
Such a realization, and actions commensurate with it, had they occurred decades ago may have saved humanity almost incalculable suffering from the Middle East to South Asia, from North and Northeast Africa to Eastern Europe. Pray it's not too late to reverse the course of the past thirty years, the era of global NATO and its wars against defenseless nations on three continents.
Rick Rozoff is a contributing editor at Antiwar.com. He has been involved in anti-war and anti-interventionist work in various capacities for forty years. He lives in Chicago, Illinois. He is the manager of Stop NATO. This originally appeared at Anti-Bellum.
Related News
NATO enters new warfighting domain in space
Posted in accordance with Title 17, Section 107, US Code, for noncommercial, educational purposes