Democratic Values Can't Be Advanced by
Turning a Blind Eye to the Persecution of Peaceful Activists
Sevag Kechichian / The Quincy Institute for Responsible Statecraft
(June 28, 2021) — In the wake of President Joe Biden's election, the Saudi government took several actions, including releasing the prominent women's rights activist Loujain Alhathloul from prison and revoking the death penalty for five people convicted of crimes allegedly committed when they were minors. Taken together it suggested that Riyadh was moving to address the incoming administration's concerns about the kingdom's human rights record.
While welcoming those Saudi measures, the Biden administration has also indicated through its own actions that it would prioritize preserving the bilateral relationship over holding the Saudis accountable for "murdering innocent people." It now appears that the country's de facto ruler, Mohammed bin Salman, or MbS, has concluded that Biden's tough campaign talk on recalibrating relations as just that — talk.
Indeed, the Saudi government appears to have returned to "business as usual" with respect to its egregious human rights record, most recently by executing Mustafa al-Darwish for "crimes" he allegedly committed as a minor. He was arrested in 2015 at the age of 17 on protest-related offenses including "seeking to disturb security by rioting" and "sowing discord." His participation in protests in 2011 and 2012 were used against him as evidence.
Many of those celebrating the early positive developments credited the impact of Biden's campaign rhetoric and his administration's early statements regarding MbS for the initial positive news from Riyadh. On March 1, White House press secretary Jen Psaki said that the Biden administration's actions, specifically regarding declassifying the intelligence assessment implicating MbS in Jamal Khashoggi's killing, was "the best way to prevent a crime like this from ever happening again." What Psaki didn't mention was how the administration's decision not to sanction MbS for Khashoggi's brutal murder could impact the Crown Prince's behavior and actions on everything else, from his vicious crackdown on internal dissent to the continuation of Saudi war crimes in Yemen.
The Saudi government's June 15 execution of the 26-year-old al-Darwish — in violation of the international human rights legal prohibition on imposing the death penalty on individuals who were minors at the time of the alleged offense — strongly suggests that Washington's failure to hold MbS accountable for past human rights abuses has not discouraged him from committing more. Indeed, it seems fair to ask whether it has actually emboldened him.
While Psaki and the Biden administration hope that they have prevented MbS from ordering another assassination as brazen as Khashoggi's, they seem to have sent MbS the signal that he has much room to maneuver within these newly negotiated redlines.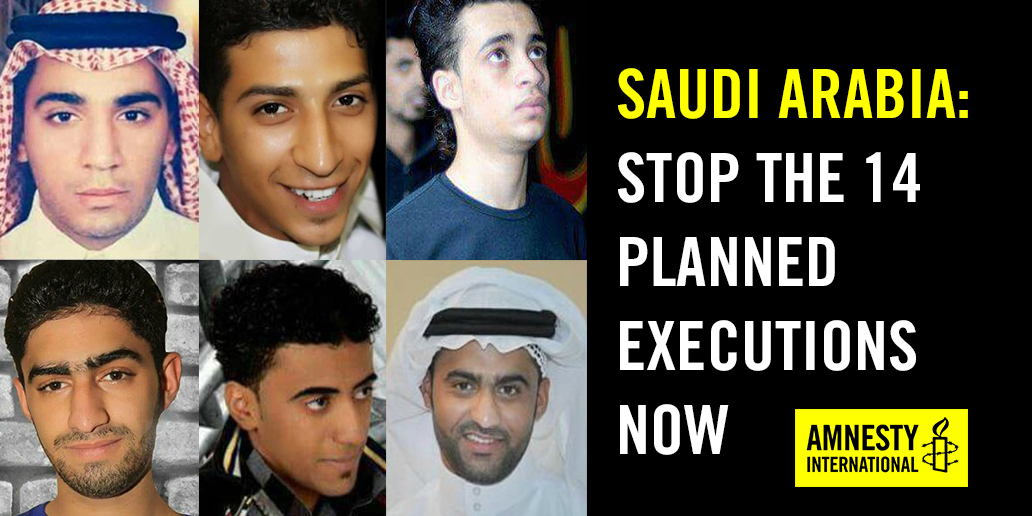 That is a terrifying prospect. The regime's abuses include extra-judicial killings and executions of political dissidents, including those accused of committing alleged "crimes" as minors in violation of both international law and a recent Saudi royal decree . The defendant's age at the time of the alleged offense was not the only  abuse in the al-Darwish case; according to Amnesty International, his "confession" was obtained through torture.
Similar to the cases of dozens of Saudi Shi'a men the government has executed in recent years, al-Darwish was also subjected to prolonged pre-trial detention and solitary confinement, denied access to a lawyer until his trial began, and then sentenced to death in a trial deemed unfair by Amnesty and other human rights groups. 
A return to "business as usual" in Washington also includes continuing U.S. assistance to Saudi security forces, such as four members of the Saudi hit team that killed Khashoggi who were trained in a State Department-supported program in the U.S. in 2017, as the New York Times reported this week.
Days before al-Darwish's death, the European Saudi Organization for Human Rights , as well as Amnesty International, warned of his imminent execution. The organization announced that al-Darwish had exhausted his legal appeals by the end of May and that his case would be transferred to the presidency of state security and the royal court before the death sentence could be carried out. In other words, the execution would not have gone forward without MbS's knowledge and approval.
Al-Darwish is not the only death row inmate who allegedly committed a "crime" while he was a minor. There are others, including Abdullah al-Huwaiti, who was arrested when he was only 14. More protestors and activists of all ages face the death penalty for peaceful protest, including many from the kingdom's Shi'a majority Eastern Province who demonstrated against the government during the "Arab Spring" ten years ago, and Sunni reformists and clerics, such as Salman Alodah, who faces a death sentence for, among other peaceful actions, tweeting an appeal for reconciliation between Qatar and Saudi Arabia, even though Riyadh has since normalized relations with Doha.
These abuses just concern the death penalty. Not to be forgotten are the continuing travel ban and harassment to which Loujain Alhathloul and her family have been subject, or that dozens of human rights defenders, real reformists, and pro-democracy activists continue to languish in Saudi prisons, serving long sentences simply for calling for basic rights or a constitutional monarchy. 
So if President Joe Biden is looking to honor the mandate of the Copenhagen Democracy Summit, which he recently attended, to seek "fresh ideas to stem the tide of authoritarian advance and put democracy back on the front foot," he should consider how his administration's policies are enabling authoritarianism in Saudi Arabia. Democratic values cannot be advanced by turning a blind eye and a deaf ear to the persecution of peaceful activists and thereby signaling to dictators that it's "business as usual" in Washington.
Posted in accordance with Title 17, Section 107, US Code, for noncommercial, educational purposes.